When he's not masterminding new restaurants, Michael Bonacini — one half of Oliver & Bonacini Restaurants — is busy with another stalwart of the food scene. As a board member for The Royal Agricultural Fair — which celebrates an impressive 100 years in 2022 and is back after a two-year pandemic hiatus — the restauranteur is passionate about the one-of-a-kind pastoral event that takes place from November 4–13 at Toronto's Exhibition Place.
With his hospitality group, Bonacini has opened more than 40 restaurants across the country, including some of Toronto's favourite spots like Auberge du Pommier and Canoe. But, as an ambassador for The Royal Agricultural Fair, the U.K. export hopes that he can give back and help the iconic event continue to thrive.
We chat with the restauranteur about his life and career, and find out what's happening at this year's historic fair. 
The Royal Agricultural Fair celebrates 100 years. Tell us about the event and your involvement:
"My involvement only happened a few years ago, when a dear friend asked me if I would consider becoming a board member [in 2019] ... The following two years there, was no show ... So it's that old adage — you never miss something quite as much as when it's been taken away from you. If you were to ask 100 people what is it about The Royal that you connect with or that you look forward to, you would have 100 different answers. For me, it's just being a part of it — seeing it, smelling it, hearing the animals, meeting local growers and farmers, and continuing to see and feel the passion oozing out of these individuals.
"You can't help but feel that this is part of these individuals' DNA. And it's the same with the spirit of the competitors who go into the butter sculpting competition, the butter tart or the marmalade-making competition. Those things are good, clean, healthy, fun that we all enjoy. And it really brings the rural community — the countryside, the history of our food and culture — to a big cosmopolitan city like the city of Toronto."
With the onset of global food shortages, is the Royal Agricultural Fair more significant than ever? 
"Let's be honest here. Farmers have been doing farm-gate-to-plate and snout-to-tail cooking long before it was ever cool to do so. They did that through necessity. That was their lifestyle. That's how they fed their families, how they fed the community. So it's much more important today for us all to realize how fragile and vital agricultural activities within our country are to our cities, communities, and every single one of us. Not just for restaurants, event venues and places to dine out. But for everyday customers."
What highlights can we look forward to this year?
"Whether they are in the equine side of the barns or with the cows and the barn animals, everyone has their favourites ... There's a lot of great food purveyors that are great stalwarts of the show: rosti potatoes, peameal on a bun, the apple dumplings that are made fresh every day. Who doesn't love the smell of freshly baked apple dumplings with cinnamon on a chilly November morning?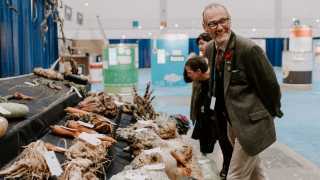 "And yes, there's going to be a new lineup of foods that will hopefully create new excitement because the diversity of the foods seen within Canada is growing immensely. And The Royal Fair knows and understands that our obligation is to reflect the diversity of the city."
What brought you to Toronto?
"I'm from the UK originally, from sunny South Wales, in the town of Tenby, Pembrokeshire, on the West Coast. I worked in London, England for a number of years. In 1985, I said to my chef-mento Anton Mosimann, 'It's time for me to move on and do something new and exciting.' I wanted to head off to North America. He put me in touch with Minden, owned the Windsor Arms Hotel in Toronto, who flew me out to Canada. I spent a week in Toronto ... Six weeks later, he got me a permit to arrive in Canada, and (touch wood) I have never looked back since."
Do you have a favourite O&B restaurant?
"I do. For me, Jump is the restaurant I love and adore because it's my and Peter's [Oliver] firstborn. That was the very first restaurant that we opened together in our partnership. It's amazing that it is still around today, thriving and busy in the downtown core. We broke the mould by going into the downtown core in the early 90s, during the recession, when people thought that we were stone-cold crazy. I have no regrets about opening that restaurant. I had no regrets about partnering up with Peter, and it was the smartest decision of my life (other than marrying my wife)."
How do you keep things fresh after so many years?
"You have to keep reinventing yourself in the hospitality industry. The hospitality business, like the world in general, is moving and changing at such a fast pace. If you don't, you will become a dinosaur. And we know what happened to the dinosaurs."
So, how do you achieve that?
"Peter taught me early on, when opening restaurants, that you have to create a vision. You have to put that vision into black-and-white writing. It is never carved in stone — it has to stay constantly changing. You keep adding to it, changing the words and helping people move direction, but you have to communicate that vision to every single employee in the company. And they have to believe in it, embody it and bring it to life.
"I'm a big believer that you don't want to be a trendy place. You can't be a flash in the pan because they do not stand the test of time. You have to build your brand, your reputation, your representation and your philosophy on things that will never go out of style or out of fashion. They become classics. And that's what we do ... I love it when you call a restaurant, and you can feel the warmth of that person on the other end who is genuinely happy to speak with you. They want to know if you're heading off to a theatre. Is there a special event? A birthday? Do you have any food concerns or allergies? That kind of thing. It just feels so much more like the genuine hospitality that we want and crave and that is so important to our industry." 
Are there any departed restaurants that you miss?
"I remember the first time Peter [Bonacini] and I shut a restaurant. It hit me in a way I never thought it would, it took the wind out of my sails for weeks. I took it as a sign of weakness. I took it as a sign of failure. I felt embarrassed, I felt bad for the employees, for the team that worked so hard to try and make it happen. I'm talking about a restaurant we opened called Steak Frites at 692 Mount Pleasant ... it was a tough, tough thing."
How do you feel about Toronto's Michelin Guide and what does it mean for the city?
"I think that it will allow our city to be part of this fairly elite group of restaurants, chefs, countries that have the Michelin Guide. The growth of Michelin within Canada will happen fairly quickly because our country's food scene has grown exponentially over the last two or three decades. It's a very exciting time for our industry, for our city and for our country. And I think that's a little bit overdue." 
What would you be doing if you weren't cooking?
"We have a country home up in Caledon and I love the outdoors here. I have planted over 21,000 trees over the years, both mechanically and manually. I love our kitchen garden. I used to grow many herbs, potatoes, tomatoes, rhubarb, asparagus and Jerusalem artichokes for the restaurants ... so I would definitely be a sort of esquire type farmer.
"I'm about to sow wildflowers for my bees to grow more hives. Each fall, I love to plant thousands of spring bolts. So there would be no shortage of things for me to do. I'd be some kind of farmer-horticulturalist. Maybe that's why I have a huge love for old things at the Royal Winter Fair, because there's a visceral connection to my family. Originally, we were in farming, my father had a small dairy herd and used to breed pigs ... and my mother would make butter."
What Toronto restaurants do you love? 
"I dined at Donna's last month and I love that kind of food ... It is sharing, it is simple. It's uncluttered and unfussy. I just came back from Portugal and Spain. So I think of places like Bar Isabel that really authentically create those Spanish flavours."
How do you like to eat?
"I'm not a big six-, seven-, eight-course tasting menu kind of guy. Those days have gone for me. For the most part, I'm much more of a pintxos and tapas [person]. Give me a few little bits and pieces. I love seafood more than ever these days. The education of seafood and sustainability, and the connection with seafood from the coastlines of Canada and aquaculture at the Royal [Winter Fair], that's a big important piece for me. The cost of seafood is so astronomically priced that it's out of reach for many. 
"That's a sin — we have to be better at how we manage our food sources from the oceans. I enjoy just eating a simple grilled piece of fish, a drizzle of olive oil, a raw pea salad, a piece of crusty bread and a chilled glass of something crisp. Bread is an important part of any meal and, again tying it back to The Royal, we have the opportunity to be a world leader when it comes to growing grains. I think those things are important as the population continues to grow."
Where are some of your favourite places to travel?
"I have family still in Italy — that for me is always a great magnetic pull. I love travelling through Europe. I want to spend more time travelling, especially to South America. The food of South America has such strong and bold, feisty flavours. It makes me want to jump in an airplane and head down to Mexico, Peru, Chile and revel in it.
"There's so much of the world that I still have yet to discover. I see a lot of it through food. I see a lot of it through television, internet, cooking. But it would really be great to go and visit the heart and soul of those countries and just sort of wander the back streets and the places that locals eat at. It's not about going to the fancy high-end places — theres's nothing greater than eating street food."
The Royal Agricultural Fair takes place November 4-13, 2022.