They say that this is the most wonderful time of the year. Sure, there are presents, twinkly lights and long tables covered with food. But what really makes the holidays so special is the time shared with loved ones. And while festive gatherings may not always be perfect, they are bound to be memorable.
This season, give a gift that's sure to leave a lasting impression — especially if there's a whisky lover in your life. The Macallan's A Night on Earth in Scotland is a limited-edition single malt Scotch whisky that tells the story of Hogmanay ("hog·muh·nei"), Scotland's world-renowned New Year's Eve festivities. Celebrate coming together and toast to the year's end with a dram that captures the same joy and light as the legendary Hogmanay merriment.
Created from a selection of The Macallan's notable sherry-seasoned American and European oak casks, A Night on Earth in Scotland has the rich, sweet flavours of the crumbly Scottish shortbread biscuit traditionally eaten at Hogmanay.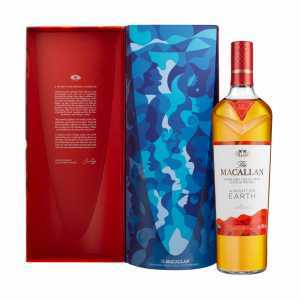 Punctuated by festive notes of dried orange, baked apple and spice, this warm amber spirit has a soft velvety sweetness with a rich mouth coating of vanilla, lightly toasted marshmallow and cinnamon. It's the perfect antidote to chilly winter nights and pairs exceptionally well with good company.
We know it's what's inside the bottle that counts, but this one-of-a-kind whisky comes wrapped in something way better than a bow. Designed by acclaimed Japanese-French illustrator Erica Dorn, A Night on Earth in Scotland's unique packaging features playful abstract illustrations inspired by Scotland's historic New Year's Eve rituals: red for fire, blue for the night sky and Scottish flag, gold for shortbread and whisky. 
The thoughtful packaging also reveals the Hogmanay custom of 'first footing' when it is good luck for a dark-haired visitor to be the first person to enter your home after the stroke of midnight. According to tradition, the 'first footer' must carry three things: shortbread, whisky and coal for the fire. Each gift brings comfort and happiness to your home for the new year — we think A Night on Earth in Scotland will too. 
For more about A Night on Earth in Scotland, click here.