Alder: What's the vibe
Hotel restaurants are not the transient, clinical operations they once were. Antiquated white tablecloths, underwhelming menus and an atmosphere akin to a Chuck E. Cheese have been replaced by desirable dining destinations serving innovative plates of chef-driven fare and crafted cocktails that'll knock your socks off. Don't believe us? Just ask Patrick Kriss, the chef and owner at Michelin starred-restaurant Alo and Alobar, who recently unveiled the much-anticipated Alder restaurant inside the Ace Hotel Toronto. 
Take a spin through the revolving doors into The Lobby on Camden Street and you'll wonder if perhaps you're in an art gallery and not, in fact, a hotel. Inside, it's all sleek wood designed in undulating curves and repeating patterns. I feel like I've just stepped inside a Nordic spa, but despite the lovely heat coming from the wood-fired grill below, I decide to keep my clothes on for dinner. 
Kriss told me that the team is treating Alder like a neighbourhood restaurant, but it's a lot swankier than your average joint. Given that this is the first Ace Hotel venture to grace the Great White North, Shim-Sutcliffe Architects has put plenty of effort into creating a Canadiana-chic aesthetic. The red-brick facade is an homage to the Don Valley bricks that shaped the look of the city. You'll find lots of artwork throughout the hotel, including Horizon Line designed by architect A. Howard Sutcliffe. The three-story art installation, which can be viewed from both The Lobby and Alder, is supposed to represent Lake Ontario's glittering waters. 
Alder: What's on the menu
Skirt past the casual check-in desk and merchandise stands filled with clothing and the hotel's toiletries, and you'll find yourself under the concrete arches of The Lobby. Grab Sam James coffee and pastries on cozy retro furniture in the daytime, then snap your laptop shut and switch to grilled octopus and martinis after your last meeting. The burger is available at both The Lobby and Alder, but everything else has a more casual, shareable vibe. Kriss has had a hand in all of the food at the Ace Toronto, including Evangeline, the soon-to-open rooftop spot.
Downstairs, seasonal ingredients meet Mediterranean flair at Alder. While the inventive dishes and playful flavour combinations you'd expect from Kriss are still at play, the ambience feels different than sister restaurants like Aloette and Alobar. Seated in a moody corner — flanked by a pile of wood on one side and the open kitchen on the other — I don't dare take my phone out of my pocket for fear of blinding diners and ruining the mood.
The buzz of chefs preparing and plating Spanish and Greek-inspired dishes is electric, and expert servers are there to guide you through the menu and the wine list. Highlights include the buttery baked clams and roasted suckling pig. While Aloette's lemon meringue pie is still firmly my favourite dessert in the city, Alder's coconut cream pie gave it a run for its money.
Alder: What to drink
There are no gimmicks on the cocktail side of things. John Bunner, Alder's operations manager, has created a list of sophisticated tipples, which riff off the kind of old-school cocktails you'd expect to be served at iconic hotels like The Ritz or The Savoy. "His drinks are simple," says Kriss. "He usually takes a classic, flips it over and makes it into his own thing."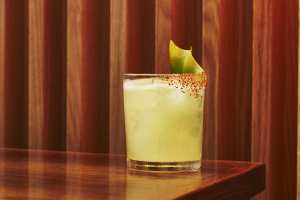 They're no less creative for it. When I ordered the More Is Less — made with fino, fernet, strawberry, lemon and sparkling wine — I wasn't expecting it to be completely clear. But the milk clarified cocktail (a technique which uses an acidic ingredient to curdle milk for a clear drink) had bags of mouthfeel and was a classy way to kickstart the evening. 
If that all sounds a bit too scientific, lean into the small but perfectly formed wine list and collection of great local beer and cider on tap.
Alder, 51 Camden St.; acehotel.com
Dinner for two: Around $130, before taxes and gratuities