To me, it feels like Toronto's vegan food scene is at a bit of a crossroads. On one hand, stories like the slow, relentless death of Vegandale, or the tragic shutterings of Toronto mainstays like Urban Herbivore pop up on my news feed far too often. On the other, some of the best vegan restaurants in Toronto just had a huge 2022, with some scoring spots on the new Michelin Guide. So, what does the future hold?
The jury's still out on where the city is headed with full-fledged plant-based eateries, but I suspect we'll see more restaurants incorporating excellent vegan menus into their permanent offerings. Chotto Matte, a stylish restaurant on Bay St. serving Japanese-Peruvian (Nikkei) cuisine, is one of the best examples of this trend I've seen so far. For $75 per person, vegans (or the vegan-curious) can enjoy a lavish eight-course tasting menu and a chef's choice of exquisite dessert.
Chotto Matte: What's the vibe?
Mere steps from Union Station, Chotto Matte operates in the TD Canada Trust Tower at street-level. The restaurant is a direct contradiction to the opaque, opaque skyscrapers of the Financial District; its bold and vibrant decor are a splash of life in the concrete jungle.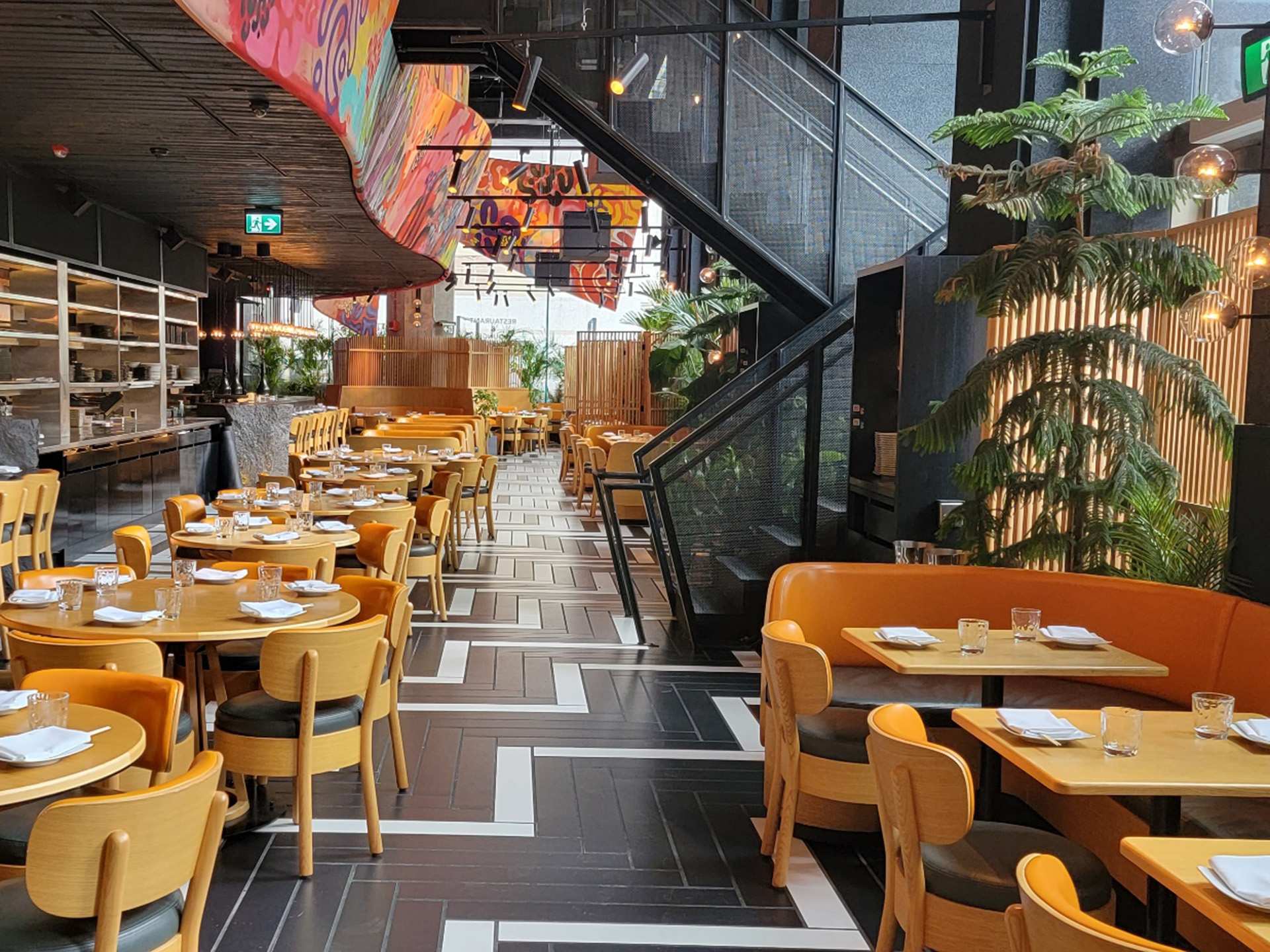 An eye-catching graffiti-style art piece stretches above the entire dining room like a stream of liquid colour. It makes the otherwise matte-black walls feel like they're alive and in constant motion.
I'm always amused and delighted when restaurants go the extra mile with their washroom. On Chotto Matte's second floor, a long, dark hallway opens up to a fluorescent mural that leads to the bathroom. It's straight out of an avant-garde indoor mini-putt course, and I love it. After gawking for a few minutes, I head back down for my meal.
Chotto Matte: What's on the vegan menu?
Executive chef Jordan Sclare developed the vegan tasting menu to prove eating plant-based does not mean sacrificing a wonderful flavour journey. I'm also a firm believer in the potentials of plant-forward cooking, so I was excited to try what he had developed.
I didn't have to wait long — each course felt like it was blasted out of the kitchen and to my table at breakneck speed. To start, edamame that was salted and grilled for a welcome dose of tasty char. I nibbled on these little pods throughout the meal.
Next up, a lychee ceviche that was as fresh, bright and vibrant as it sounds, followed by a green papaya, mango, daikon and pomegranate salad with a lovely yellow chili dressing that was practically a playground of complimentary textures.
Deeper flavours followed in the maki, charcoal roasted sweet potato and king oyster mushroom tostadas. One dish reigned supreme, though: the vegetable tempura. Enveloped by a golden-brown crispy coating and slathered in a smoked yellow anticucho emulsion, the seasonal veggies within spurted out juices with each bite.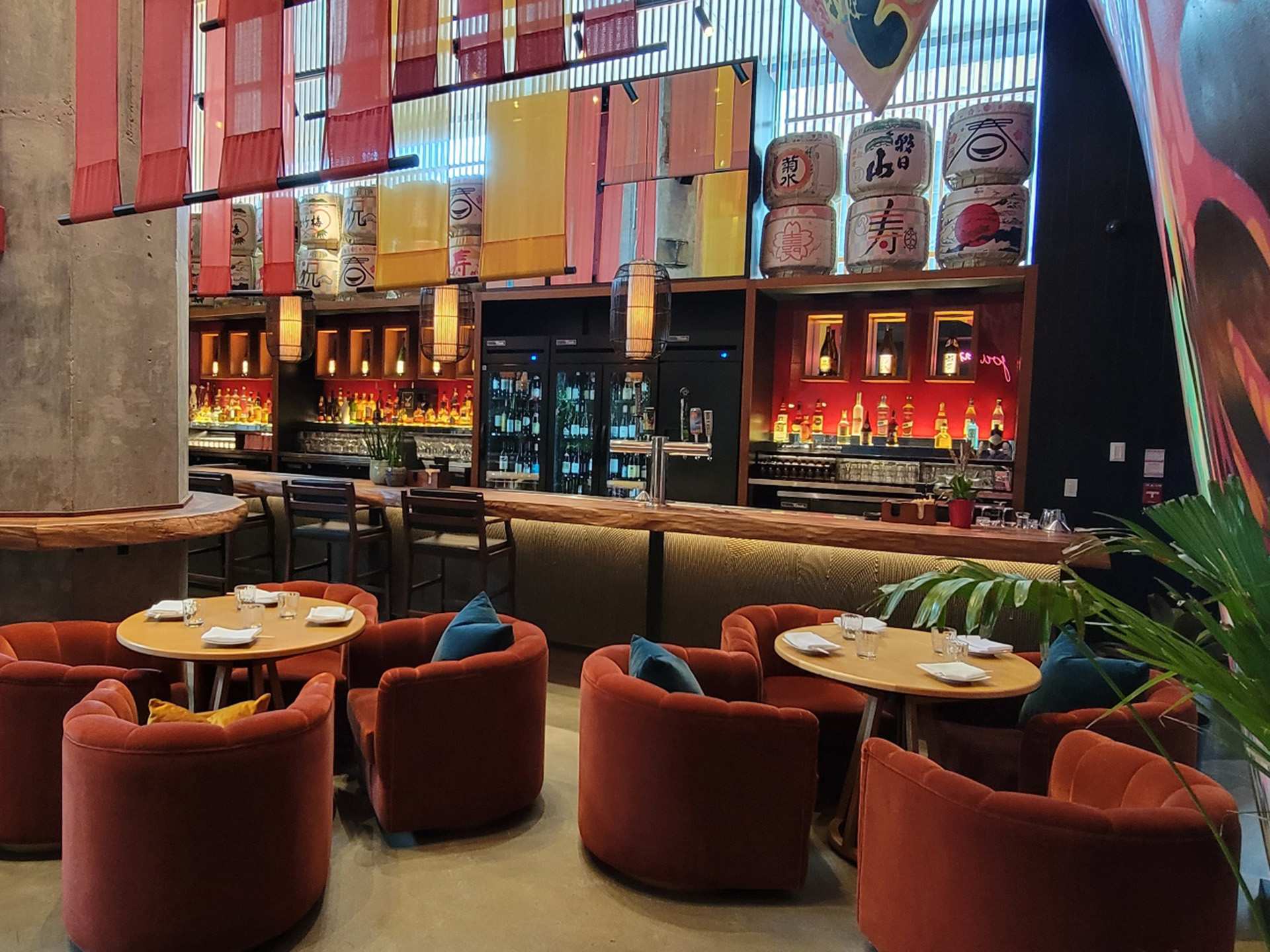 Chotto Matte: What else?
I get it — $75 for a completely plant-based meal might seem steep. After dining at Chotto Matte, though, I'm convinced the eight-course tasting menu is worth every penny. If you're vegan, or just trying to cut back on animal products for Veganuary, you've got to try it — and you can bring your meat-itarian friends, too, because the flavour excellence doesn't just end with the vegan menu.
Dinner and drinks for two; around $190 before tax and gratuity
161 Bay St.; chotto-matte.com