Nickel 9 Distillery in Toronto's funky Junction neighbourhood is a small but mighty maker of spirits, syrups and bitters. Hidden in plain sight, this distillery and community hub is always up to something. While many distilleries specialize in one kind of liquor, Nickel 9 wanted to write its own story, one with plenty of twists and turns and tipples.
From a rich apple brandy to a robust, spiced rum that's aged for three years, Nickel 9's retail shop looks like a mini LCBO with a plethora of different bottles and vibrant labels. "The branding for each product is unique. We put a lot of time and thought into it and really try to create an identity and a story," says Chris Jacks, Nickel 9's owner and director.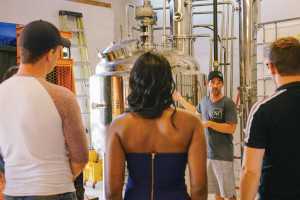 "We decided to make our own, unique spiced rum. It's a little nerve wracking because when you go too far against the traditional styles, you always run the risk of being alienated," he says. The risk is paying off. Every one of Nickel 9's brands ends up feeling like a special edition because no two are the same.
"I didn't want any product to be handcuffed by being under the same company. Because every time we make a product it comes from our team's inquisitive nature. There's a whole journey into making each product, it's so different, and the end result is so different that it doesn't do it justice to just stick the same label on it," explains Jacks. The ingredients are local, but the inspiration and design for all of Nickel 9's spirits have no rules or limits — just a whole lot of soul.
Nickel 9: Temple Spirit line
"Our flagship Temple Spirit line is made out of Canadian apples as a base, and it's completely grain free. We add nine botanicals to our gin, seven of those are wild Canadian botanicals. Then we've aged it to become our brandy."
Nickel 9: Tours
"We get a lot of people in here with our distillery tours so they can learn a bit about the science and some history of the Junction. We also do cocktail classes and we're trying to build a recurring Sunday block party with our neighbours."
Nickel 9: Rum
"The spiced rum is a collaboration with a good buddy of mine. We didn't want it to be sweet or syrupy so we didn't add sweetener. Our spice profile is more raw and natural, with foraged roots and barks as opposed to cinnamon and vanilla."