Tiflisi restaurant: what's the vibe
If Georgian food isn't already on your radar, it should be. Situated at the intersection of Europe and Asia, this country has a rich culture and a style of cuisine all its own. But you don't have to get on a plane to sample Georgia's delights — you can find traditional Georgian cuisine right here in Toronto at Tiflisi restaurant.
Set in the heart of the Beaches, this Queen Street gem is family-owned, and that's exactly how it feels. Settle into the cozy, rustic atmosphere and feel like you're part of the family as you tuck into delicious dishes, made in the true Georgian fashion.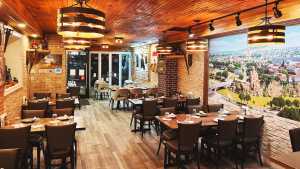 Tiflisi: what to drink
Georgia is famous for its wines and in recent years, has topped the rankings for the highest quality European wines. At Tiflisi, the wine list is an excellent representation of Georgia's viticultural prowess. Choose from the best of the best of Georgia's wine in various dry and semi-sweet styles to pair with the restaurant's authentic cuisine.
Tiflisi restaurant: what's on the menu
Cheese lovers (so, everyone?) should be sure to order the Khachapuri Acharuli, a gigantic baked bread boat filled with four different kinds of ooey-gooey cheese and topped with a sunny egg yolk. This is one of Georgia's most famous dishes, and for good reason.
Another trademark of Georgian cuisine that you'll find at Tiflisi are the Khinkali, Georgian-style soup dumplings usually stuffed with meat and spices. At Tiflisi, choose between the traditional beef and pork, or lamb, cheese or spinach fillings.
Barbecue options abound at Tiflisi, with their Mixed Platter being the most popular. Perfect for sharing with family or friends, the platter feeds four with two types of barbecued meat, juicy kebabs, grilled veggies and Ukrainian-style potatoes.
Vegans and vegetarians will feel right at home at Tiflisi — they have a number of delicious plant-based dishes on the menu. Start with the Pkhali, a colourful plate of beets, spinach, eggplant, leek and beans, each rolled into balls and mixed with a special walnut sauce.
Oh and did we mention they serve brunch too? Affordable, authentic and delicious, Tiflisi is a great choice for brunch, lunch or dinner. No matter your eating style, everyone can find something to love at Tiflisi. And this family-run restaurant goes out of their way to accommodate everyone. Make a reservation or order online today. 
To learn more, head to tiflisitoronto.ca
Follow @tiflisi.toronto on Instagram