Geoff Dillon was midway through a double major in biochemistry and economics at Western University when he first thought of opening a distillery. He was 21 at the time, in 2006, and had experimented with making beer and wine at home in between his studies.
"I stumbled upon distilling and thought, 'this is the coolest thing I've ever seen'," Dillon recalls. He was fascinated by the blend of science and art involved in distilling. His father, also a biochemist, had a love for single malt scotch whisky. "I kind of grew up around interesting booze," Dillon says.
It took another few years for Dillon to plan out his business, raise funds and open the doors to Dillon's Small Batch Distillers, which he did in 2012. At the time, distilleries were just beginning to pop up elsewhere in the country and continent. By 2013, British Columbia had 23 craft distilleries. But Ontario had just a handful of craft distilleries open in the early 2010s, and Dillon discovered why that was when he set up his own shop.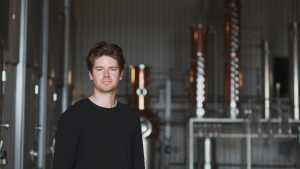 "You needed to have a 5,000-litre pot still to be allowed to open your own on-site distillery and retail store," Dillon explains. "That means you needed to have a giant, expensive, commercial-size still." To put things into perspective, most craft distilleries operate with equipment a fraction of the size, at 450 litres. A 5,000-litre still would cost around $200,000 to purchase, while a 450-litre still would cost about $10,000.
To get around the regulations, Dillon contacted a still builder in Germany to create a hybrid piece of equipment for the distillery — the world's first, as far as Dillon knew. They put a smaller 450-litre still on top of a 5,000 litre tank. It would allow Dillon to operate at the smaller scale he needed to launch his burgeoning business while also satisfying provincial regulations. "We got our checkmark," Dillon recalls.
His efforts paid off before the distillery even opened its doors. "We'd be getting emails from the best bars and restaurants in Toronto, begging us to tell them all about our products," Dillon says. "They were unbelievably supportive. You could feel something special was happening."
The thirst for craft spirits in Ontario was clear to Dillon early on, and the business and industry grew. By 2013, Dillon got his White Rye onto the shelves of the LCBO, followed shortly by his Unfiltered Gin 22 and Method 95 Vodka. In 2015, he was part of a government committee to examine regulations around opening a craft distillery with retail sales.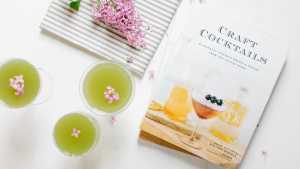 "We successfully got that rule abolished," says Dillon. "From then on, including right now, you no longer need to have any specific size of still. You could have a 10-litre still if you want, and so long as you get the rest of your permits, you can open a craft distillery." The same year that regulation was lifted, in 2015, the LCBO reported a 64 per cent increase of Ontario craft spirits in their stores compared to 2014, amounting to $3.7 million in sales.
Abolishing the 5,000-litre minimum led to a second wave of craft distilleries opening up. In Toronto's Wallace-Emerson neighbourhood, Yongehurst Distillery launched in May 2016 (they've since moved to Bradford, an hour north of the city) while Last Straw Distillery opened the doors to their Vaughan operation in September 2016. Spirit of York, in Toronto's Distillery District, arrived in May 2017 and Nickel 9 Distillery, near the Stockyards, opened two months after.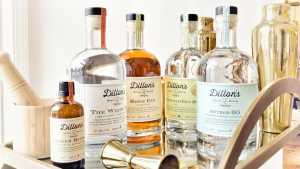 Shortly after he opened Last Straw Distillery, co-founder Don DiMonte says he started getting inquiries from customers about how he launched his operation, eager to glean tips and start their own businesses.
DiMonte, who leaned heavily on Still Waters Distillery owner Barry Stein for advice during his own start-up, was happy to pass the knowledge onto others. So he began mentoring distillery hopefuls through the steps involved in starting their own operation — and how to do it all on a budget.
Some of those mentees have since become part of what DiMonte refers to as an "incubator" distillery program. Incubator distilleries obtain a separate license but share space and some equipment with Last Straw. Durham Distilling was one of DiMonte's first incubator distilling partnerships in 2017.
They've since launched their own vodka at the LCBO and are currently hunting for their own facilities to set up shop in Durham Region. It's a great example of how established distilleries are helping to bring new operations to market. DiMonte says he's worked with about 10 incubator distilleries and about five contract distilleries since opening.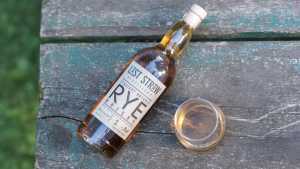 DiMonte also began taking on contract distilling agreements. Contract distillers pay DiMonte to use his equipment and make a product based on a new recipe or idea, or hire DiMonte to make their recipe. That product is sold and marketed by the contract distiller under a new name and label. It's a way for distillers to get in the game without the overhead expense of purchasing their own equipment and leasing production space. And it's not unlike what happened with the craft beer boom and the proliferation of contract breweries.
The more the merrier — we're up to 25 or 30 distilleries in Ontario
"I'm not worried about how many people get into it," says DiMonte of craft distilling's newcomers. "The more, the merrier. I think we're now up to 25 or 30 distilleries [in Ontario] and I would say that in all of those, I don't think you'll ever find two products the same. We could all make a rye whisky and they would all be completely different."
Unlike big-name brands, small producers can afford to experiment and get creative with their offerings. In Peterborough, Black's Distillery uses heritage red fife wheat grain to make its gin and vodka. Red fife was first grown in the Kawartha region almost 200 years ago, making it a fitting way to honour the region's history while also supporting nearby farmers. In Almonte, near Ottawa, the appropriately-named Dairy Distillery makes its Vodkow vodka out of unused milk sugars that are typically discarded after making cheese or butter. And just south of Kitchener, Willibald's pink gin is aged in red wine casks from the Niagara region for up to 12 months. The gin is finished with a touch of honey harvested from beehives on the distillery's farm in Ayr. It's a creative and on-trend twist that makes the best of its local offerings.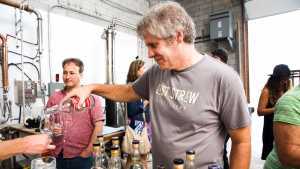 DiMonte believes that more styles help the industry, and customers benefit by having more local options to choose from. "If a new craft distillery pops up, chances are, they're not taking business away from me," DiMonte says. "It's going to be taken away from a major brand." From 2018 to 2019, sales from Ontario small distillers at the LCBO grew 44.7 per cent to $15.7 million in sales, compared to a 2.9 per cent increase in spirit sales overall.
Momentum had been building steadily for DiMonte. In February this year, Last Straw's Double Barreled Blackstrap Rum was chosen as the best craft rum in the 2021 Canadian Artisan Spirit Competition. Later that month, Last Straw also took home the best new whisky award for its Straight Ontario Rye Cask Strength. Then COVID hit. "We lost the restaurants almost immediately," DiMonte recalls, estimating that bar and restaurant orders comprised about a third of his sales. Like many distilleries, including Dillon's, DiMonte switched gears and began producing hand sanitizer to stay afloat. In January 2021, changes to Ontario's Liquor License Act allowed pre-mixed cocktails to be sold and delivered by restaurants and Ontario spirits to be sold at farmers' markets.
The same changes allowed alcohol to be delivered by third-party services without food. DiMonte began selling his spirits through Uber Eats in April of this year. "Uber has been a really decent boon for us," DiMonte says. In fact, the demand through Uber Eats has been so high that DiMonte extended his bottle shop hours from 6 p.m. to 11 p.m. in order to accommodate orders.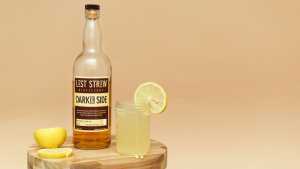 Despite increased options, small distilleries are eager for restaurant and bar owners to open their doors once the pandemic eases. The industry is still so new that distilleries rely on knowledgeable bartenders to help champion their products with customers.
While it's easy for those curious about craft beer to spend a few dollars testing out new tall cans at the LCBO, you'll rarely find someone to willingly drop $40 or $50 on a bottle of local gin or vodka they've never tried before. That's why learning about and sampling craft spirits at restaurants is so important, and why Raj Rijhwani, the head bartender at Maison Selby, is so eager to get more bar patrons drinking local spirits.
There's a sense of pride in recommending a Dillon's martini
"Let's say someone comes in asking for a Beefeater martini, I might recommend that they try a Dillon's martini instead, and they actually end up liking it," Rijhwani recalls of his pre-pandemic days bartending at Maison Selby. "That makes me the 'cool' bartender. There's a sense of pride recommending it to people because it's made so close to Toronto."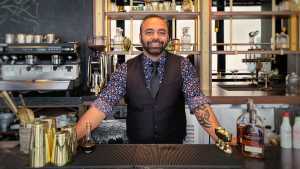 In 2019, Maison Selby partnered with Dillon's to produce a line of spirits custom-made for the restaurant's cocktail offerings. It resulted in a pineapple honey gin, an elderflower liqueur and a cucumber gin made by Dillon's for Maison Selby. Rijhwani is a fan of the collaboration spirits, but he picks his battles when recommending them. Younger clientele, millennials in particular, are the most receptive to trying something new. "I think the majority of it is the storytelling," says Rijhwani. "You can back Dillon's up by saying that they support farmers in the Niagara region, and that makes [customers] want to try it more than me telling them it has notes of elderflower and jasmine."
With the rise in conscious consumerism among millennials, Rijhwani thinks we'll see more craft distilleries with strong stories behind them popping up and gaining popularity, like women-owned or minority-owned brands. Jessica Chester and Reagan Soucie are the co-founders of Laneway Distillers, based in Toronto, and they claim to be the first all-female founded, funded and run spirits company in Canada. Rijhwani is eager to see the craft spirits industry grow, as it'll make his job easier. "Bartenders will have the option of four different strawberry rhubarb gins to pick from when we're making a cocktail," he says.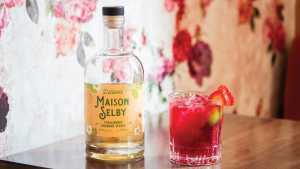 Big-name distilleries are taking note of craft spirits and responding with limited-edition offerings. For example, JP Wiser's Rare Cask Series sees one-off bottlings that experiment with different blends and aging techniques not found in its regular lineup. And this year, Knob Creek re-released its small-batch bourbon — the 9 Year Old — in Canada.
In order for local craft spirits to stay competitive, small distillers are calling on the provincial government to make it easier for them to operate. The high rate of taxation on craft spirit producers in Ontario is what's holding the industry back from its full potential, according to Geoff Dillon.
"On a $40 bottle of gin, if we sell it at the LCBO, we get about $10," Dillon says. "If we sell it at our own retail store, we get about $17 out of that $40. Everywhere else in North America, [producers] either get all of it or about $35. If we were to get even $30 per bottle, it would change the entire industry overnight."
Move the decimal and you'll have an enormous industry in Ontario
With taxation changes, we could see small distilleries pop up in droves, much like local wineries and craft breweries have in Ontario. "Wineries pay 6.5 per cent," continues Dillon. "We pay 61.5 per cent. We're just saying 'please just move the decimal' and you'll have an enormous industry in Ontario."