Vermouth is something a lot of us probably have on our bar carts. It plays a supporting role in classic cocktails like the manhattan, negroni and a 007-worthy martini (psst, a 'wet' martini means more vermouth — we were confused, too).
However, we also think vermouth gives major main character energy. And so does Ashleigh Forster, sommelier and beverage manager at Eataly Toronto, where the bitter-sweet aperitif is the star of the show at pop-up spot Bar Cocchi. We speak to Forster to get the truth about vermouth.
Despite its current popularity in Spain, what we know as vermouth today was first created in 16th-century Italy for medicinal purposes — although, drinking wine infused with botanicals dates back to well before the Roman Empire. But enough world history, it's aperitivo time, and we've got all your vermouth questions, answered. 
What is vermouth?
"Vermouth is a base wine that's been fortified, and botanicals have been added to it. It's much simpler than people realize because, especially in North America, we didn't really grow up with it. It hasn't been ingrained in our culture. But it's just wine that we all know and love, throw in some herbs, botanicals, alcohol, and you're done."
What does fortified mean?
"It just means adding a base alcohol to wine. When I think of fortified wine, I think of a fortress — it's been strengthened, hardened, intensified. So wine sits at anywhere from nine to 15 per cent [alcohol content], and then you add a base spirit with higher alcohol, like 40 or 60 per cent. So you're upping the alcohol, strengthening it."
Where does vermouth come from?
"Everyone likes to claim that they're the inventor of everything. Italians like to believe it was created in Turin, in Piedmont, in the 1500s. It was a healing product back in the day — wormwood was thought to rid your stomach of parasites, help with fevers, pain management — and then people started experimenting and creating recipes."
How is vermouth made?
"The vermouth house will not give up their exact recipe. They choose different base wines that also affect the flavour. They take that still wine and then fortify it with alcohol that's been infused with botanicals. Then, it hangs out together before bottling. It's steeping, like tea. The longer it all hangs out, the stronger it gets."
What are some common botanicals in vermouth?
"Wormwood is the biggest one — it's a bitter, green plant. Star anise is big, quina [cinchona bark], rhubarb bark. It depends on what the house wants for that style. So Cocchi Americano Bianco has all the typical wormwood and quina. The [Cocchi Americano] Rosa, which is a lot sweeter, has things like saffron, rose petals and vanilla. It's like cooking — you throw in a bit of this, a bit of that — the house experiments. I think that's why vermouth is so cool, because each house is so different. Vermouth is so diverse."
Are there different styles of vermouth?
"The northern [Italy] style is an alpine style. They're foraging things that are close to the mountains, so the botanicals are a bit more savoury. There's more mint and intense bitter flavours. There's usually a bit more punch to the northern styles. When you get further south, they use blood oranges and things that add more warmth."
What are some other vermouth characteristics?
"Rosso [red vermouth] tends to be sweeter. Bianco [white vermouth] is on the sweeter side, but not quite as much as the reds. And then there's dry, so they don't add sugars."
Why do you love vermouth?
"It's so simple, yet complex at the same time. I don't want to come home and make a six-ingredient cocktail when I want to sit on the couch. Vermouth is so beautiful on its own that it doesn't need much." How do you drink it? "There are a few different ways. It can be used in cocktails to add a more complex layer. There's so much going on with every vermouth. But, honestly, on the rocks with a citrus twist, or on the rocks with a splash of soda. You don't even need to use prosecco."
Can vermouth be the main character?
"I think it's both. It can be that secondary character, that friend you need that highlights all the best parts of you. But I think it can be the star of the show on its own."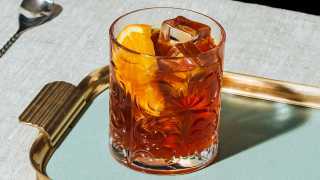 Is the negroni the most popular cocktail with vermouth?
"One hundred per cent. The story goes — there are a few stories, but I like this one the best — that Count Negroni walks into his local pub (or bar, they don't call them pubs in Italy. Sorry, I'm Irish). He was having a very hard day — as I assume it's very difficult to be a count — and typically, he would drink americanos, which is vermouth and Campari with a splash of soda. He looked at his barkeep and was like, 'It's been a day.' So the barkeep threw in gin instead of soda. Campari is bitter, but the vermouth helps to take off that edge. It's such a beautifully balanced cocktail."
What are some other vermouth cocktails?
"There's nothing better, especially in the summer, than a spritz. We're so trained to think that a spritz is just Aperol, spritz — done. But the Cocchi Rosa makes for the most incredible spritz. It's so lovely. The addition of bubbles or any aperitivo situation is good. But when you use really beautiful, complex products, like any of the Cocchi vermouths, you get this really intense spritz that's not just sugar. It's so much more with all these layers of flavours."
How do you know which vermouth to pick?
"Sometimes you don't want your vermouth to be the star of the show. Sometimes you want vermouth to take a back seat and to add that sweetness you need, a little roundness. But with really beautiful vermouths, you don't want to mask them. It's like the world of wine, sometimes I want an easy going patio rosé and sometimes I want a serious barolo."
How do you store it? "Once you open it, throw it in the fridge, and it can hang out for quite some time. If you're having it on the rocks, it's better to
add something that's already chilled so it doesn't melt the ice quicker."
Any tips for someone who is new to vermouth?
"The world of vermouth can be intimidating. But let that go, no one is judging, especially if you go to a local shop. They're going to talk to you about it. They want to educate you. It's all about education and enjoyment. It's alcohol. It's supposed to be fun. Try something you've never had before."
Where to get vermouth in Toronto 
Bar Cocchi
55 Bloor St. W.
Take your aperitivo hour up a notch inside Eataly's Bar Cocchi (until September). The Italian vermouth house has been making aromatized wine in Italy's Piedmont region (a.k.a. The Kingdom of Vermouth) since the 1800s. Say "cin cin" over cocktails like Fico Acido, a bright, sour sipper balanced with Cocchi Dopo Teatro Vermouth, white rum, lemon and fig syrup.
Bar Raval
505 College St.
Clink Spanish fizzes and sip on a selection of sweet Spanish red vermouths with your pals around a Bar Raval barrel, and you're basically at a vermuteria (a bar specializing in vermouth) in Barcelona. If you thought vermouth was a Spanish thing, you're not wrong: It's very popular there, too, especially during la hora del vermut — vermouth time. Salud!
Good Cheese
614 Gerrard St. E.
In Toronto's underrated East Chinatown, you'll find this house of fromage where turophiles and the like can get their paws on unique and funky cheese from all over. We don't have to tell you that wine goes great with cheese, but guess what? So does vermouth. Pick up one of their interesting bottles while you're at it.