No matter which way you look at it, eating a doughnut is pure indulgence. We're not talking about grocery store doughnuts, we mean real doughnuts, made by some bakery magician who knows exactly what they're doing.
At their best, doughnuts are light yet doughy; melt-in-the-mouth but with a decent amount of bite. No wonder Homer Simpson spends all that time drooling over them — he knows what's good.
If you really want to justify them to yourself (although we don't think you have to) you could possibly argue the doughnuts are a breakfast item, best washed down with coffee. Or they could be a dessert — mini doughnut bites in a rainbow of flavours.
But no matter when you're eating them, one thing's for sure: it's a moment to savour. There's only one final question: where to get your chops around the most delicious, perfectly baked doughnuts around? Thankfully Toronto is home to at least a baker's dozen of frankly excellent bakeshops dishing up the goods.
Wherever you are in the city, there are always some top-drawer doughnuts near you: full of gooey custard, fruity jam or straight-up with a hole in the middle.
Let us use our (sugar-coated) fingers to point you in the right direction... 
Cops Doughnuts
445 Adelaide St W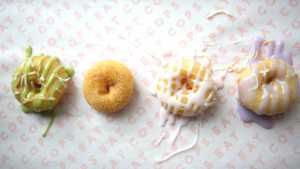 This uber cute café keeps things ultra-simple with a menu of drip coffee and carnival-style mini doughnuts — and that's it. Doughnuts are made fresh daily and topped with a smattering of pink Himalayan sea salt (to match the pink walls, perhaps). Choose a finish of cinnamon sugar or glaze, which comes in rotating flavours like sour cherry or horchata. The doughnuts are best eaten immediately, piping hot from the fryer. 
Glory Hole Doughnuts
1596 Queen St W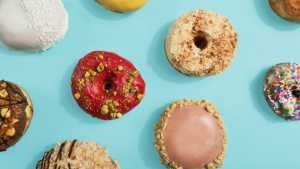 The branding may be retro, but their take on the beloved circular snack is entirely modern. Ashley Jacot De Boinod has two shops — Parkdale and Gerrard — for her daily creations. Doughnuts come in yeast, cake and vegan versions and an ever-changing variety of flavours. Try the cinnamon-y Toast and Butter with whipped brown butter frosting; or the Birthday Cake, which features a sour cream cake base with a celebratory topping.
Little Nicky's Coffee
375 Queen St W
If you can snag a spot at this quaint coffee shop tucked down Peter Street, you're in for a treat. With vintage signs and chequered floor tiles, it's perfectly fitting that Little Nicky's whips up these mini, old-school sugar doughnuts while you wait. If you just want a little treat to dunk in your coffee, order half a dozen. Alternatively, go for the full 12 and share with a friend — or not...
White Lily Diner
678 Queen St E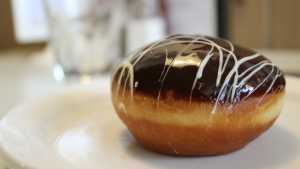 Riverside's perennial favourite brunch spot brings their usual elevated-classic approach to their doughnuts. The chubby delights are small enough that you can talk yourself into having two as a brunch dessert (or for later) but indulgent enough that you know you should probably stick to one.
Von Doughnuts
713 Danforth Ave
Choices at this cheery shop on the Danforth feature a variety of scratch-made icings, fillings, jams and custards. Some options are infused with alcohol, like the One Night Stand, which is topped with a glaze of tequila, triple sec and lime along with sea salt. Flavours are on their site.
Modern Jelly Doughnuts
181 Bay Street
Originally from Calgary, this gourmet doughnut bakery has quickly become a Toronto staple. With flavours like Callebaut chocolate, London Fog and maple bacon, Modern Jelly Doughnuts knows the way to our hearts is through soft, doughy pastries. So grab a box of 12 to 16 (we're not judging) and enjoy your day of jelly-infused goodness.

SanRemo Bakery
374 Royal York Rd
OK, so they're all the way out in Etobicoke, but this family-owned Italian bakery is seriously worth the pilgrimage. You can take our word for it — and have we ever let you down? They churn out pretty perfect pies, but our eyes are on the doughnuts: lemon-filled; maple bacon; blueberry cream cheese... We'll take one of each.
Fugo
265 Queen St W
Fugo only does mini doughnuts. Which means you can get more of them, in all the different flavours. Clever thinking, Fugo. With delicate flavours like rose pistachio, creme brûlée, and, er, the Great Canadian Pig (bacon), no matter what you're craving, you're bound to be tempted. 
Letter Box Doughnuts
Newsflash: you don't even have to go out to get delicious doughnuts anymore, because Letter Box Doughnuts will deliver them right to your door. Dangerous, very, very dangerous. These treats have the sweetest of stories, too: set up during the pandemic with families and friends separated, these doughnuts are designed to let someone know you're thinking of them. What more, proceeds from each sale go to the Daily Bread Food Bank.
Dipped Donuts
Unit 1, 161 Baldwin St. 
Dipped Donuts does both vegan and not-vegan doughnuts, but whichever you go for, they sound pretty darn delicious. Find vegan choices like mango ginger and  chocolate peanut butter crunch. On the less vegan end of the spectrum, there's maple spiced pecan crumble, hazelnut crunch, and — our favourite — carrot cake. Mmmmm. 
Bloomer's
Various locations
Bloomer's vegan doughnuts are dairy-free and egg-free, but they're most definitely not fun-free. They come in very fun-sounding flavours, like Ferrero Rocher; banana pudding; and... pina colada. Cheers. 
6donutz
2422 St Clair Ave. W
These bite-sized, hot, fresh doughnuts are best eaten poured straight into your mouth from the box they're so prettily served in. OK, so maybe remember your manners — but we can assure you it'll be a challenge when you have your first nibble of these 'nuts. PSA: this food truck now makes cotton candy-flavoured doughnuts. Yes, really.