Hands up if you feel like you need a dry January? Hands up if you feel like you're going to need a drink now and then just to get through January? If you're anything like us, you're a bit of both. And that's exactly why we're taking a different approach this year: welcome to dry(ish) January, a month of boozing, but healthy. Kind of. Enter hard seltzers and sodas: canned drinks that are a little bit better for you, but still pack a lightly boozy punch.
Hard seltzers are made similarly to beer, through fermentation — but with cane sugar (rather than malt) and flavourings that come from real fruit. The result is a hooch that's low on cals, carbs and ABV. That being said, we still believe that if you want a drink, you should just go ahead and have one — we just know that lots of us feel like mixing it up from time to time. And above all, we're always advocates of conscious consumption.
While you might think boozed up fizzy water is a fad, these sparkling sippable bevs are one of the most rapidly growing drink trends out there, and even the coolest booze brands are jumping on the wagon with drinks that are seriously creative both inside the can and out.
From boundary-pushing Whiteclaw to SPLASH's spiked water, here are some of the best seltzers and sodas going.
Hard seltzers and sodas: 10 to try this dry(ish) January 
1. Nude Vodka Soda
$27.95 for 12
Billed as the first white-can vodka soda to hit Canadian shelves, Nude is ahead of the curve with this sugar-free, sweetener-free, gluten-free beverage. Made with all-natural flavours, it comes in lime, peach, raspberry-lemon, cucumber-mint, grapefruit, strawberry-kiwi and mango. Nude makes their own gluten-free corn-based vodka to make this 130-cal, zero-carb serve. The brand is dedicated to animal welfare, donating a portion of its sales to local animal rescue organizations.
2. Vizzy Hard Seltzer Blueberry Pomegranate
$2.95 each
Let this sipper transport you to tropical climes with its fruity flavour, without the jetlag. Pairs well with jerk chicken and a sun-soaked afternoon.
3. Lemon Life Hard Lemonade
$10.75 for six
Punchy brand Lemon Life promises seltzers that hit hard on flavour, but light on alcohol. The brand offers four flavours: lemonade, strawberry, pineapple and mango.
4. Bangarang's Pink Lemonade
$2.95 each
Low in calories, low in sugar, low in alcohol but high in nostalgia, Ontario-based Bangarang's new pink lemonade is a childood favourite reimagined for adults.
5. Cottage Springs Vodka Water
$2.70 each
OK, so this one technically isn't a seltzer because it contains vodka, but it's still sparkling, sippable and low on both booze and guilt. Cottage Springs' original vodka sodas are designed for people who want to sacrifice nothing, an ethos they've carried to their new raspberry lime and strawberry kiwi vodka waters.
6. Ace Hill Vodka Sodas
$3.45 each
Beer brand Ace Hill has released a lineup low-cal vodka sodas. Made with real fruit, the canned concoctions are gluten-free and only contain one gram of sugar. Choose between raspberry, lemon or strawberry grapefruit flavours.
7. White Claw Hard Seltzer
$2.95 per can
Internet-famous American hard seltzer White Claw, associated with college dorm starter packs and tailgate parties, has landed northside. Some have described it as "the nectar of the gods"; others prefer "hand soap." Tastes aside, the hype is very real. White Claw is the cool kid of the seltzer set, with four flavours that have made waves in the no/lo alcohol world: black cherry, mango, natural lime and ruby grapefruit. Fierce, fun and not overtly feminine.
8. Nütrl Hard Sodas
$2.95 each
Nütrl's Hard Sodas contain no sugars, no sweeteners and no preservatives but are packed with all the fun and flavour you'd expect from a brand that also makes award-winning premium vodka, an incredibly smooth B.C. craft gin, two amazingly smooth B.C. craft whiskies, and European-inspired Amari.
9. Good Sunday
$2.95 each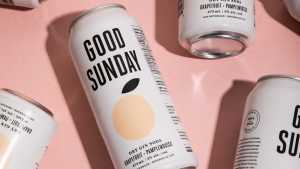 Grapefruit juice, carbonated water and local small-batch gin go into this canned Toronto-made concoction. At 110 calories, one gram of sugar and three per cent alcohol, this drink is designed to help you have a great Saturday night and a good Sunday — sans hangover.
10. Social Lite
$10 for four
Social Lite is a premixed vodka beverage that's made with craft vodka (distilled in Port Dover, Ontario), soda water and natural flavourings. It comes in a pretty nifty 355 mL can that you can slip into a picnic basket or cooler when the warmer weather rolls around.
For us, the best part about Social Lite is that it's completely unsweetened, unlike many of those cloyingly-sweet premixed bevies. And since it clocks in at 80 calories a pop, it makes maintaining our summer beach bods a little easier (or lets us feel a little less guilty for ordering that extra scoop of ice cream).
Social Lite comes in two flavours: a zesty lime ginger and a tropical pineapple mango. There's a nice balance between the natural fruity flavours to be refreshing but not overwhelming. Enjoy Social Lite chilled from the can, on the rocks or try mixing it in with other juices and liqueurs to make your own cocktail.
11. Rilli Brilli Pink Lemonade
$2.75 each
With subtle hints of rose petals, this sparkling soda is a blossoming summer garden in a can — even in the middle of winter. Ready to drink, it features juicy citrus flavours and a soft, velvety mouthfeel.
12. Hounds Black Vodka Sodas
$14.99 for six
Hounds is back with their new ready-to-drink vodka sodas. Infused with fulvic minerals and humic acids to create a velvety finish, this vodka really does pour black. The canned concoctions come in three flavours: cucumber mint, guava lime and clementine hibiscus.
13. SPLASH Spiked Sparkling Water
$11.90 for four
From Squeez'd Beverages, SPLASH Spiked Water is a refreshing ready-to-drink beverage made with sparkling water, natural fruit flavours and no added sugar or artificial sweeteners. SPLASH Spiked Water comes in Tropical Grapefruit and Mixed Berry (our favourite), giving just a hint of their fruity flavours and nothing more. If you tend to go heavy on the mixer when you pour your own drinks at home, the subtleness of the citrus and sweet berry tastes might leave you wanting more. However, those looking to cut back on calories and enjoy a crisp sip with no aftertaste may have found a new favourite tipple.