The year is almost over and we think that's cause enough for celebration. Since we know the importance of supporting small, independent and local businesses right now, we're toasting with the best local Ontario sparkling wines this season. 
Life is hard and you deserve a glass of something fabulous, so we've rounded up the best local sparkling wines from the LCBO, plus a couple of small-scale wineries like Hinterland and Tawse. Champagne and prosecco are great and all, but we think you can have just as much fun with fizz that's been grown in our very own province. From vidal and pinot noir blends to elegant chardonnay expressions, these Ontario bubbles promise to class up the end of a truly rude year.
All of our suggestions come in under $40, meaning that popping a cork doesn't have to be saved for the big dog days of festivities. Crack open some Ontario sparkling wine, get the snacks out and vaguely ponder what day of the week it is in that hazy between-Christmas-and-new-year period (spoiler alert: it don't matter).
Let our list get the creative juices flowing, but don't forget the many great restaurants, bars and retailers that are offering alcohol delivery and pickup right now. Pick up a cocktail kit or get innovating with these Christmas cocktails and winter drinks or better still, have the best of both worlds with a sparkling wine cocktail, like Le Swan's Swan 75. Whatever tipple floats your boat this season, you've earned it. 
8 of the best Ontario sparkling wines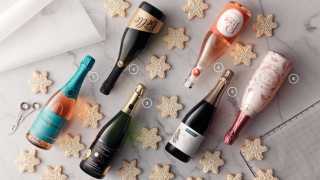 1. Henry Of Pelham Cuvée Catharine Rosé Brut VQA
This extra-dry, medium-bodied wine has delicate notes of strawberry and rhubarb pie.
lcbo.com, $32.95
2. Malivoire Che Bello Sparkling VQA

Made with chardonnay musqué, this fizz pairs well with salmon and cream cheese.
lcbo.com, $17.95
3. Château des Charmes Brut Sparkling
A blend of chardonnay and pinot noir makes this an elegant sparkling that will wash down anything from snacks to spice to dessert.
lcbo.com, $25.95
4. Rosehall Run Pixie Sparkling Rosé VQA
Hailing from trendy P.E.C., this dry yet nutty fizz is a blend of vidal and pinot noir.
lcbo.com, $19.95
5. Cave Spring Blanc de Blancs Brut Sparkling
This chardonnay pairs well with seafood, especially sushi. A special occasion serve without the price tag.
lcbo.com, $29.95
6. Lily Sparkling 
Rosé VQA
Floral, grapefruit and brioche flavours come together in this creamy and elegant pink sparkling. Did someone say brunch?
lcbo.com, $17.95
 
Not pictured:
7. Hinterland Rosé 2016 Method Traditional
We've long been a fan of this Prince Edward County winery — this ripe, raspberry rosé made using the traditional method cements things. Rosé production halted after frost damage limited pinot noir growth in 2015. Now it's back and ready to send off 2020 with a flourish. 
hinterlandwine.com, $39.75
8. Tawse Spark Brut Sparkling 2018
From grapes grown organically on Twenty Mile Bench's escarpments comes Tawse's sparkling wine. All that limestone makes for some pleasant minerality while green apple and lemon pops in this riesling.
wineonline.ca, $25.95