There was a time when Starfish, Jamie Kennedy Wine Bar and Gio Rana's "the Nose" were the only reasons west-end Torontonians would admit to crossing Yonge Street to eat and drink.
From cocktails in the 2000s to craft beer in the early 2010s, it seemed like Queen West, Ossington and the Junction were the only places we could have nice things. But then rents went up, we got tired of waiting in line to sit on a patio and – most importantly – the people who love making beer decided they could do it best in their own neighbourhoods, even east of Yonge.
In 2016, the idea of creating a brewery district for Toronto was widely covered in the media. It fizzled, but east-end brewery owners noticed that the 13 breweries on the speculative list were all west of Bathurst.
Susan Michalek, co-owner of Muddy York Brewery, remembers that someone concocted the idea of forming a collective because "everybody was feeling a lot of frustration that there was a ton of focus on west-end breweries." That led to 10 east-side breweries signing on to the Toronto East Brewery Collective that kicked off last spring with the Brewed in the East tap takeover at three bars.
For 2019, they have gradually expanded their activity roster with another takeover and will band together to present a united front. You'll see them at beer festivals ranging from the Brewer's Backyard to the Toronto Festival of Beer in mid-summer.
But the big news, says David Wallace, sales manager for Muddy York is that four different east-end breweries will be represented in the beer garden at every Toronto Wolfpack rugby game.
"That puts us in Liberty Village in front of 10,000 rugby fans," he says. "Some of these folks know our breweries, but many don't." "We're underdogs," Wallace says.
"The east end in general has a 'tourism' problem in that people from the west end often feel like they don't need to travel east."
It seems that their collaboration is fuelled by each having a different specialty – maybe it's in a particular range of styles, a focus on hops, a prowess for barrel-aging their beer or by having a distinct vibe to their taproom.
It would be difficult to get the full sense of that impressive range in one brewery-hopping afternoon, so I've set out a schedule below.
Think of this as your guide to a week of great beer in the many different neighbourhoods east of Yonge.
Everybody felt frustrated about the West-end beer focus
1177 Queen St E
Whether easing into the work week or capping off a long weekend, a brewery that could double as a neighbourhood bar feels like the right choice.
Their yuzu pale ale gets into tons of LCBO locations, so while you're on site, broaden your horizons. For instance, lactose and double-dry-hopping play prominent roles in shaping Symmetrics, their new IPA.
Generally, hop-forward options are good bets at Radical Road and that's perfect for a one-and-done Monday evening. Or, if you're coming in after your weekly softball game, look to their cucumber mint kölsch, another mainstay brew, for clean and crisp, hot-weather refreshment.
242 Coxwell Ave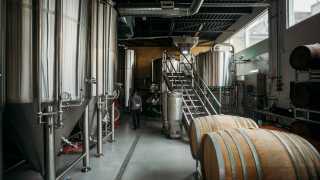 Godspeed was not the first modern brewery to open east of the Don but it certainly felt like a pioneering move, even in 2017.
By his own admission, Luc "Bim" Lafontaine wanted to be open earlier – the space was his for two-and-a-half years before they sold their first beer – but also chose the east end because he saw an opportunity.
Coming off a long run as the very well-known head brewer of Montreal's Dieu du Ciel! and a stint in Japan, he had an especially clear idea what size and shape he wanted his brewpub to take.
Godspeed combines a menu of homestyle Japanese favourites like braised beef stew with tendon and atsuage tofu with black sesame with their thoughtful beer. Their beer wants the quiet contemplation you can only find on slower weekday afternoons at such a popular operation. For example, the gose has Shikuwasa citrus and sea salt or the saison brings yuzu into play.
Lafontaine says a recent trip to the Czech Republic inspired his intriguing foray into unfiltered versions of Czech-style lagers.
And, of course, Godspeed's dortmunder lager fills out the sessionable end of their lineup.
818 Eastern Ave

After visiting a couple breweries in Toronto, you may have noticed something that feels crazy. Dogs hanging out. Inside! The usual rule is that pets and a licensed restaurant can't mix. So, if a brewery opts for no kitchen, canines might be welcome.
Weekday evenings are an opportune time to find the taproom with a few friendly pooches. And that's not accidental. The founders of the Eastern Avenue brewery made their logo an homage to their labrador mix, Snoopy, and set out to welcome four-legged family members.
Taproom manager Jeff Kelly says that a regular schedule of new beer releases attracts those in the crowd who would rather drink from glasses than bowls. They also take a punny swipe at the kettle sour concept (beers made by adding lactobacillus for a short, quick fermentation that produces a clean tartness) with their Kennel Sour series.
Each iteration adds a different fruit to the mix – blackberries and raspberries have been recent guest stars.
They welcomed four-legged family members
1001 Eastern Ave

Especially before craft beer became a trend, if you asked someone to close their eyes and describe a brewery, they'd probably mention a monolithic factory with smokestacks and a constant stream of delivery trucks. Fitting, then, that one of the east side's most popular breweries is built into an old three-storey house on a corner lot where Leslieville starts to become the Beaches.
Rorschach has converted the former residence into several spaces including a front patio (dogs welcome here) and a taproom with picnic tables tucked amongst the tanks. Best of all, their rooftop patio is a tree-lined oasis that feels comfortably separate from the busy city.
Beers from them like Synchronicity, Truth Serum and Hedonism – featuring fruit notes, either from hops or actual mango, passionfruit and the like – get plenty of well-deserved acclaim. There's just as much gold in their lagers and saisons that don't feature fruit and hops as prominently. Especially with their varied menu that nods toward pub favourites, this is an ideal place to ease into a summer weekend.
700 Queen St E
The end of the workweek brings a highlight from the event calendar at this brewery at Queen East and Broadview.
The Soul Proprietor (a.k.a. Eon Sinclair, bassist from Bedouin Soundclash) has a regular gig mixing beats from a variety of harmonious musical times and places. Fittingly, Dave Lee's beers range widely and complement the funk nicely.
You've tried Basecamp saison and their Let's Go Exploring IPA already? Great. Now, branch out with experimental offerings like Nerve Tonic (a saison with juniper berries). They also cover popular, but surprisingly under-brewed styles with beers like the Full Dunkel Jacket dunkelweizen and built-for-summer Hidden Lake hefeweizen.
Tara Lee leads the kitchen team at Eastbound to places well beyond the typical "elevated pub classics". Think plates like chicken-fried shrimp and grilled octopus or sandwiches such as pork belly muffaletta and Buffalo chicken.
They're seeking out the better things that speak to them
36 Wagstaff Dr
Mark and Mandie Murphy, the founders of Left Field Brewery, got their first clear message of how popular they would be with their Greenwood and Gerrard community when they held a Welcome-to-the-Neighbourhood party over five years ago.
Over a thousand people showed up to what was an empty warehouse to celebrate that they were going to get a brewery within walking distance. And dozens of them brought their strollers.
Mark Murphy remembers how this family friendliness evolved: "there used to be this group on Facebook called 'Left Field with Babies.' We didn't create it. They coordinated it and came on Thursdays at 1 p.m."
With a steady schedule of food popups all weekend, Left Field is one of the friendliest places to drink in the east end. That goes doubly if there happens to be a Jays game on.
Best of all, their excellent beer is way better than what you'll find on tap at the Rogers Centre. Murphy's brewing team divides its time between IPAs (Greenwood and Laser Show), smoothie IPAs (WHIP), fruit sours (Squeeze Play) and a few standards (Eephus brown ale and Sunlight Park saison).
22 Cranfield Rd
New beer releases hit the taproom and fridge at Muddy York on Friday. Saturday is usually when you should plan to visit for food pop-ups. But Sundays the brewery stands out.
Of the pop-ups, Michalek says, "Island Oysters is the most popular and it's bananas." The Sunday specialties that draw crowds (and maybe the occasional curious eyebrow from those used to drinking in sports bars) are ones designed for kids.
Muddy York has had Little Robot Friends in to help pint-sized guests tinker with electrical circuits, performers like Liam Kearney for entertainment and a popsicle-making pop-up for a sweet distraction.
To describe how Muddy York connects with customers, Susan Michalek says: "They like what they like; it doesn't need to be the hippest thing out there. They're just seeking out the better things that speak to them."