Flavour of the Week: Death & Taxes
Taking inspiration from a classic British pub, Queen West's newest watering hole puts equal emphasis on food, drink and a trendy atmosphere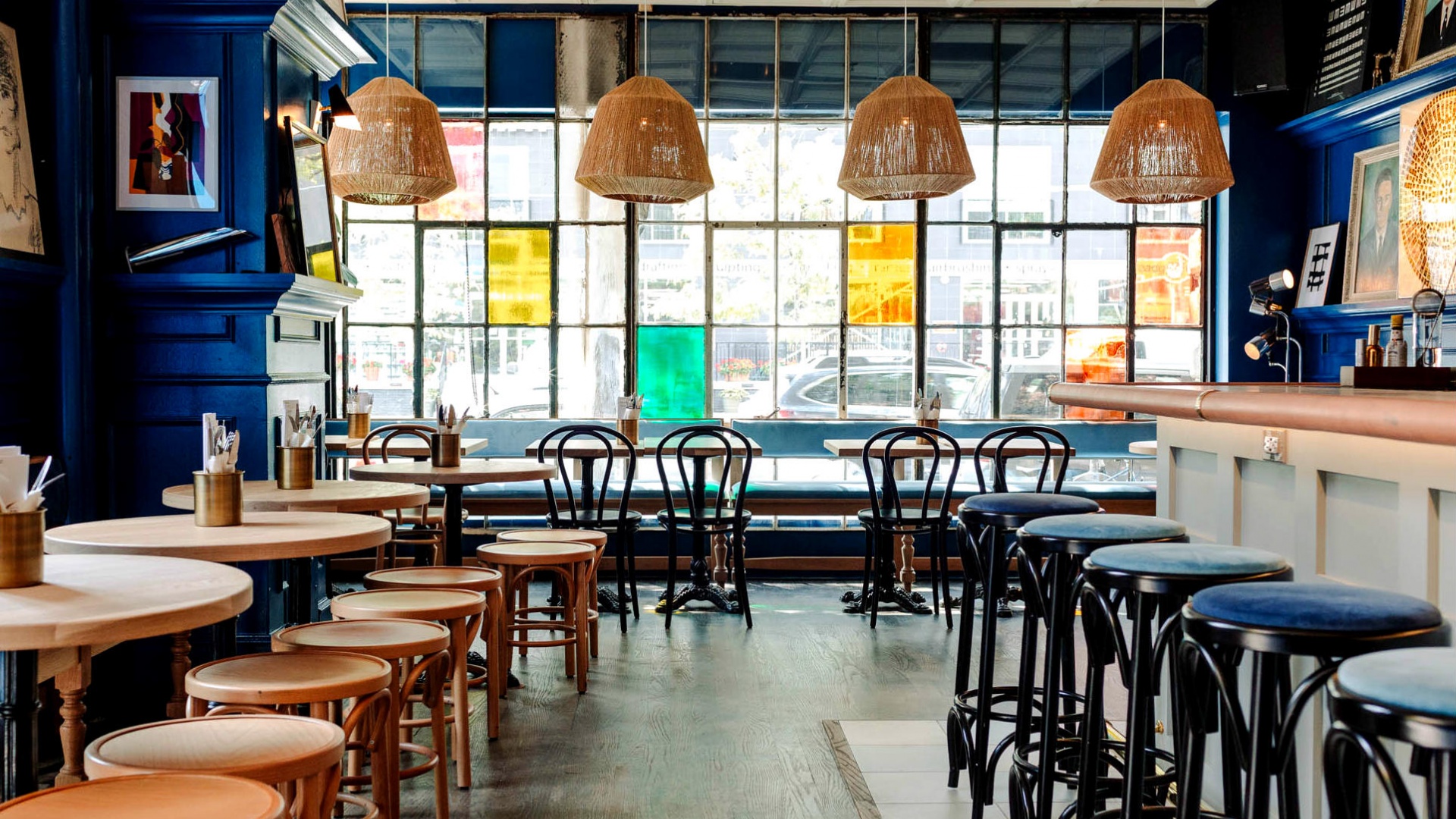 What's the vibe
When we found out that the owners of Belfast Love were taking over a prime location on Queen West (previously occupied by the much-loved Beaconsfield bar) we were curious as to whether they'd be carrying over the buzzy King West vibe of their first operation. But we were pleased to discover that Death & Taxes boasts its own unique personality – a stylish yet comfortable watering hole where food, drink and atmosphere are each a worthwhile draw in their own right.
Fairy lights strung over the patio, which overlooks Beaconsfield Avenue, are an easy sell in warm weather. But we can see ourselves getting cozy indoors among richly painted walls, tchotchke-filled shelves and a mish-mash of artwork that together creates an ambiance reminiscent of an eclectic British pub. But a splash of neon signage above the bar reminds you that you're still in one of Toronto's hippest neighbourhoods.
What to drink
View on Instagram
The British pub look and feel continues to Death & Taxes's beverage menu which covers a versatile selection of ales, ciders, sours and lagers on tap (including four casks) with a heavy focus on local breweries. The cocktail menu is also worth exploring: Always Sunny in 1861 is their take on a classic Clover Club with house-made gooseberry syrup in place of raspberry; while the lime, chili-infused vodka and watermelon juice in Left Before Albuquerque reminds us of a summery watermelon salad.
Don't be afraid to order a drink off-menu either – the bartenders here are happy to whip up a custom creation (and they can also give you the down-low on the bar's quizzically-named signature cocktails, as each has its own origin story).
What to eat
The food menu might be an afterthought at most pubs or boozy establishments but this is so not the case at Death & Taxes. While eclectic in its scope (tuna sashimi, eggplant parm sandwich, avocado toast) each item we tried held its own, which is impressive considering the majority single-digit price points. 
The sesame and avocado slaw was surprisingly satisfying for a salad with a pleasant crunch from its fried taro garnish. We're told that the chicken sandwich has already become a house favourite (rumour has it a hungry staff member ate five in one sitting) and we can see why: the pillowy-soft potato bun and crisp fried patty offers that familiar comfort of those unmentionable chain restaurants but with all the freshness and flavour they're lacking.
Dinner and drinks for two: about $70
1154 Queen St. W., 416-516-2550, donnellygroup.ca/death-and-taxes