Catching a Buzz
We look into Toronto's growing contingent of urban beekeepers and the terroir of our local honey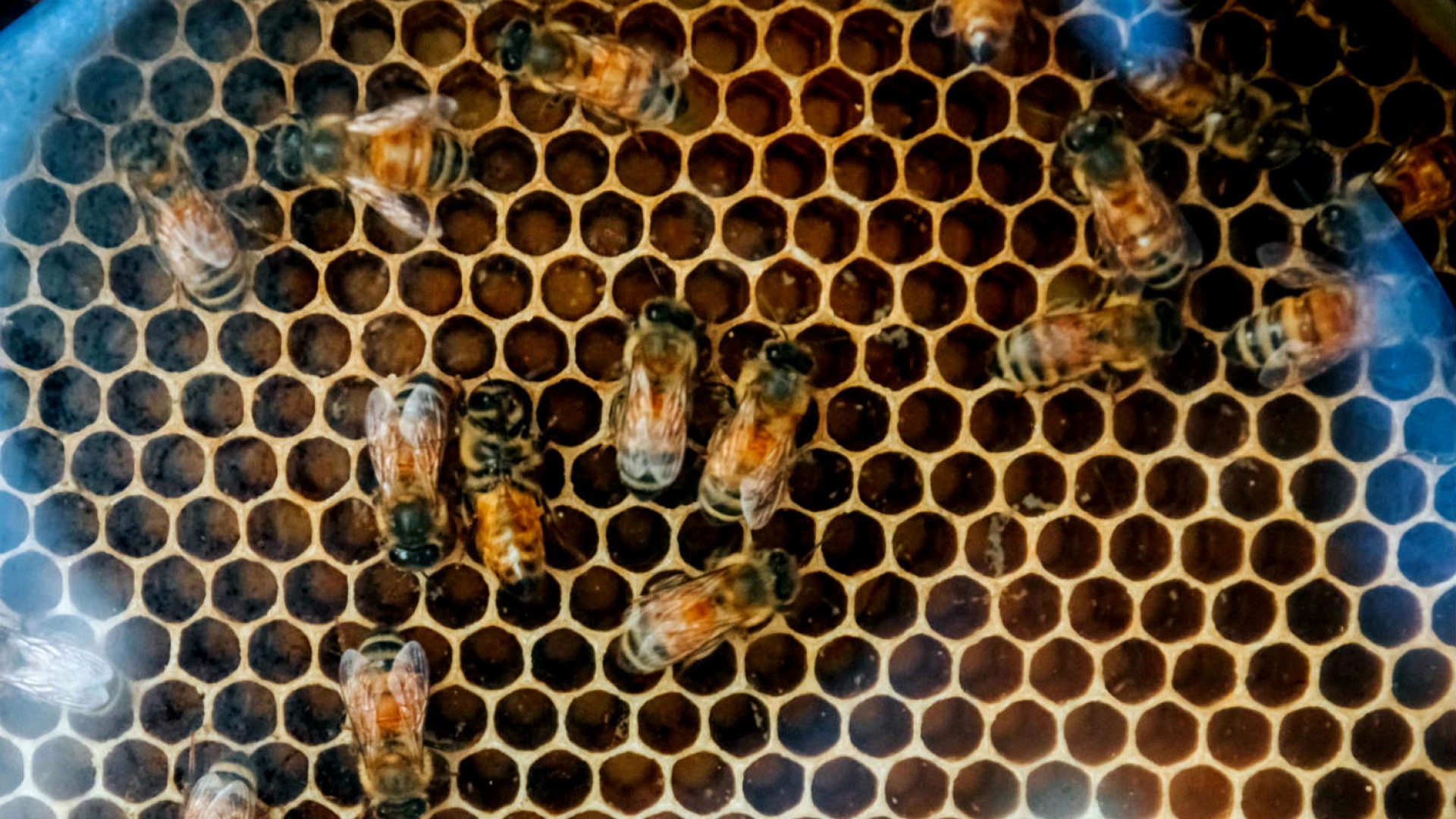 Vivian and her husband reside in Cabbagetown with their two Cornish Rex cats and, atop their handsome rooftop, two urban beehives, one governed by Queen Phoebe II and the other by Queen Flavia.
Phoebe runs a peculiar ship, building wax in odd places and laying eggs sporadically around the hive. Flavia, on the other hand, is an overachiever. She organizes her hive as if it were a diagram in a honeybee textbook: she fills the centre with eggs, and each stage of the next generation is kept separate: larvae in one area, pupae in another.
For all the Friends fans out there: think of Phoebe as, well, Phoebe – buzzing to her own beat – and Flavia as methodical Monica.
It's the end of April and I'm touring residential beehives in the city with Madison Weir, a beekeeper with Alvéole, an initiative that sets up and maintains hives around Toronto and Montreal.
The weather is finally warming up, making it safe to open and inspect the hives after a drawn-out winter (honeybees don't leave their hive when it's below 13 C). Vivian has always wanted to host bees, so when Alvéole expanded to Toronto last year from Montreal, she adopted two hives with their help.
Without bees, many wild plants wouldn't be able to reproduce
Weir and Vivian approach the wooden hives, which each contain 10 frames that mimic honeycomb. They carefully remove the roof. The frames drip with bees as they lift them out one by one.
Both colonies look strong and on track; everyone is doing their job. As the hives rest beside each other, the royal guards make sure no one enters the wrong colony. Today, Phoebe is nowhere to be seen. We settle for a glimpse of Flavia and knowing that the hives remain healthy as spring turns to summer.
Weir and I drive a few streets further east to visit another urban beekeeper, David, whose "lovely and curious" colony sits on his patio. His bees are less animated than Vivian's. The shade makes for a chilly patio, and the cold-blooded bees aren't in the mood for a frigid flight.
"Hello, ladies!" David says as he greets the fascinated few who purr around his beard.
You see, worker bees are all sterile females, while drones – fertile male bees – are currently being laid in eggs around the hive. It's a draconian matriarchy: stinger-less drones have short life spans filled with chasing virgin queens. Those who manage to mate mid-air will then naturally die, and those who don't will return to the hive. But once the temperature starts to drop, drones still left in the colony are kicked out to conserve honey and will eventually die.
Urban beekeeping is on the rise in Toronto, in part as a reaction to declining bee populations worldwide. It's a form of animal husbandry, like deciding to adopt a herd of cows, but smaller. And honeybees are the only bee species that can be monitored and maintained. It takes time, effort and money, so Alvéole allows people to enjoy bees without being solely responsible for them.
Many flying insects, like moths and butterflies – along with hummingbirds, too – fall under the category of pollinators. But bees hold the title of MVP: most valuable pollinator. Honeybees have stout, fluffy bodies that collect extra pollen, and they'll often visit the same type of flora during their flights, leading to more efficient pollination.
One-third of the world's agriculture depends on pollinators to reproduce, and 80 per cent of that responsibility falls on the shoulders of bees. Without them, many wild plants wouldn't be able to reproduce, causing them to die off and further endanger the surrounding wildlife. And for the first time in history, bees are landing on endangered species lists: they're losing their habitat and being killed off by pesticides and disease.
In 2016, Toronto was dubbed Canada's first "Bee City" as part of Bee City Canada, a program designed to protect all pollinators. The City of Toronto created a resolution to make the city's green spaces more pollinator-friendly by planting perennials, maintaining native flower plants and keeping the city's public spaces insecticide free.
There are 800 bee species in Canada, and Toronto's urban lakeside landscape attracts almost 50 per cent of them. Along with being warmer than other Canadian cities, Toronto's diverse flora, ample green spaces, ravines and proximity to the lake make it desirable real estate for native bees. These factors also make for uniquely delicious honey.
Unlike the predictable taste of commercial honey, the intricate flavours of small-batch honey derive from the surroundings. Like wine, honey has its own terroir, and the taste and texture develop with the season.
Spring honey in Toronto is made from dandelions and early tree blossoms, such as cherry, apple and pear. It's delicate and floral. With summer comes the linden flower, which gives honey a minty aroma. Enough of it will produce a eucalyptus-like flavour. Summer honey can also be citrusy: last summer, Alvéole's Leslieville hives produced a honey with hints of grapefruit.
As cool winds blow and autumn approaches, goldenrod and asters flood the city, creating a bold and earthy honey with a savoury, cheddar cheese aroma. Some even compare the scent to old socks, but in the most doting way possible.
Last year's batch of Alvéole's Downtown honey – made by bees that forage on the Toronto Islands – looks darker than typical summer honey and crystallizes faster (courtesy of goldenrod). It tastes vegetal with traces of nutmeg and cinnamon, mimicking the flavours that will embody honey throughout the city as the goldenrod spreads northward. Alvéole sells its honey online and at its honey house (located near Dupont Street and Dufferin Street) every Saturday.
In addition to residential sites, some of Alvéole's 80 hives are set up at Toronto landmarks, including the Shangri-La Hotel, which partnered with Alvéole and Canadian jewellery purveyor Maison Birks to welcome a queen bee for a second season.
Bees are being killed off by pesticides and disease
Last session, the hive produced 85 kg of honey, which was used in the hotel's amenities and at its restaurant, Bosk. This year, Shangri-La is working with Flying Monkeys Brewery to create a honey lager.
A hive filled with 50,000 bees shares the third-floor terrace with a private events space and guests at Momofuku, but the flying insects go unnoticed. Unlike carnivorous wasps, bees are vegetarians, so they'd have no interest in David Chang's famous pork buns. The bees have one mission: to collect pollen and nectar to feed the hive.
Gillian Leitch, Bee City Canada's program director, became a beekeeper in 2006 as a response to Colony Collapse Disorder, in which worker bees strangely disappear, leaving an abandoned queen. She wanted to help save the bees. But knowing what she knows now, she wouldn't necessarily recommend the same path for others.
She's worried about an oversaturation of honeybees competing with native bees for the same resources. Instead, Leitch advocates for pollinator gardens. "We need to be less tidy with gardens, less manicured," she says.
Seventy per cent of native bees nest in the ground, so she suggests leaving 10 per cent of your garden untouched. Dry patches of soil can be good. An ideal garden would also have a variety of trees, shrubs and grasses, and something blooming each season.
"And sometimes the best thing you can do is just go out and watch the bees," says Leitch. Morningside Park, Lambton Park and Tommy Thompson Park are all bee-watching hot spots (keep an eye out for perfect holes in leaves made by leaf-cutter bees).
Leitch manages hives around city, including the one on top of the Big Carrot, a natural food market on the Danforth. But her favourite honey comes from her friend's beehive up by St. Clair Avenue. "You could taste the elderberry bushes," she says.
Sometimes honeybee colonies end up where they're not wanted, and that's when the fearless Peter Chorabik, founder of Toronto Bee Rescue, steps in. He retrieves colonies from around the city and relocates them to areas where they can thrive.
Honeybees have always been a part of his life: his father kept them with his father. But when varroa mites – a prevailing cause of bee mortality – made their way into Canada in the late 1980s, his father's desire to keep bees waned. So Chorabik stepped in.
Not only does he help save colonies from being destroyed, he harvests honey too – sold online through his wife's company, Ontario Honey Creations – and he also turns the liquid gold into honey vinegar using traditional small-batch fermentation.
Pests and diseases continue to plague Toronto, and it's hard to find two beekeepers who agree on proper pest management. Some don't believe in any treatment at all.
Like wine, honey has its own terroir, and the taste develops seasonally 
But in this field, it's not to each their own. Bees have a five-kilometre range when they gather food, so it's guaranteed that bees from multiple hives will cross paths, and it's easy for a disease to transmit from one bee to another. And the playing fields for hobbyists and professionals are vastly different.
"I don't feed my family if my bees die or don't produce honey," says Chorabik.
Some remember their first sting. While bees are docile by nature, they'll get defensive if they feel threatened. But as with their human counterparts, you can't judge an entire species by a single bee that might have been having a bad day.
I, however, remember the first time a bee sat on me. It was one of the girls from David's hive. I named her Princess Peach.
"She's a very attractive bee," David said as Peach found warmth under the gap in my sleeve. "Oh this is cute," he said. "She's sitting there with her paw over her eyes."
And then it happened. I watched as something started coming out of her. I knew it: she was going to sting me. "Is she about to..." I began to ask, before realizing what was actually happening. "Is she shitting on me?"
Neither David nor Weir had never seen this happen before. They were in awe, as if a baby was taking her first steps.
It's not hard to fall in love with bees when you meet the right one. So, Toronto, honey, please don't kill the bees. We need them.