Expanding waistlines, jeans that now feel a bit too snug and the dreaded "quarantine 15" — these are the things that seem to be on everyone's minds as of late. But when did our focus shift from surviving an unprecedented global event to critiquing our own self-image?
Last March, the world shut down, we were caged in our houses and the air was thick with overwhelming fear, uncertainty and a feeling of impending doom. People were afraid to go outside.
"When we were sent into our homes, we all ran into the kitchen," says Joshna Maharaj, food activist and chef. "And I wanted to be able to say, 'Everybody pay attention to what we're doing right now.' The kitchen really means something to all of us."
Through the stress and the turmoil, we started cooking and baking, feeding sourdough starters and sharing recipes online. We found solace and comfort at the bottom of our favourite home-cooked meals.
"When I feel like things are a bit nuts, I will make something familiar. In fact, I made a giant pot of my mom's family chicken curry the other day, just to have the familiarity of the anchor of that," says Maharaj. "It's one of the few things I have with that kind of historical connection. My mother has made countless pots of it, fed everybody in our lives, families and friends, and brought a pot of it to my residence in university."
A chef without a restaurant, Maharaj hosts (now virtual) classes and works with organizations to help those suffering from food insecurity. In her book, Take Back the Tray, Maharaj tackles the lack of good food available in institutions, from schools and hospitals to prisons.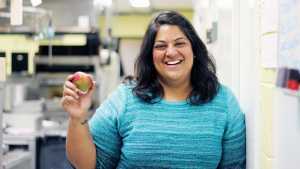 "My thing is, and has always been, everybody needs good, steady access to solid, wholesome food. It is a simple thing," says Maharaj. "We don't realize enough that our connection to food is as vital as our connection to air and to water."
So while it manifested in banana bread and sourdough, there was more to cooking than just satiating our hunger and easing our boredom. When we feel stressed, our bodies release cortisol, which can cause us to crave foods that are high in sugar, fat and salt. As well, dopamine, a neurotransmitter that relates to how we feel pleasure, is released when we get a reward — like when we're cooking something tasty and know there is a delicious pay-off waiting for us. Then there's serotonin, the hormone responsible for feelings of happiness, which has been linked to comfort foods like cheese and chocolate.
After a year spent dipping in and out of lockdown, the cycle may seem almost normal: close everything down, slowly open back up again, repeat. Our fear and uncertainty have been shoved into a corner of our minds that we don't dare to look at. But the heaviness of that stress still weighs on our shoulders and the restrictions on our lives still take a toll.
"Because we're in a routine, either working from home or whatever it is, we tend to forget that it's a fucking global pandemic," says Rachel Bies, a culinary nutritionist who runs her own meal prep and delivery service. "Work is hard. Life is hard. Jobs are hard. Dating is hard. Kids are hard. All of that is hard separately. And then we're still doing all of that with a global pandemic. It's not normal. None of this is normal."
Combining her culinary and wellness expertise, Bies is a chef and caterer who runs her own business making healthy, wholesome meals for busy professionals and families. But in the face of truly unprecedented times, Bies believes that there are extenuating circumstances when it comes to living a balanced lifestyle.
Workouts and kale smoothies will all be there once we're back to normal
"It's not normal to live in one spot. It's not normal to not interact and see people. That's the offset of the stressors of day-to-day, but a lot of people are just living in the stressors. And there's no way to go out and shake it off. There are no dinner parties. There's no dancing. So, people's emotional eating and anxiety, it's not normal. And that's okay. The diets and the workouts and kale smoothies will all be there once we're back to normal. But, if it's not for you right now, then that's okay, too," says Bies.
In the times before COVID, many of us had other outlets to find enjoyment, comfort and pleasure. Whether we relied on gym classes, time spent with family and friends, visits to museums or art galleries, or a simple night out at a favourite bar — all of these things have been stripped away. For many of us, the one place left to find comfort, joy and familiarity has been in the kitchen and through the food we eat.
When I was a kid — before my parents' woesome divorce — they took me and my brother to McDonald's every Friday night. In my early 20s, my dad and I picked up the tradition again as a way to stay connected. Lately, with the stress of everything going on, I've found myself once again craving that Friday night feeling. Only now, in food-forward 2021, I head to the Rudy location closest to my house for a burger, fries and the comforting combo of carbs and a nostalgia that brings me back to happier days.
Like Maharaj and myself, Patricia Yeboah, co-owner of Mama Akua's, also finds comfort in a dish with history. "Kelewele is a spiced plantain, and that's my favorite thing in the world," says Yeboah. "I was born in Ghana. When I was four, whenever my mom would pick me up after work, in the evenings when we're walking home, there's always the kelewele sellers on the roadside. And she would always buy that for me. I have a fond memory of that because my mom left Ghana when I was four-and-a-half and she came to Toronto. I didn't see her until I was seven. Those memories still stay with me. So, when we did our first menu, that was one thing that I really wanted on there."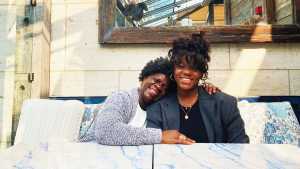 Yeboah and her mother started Ghanaian food pop-up Mama Akua's last August as a way to cope with everything going on in the world and to reconnect with the community.
"When I started Mama Akua's, I was broken. I didn't really know where to start or what to do," says Yeboah. After being let go from her job in March, Yeboah was diagnosed with clinical depression. "We weren't really allowed to go outside, but it was suggested to go for walks. I just didn't want to do any of that. I shut down completely and emotionally."
Then, in July of last year — after George Floyd, and countless other Black people were murdered by police — even more problems were brought to the surface, especially for the Black community.
"The lockdown happened in March, and then there was a lot of social unrest with civil rights and Black people being killed, especially in the States. Tensions in the community got high. And I was really trying to figure out how to connect back to the community," says Yeboah.
Fortunately, a close friend of Yeboah's reached out to offer support. "She took me to her house and she made me lunch, and we just talked about everything that was going on," says Yeboah. "I cried, went through all of that. And then we started talking about how I feel and how this is what other people are feeling as well. From that conversation was actually where Mama Akua's was born."
Connecting with a friend over a meal, Yeboah came up with the idea for the two-day pop-up to share her mother's cooking with the community while raising money for charity.
"I didn't think it would turn out the way it did," says Yeboah. "But the community showed up in such a big way. And we were able to raise money for two organizations. It was supposed to just be a two-day thing where we all come together just to connect with each other, connect with the community again. And it just grew into a full-fledged business."
During what was an incredibly difficult time personally, as well as for the Black community and for everyone grappling with the pandemic, Yeboah and her mother found a way to bring the community together over good food.
"Food connects people in so many different ways, no matter the time, or where we are. The different flavours or the commonality of how you're making certain things can connect so much into different people's cultures," says Yeboah.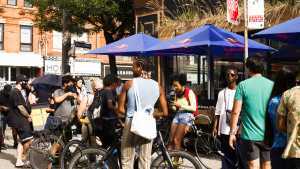 Maharaj also relies on the sharing of food to connect with her loved ones.
"As somebody who has been really missing having my people over and being at a table, it's been super hard," says Maharaj. "I have compensated by just doing regular deliveries of packages of food at my people's doors. And I realized, when I was making some birthday cupcakes for a pal of mine, this is as close as we can get to physical connection with each other right now. I can make something with my hands and my good intentions, and give it to you and you consume it. And that is the closest physical connection — we can eat, we can enjoy."
Expanding beyond her social circle, Maharaj found a way to bring the community together through these doorstep food deliveries. From the start of the pandemic, for more than 30 weeks, Maharaj would pick up litres of soup and baked goods from chefs and home cooks, and deliver them to seniors who were living alone in apartment buildings in Moss Park.
"What I didn't realize was actually happening, was that an entire network of people was really benefiting from this based on the wild circumstances of this moment," says Maharaj. "Really hungry people got some beautiful, good food inside of them. People who really wanted to be helpful and didn't know how to do that had a legitimate, lovely way to do that, and I was able to build a bridge between those two populations of people."
Food is, and has always been, the common ground able to bring communities together and connect people from all walks of life. It's a necessity to living that should be accessible.
This is the glory of being a human: flavour, smell, people and connection
"This beautiful, dreamy thing that I talk about and the way I talk about food — I believe that everybody's relationship with food should be like this. This is not just something you have to opt into, or you have to afford," says Maharaj. " This is the glory of being a human: flavour and smell and people and connection. It's just a beautiful way to be alive, connecting through food."
Whether you're baking treats to deliver to loved ones, connecting with your partner or household over a shared meal, or reconnecting with yourself through a favourite dish, there is an undeniable amount of comfort and pleasure that comes from food.
If you happen to be carrying a little extra, so what? "Please remember to trust your relationship with your food. There's a lot of guilt right now. Waistlines have expanded. And a lot of people are feeling badly about indulgence. And look, take care of yourself, be well. But trust it's okay. Trust your food. Don't scold yourself. Don't be angry with yourself. And if you want to do something different, then just do something differently, don't feel regretful about what has happened," says Maharaj.
"Our world needs us for too much else than to fret and worry about having eaten too many cookies."