I have become smitten with Toronto. Last year I made efforts to listen to and discover more Canadian music. I became familiar with and enjoy the folk-alternative stylings of Toronto-based bands such as Great Lake Swimmers, Alvvays and singular artists such as Kathleen Edwards, Doug Paisley, Donovan Woods and so many more. I also revisited the Hip at the time of their last concert, and then I found an old Blue Rodeo CD called Five Days in July. I hadn't heard that CD since I lived in France, where I would wax homesick as I listened to it. The spirit in this music reminds me of a sense of community which, somehow, I often find in Ontario and its food culture.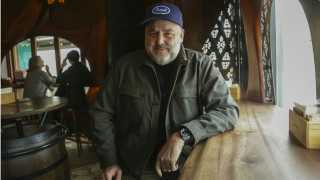 After having worked for years in Montreal, I'm getting to a certain age where I am being pushed out of the kitchens of my own restaurants by young chefs who feel that I have the attention span of a ferret on espresso, who think I do too many things at once instead of focusing on any one task. I took their advice and started making visits to Ontario, to our friends who have been visiting us in Montreal for years. I have turned into the Joe Beef mascot.
The spirit reminds me of a sense of community which, somehow, I often find in Ontario and its food culture.
Montreal folks love to slag Toronto, which I feel is odd. Torontonians, on the other hand, are always complimentary. They always have nice things to say about our vice-laden city, our food and even our hockey team. Toronto is now the great Canadian food city. I feel we may have lost the title in Montreal, due perhaps to the great exodus of corporations moving out to the greener pastures of Toronto.
When I was a young cook, I'd save all my money and drive to Toronto to eat at Mark McEwan's lavish North 44. I was a poor line cook at the time and saved for months to have spectacular meals there. I remember going across the street to Centro and listening to terrified bartenders tell stories about the great Marc Thuet. I followed the rise of Anthony Walsh – the hardest working Canadian chef – along with Jamie Kennedy, Keith Froggett, Michael Stadtländer, Susur Lee and Chris McDonald.
What a scene you have created together. Your camaraderie is inspiring.
Big pieces of the Canadian puzzle. I remember the rise of Ontario wines. The Niagara ascension. Discovering Prince Edward County and its iconic soils; Norman Hardie and other pioneers changing history. I've discovered Ontario honey, lamb, beef and amazing animal husbandry; incredibly high-quality products I can't get enough of. Ontario's craft beer movement has risen to prominence. The ciders are exceptional. You can't get more landlocked, yet Toronto has somehow been the go-to place to eat crustaceans and bivalves in North America for decades. What a scene you have created together. Your camaraderie is inspiring.
Here's a list of Toronto's current history-makers from where I stand: Honest Weight, El Rey, Bar Isabel, Bar Raval, all things Buca, Alo, Edulis, the Black Hoof, Grey Gardens, Archive, Woodlot, Brothers, Ascari Enoteca, Cumbrae's, Sanagan's, Dandylion, Chabrol, Oyster Boy, Rodney's, the Gabardine, Forno Cultura, Blackbird, the Cheese Boutique, Chocolates x Brandon Olsen, the Tempered Room, Momofuku, Barberian's, Rose and Sons, all things Anthony Walsh, Caplansky's.
- Words by David McMillan
This column originally appeared in Issue 4 of Foodism magazine. Read the full issue here.