For the last five years, the craft beer industry has been growing rapidly throughout Canada. Throughout the province, more than 200 micro-breweries, breweries and pubs dedicated to craft beer exist. These numbers have shown no signs of slowing down, with craft beer servings up by 7%, according to recent findings from data research company NPD Group.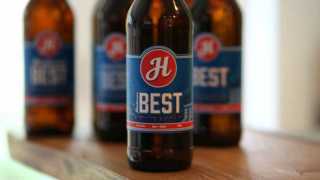 Across the province, several dedicated events highlighting craft beer and its makers took place, including Cask Days, Roundhouse Craft Beer Festival and the Toronto Festival of Beer to name a few. It can only be described as a tight-knit and supportive community, which Holly Postlethwaite, PR & marketing coordinator for Steam Whistle Brewing explains to me: "The brotherhood in Toronto's craft beer scene is pretty special" she says. "We truly support one another."
Because of this community, the Ontario Craft Brewers Association challenged The Beer Store's current monopoly on most beer sales to the Ontario government last March 2015, in a hard-fought and ultimately successful battle. In April 2015, Ontario premier Kathleen Wynne announced that the Ontario government would be making significant changes to the way beer was sold and, just like that, the very first six-pack of beer was sold at Loblaws in December. While it is a step in the right direction, Henderson Brewing Company's (who's new brewery and tap house is slated to open in the Junction in April) general manager Steve Himel told me "it's really great that the government is trying to support the small brewers, but they are fighting a big, powerful giant. What I find interesting is that they have capped the ABV at 7.1% on beers being allowed into grocery. This really limits the products that the more creative brewers are making."
While we're just catching up to provinces such as Vancouver and Quebec in our craft beer scene, many have called out if it's possible for us to even think of taking the title of craft beer capital. While some of our makers and producers are some of the best in the world, what would make us deserving of that title? In a recent Toronto Star article, it was noted that more than 47% of Ontario's food and beverage sector jobs are in the Toronto area, and that craft beer is the fastest-growing segment within the LCBO's beer category. Steve Himel noted that, "It's not up to the brewers – it's up to the drinkers. If beer drinkers will open their hearts to all the neighbourhood brewers setting up shop in the city we could easily be the craft beer capital of the world."
"If beer drinkers will open their hearts to all the neighbourhood brewers, we could easily be the craft beer capital of the world."
And he's absolutely right – what makes the craft beer scene in Toronto so special, for the moment at least, is just how big, diverse and expansive it can be. Postlethwaite notes that "when a consumer enjoys a quality craft product, they know they're consuming an all-natural beer and supporting local business. I believe this, paired with the variety of flavours, is increasing the demand."
The craft beer scene, however, goes far beyond making a perfect bottle of suds. As noted before, the craft beer industry has largely built itself on being an inclusive community. A growing number of those in the community are women. One of the biggest misconceptions is that beer drinking is masculine and that women cannot take up space within the industry, but two groups have started to change preconceived notions, helping more and more women get involved in the Canadian craft beer industry.
There are three groups in particular: the Society of Beer Drinking Ladies, Barley's Angels and the Pink Boots Society. In a previous interview I did with the gals from the Society of Beer Drinking Ladies, they explained to me that "we started because we are a bunch of beer explorers who want to create a community of women in the beer industry and those who love craft beer, to connect, network, celebrate and enjoy craft beer and to 'cheers' lady awesomeness. Women have always played a key role in beer production."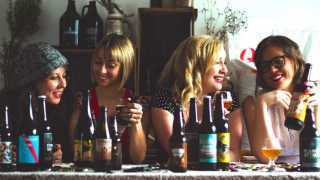 It has also been noted that women may have better tasting palates than men (sorry, not sorry!) and, as Steve Himel explains to me, "are more attracted to the broad palate that craft beer offers them."
While there is still a lot of work to be done with just how much recognition craft beer gets – and how much craft beer retailers are getting of the grocery retail pie (from reports, it's fairly small) – what we need to consider is this: it's still headway, and positive headway at that.
Perhaps you'll get to experience a craft brewer you've never had the opportunity to try before, and perhaps you'll perhaps it will open up your taste buds to new and other craft beers – whatever the case may be, understand where your beer comes from and support the brewers who are putting the time and effort into making it. This goes far beyond just brewing the suds you're drinking: as Postlethwaite says, "get out there and connect with your local brewery." She suggests taking a tour of your local brewery – like Steam Whistle – while Steve, on the other hand, suggests heading down to your neighbourhood brewery and tasting the beer with your local brewmaster. "Speak to the person and ask them questions!" he says. The better way to understand your beer, and to understand the local craft beer market, is to understand where your beer came from and how it's being made.
Currently, there are there more than 60 grocery stores across the province that commenced beer sales in the lead-up to Christmas last month. More are expected to roll out shortly.
Want to fill your (winter) boots with craft beer later this month? We've got two tickets to the sold out Roundhouse Winter Craft Beer Fest up for grabs here