I was first introduced to Toronto's "vomit comet" over a decade ago. The moniker refers to the city's Blue Night buses that offer late-night (usually after last call) rides from downtown heading to North York, Scarborough or Etobicoke.
The 320 Yonge bus is the best-known option and is most closely tied to the nickname. For me and some of my friends it was a backup in case we missed our planned ride home. The trip north amongst fellow carousers would ease my feeling of malaise as it took me from King up to Sheppard.
While Toronto's partying scene is just as diverse as any other part of life here, it didn't take me long to notice that I wasn't just surrounded by fellow revellers. The bus is also the only way home from the late shift.
"My shift always ended very late. Usually at 2 a.m. after we cleaned the restaurant. I would take the bus back to Scarborough and it would be filled with other Sri Lankans who worked in the industry," says Kokulan "Kobe" Saravanapavananthan. He's one of the many Sri Lankan chefs who have been quietly shaping the Toronto food scene. For chefs like Saravanapavananthan, the bus served as both transportation and a social network, but not to meet jovial club-goers.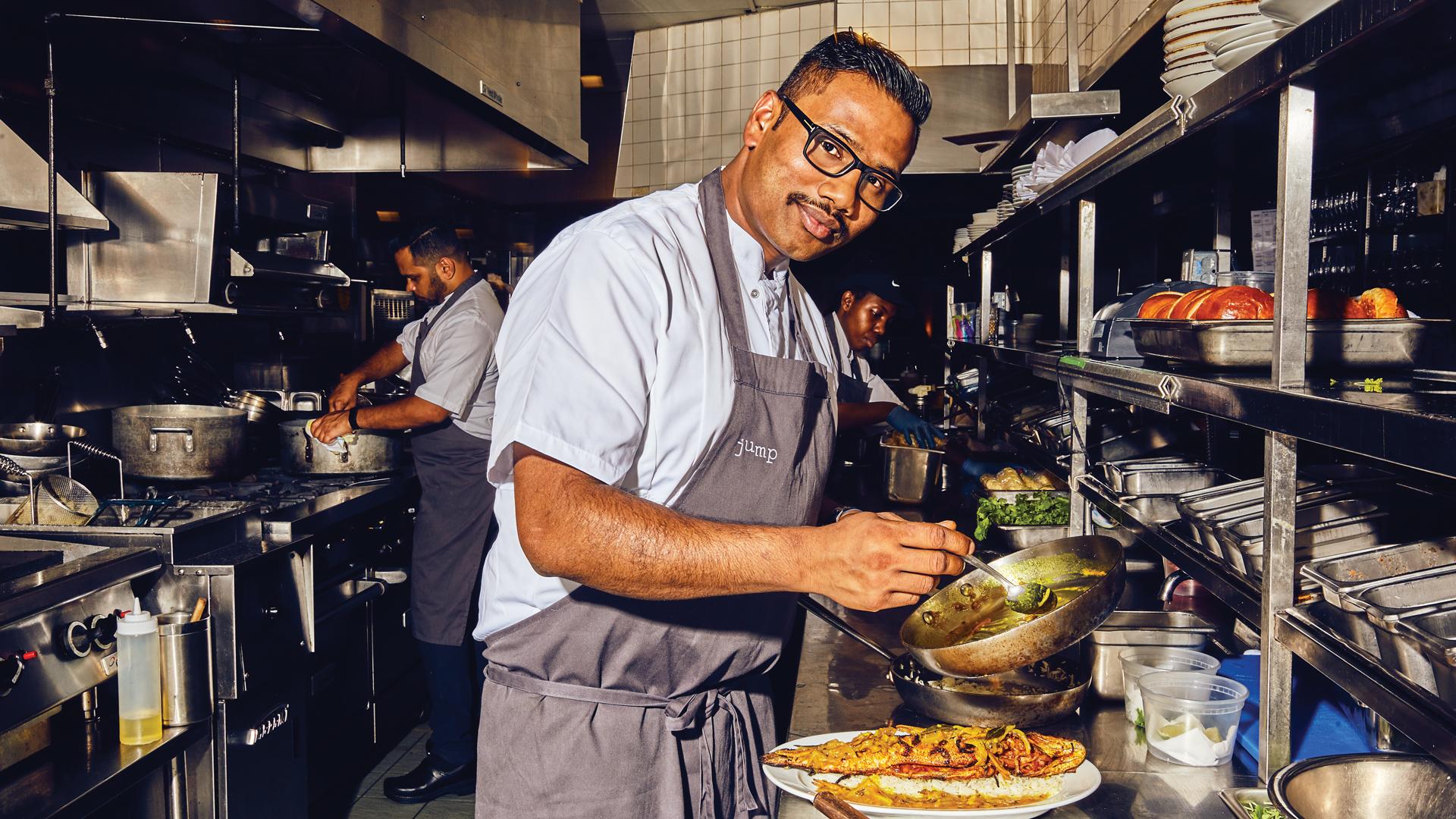 Saravanapavananthan is the sous chef at O&B's Jump restaurant in the Financial District. Jump is a New York-style bistro with sky-high ceilings and a menu that covers French and Italian. Saravanapavananthan joined the restaurant in 1999 as a dishwasher.
Born in 1978 in Jaffna, a peninsula on Sri Lanka's northern tip, Saravanapavananthan's earliest memories revolve around his family's farm. In a tropical savanna climate, they were surrounded by rice paddies, coconut and palmyra palm plantations. Then, in the early 1980s, everything changed.
"Many Sri Lankan Tamils rode the bus every night"
"Because of the civil war between the Sinhalese and Tamils. I am Tamil, so my family felt that it wasn't safe. I was sponsored to come to Canada," he says.
Sri Lanka, formerly known as Ceylon, has a long history of conflict between the two groups, which predates British rule (1815 to 1948). This escalated in the mid-1970s when young, militant factions sought to carry out a series of assassinations.
What was once a vibrant coastal city with a sprawling swathe of golden beaches, and a cuisine that was a unique meld of South Indian, Dutch and Portuguese, quickly became a shadow state and a capital for endless, violent military operations.
The war ended in 2009 when the Sri Lankan troops disarmed the last militant outposts. And Sri Lanka became a tourist spot for sun-seekers and food enthusiasts. Well before the rest of the world joined the trend, much of the island's food was vegetarian or vegan. Recently, Jaffna has started to experience a surge in tourism from culinary enthusiasts and culture seekers.
I was born in the capital city of Colombo. As my parents witnessed the deterioration and civil unrest around them, they decided to emigrate to Canada. For years, I clung to my memories of the tropical island, the soothing sound of the Indian Ocean, the whirring phat-phati engines and vibrant cuisine.
estimates put the GTA's Tamil population at over 200,000
There were fewer than 200 Tamil Sri Lankans living in Canada during the first waves of immigration in the late 70s and early 80s, but during a civil war that lasted over 25 years, with over 100,000 civilian deaths, countless families fled to the U.K, Australia, Italy and Canada. Today, the Tamil population in the GTA is estimated to be over 200,000 and Tamils are one of the largest immigrant groups in the country.
And sometimes, at least to me, it seems like every one of them is a cook.
"There are many reasons why so many Tamils entered the industry. It's a complicated answer but I think it is because we are very skilled workers and we show a level of dedication that the industry demands," Ruben Subramaniam says. He's the owner and chef at the downtown Office Pubs. "We also needed a job quickly. Tamils relied on other Tamils for references. Many of these guys met each other while taking transit; they would learn of new jobs."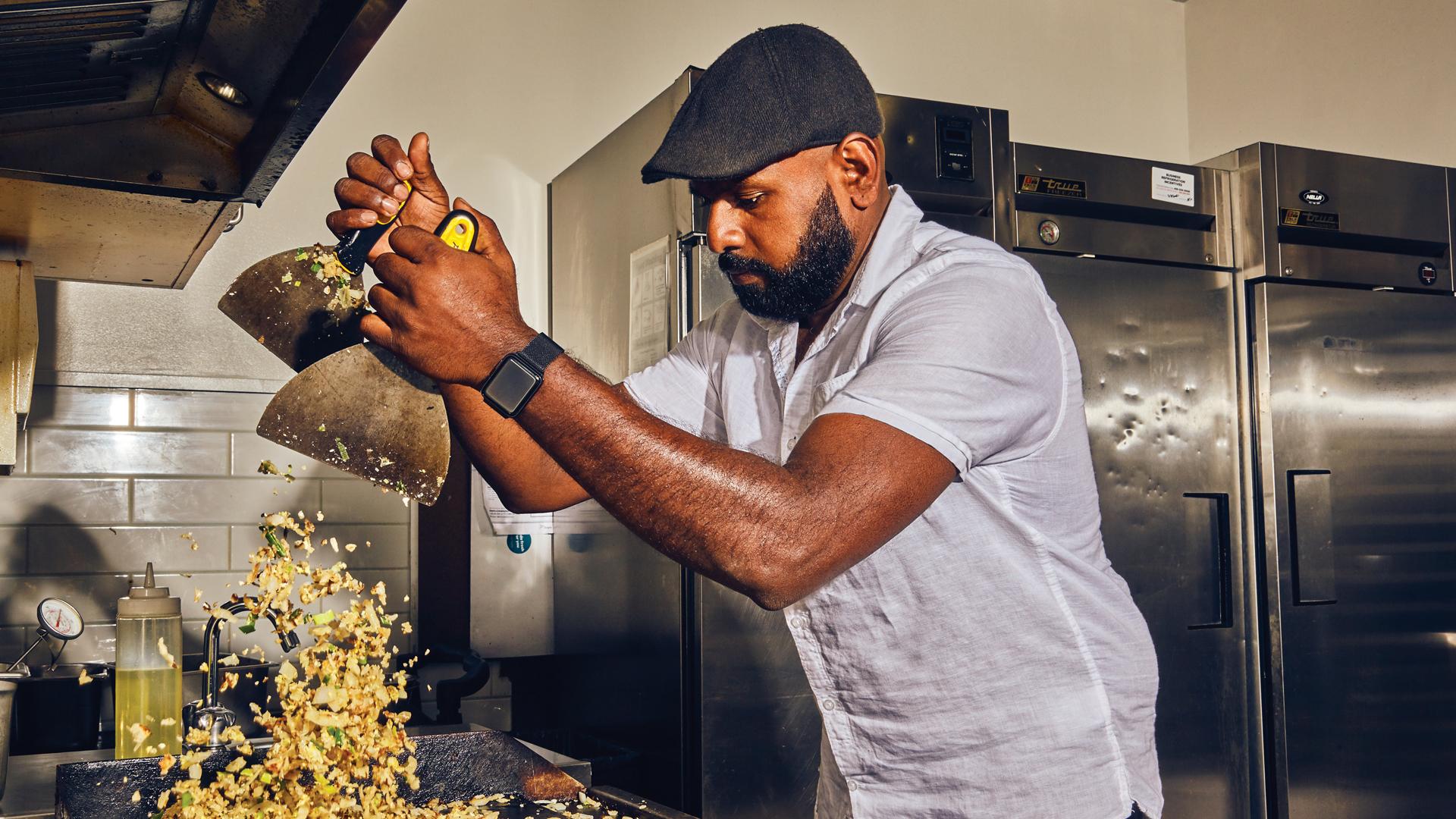 Saravanapavananthan agrees on that point. "Tamils that arrived here couldn't speak English, they had no education. I had to survive and I had to pay back the debt that I owed. So I needed a job quickly; the restaurant industry made sense to me. I was told about the job at Jump one night when I was taking the Yonge bus," Saravanapavananthan says.
Tamil cooks were usually sponsored by families or friends, and amassed a debt that needed to be repaid quickly. "I owed $30,000," Saravanapavananthan says.
After cold-calling and numerous visits to restaurants with resume in hand, Saravanapavananthan was introduced to the restaurant manager at Jump.
He was offered a job as a dishwasher. Over the last 25 years he has worked up through the kitchen to his current role as sous chef.
"I remember when I first came to Canada, I had no idea what I wanted to do. I had no career ambition. I just needed to survive," Sivanesan "Sri" Shanmugalingam says.
Like Saravanapavananthan, Shanmugalingam left Jaffna because of the country's civil war. After a brief time in Malaysia, he was sponsored to Canada where he moved in with his uncle on the Danforth. Luck would have it that he would meet a childhood friend who was working for United Bakers Dairy Restaurant at the time. Shanmugalingam was introduced to co-owner Philip Ladovsky and was immediately offered work in the kitchen.
"It was a tight-knit community, everyone wanted to help"
Shanmugalingam is now kitchen manager and chef at the Jewish-style diner that's one of the oldest restaurants in Toronto. "We turned 107 this year. The restaurant has always been in the family and the doors have always been open to anyone from any background that wants to work here. We are united. It's in our DNA," says Ladovsky.
Working in the hospitality industry was an easy choice for new refugees like Saravanapavananthan, Shanmugalingam and Subramaniam. Throughout my career as a food writer, I constantly run into Sri Lankan cooks in kitchens across the city. It didn't matter if it was a French, Italian or Portuguese restaurant, a brewpub, a snack bar or a pizza shop, there were Tamil cooks everywhere. To a recent immigrant with little or no post-secondary education, a loose grasp of English, and a devotion to sending money back home, getting a restaurant job was the answer.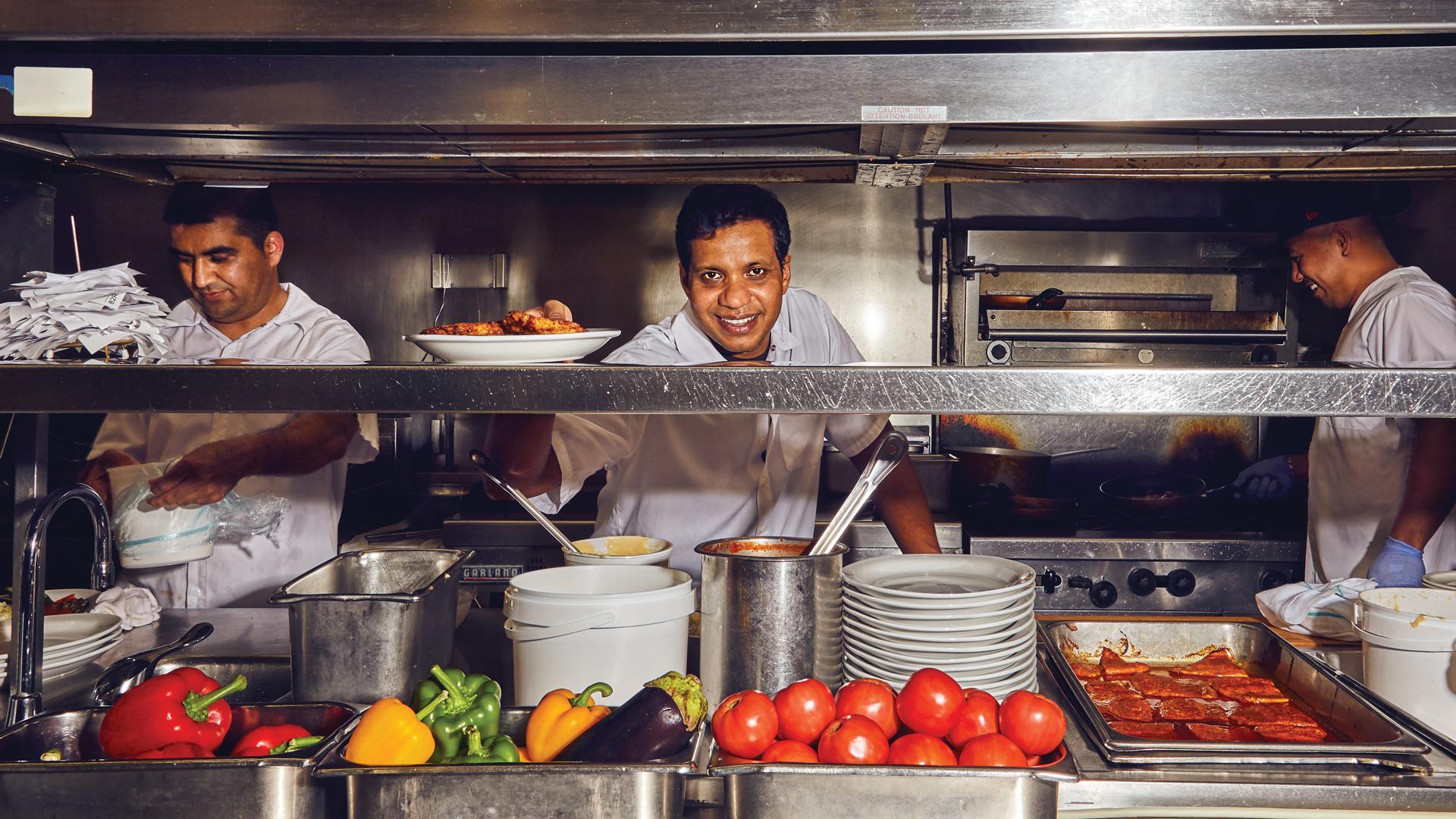 "It was a tight-knit community, everyone was looking to help each other and we knew that the kitchens of restaurants were a welcoming place," he says. "Yorkville was a hot spot and then word spread, there were plenty of jobs for eager Tamils."
Tamil cooks are praised for their adaptability and knack for cooking a variety of cuisines – "they have great palates, they have a keen sense of spicing and they're really great with their hands," says Matt Sullivan, executive chef at the sprawling Real Sports Bar. Despite that, they rarely headline menus with food from their homeland.
While Tamil cooks have played a pivotal role in the hospitality industry in Toronto, I have often felt a wave of frustration cloud my initial excitement and pride. There are so many Sri Lankan cooks in this city, but so few of them own restaurants. I sometimes think Sri Lankan chefs are cooking every type of cuisine except their own.
"It is a complicated question, everyone will have a different answer," Saravanapavananthan says. Over the last two decades, Saravanapavananthan, like many other Tamil cooks, has introduced Sri Lankan food to his colleagues via their staff meal. Shanmugalingam and Saravanapavananthan would serve fish dishes and elaborate rice and curry plates. Slowly but surely, these dishes have made special appearances on menus. At Jump, Saravanapavananthan has featured his signature Jaffna fish curry, whole fish that is marinated in a bed of spices and then cooked in a fiery sauce. There's also a mutton curry on the menu that is just as good as what you'd find at a Sri Lankan restaurant.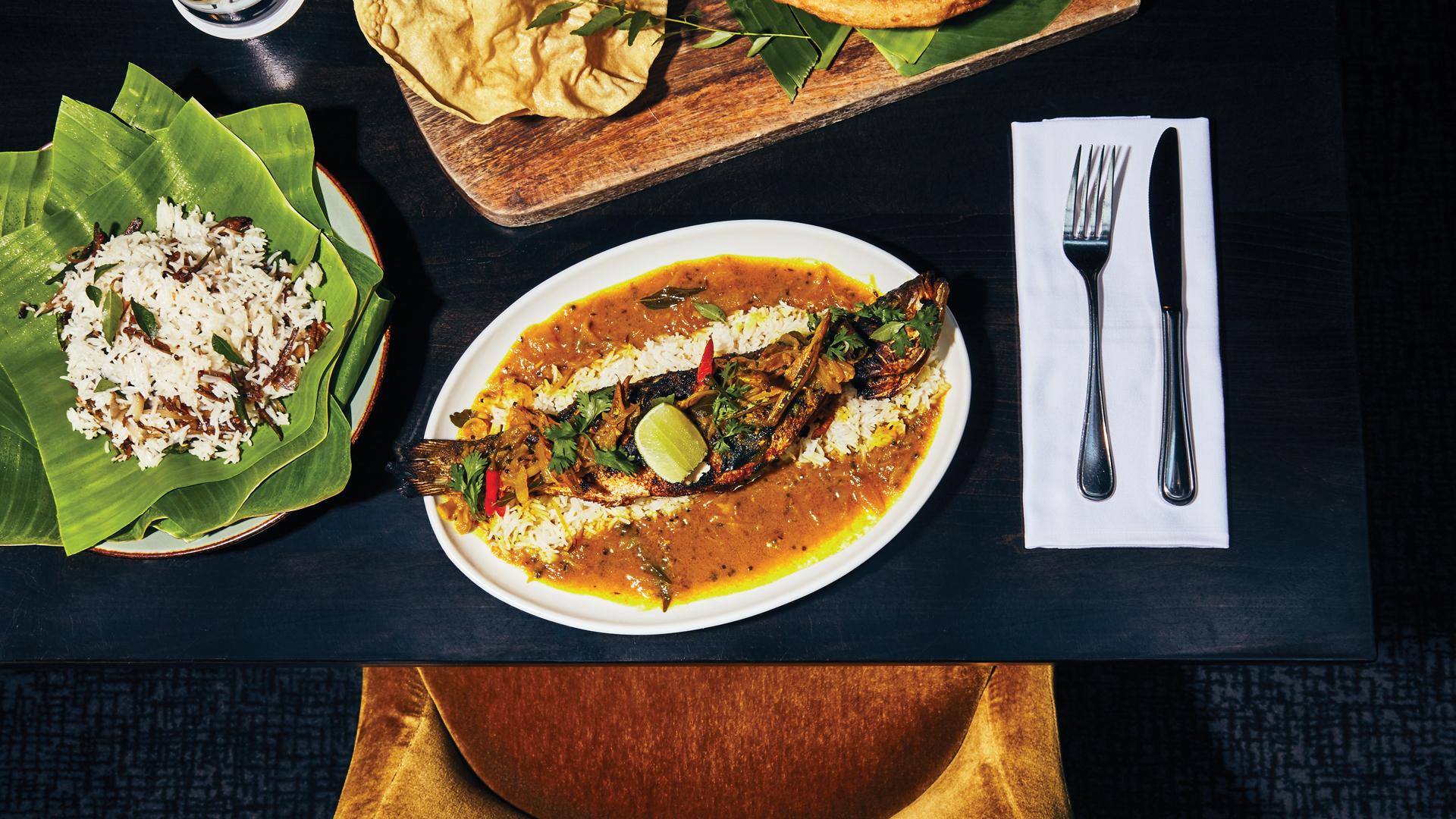 Over the years, Subramaniam has amassed a following of young Tamil cooks who have entered the hospitality industry under his guidance. At the Office Pub he employs as many Tamil cooks as he can find. There's even a secret menu at the pubs, dedicated to Tamil food, including one of the most memorable mutton curry and rice dishes to be found in the city. Two years ago, he opened Rusi, a spin-off Sri Lankan takeout spot at Yonge and King where the menu has expanded to other Sri Lankan dishes.
Johnne Phinehas owns Saffron Spice Kitchen, a popular takeout counter at Queen and Spadina where he has gained a reputation for serving traditional Sri Lankan cuisine. The 38-year-old has been living in Canada since 1995, after a decade spent in Tamil Nadu, India, which his family fled to by boat from Sri Lanka. He recalls growing up during the conflict and how it shaped the early years of his life. "It was unpredictable, chaotic sometimes. We were always looking over our shoulder as a family every time we stepped out of the house," he says.
Phinehas's parents decided to leave the country and they fled by boat to Rameswaran, a port town at the southern most point of Tamil Nadu. "It felt like the journey took forever," he recalls.
A decade later, the family moved to Scarborough. Phinehas admits that he struggled to focus in school and learning to cook was a way for him to stay out of trouble. He dreamt of opening a Sri Lankan restaurant downtown and introducing his native cuisine to those that were not familiar with it.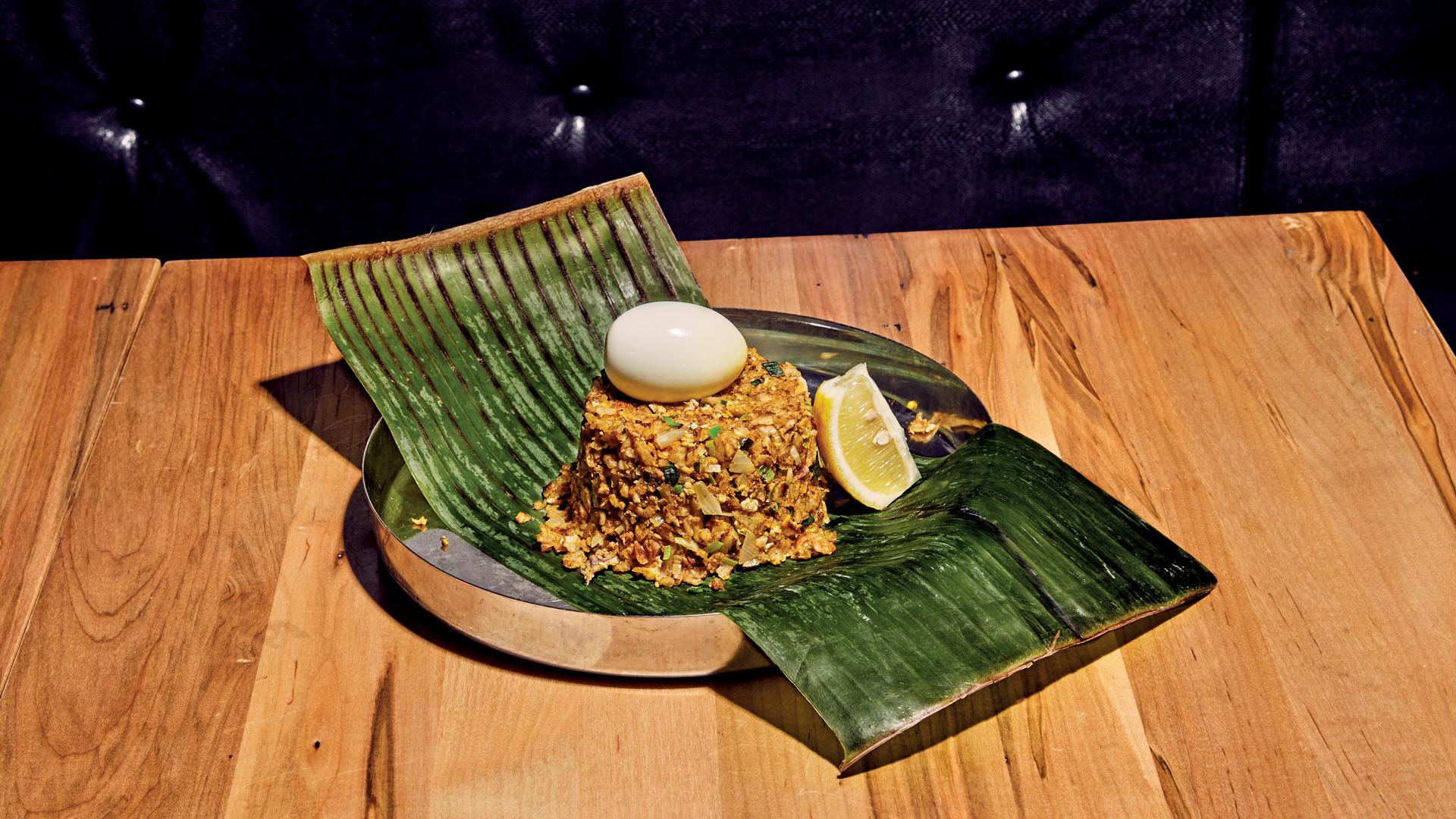 Saffron Spice Kitchen opened on Queen West six years ago, with a menu that highlights Sri Lankan classics like kothu roti where day-old roti is tossed with chilies and curry then chopped on a hot grill with two blunt, metal blades. It's a popular form of street food that is common at roadside stalls in Colombo. "My customers are not all Sri Lankan, being so close to the startup district I see all cultures coming to my store. They're not afraid of trying something new and they are not afraid of spice," he says.
"I see all cultures coming in. They're not afraid of spice"
In the last few years, non-Tamil chefs and restaurant owners throughout the city have started to dedicate sections of their menus to the hard-working cooks in the kitchen. As well, a few fledgling Tamil-owned spots downtown like Saffron Spice Kitchen and the new Rusi Kitchen are beginning to draw the city's eternally curious culinary crowd.
Cooks like Phinehas have become role models for a young brigade eager to get their chef whites and maybe open a restaurant.
"In a city where you have so many thriving cultures and different types of cuisine, I'm surprised that we don't see many Sri Lankan restaurants downtown," Phinehas says. "We all know that they make the best staff meals. That's our introduction to the cuisine".