Illustrations by Mariah Llanes
With the advent of summer comes even more opportunities for eating in our fine city. You don't need us to tell you that Toronto is completely reinvented in the warmer months, honing its moves like it's newly single and ready to mingle – but its gastronomic game face takes things up a notch, too. From themed food festivals and pool parties in the Six to rollercoaster road trips and wine wandering out in the sticks, there's enough food to fuel you into fall. Forget beach bodies this season and bring your stretchy pants.
forget beach bodies and bring your stretchy pants
Food Festival Fan
Krista Faist, CEO & Publisher
We live and breathe food here at Foodism, so when summer rolls around and we get to enjoy it while soaking up some Vitamin D, it's an ideal combo. Nowadays, there seems to be a new festival every weekend so it can be overwhelming trying to decide where to spend your time (and cash). My advice: stick to the basics.
Wine and Spirit Festival, Taste of the Danforth and Ribfest have all been operating for at least a decade, seeming to only get better with age. No gimmicks, just good food and drink. Case in point: I attended Wine and Spirit Festival on one of the rainiest days of summer 2018 and it still turned out to be one of my favourite experiences of the season.
And we can't forget the original summer food fest: the CNE. Sensory overload and Instagrammable desserts aside, there's a reason it's been going for nearly 150 years. I reckon there's a direct nostalgic link, but the bright lights and sugar-induced coma always signals the end of the summer and that fall (my favourite season) is around the corner.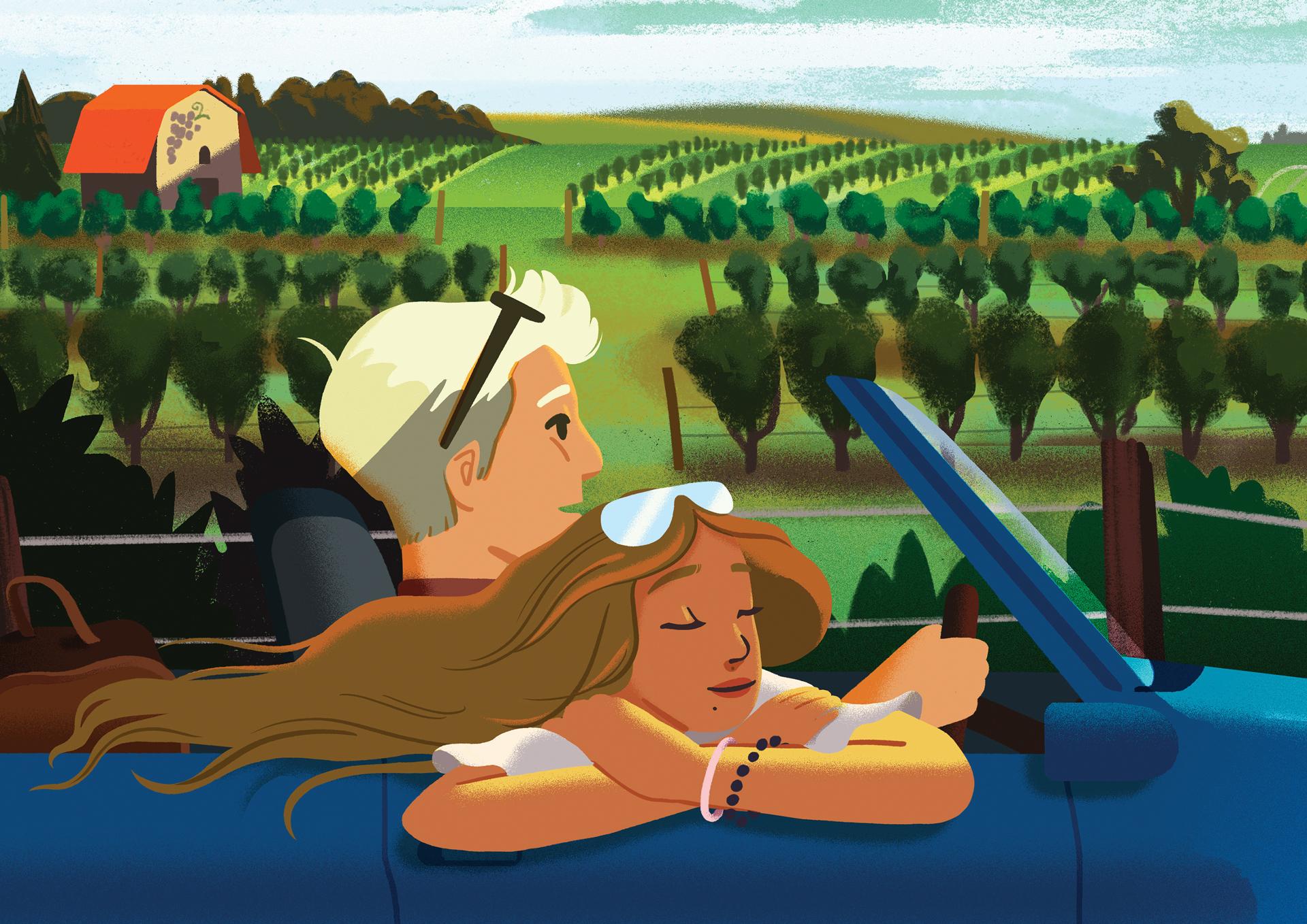 Motorway Maven
Katie Bridges, Staff Writer
Though it seems counterintuitive to leave Toronto just as the sunshine arrives, a roadtrip is the perfect antidote when things get too sticky in the city.
I try to keep at least one long weekend free to explore wine country. While we're spoilt for choice in Ontario, pretty Prince Edward County wins every time for the laid-back rustic barn settings at spots like Hinterland Wine Company and Trail Estate Winery.
If, like me, you prefer being chauffeured to taking the wheel, book an overnight stay in charming Bloomfield – with top-notch dining like Seedlings and Flame + Smith just a short stroll away, you can ensure that designated drivers get a chance to sip on great wine, too. Or, if your vino voyages are already well trodden, consider cruising for cheese this summer. Oxford County, less than two hours east of Toronto, is home to local producers like Gunn's Hill and Mountainoak Cheese, plus some great restaurants along the trail.
Riverdale Park has the best view of the city and plenty of blanket room
Basket Bandit
April Tran, Senior Designer
As soon as the warm weather hits, swarms of people emerge from hibernation and find their way to the nearest patio like clockwork. It feels as though we spend the winter months being crammed like sardines on the TTC only to be crammed like sardines on any given patio.
Those who frequently straddle the fine line between hangry and very hangry (like me) understand the pain of waiting in lines – so close to food but so very, very far away. Spare yourself (and the general public) from your sour 'tude and enjoy a picnic instead.
Trinity Bellwoods is a crowd favourite but I suggest you head over to the east end for some alternative picnic spots.
Riverdale Park East has one of the best views of the city and plenty of blanket space on the hill. It's a short walk from East Chinatown so I recommend picking up banh mi and salad rolls from Rose's Vietnamese Sandwiches. Don't forget a Boozy Egg Tart cone from Wong's Ice Cream.
For a more unconventional, Bear Grylls-esque experience, bike to Leslie Street Spit. Before making your way to Vicki Keith Point, a great city skyline vantage point, make a stop at Cherry St. Bar-B-Que and order a few pulled pork sandwiches.
Produce Pincher
Suresh Doss, Editor-at-Large
As city dwellers, we're lucky to be surrounded by farmers' markets every day of the week during the warm-weather months. Visiting a farmers' market is the best way to positively impact our local economy while enjoying peak freshness. Notable options include Mondays at Sorauren Park and Trinity Bellwoods on Tuesdays. Both bring in several vendors from nearby farming regions.
During weekends, farmers' markets in Toronto become social hubs – stop by to support local farmers and pick up produce and finish off the experience with breakfast or lunch. One of the city's busiest farmers' markets is the Evergreen Brick Works Saturday market, which hosts vendors from across the province for a full-day celebration of Ontario's impressive bounty. Here, you can buy heirloom tomatoes from Prince Edward County, peaches from Niagara or melons from southwestern Ontario.
If you're in the mood for dumplings to go with your green groceries, across the city, you'll find great food offerings at the Leslieville Farmers' Market, a garden market that has become known for hosting local food pop-ups with international menus.
Craft Coaster
David Ort, Copy Editor
Beer and roller coasters? Seems dicey until you consider how many rides have an aviation theme and that no one soberly boarded a plane before 1992.
Kidding aside, Canada's Wonderland has done a remarkable job of focusing on Ontario craft beer. They carry a wide variety of breweries and the whole park is licensed.
Muskoka Brewery hosts their own concession, next to the Lumberjack ride, with burgers and choices from their lineup like Detour and Ebb & Flow.
On the weekend of July 18 - 21, 70+ craft beers (plus ciders) get their own event as part of the Brew & BBQ fest.
And to celebrate the launch of their newest coaster, Yukon Striker (with a 245-foot vertical drop), Wonderland had Great Lakes brew a pilsner. That beer, plus Leviathan lager, are only available at the park.
Keener of Kensington
Jessica Huras, Contributing Editor
There's something so infectiously fun about Pedestrian Sundays in Kensington Market that I become downright tolerant of the slow-moving, spatially unaware throngs of people that normally make me hate large public gatherings.
The market always promises a good time, but Pedestrian Sundays showcase the neighbourhood at its artsy, free-spirited best. They're when Kensington reminds me why it was one of my favourite parts of the city when I first moved here.
It's a prime time to return to some favourite food spots I never manage to visit often enough, like Rasta Pasta, Seven Lives and Millie Crêperie, as well as check out what's new this year – all while soaking up the energy of the buskers, browsers and dancers and enjoying the general celebration of summer and one of Toronto's most eclectic neighbourhoods.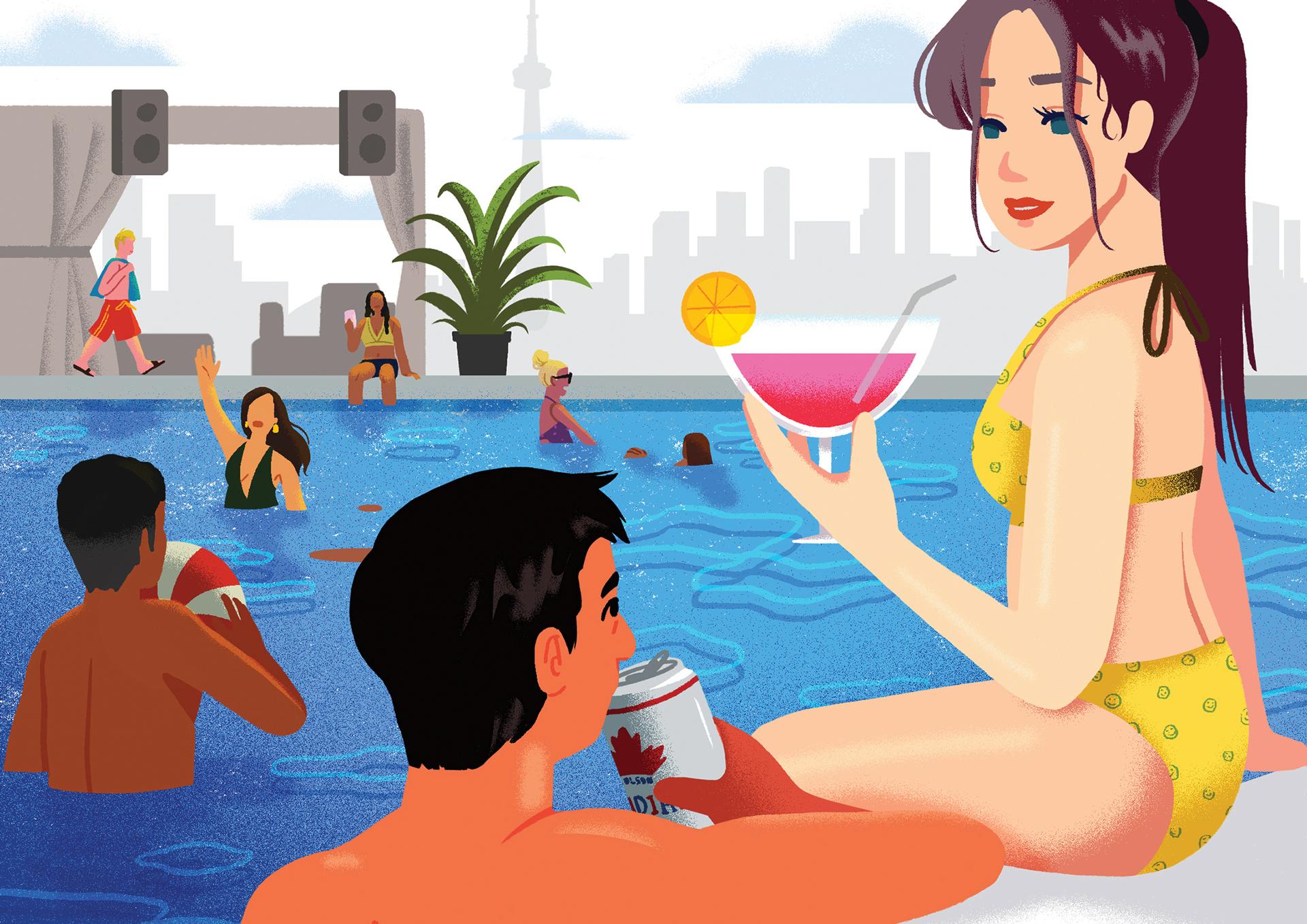 Pool Partier
Taylor Newlands, Editorial Assistant
Nothing says summer like being able to sit half-submerged in cold water and feel completely comfortable. I would say that I love to swim, but if we're being honest with each other, my leisurely water frolic is more akin to a pig rolling in mud than the graceful sport of swimming.
I always kick off the summer at Cabana Pool Bar's Pride party. With colourful pool floaties, bumping DJ beats and views of Lake Ontario, it feels more like a tropical resort during spring break. Oliver & Bonacini is behind the food here, so be sure to take a lunch break in one of the cushy cabanas.
Across town, the beach-and-pool combo makes Sunnyside one of my favourite places to hang out on hot days. Sunbathe on the sand, take a dip in the pool, then dine on the beachfront patio at Sunnyside Pavilion Café.
For a more refined pool experience, hit the plant-lined rooftop at Lavelle on King West. After a Gram-worthy photoshoot in the swanky space, enjoy the seafood-forward, Asian-inspired menu.
Sunbathe, take a dip in the pool, then dine on the beach patio
Screen Snacker
Claire Plant, Editorial Intern
Is there anything better than watching your favourite movie under the stars? Personally, I can't think of anything I'd rather be doing on a warm summer night than cuddling up in a blanket, eating popcorn and catching a flick outside. At an outdoor screening, you get to be part of a collective experience in a way that just isn't possible if you're watching by yourself at home. In Toronto, there is always a unique selection of outdoor screenings to choose from – you can see an outdoor movie by the lake at Harbourfront Centre, in a park at Christie Pits or even while on a boat in Toronto Harbour. Bring your own snacks or grab some local takeout and have a picnic. If you're going to Christie Pits, pick up from Apiecalypse Now!, the Manna or Little Sito. Also, don't forget to BYOB – bring your own blanket!