While food seems to naturally taste more delicious at 2 a.m., there are plenty of spots in Toronto that truly excel at the art of nocturnal noshing. From Barcelona-inspired bites to seafood snacks, there's a whole world of late-night eats that goes way beyond burgers (although there's plenty of that too). Who better to point us in the direction of Toronto's finest after-hours snacks than the hospitality honchos? We asked the city's best cooks and cocktail slingers where they love to head for moonlight munching. Whether you need post-party carbs to soak up your sins, or a solid meal to refuel after burning the midnight oil, we've got something for night owls to hoot about.
Jesse Vallins
Both of my picks for late-night eats are burger joints that have been around for decades. Square Boy at Jones and Danforth do a great homemade, diner-style bun. There's always a line-up, even late at 1 a.m., but if I'm in the neighbourhood and craving a burger, that's where I'll go. I first discovered Johnny's Hamburgers in Scarborough when I was a teenager. If you grew up around there and found yourself inebriated, you would definitely make a pit stop. They're not gourmet burgers, but to me, it's a mixture of consistency and nostalgia. Plus, it's ridiculously cheap. I recently took a friend and even after we ordered banquet burgers, chocolate shakes and fries and gravy for two, the total only came to around $16.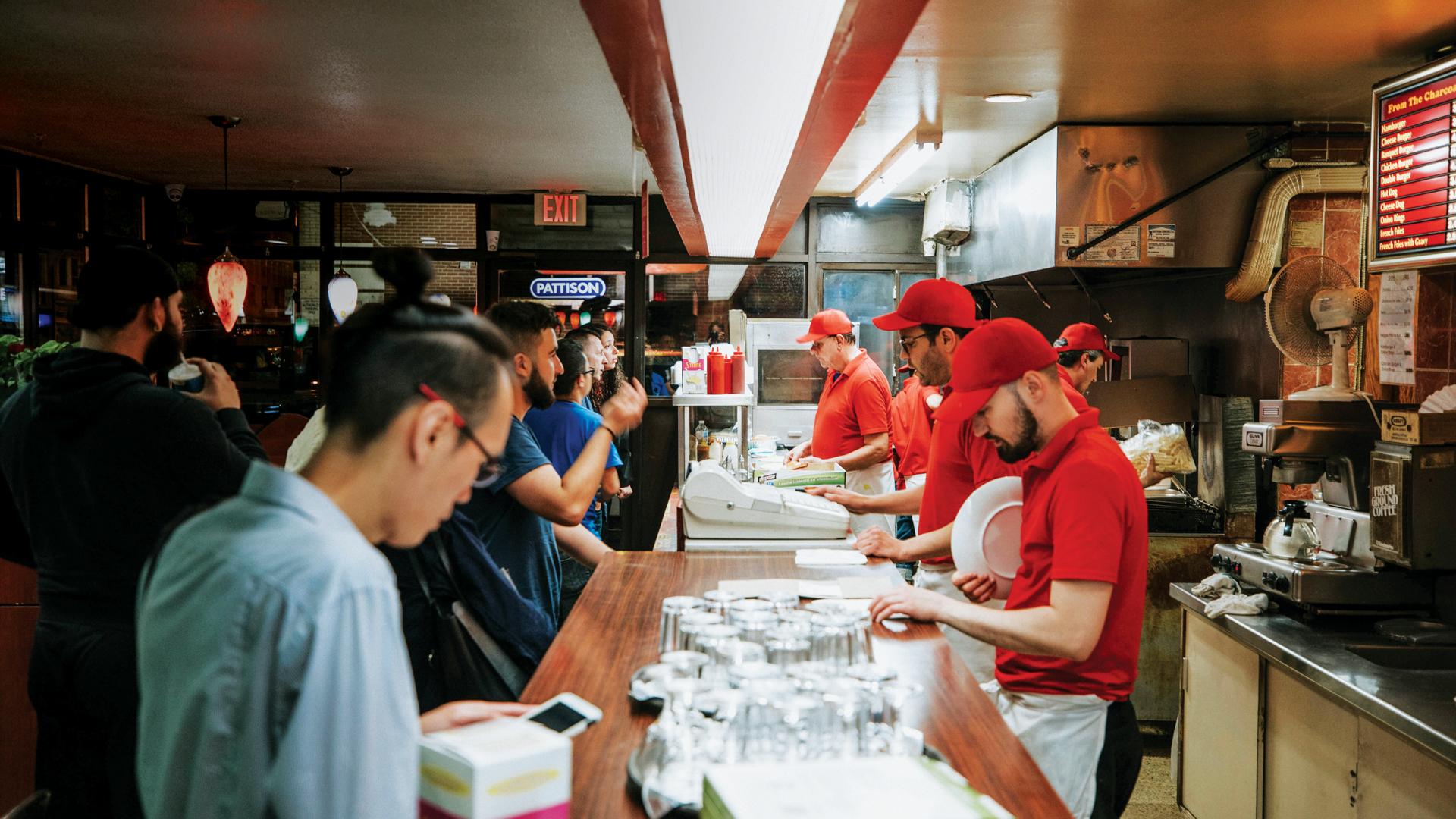 Paula Navarrete
I've always loved soup, and when I lived in Kensington Market I discovered Pho Pasteur, which is open 24 hours. I always get the classic pho bowl but I get everything on it like rare beef with tendons. It's cafeteria-style with fluorescent lighting and plastic tables, but the people there are so nice. I often head there after a drink at El Rey. Another place I love is Archive Wine Bar where you can find me most Saturday nights. They have great cheese and they used to do this amazing salad with mixed greens, grapes and olives. Nuit Social on Queen West is another great option; a tiny little spot where I love to order a glass of wine and a big plate of olives.
Nate Middleton
Petty Cash
Chinatown in Toronto has a few dim sum options but none that are open as late as Rol San, so you can get some whenever you're craving it. I tend to order all the usual suspects – har gow, siu mai – plus some ribs and dumplings. I go to Bar Isabel about once every six months, it's a great spot for refined gluttony. Everyone knows them for their grilled octopus but often, when I visit with a bunch of chefs, there's no menu and food just kind of falls in front of us. I had such a great dish the last time I was there, a salami with shaved foie gras on a crostini. I probably gained five pounds after eating one.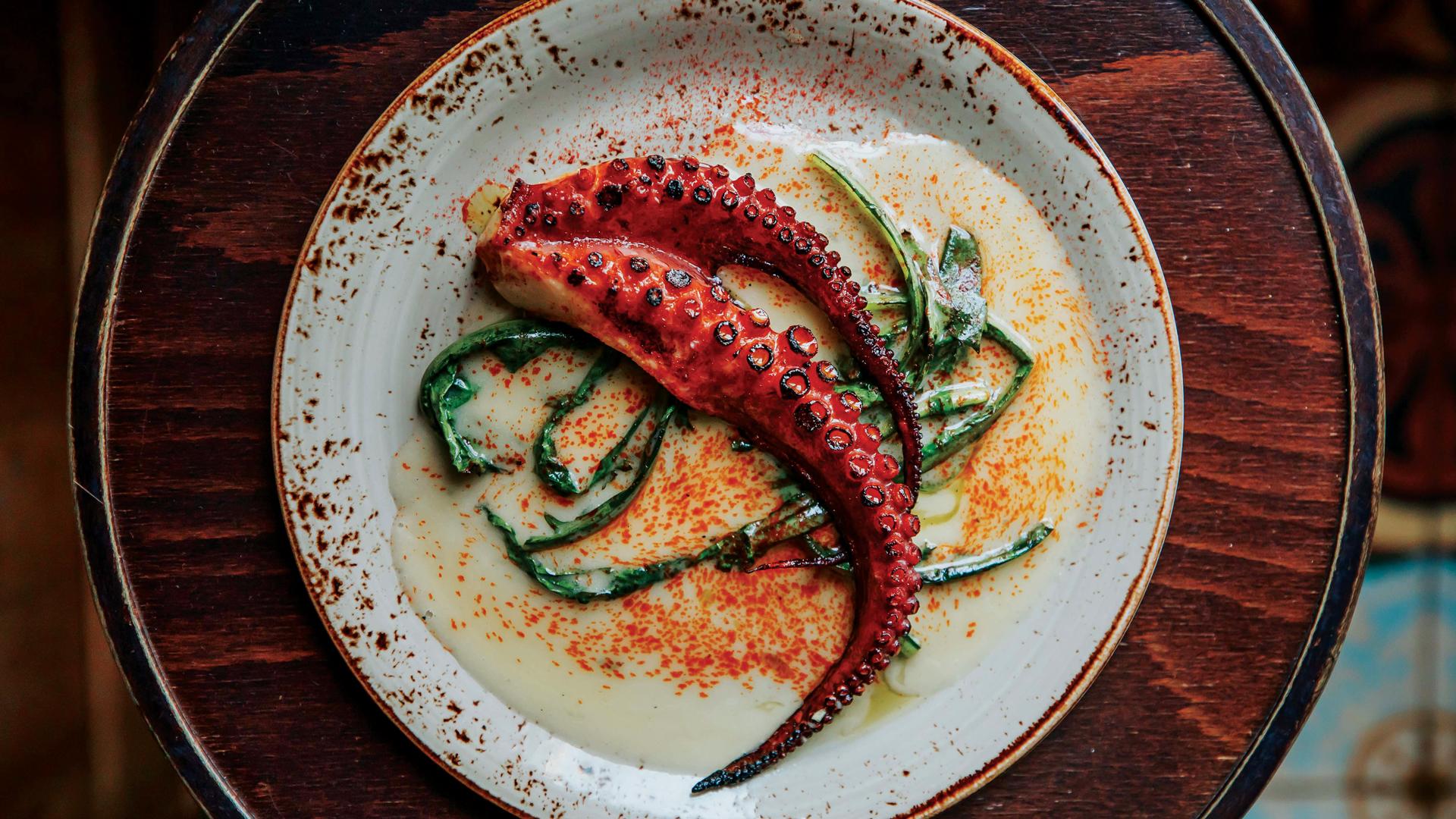 Nicki Laborie
Bar Reyna
My top pick is 416 Snack Bar. The rustic and casual décor makes you feel like you're at someone's house. My favourite time to go is after 11 p.m. – there will usually be a line up so you may have to wait, but the tasty plates will keep you there until close. Best item on the menu? The veggie steamed bun. So good! Bar Buca on King is another great spot that's open late. I used to live around the corner, so if I was hungry at 11 p.m. or 12 p.m., that's where I would go. One thing Bar Buca and 416 Snack Bar have in common is that everything is small. Late-night eating is usually not that healthy so I loved being able to get dishes like their swordfish carpaccio without feeling bad.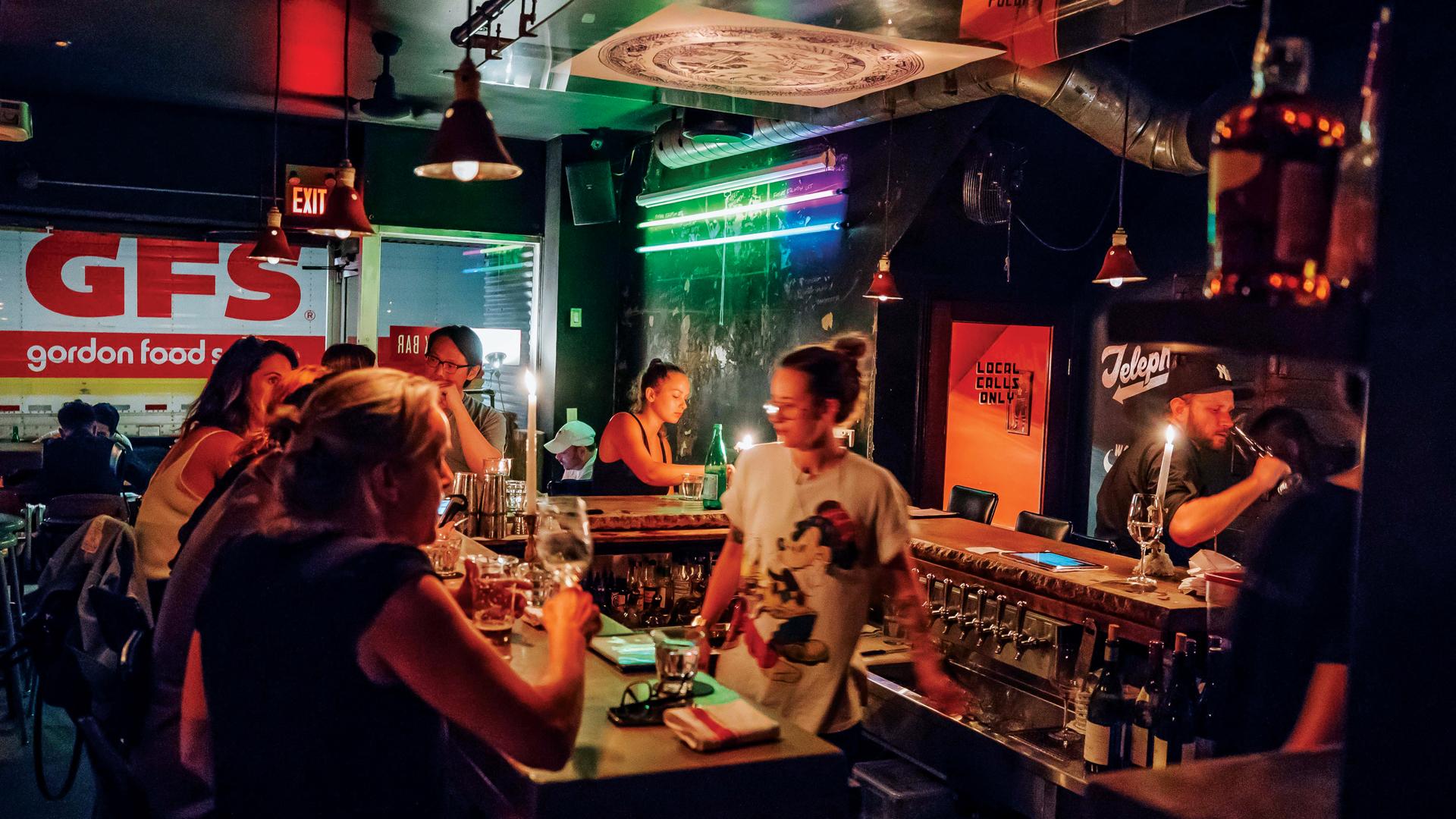 Noureen Feerasta
Rickshaw Bar
I first stumbled across Hanmoto about two years ago after a long service when I was starving. Their salmon aburi is one of my favourite things to eat – I might grab a Jameson to go with it. I go here during the week because it's open late every day. It's usually busy, but it's dark so I don't have to worry about what I look like. Jerk King at Bloor and Dufferin is where I might go on the weekend because they're open until 5 a.m. This place is where I'll end up when there's no staff meal. The only thing I ever order is the jerk chicken with their spicy gravy.
Nick Liu
DaiLo
From the outside, Pinky's Ca Phe looks like a house, but inside it's a cool bar full of amazing vintage junk – it reminds me of Vietnam. The food touches on that second-generation, new Asian style. Their beef dip meets bánh mì is such a clever dish. Then there's the bone marrow with thinly cut beef wrapped around Thai style herbs like mint, basil and cilantro, with a sour, sweet and salty dressing. Taste of China has been a mecca for late-night, chef eats for decades. It was one of the first places I experienced live spot prawns as a young chef. They also do a very thinly sliced geoduck. Sometimes you'll go in and have to ask for the specials but that traditional style of Chinese cooking always really inspires me. Plus, they have classics like General Tso chicken, so it's the best of both worlds.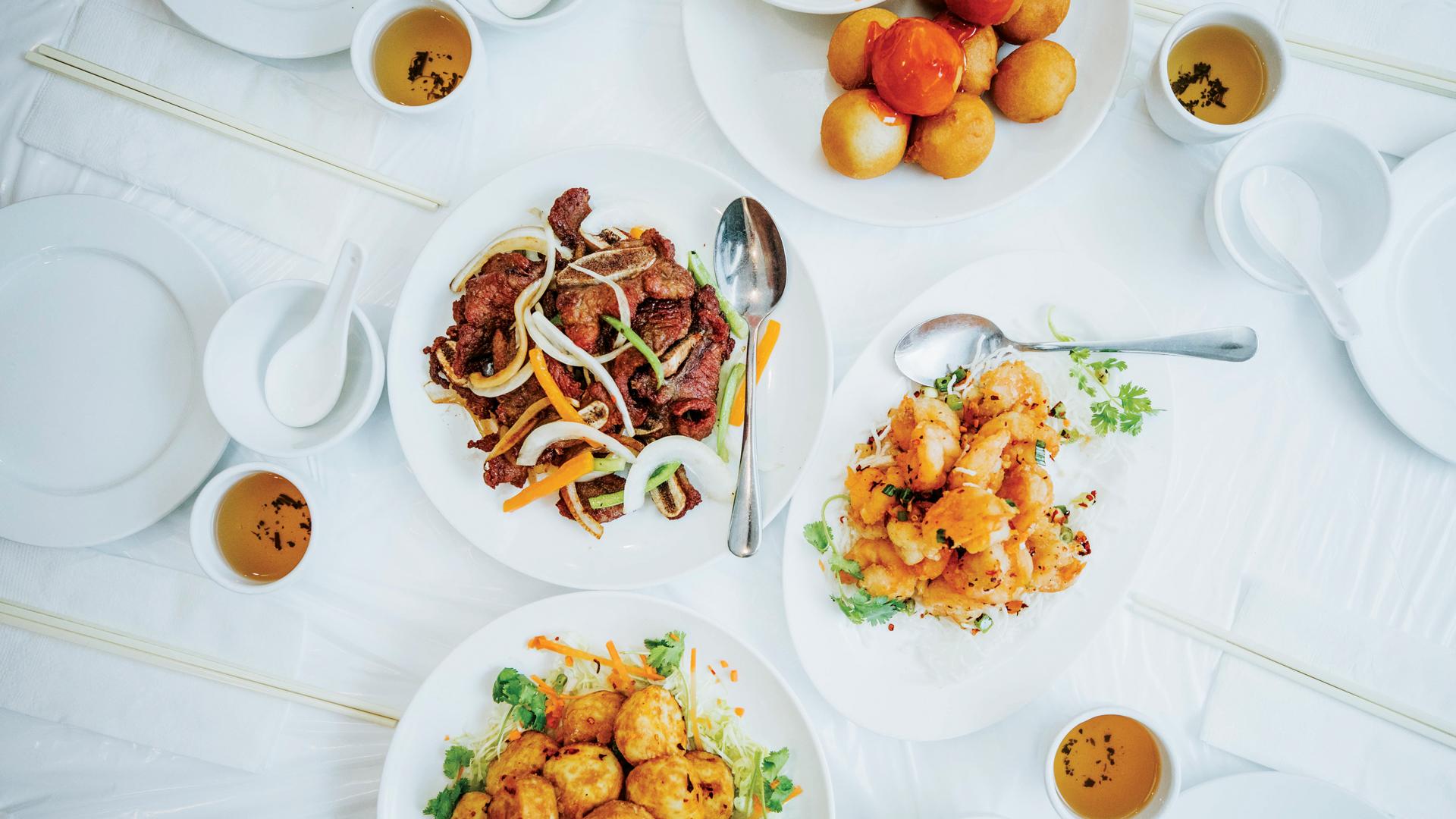 Guy Rawlings
Montgomery's
My two favourite spots are Sakai Bar and Imanishi Japanese Kitchen – both of which I discovered shortly after they opened in my neighbourhood. I have a busy life with our restaurant and three little kids, so I'm happy to get there anytime I can. The nicest treat is when me and my wife finish a little earlier at work and sneak over before their last call (which doesn't happen too often). I have a soft spot for Japanese food – I enjoy the simplicity. At Sakai Bar, I order the rice with cured egg yolk and lots of things on the side like burdock root and marinated vegetables. At Imanishi, the dried tile fish is one of my favourite things to eat in the city. We usually get some raw fish and lots of other snacks to pick over, the whole meal paired with sake and beer, of course.
Ivana Raca
Ufficio
My best friend brought me to Lim Ga Ne in North York for the first time and I thought it was amazing because finding good food at 4 a.m. can be impossible. I like the fact that it's casual. You can see the kitchen and the walk-in fridge is in the front – places like that always remind me of street food in Asia. I'm a big fan of hotpot with braised brisket and seafood pancakes and this place hits the spot. My typical order involves all the garnishes: cold noodles, kimchi, radish, daikon, spicy pickled jalapeno. Getting all the condiments (banchan) at the beginning is my favourite part and they do it so well. Normally, the little side bowls are empty before our food has even arrived. It's a place I love to go to after a really long-ass day.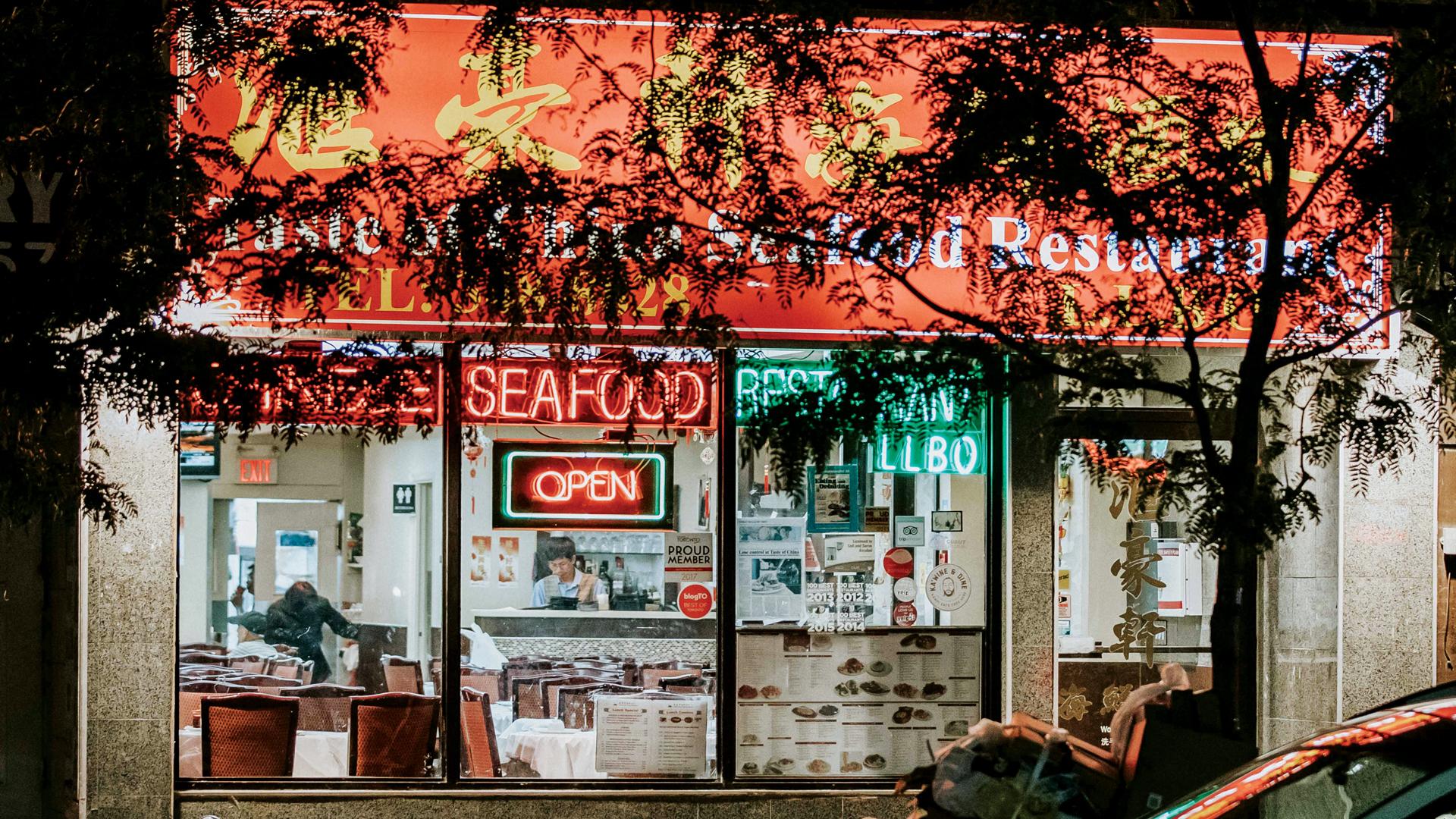 Alana Nogueda
Shameful Tiki
416 Snack Bar is a true late-night eats staple – they've been serving food until 2 a.m. for a long time. It's a comfortable, industry-heavy space that's always busy. My girlfriend does a show at Cherry Cola just across the street and we typically end our Sunday night with their famous fried chicken, an eggplant parm sandwich or one of their rotating specials. Another great spot is Taste of China, which I first experienced about four years ago after a big event at Cold Tea. A big group of us will go and sit down at one of their humongous round tables. Then we'll order far too much food to share – beef in black bean with broccoli is a good bet.

Scott Vivian
Beast
I do a guest series at the restaurant where we host chefs from around North America and what always impresses them is the great late-night eating scene in Toronto. Bar Raval is definitely number one on the list. I love hanging out around the communal wine barrels and ordering small plates. The canned seafood is exceptional and I always order the Kitchen Bread (piquillo peppers and white anchovies on sourdough). Seoul Shakers is a late-night spot that's very special to me because my ex chef de cuisine (Jason Poon) left to open that up. Leemo Han has a knack for design and the food is exactly what I want to eat at midnight. Their tacos off the spit are amazing and their bulgogi beef sliders are so addictive.