With its colourful victorian facades, bohemian vibes and friendly vendors, it's easy to see why Kensington Market is one of Toronto's most popular neighbourhoods, for visitors and locals alike. While the enigmatic area is known for its vintage stores, which sprawl out onto the sidewalk with their endless clothing rails of treasure, the market has become a destination for great food and drink. So, we've rounded up the best Kensington Market restaurants and bars.
Unofficially, Kensington Market is the city's top spot for Mexican food, with everything from decades-old institutions cooking up carnitas to trendy new takes on tacos in hip joints. If you're looking to fill up on music instead, plenty of Kensington Market's restaurants and bars have live entertainment. Hole up in one of its bohemian jazz cafes or moody music venues, or head outside in the summer months, when Pedestrian Sundays provide some welcome distraction.
Kensington Market boasts some of Toronto's best restaurants and is flush with top-notch bars serving delicious drinks. With wine bars and dive bars within stumbling (this may prove key) distance, you're guaranteed a fun night, big or small. We've exclusively rounded up our top Kensington Market restaurants and bars, but the neighbourhood is also graced with the original Sanagan's Meat Locker location, one of the city's top butcher shops. Go forth, wander and enjoy.
14 of the best restaurants and bars in Kensington Market
1. Ronnie's Local 069
69 Nassau St.
This iconic Kensington Market spot is a dive bar of epic proportions. There was a brief pandemic-scare (Ronnie's halted during a series of provincial lockdowns),  but now it's back and better than ever. In the summer, capacity doubles — grab a table and watch your Saturday plans disappear quicker than your lukewarm pint. Leave your airs and graces at the door — but don't forget your hand sanitizer and cash (Ronnie's doesn't accept cards). 
2. Gus Tacos
225 Augusta Ave.
Kensington Market is a low-key taco wonderland, and Gus Tacos is up there with the best. Though there are now multiple locations, Kensington Market is the original, which opened following the success of a pop-up food stall in the neighbourhood. There's often a line at this popular spot, so you should have time to choose between barbacoa, carnitas, pollo and pescado — and don't forget their guac and chips. Space is limited so take your grub to Bellevue Square Park and drip taco juice all over the grass instead of your clothing. 
3. Grey Gardens
199 August Ave.
Grey Gardens is Jen Agg doing what she does best — the vibes are cool and unpretentious, the shareable plates and curated wine list are heavenly, and it can all be enjoyed from the comfort of an expertly decorated interior. It's a wine bar with friends after work, it's a perfectly plated appetizer that'll knock your suburban parents' socks off when they come for a visit. It's... Dreamy.
4. Wanda's Pie in the Sky
287 Augusta Ave.
Wanda Beaver's bakery in Kensington has saved our skin at countless dinner parties when we said we'd "take care of desert" — then completely forgot. She first starting baking pies when she was nine years old (okay, Wanda, nobody likes a show-off) using cherries from her family's acreage. Her passion has never dwindled, although the range of flavours has moved on. From peach melba and coconut cream to chocolate pecan, Beaver knows her way around a shortbread crust — and that's just the pies. We recommend the lemon meringue. 
5. Kensington Brewery
299 Augusta Ave.
We crushed their beer during the pandemic (and saw the bottle shop staff more than members of our close family), but it sure is nice to be able to enjoy a cold pint of pilsner from the industrial tasting room or on the patio. There's often a featured beer if you fancy trying something a little experimental — and if you want to remember your visit on non-drinking days, they have hoodies, hats, plus other pretty sweet merch. 
6. The Dirty Bird Chicken + Waffles
79 Kensington Ave.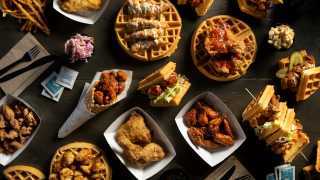 We've always been better with words, but chicken + waffles sounds like the easiest math we've ever done. The Dirty Bird Chicken + Waffles has taken a great concept and stretched it to its limit — then turned it on its head for an even more bonkers meal. Dishes like boneless bites in buffalo sauce in an ice cream cone shouldn't work, and yet here we are, praying they put it back on the menu.
7. Fresco's Fish and Chips
201 Augusta Ave.
Don't wait until Good Friday — fish and chips this tasty deserve a spot on your rotating takeout roster. Fresco's in Kensington Market uses high-quality oil, are committed to adding one extra OceanWise product every three to six months, and lightly batter their fish in a traditional style, so as not to overpower the fish. The deep-fried pickles and poutine are unmissable, and there are plenty of options to satisfy herbivores. 
8. Rasta Pasta
61 Kensington Ave.
Jamaican and Italian aren't two words that are often found in the same sentence, but after a trip to Rasta Pasta, we're thinking they should be. From jerk meatballs to gnocchi served with Jamaica's national dish, ackee and saltfish, this fusion restaurant will break your brain in the best way possible. If you prefer to stay in one lane, order their barbecued chicken, which is marinated for two days.
9. Otto's Berlin Döner
256 Augusta Ave.
You don't have cross the Atlantic to enjoy Berlin's finest street food. The people who brought you Otto's Bierhalle are also cooking up two German gems in Kensington Market: currywurst and döner. In a nutshell, a Berlin döner is a flatbread filled with a mix of meat, cheese, salad and garlic aioli (give or take your own preferences). Or go for a döner teller, which sounds like a German fortune teller but is more of the same on fries or cous cous. Ja, bitte. 
10. Handlebar
159 Augusta Ave.
You could be forgiven for thinking that this cool bar on Augusta was named after the moustachioed hipsters who frequent it. In actual fact, the live music bar, which has been around since 2012, has a subtle bicycle theme. Expect tons of local brews from faves like Left Field Brewery, Blood Brothers and Eastbound Brewing Company, though don't act surprised if one of their classic cocktails is the best thing you drink all night — Handlebar knows how to take it up a gear. 
11. FIKA Cafe
28 Kensington Ave.
This Swedish-inspired coffee shop looks like a page out of the IKEA catalogue and is so twee we can practically hear Zooey Deschanel squealing. Fika translates to "coffee and a cake break," though some say it's more a state of mind. Whatever it is, we are here for this turquoise hub for excellent coffee and handmade pastries. If the Dala horse logo (a symbol of Sweden) doesn't charm you, the book-lined wall in the back room and its cute little back patio will.
12. El Rey Mezcal Bar
2a Kensington Ave.
One of Grant van Gameren's more underrated restaurants, this mezcal bar in Kensington Market feels like a drinking den you'd actually find in Mexico City (and not on a bus tour during your all-inclusive vacation). The doorway leads you into a small but mighty restaurant, with a mezcal-flanked bar, plus some room for more seating in a smaller room at the back. Menus change often but margaritas are forever.
13. Ozzy's Burgers
66 Nassau St. Unit 1/2
If it's good enough for Jason Momoa, it's good enough for us. This burger joint on Nassau manages to tread the delicate line between gourmet burgers and the outrageous-for-the-sake-of-it Instagram fodder that Toronto is sometimes guilty of, resulting in stacked buns filled with juicy patties and welcome accoutrements. But, if you came here for the bonkers sandwich,The Kensington Steak Sandwich has enough chicken tenders and onion rings to fill your boots.