Toronto is its best self in the summer. The city really comes alive with hot events and food festivals, bumping patios, cool new restaurants popping up and... Pollen.
While we still can't with the seasonal allergies, we are here for the longer days and spicy nights (on a rooftop patio, perhaps?) — and the best Toronto restaurants to open this season. From a multi-level, sky-high oasis with different themes to a "secret" seafood palace, we've got the Toronto's best new restaurants to put on your list this summer. 
Matty Matheson's super sexy Prime Seafood Palace may have been kept on the DL for six years, but we're absolutely not keeping any of these awesome new Toronto restaurants to ourselves — and neither should you. Tell your friends, book a reso at one of the best new Toronto restaurants, and get out there. Summer will be over before you know it, so enjoy it while you can — just pack the Reactine, OK?
Toronto's best new restaurants to try this summer
1. Valerie
Turns out playing pretend isn't just for kids. Head to the top three floors of Hotel X where a little imagination has transformed the sprawling space into a 1920s-inspired spectacle of excess, glamour and the occasional animal print. The star of the show? The ever-intriguing Valerie — who isn't a real person, but we're pretending, remember?
Each floor has a different theme: The 27th level is a live music lounge with chef's selection of nigiri and maki, and specialty cocktails like the fruity and dramatic 24 Hours in Toronto, which is served in a teapot. A full-service dinner destination and sushi bar is on the 28th floor. And — the pièce de résistance — is a rooftop terrace on the 29th floor with 360-degree views of Toronto's waterfront, complete with a snack menu and bottle service for celebrations (or just because).
2. Adrak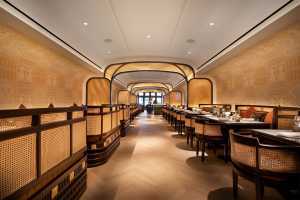 A meal at Adrak Yorkville will open your eyes to the wonders of contemporary Indian cuisine set in a plush atmosphere. The new Avenue Road spot is striking: Dine under hatched arches enveloped by golden lighting. The menu elegantly balances familiar favourites like tandoori and biryani with knock-outs like shelled bhatti lobster. Each cocktail is based on a different region of the country.
3. J's Steak Frites
As the name suggests, this West Queen West neighbourhood joint is all about giving the iconic duo the fame they deserve. The restaurant offers the same thing daily: A $49 prix fixe that aways includes house-made bread and butter, followed by a fresh salad with a lemon vinaigrette and — drumroll, please — a 10 oz, locally sourced Canadian AAA strip loin with unlimited, perfectly thin and crispy frites, which are great for dipping in that darn good butter sauce.
4. Ghost Chicken
The motto at this new fast food joint on Ossington Avenue is "scary good" and we're inclined to agree. The small but mighty menu mainly focuses on fried chicken sandwiches — six of them to be precise. Our favourite is the OG, a juicy chicken thigh fried to perfection and topped with dill crema and slaw. When you choose your heat, watch out for the Nashville hot chicken — it's towel-the-sweat off-your-forehead spicy.
5. Nuna
After moving to Canada from Peru five years ago, Sergio Nazario and Jasmin Sansur have made their dreams of opening a Peruvian restaurant a reality. And was it ever worth the wait. Nuna — their Parkdale gem — is the place to be this summer and fall for classic pisco sours, spicy-yet-refreshing ceviche and organic vino. You can catch us whiling the day away with a plate of crunchy panko shrimp bites on their adorable, hidden back patio.
6. Mira Sake
There's a new destination for sushi, and it's in... Scarborough. Mira Sake on Silver Star Boulevard specializes in torched and pressed sushi. If you're new to this style, put Mira Sake and their torched salmon roll at the top of your list. The flame sear gives the sushi a delicate, buttery flavour with a crispy texture that we can't get enough of.
7. Prime Seafood Palace
Matty Matheson's stunning new Prime Seafood Palace was kept secret for SIX years. Now that the elegant steakhouse is open, we can't take our eyes off it. The Scandinavian-esque design is minimalistic, but the flavours are bolder than paying $50 for a shrimp cocktail (we hear it's "to die for"). File the 30-day-aged bone-in strip loin under 'last meal on earth.'
8. Soluna
No, Queen West isn't on fire: Those are just the live fire dancers at Soluna — the latest addition to Toronto's late-summer lineup. From spritzy cocktails on the rooftop terrace to the lively downstairs where you can dance the night away, Soluna is living her best coastal life. Not up for dancing? Get up close to tapas, the raw bar or entrees like grilled rack of tender New Zealand lamb.