As the year of cancelled events and prohibited activities continues, it may seem like there's nothing fun left to while away our afternoons on. But there are always plenty of things to do in Toronto – even during a lockdown.
The holiday season brings plenty of festive activities, most of which revolve around food. Start by checking our list of all the restaurants offering delivery and takeout right now, before getting into the swing of things with our rundown of everything you need to eat, see and do this month.
Check out these events and activities, many of which you can enjoy from the comfort and safety of your home. 
Count down the days with a grown up advent calendar

The holidays are almost upon us, and if we're going to be holed up in our apartments, we might need a little extra help to regain some of that festive cheer. Enter: advent calendars for grown-ups that say goodbye to teeny, tiny chocolates and hello to gin samples, matcha-infused gummies and merry-flavoured mocha.
Whether you're gifting a friend (we think these advent calendars for grown-ups make for thoughtful drop offs to loved-ones during lockdown) or treating yourself, there's never been a better time to countdown to Christmas with whisky and cheese. Who says kids get to have all the fun?
Try your hand at some new tipples
If there's one not-completely-terrible thing to come out of the pandemic, it's the announcement from the Alcohol and Gaming Commission of Ontario (AGCO) that any licensed bar or restaurant can now start selling alcohol with takeout food and delivery orders.
It means our favourite cocktail bars, distillers, wine and beer brands have been able to bring the party to us – at a socially responsible distance, of course. The result is a stop-gap speakeasy delivered to your doorstep with (legally) some food to go with that booze – and who doesn't want a bag of chips to line their stomach before happy hour anyway? 
For our favourite cocktail kits, click here.
Get your holiday shopping done early

This year there's literally no excuse for a bad present, because, well, we've all had quite a lot of extra time to think about it. But just in case you need a helping hand, we've got you covered with the tastiest food and drink holidays gifts of 2020.
Personalized chocolate that's both delicious and sustainably sourced? Tick. A vegan take on egg nog that's tastier than the original? Tick. Games, books and booze? Tick, tick and tick. Sit back, relax and allow us to do the hard work for you. Now pass us a glass of champagne, will you?
Shop the One of a Kind show
Until December 20; Online
Everyone's favourite biannual craft show has moved online amidst the pandemic. Shop through food items, housewares, clothing, jewellery and crafts from more than 700 Canadian makers – all at your own leisure, from the comfort and safety of your own home. That's one more reason to support local during these times.
Go on a Journey into Enchantment
Nov 20 – Jan 4; 10080 Kennedy Rd., Markham
More than a million lights went into making this drive-through exhibition of holiday cheer. Animated and static displays, music shows, simulated fireworks and a dazzling tunnel await you on your journey into enchantment. Located at the Angus Glen Golf Club in Markham, this magical event is 1.6 km of family-friendly fun. Open daily from 5:30 p.m.
Eat a sub from Lambo's Deli & Grocery
Open now; 176 Bellwoods Ave.

Sandwiches are already near-perfect vessels, but there's a new place in Trinity Bellwoods that has truly perfected the art of the deli sandwich. Lambo's Deli and Grocery right across from Trinity Bellwoods Park serves up fully-loaded Italian-style subs that are truly bellissimo. Meat lovers will rejoice with their Italian Trio of capocollo, mortadella and prosciutto tucked beside fresh mozzarella, roasted red pepper and a Calabrian chili spread. Vegetarians can find love too with their Italian Vegetable sub or a creamy vegan Caesar salad.
Learn how to brew the perfect cup of tea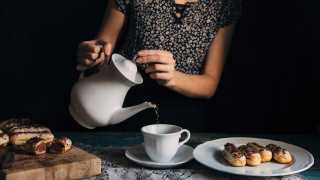 'Tis the season to hunker down and cozy up, and while nothing can solve the nightmare of 2020, there's something about tea that never fails to give our souls a much-needed boost. We pick up a cup and saucer and talk to Jennifer Commins, tea sommelier and founder of Pluck Teas, to discover what really goes into the perfect brew.
Eat your way through the best pizzas in the city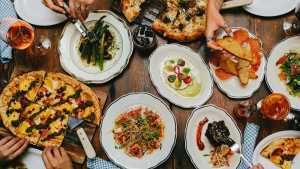 Whether you're talking about Neapolitan, sourdough, deep-dish pie, stuffed crust or calzone, pizza is a universal language. And there are very few occasions when a pizza wouldn't fit the bill – it's great with mates, it's great with dates and you can even get it in fancy Italian restaurants, too. But we're not the only ones to hold this opinion, which is probably why Toronto is stuffed to the gills with brilliant pizza places dishing up all kinds of slices to hungry city dwellers. 
Click here for our list of the best 'za in the 6ix.
Grab a burger from Matty's Patty's
Open now; 923a Queen St. W.
Fans of homegrown hero Matty Matheson now have a permanent spot where they can get their hands on the celebrity chef's beloved burgers. Directly across from Trinity Bellwoods park on Queen West, Matty's Patty's serves their hefty burgers on a sesame milk bun, topped with gooey American cheese and with a side of fries. An Impossible vegetarian burger is also on offer. Pre-order on their site for pickup.
Sign up for the world's first pizza subscription with General Assembly
The world's first pizza subscription service recently launched in Toronto and we're surprised it took this long. You can thank General Assembly Pizza – their new pizza subscription offers free home delivery (to postal codes in Toronto) of their naturally leavened, frozen pizzas, which cook in under 10 minutes. Subscribers can choose their monthly stack size, select their type of pizza from the subscription menu and cancel at any time. Goes exceptionally well with pyjamas.
Visit a fully automated coffee shop
Open now; 1235 Bay St.
It's the year of contactless everything so why should coffee be any different? Enter Canada's first automated café. Located on Bay Street just north of Cumberland, the robo-barista serves up Dark Horse coffee, lattes and more. There's a touch screen, but you can go completely contactless by scanning the QR code and ordering from your phone. The partnership between RC Coffee and Dark Horse will be the first of many.