The last lockdown felt like it lasted longer than the Leafs' 48-season drought, and things in the city were starting to feel... stale. We've eaten so much takeout and delivery that our favourite restaurants are starting to know our orders by heart. Feel like you've done just about everything there is to do? Us too. But there are always new things to do in Toronto — and we've got the best of them. 
If you've already tried out the city's hottest new restaurants and run out of cocktail kits to make, we've got just the thing. With temperatures climbing, case counts lowering and restrictions loosening, we're welcoming a whole host of new activities and things to do in Toronto.
We're hungry for food and fun, and this city is ready to deliver. We've got all the most delicious ways to while away an afternoon, from crispy, juicy and extra-drippy fried chicken sandwiches to Toronto's best tacos to transport you to the Baja Peninsula. 
What's more, we're celebrating the new legalization of pre-made cocktails by ordering them from, well, anyone who makes them... Can we get some aspirin with that?
From takeout food festivals to the cushiest of staycations, these are all the best things to do in Toronto this June. And with patios finally open, we've got a foolproof recipe for a successful summer of sipping and snacking...
25 things to do in Toronto this June
1. Toronto's Back Summer Patio Tour
On now; multiple locations
Canadian business news outlet The Peak and the Toronto Restaurant Workers Relief Fund have teamed up to make the return of patio season even better (and it is already pretty darned exciting). Sign up on their site and head to five of their patio picks for some sunshine sipping or al fresco dining. If you're one of the first 100 people to visit five patios, you'll win one of their commemorative Summer Tour t-shirts designed by Canadian artist Rebecca McFarlan. If not, you'll still be supporting local Toronto restaurants. The t-shirts are also for sale, with proceeds going to the TRWRF. Win, win.
2. Celebrate International Picnic Day with free treats from Kitchen Hub
Saturday, June 19th, 5 p.m. to 8 p.m.; Riverdale Park West
To celebrate Torontonians who are doing their part to fight COVID by getting vaccinated, Kitchen Hub is hosting a picnic at Riverdale Park West on Saturday June 19th from 5 p.m. to 8 p.m. The virtual food hall will be handing out free drinks and ice cream from their partner brands, including Greenhouse, Station Cold Brew and Sapsucker. In addition to the picnic at Riverdale Park, the Kitchen Hub team will also be heading to parks nearest their two locations (Queensway Park, Corktown Common and Sugar Beach) to hand out even more free treats. 
3. Celebrate Trattoria Nervosa's 25th anniversary
June 23; 75 Yorkville Ave.
This summer marks 25 years since Trattoria Nervosa opened its doors in Yorkville, originally under the the name Café Nervosa. To celebrate their success over the last two-and-a-half decades, not to mention surviving a pandemic that wiped out many of the city's longstanding establishments, Trattoria Nervosa is taking us back to the 90s. On Wednesday June 23, join them for a retro summer outdoor party. They'll be offering the original menu from when they opened in 1996 — with the original prices. Pizza and pasta for $6? Count us in. 
4. Get a free burger from Harvey's
Available now; multiple locations
Another incentive to get your vaccine, Harvey's is working with the Ontario Health Team to give away free burgers to vaccinated Canadians. Follow the Harvey's RV as it travels to pop-up vaccination clinics around the GTA throughout June and July. Already vaccinated and don't want to chase the Harvey's RV? Simply share a photo of yourself with your record card, add the hashtag #CanadasBestShot and tag Harvey's. They'll DM you with a special code to redeem your free burger online or on the Harvey's app.
5. Try Spearhead Brewing's Queen of Wheat beer
Available now; Spearhead Brewing
Kingston craft brewery Spearhead has partnered with activist and drag performer Rowena Whey and The Canadian Centre for Gender and Sexual Diversity on their latest release Queen of Wheat. Launched just in time for Pride Month, the new brew is a Belgian-style white beer, created in celebration of diversity, inclusion and love. A portion of proceeds from the sale of each case will go towards supporting CCGSD's education efforts. Citrusy with hints of peach, sipping on this beer will leave you feeling good in more ways than one.
6. Watch Doritos-themed content on their new streaming platform Doritos Ketchup+
Until July 4; Online
Doritos Ketchup tortilla chips are back, and with them comes Doritos Ketchup+, the first ever streaming service from a snack. Find a whole roster of bite-sized shows (around six minutes in length per episode) on the site, all centred around Doritos Ketchup chips. From detectives solving a mystery to a romantic period piece, there's something for everyone among these snack-worthy shorts. And best of all, they've been made by up-and-coming Canadian creators. 
7. Try out Cabano's new ice cream
Available now; 75 St. Nicholas St.
Soft serve ice cream has now landed at Cabano's, adding to their roster of comfort food classics like fried chicken sandwiches, piled-high burgers and cheese fries. The two flavours: Funfetti, vanilla ice cream with rainbow sprinkles and Triple Chocolate, homemade olive oil chocolate brownies and hot fudge syrup poured over chocolate soft serve. They're available by the cup, but we'd rather the whole pint option.
8. Get afternoon tea for takeout from the Four Seasons 
Available every weekend for pickup; 60 Yorkville Ave
Scones, marmalade and clotted cream — afternoon tea is what our dainty dreams are made of. More than just a midday meal, traditional tea service is an experience. Lucky for us, the Four Seasons is bundling up their afternoon tea service into a perfect parcel of joy to take home and tuck into at your leisure. For $65, you'll get an assortment of scrumptious scones, sandwiches and sweets alongside a selection of teas. Orders must be placed 24 hours in advance for pick up on Fridays, Saturdays and Sundays.
four-seasons-toronto.myshopify.com
9. Visit the Street Eats Market
Open now; 9350 Yonge St. & 520 Progress Ave.
The team behind several of Toronto's summer food festivals is back with two outdoor food markets at Hillcrest Mall and Scarborough Town Centre. More than a dozen different food trucks have rolled up to each location to peddle their delicious bites. It may not exactly be a food festival, but these vendors will definitely satiate your craving for street eating. Tuck into a beef bulgogi poutine from Golden Grill; a fried chicken sandwich smothered with pesto aioli, three cheeses and garlic rosé sauce from 6 Spice Rack; or a mouthwatering jerk chicken burrito from the Jerk Brothers. 
10. Check out Pomegranar Virtual Art Gallery
June 19 – July 4; Online
After the success of the spring show, our favourite pomegranate-centred art exhibition is back with Pomegranar Summer Series. Drawing on her Persian background, artist Yasaman Nouri's Pomegranar art series follows the theme of togetherness while being apart, and features pomegranates, an important food in Winter Solstice celebrations. Started on the Spring Equinox this March and culminating on the Winter Solstice this December, the exhibit takes place in four parts. Pomegranar is a free (or pay what you can) online interactive art exhibit. Viewers can navigate through the gallery to view the art and videos created by Nouri. The summer iteration features brand new interactive elements and focusses on the theme of love, or lack thereof, during the COVID-19 pandemic.
11. Cool down with the city's best ice cream cones
Available now; multiple locations
With temperatures finally climbing, there's no better way to enjoy the great outdoors than with the most nostalgic of summer treats: ice cream. We sure have come a long way since the days chasing the tune-blasting truck to get our hands on the most extravagant dessert we could imagine at the time (a vanilla-chocolate swirl). And as we've grown up, so has the Toronto ice cream scene. 
From the trendy black charcoal ice cream and the Insta-worthy monstrosities overflowing with every topping under the sun, to the just-damn-good gelato in a cup, we've got the best ice cream in Toronto.
12. Watch our new In the Kitchen video series
Online now
Here at Foodism, we get to do some pretty cool stuff. But we'd have to say that we're the most excited to bring you In the Kitchen with Foodism. Our brand new video series shares exclusive recipes and stories from Toronto's best chefs and bartenders — and for the debut episode, we wanted to start things off with a bang.
Suzanne Barr, a powerhouse chef, author and advocate in the Toronto food scene, absolutely fits the bill. The former Saturday Dinette chef and our first host joined us for a day in the studio where she chatted about her love of cooking, what it's like to be a BIPOC female chef in Toronto, and how to whip up a hearty bowl of shrimp and grits.
In our latest episode, Carl Heinrich, a former Top Chef Canada winner and the chef-owner at Richmond Station, joined us in the studio to talk regenerative farming, the importance of supporting local farmers and makers, and how we can combat climate change from inside the kitchen. Heinrich shows us how to make a seasonal supper of wild leek fettuccine, with locally foraged wild leeks (or ramps) and beautiful maitake mushrooms. 
13. Check into a hotel for a staycation
Open now; Various locations
From boutique boudoirs like The Annex and The Drake Hotel to luxury towers like the Shangri-La and the Ritz-Carlton, there's something special about staying in a hotel, even if you live just down the street. Forget work from home when you can work from hotel. Everything is just so much better when you're in a plushy hotel robe and dialling room service for your desk lunch. These Toronto hotels know a thing or two about stylish and elegant stays that will make you want to move in for good and fall in love with the city all over again.
14. Eat your way through the city's best fried chicken sandwiches
Available now; Multiple locations
It's tough to pick favourites when it comes to sandwiches, especially when Toronto has so many good ones, but there's a reason the fried chicken sandwich is one of the most universally-loved comfort foods. Whether it's a sunny park picnic with your loved ones or a cozy night spent alone vegging out on the couch, a fried chicken sandwich will always come through for you.
A pillowy bun, creamy coleslaw, sweet pickles and of course the pièce de résistance: a juicy, crispy (and just the right amount of greasy) piece of fried chicken. Buttermilk, Nashville hot, karaage — whatever preparation you can dream of, there's a place for it on our list of the best fried chicken sandwiches in Toronto.
15. Take an online cooking class with George Brown College
Available now; Online
Whether you're already a kitchen pro or more on the calamity spectrum of things, a cooking course is bound to provide inspiration. Let's be real: Instagram and YouTube videos can only do so much. It's time to get the professionals involved. So where better to learn than Continuing Education classes at George Brown College?
There is something for everyone in their Hospitality and Culinary Arts programs, whether you're into baking or beer.
16. Take a trip to Mexico with Toronto's tastiest tacos
Available now; Multiple locations
One of the things we're most thankful for in life is the popularization of Mexican food in Toronto. Long gone are the poorly flavoured, overly cheesy dishes that dominated our perceptions of Mexican cooking for so long (too long). Instead, Toronto is home to some of the best authentic tacos. Flavour-packed morsels, salsas with zing, carnitas that fall apart at the slightest touch — these are tacos where you can taste the intricacy of every ingredient and not just an overly enthusiastic slosh of hot sauce.
Head to one of these neighbourhood taquerias for Toronto's best tacos topped with everything from fish to gochujang-drizzled beef brisket at places bringing together Mexican and Asian flavours, in a very good way.
17. Learn how to grow your own veggies with Guy Rawlings
Available now; Online
Whether you're placing a pot on your windowsill, redecorating your balcony with some planter boxes or turning your patch of grass into a garden, growing your own ingredients can be a great way to liven up your living space and elevate your home cooking.
Even if you don't feel like you've been blessed with a particularly green thumb, gardening can be therapeutic, fun and, (dare we say?), easy. To give us the lowdown on getting down and dirty in the garden, we chat to Guy Rawlings. Formerly the chef and co-owner of the recently shuttered Montgomery's, Rawlings is an expert in making delicious meals from scratch with local, seasonal ingredients all sourced from within Canada. He gives us a primer on how to start gardening for beginners. 
18. Go on a juice cleanse
 Open now; Various locations
What if we told you that feeling more energized, radiant and just, well, better was a mere sip away — and a delicious sip at that?
OK, so that might not be totally true, but we'd never say no to a fresh juice from one of Toronto's array of juice bars. Most of these bars cold-press their juice to maintain the quality of the nutrients; they use sustainable, chemical-free packaging; and they're dedicated to selling only the freshest juices. That all sounds like a win-win to us.
Stop in at one of these fresh juice bars in Toronto, try out one of their cleanses or simply grab a juice or smoothie and you'll feel revitalized in no time...
19. Cut down on your meat consumption by trying these vegan restaurants
Open now; Various locations
Veganism has been undergoing a radical change in recent years. From fast food to fine dining, a slew of forward-thinking chefs are going above and beyond to turn preconceptions of vegan eating on their head, showing people it can be beautiful, colourful and vibrant, with flavours to match. There's vegan pasta, vegan pizza, vegan sushi spots and so much more — meat might be off the agenda, but good eating certainly isn't. 
Of course, vegan cooking isn't the complete solution to our planet problems. But no matter which camp you're in, no one can say that eating less meat isn't better for you and the environment, and if that means you need to eat a fake burger that bleeds beet juice once a week, who's to say that isn't OK? Certainly not us, and given the creative cooking at these Toronto vegan restaurants, we'll say it's a safe bet you'll be eating it far more often than that...
20. Reduce your waste with a visit to Unboxed Market
As a full-service grocery store, you can find all of your household items, pantry products, produce and more at Unboxed Market. But what you won't find is the excessive plastic packaging seen in supermarkets. Instead, items are sold loose and customers are able to fill up their own bags and containers.
21. Go on a wine tour with the city's best bottle shops
Open now; Various locations
Remember when alcohol could only be sold at designated, government-controlled stores? (Circa 2019.) It almost feels like we were living in the dark ages prior to the pandemic. Now that we've caught up with modern times, bottle shops in Toronto are popping up on every corner as a side hustle for some of our favourite spots. Amidst the lockdown, bars and restaurants have dipped into their wine cellars and brought out their best stuff, for sale by the bottle. 
Local, natural and rare wines that you'll never find at the LCBO are all on the menu. Plus, many of these bottle shops have a grocery component where you can get pantry items like fresh made pasta, cheese boards, delicious dips and made-in-house fire-baked bread. Date night, sorted.
22. Up your bartending game with tips from Toronto's top bartenders
Available now; Online
No matter how you swing it, your living room is not a beautifully decked out wine bar, nor is it a hipster joint serving itsy, bitsy cocktails that arrive at your table smouldering.
But, as lockdown stretches on interminably, we've been pushed to the upper limit of our creativity, as we battle on to make our condo cocktail bar a thing. If your gin and tonic is getting as stale as the citrus in your fruit bowl, we've got what you need to revive your bar game.
We chatted to five of Toronto's best bartenders to find out how they've been staying sharp during the pandemic and what pearls they could impart on how to create the perfect home bar. Here, the mixing moguls share their favourite bar tools, tips and tricks for how to bring that bar atmosphere into your home, plus some fun recipes to try tonight.
23. Host your own home bar crawl with premade bottled cocktails from the city's best bars
Available now for takeout and delivery; Various locations
Praise be for another timely AGCO boon in the form of recently legalized pre-mixed bottled cocktails. Alcohol sold for delivery must now be securely closed, instead of sealed and unopened — making it much easier for restaurants and bars to offer more takeout and delivery options, including mixed drinks and growlers. From cocktail kit connoisseurs bottling up bevvies to monthly subscriptions that will keep you in bartender-mixed libations until spring, we've got the best premade bottled cocktails for pickup and delivery.
24. Eat your way through the city's best sushi
Open now for takeout and delivery; Various locations
Serious foodies and sushi lovers are usually synonymous. When you think about it, this makes perfect sense — sushi, built on the foundations of the freshest, highest quality fish, rice and other ingredients, is all about using the very best produce and touching it as little as possible. The city has hundreds of sushi restaurants that adhere to different styles, from omakase (where the chef is there making the dishes right in front of you) to kaiseki (a bit like prix fixe), all-you-can-eat and à la carte. Lucky for you, we've rounded up the best sushi spots in Toronto, so all you have to do is bust those chopsticks out. 
25. Order from the Afrobeat Kitchen pop-up
Open now; 1165 Bloor St. W.
Private chef and catering project Afrobeat Kitchen is back with another pop-up, this time at Caravan Cafe & Tea House on Bloor near Dufferin. For a limited time, you'll be able to get your hands, or mouth, on modern African eats from chef Victor Uguweke. Order for pick up or delivery through Ritual.
26. Eat your way through the best pizzas in the city
Open now for takeout and delivery; Various locations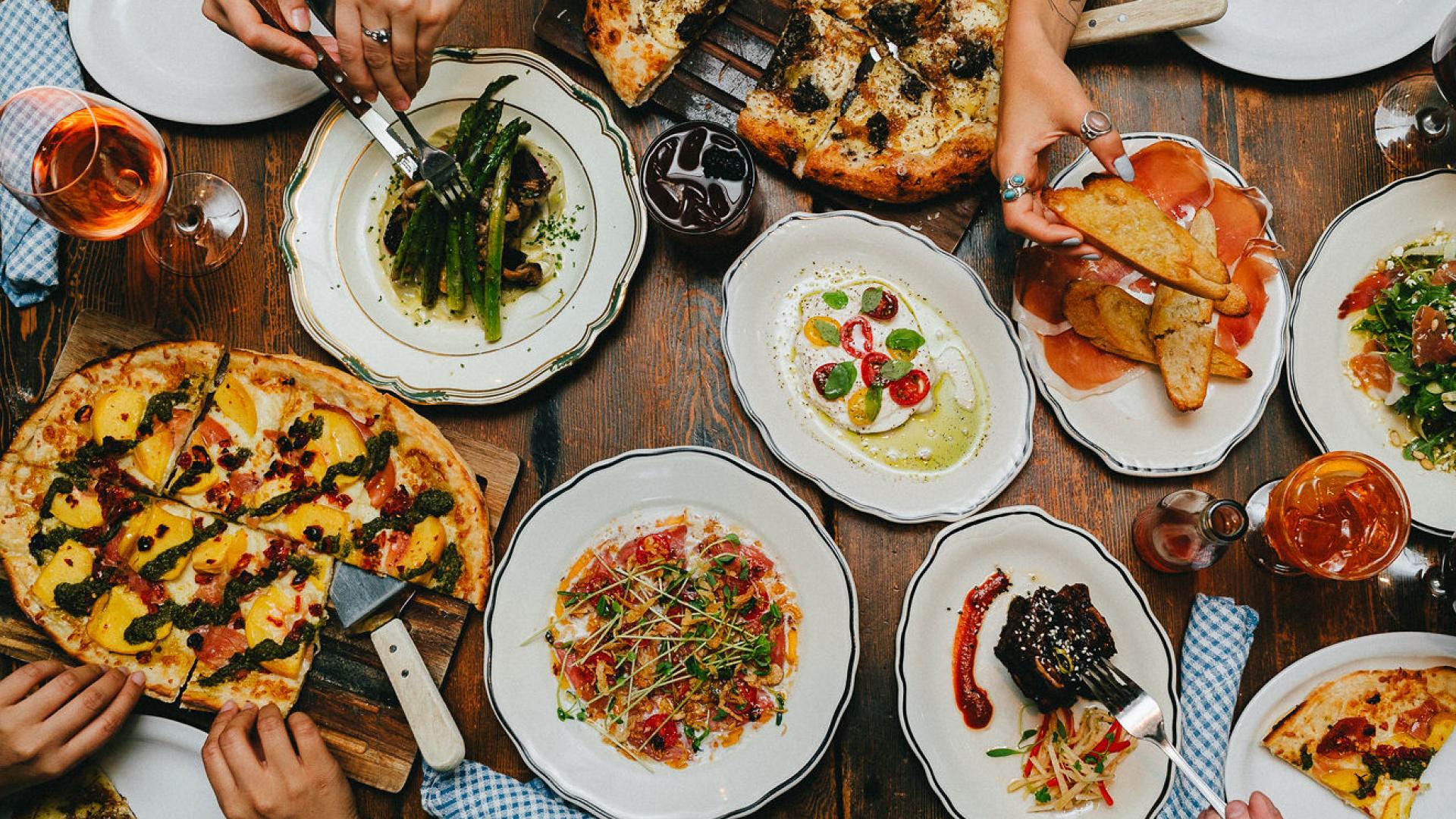 Whether you're talking about Neapolitan, sourdough, deep-dish pie, stuffed crust or calzone, pizza is a universal language. And there are very few occasions when a pizza wouldn't fit the bill — it's great with mates, it's great with dates and you can even find it at fancy Italian restaurants, too. But we're not the only ones to hold this opinion, which is probably why Toronto has a ton of great pizza places dishing up all kinds of slices to hungry city dwellers.