As the year of cancelled events and prohibited activities continues, it may seem like there's nothing fun left to while away our afternoons on. But there are always plenty of things to do in Toronto – even while physical distancing.
If you've already tried the city's best new restaurants and eaten your way through our list of drool-worthy pie places, and you're still hungry for more, we've got all the fall festivities to satiate you. With October comes cozy sweaters, spooky decor and an abundance of fall-themed activities and popups.
Grab a hot cup of java at one of the best coffee shops in the city, then head out to spy colourful leaves and check out these things to do in Toronto. 
10 things to do in Toronto this October
Fall n' Leaves
Until October 31; 621 Richmond St
Yes, we're basic. No, we don't care. Somewhere between a pumpkin patch and Oktoberfest sits Fall n' Leaves, a pop-up celebrating the best season of all. Located on the south west corner of Bathurst and Richmond, this outdoor extravaganza features fire pits, a pizza oven and a cocktail and wine bar, so you can imbibe in your finest fall fashions from atop a bale o' hay.
Fall n' Leaves will also be hosting events like Oktoberfest, a drag show halloween and even date night paint nights and wine tastings. Finding fun new things to do this fall (with ample social distancing) needn't be like a needle in a haystack, after all.
DineOutTO
Until October 30; Multiple locations
This collaboration between Destination Toronto and the City of Toronto aims to help restaurants who have been hit hard by the pandemic. Until October 30th, the DineOutTO culinary programme will be showcasing special offers and signature dishes at local restaurants. Support your favourite spots and go easy on the wallet with offers like $5 lamb baklava at Reyna on King, 50 per cent off at Amano and buck a shuck oysters and half-price wine at Founder. 
Toronto's first coffee vending machine
Open now; 1235 Bay St.
It's the year of contactless everything so why should our coffee be any different? Enter Canada's first fully automated café. Located on Bay Street just north of Cumberland, the robo-barista serves up Dark Horse coffee, espressos, lattes and more. While there is a touch screen, you can go completely contactless by scanning the QR code onsite and ordering from your phone. Be one of the first to try it out this month.
Halloween Nights of Lights
October 1 – November 1; 7250 Keele St.
Grab your snacks, pile into the car (with the people inside of your bubble, of course) and prepare to be dazzled by 700,000 LED lights. The synchronized light show sees tunnels, animated displays and more, all set to Halloween songs. The drive-through experience spans 2.25 km with 30 minutes of programming. 
By Chef Nuit Pop-up
Open now; 326 Adelaide St.
To the delight of her fans, chef Nuit Regular has added a new pop-up to her lineup of Thai restaurants that includes Kiin, Pai and Khao San Road. Operating out of the Kiin space, this latest venture offers a "culinary playground" for chef Regular. Expect creative dishes like the Pad Gra Prow Burger with crispy holy basil, aged cheddar and a Thai fried egg on top. Order for delivery or takeout. 
Celebration of Art at stackt market
Throughout October; 28 Bathurst St. 
There's always something going on at this hub for local artisans, events and eats. During the month of October, the shipping container market place will be home to Celebration of Art, a free event that includes over 20 different murals and art pieces. Food pop-ups and live music round out the offerings onsite. 
Nuit Blanche
Online now
There's nothing quite like an ethereal wander through the streets of Toronto where we explore the city in a new light and discover beautifully curated art installations at every turn. However, since we're trying to look on the bright side of 2020 (lawd, help us), we will say that Nuit Blanche was often a toe-numbing experience – and is it just us, or was it always raining? Since the only thing that should be tingling are your artistic senses, you can enjoy the festival from the comfort of your own home this year. The 15th annual Nuit Blanche Toronto premiered on October 3, but you can watch it on demand on YouTube now.
Make spooky cocktails with Hounds Black Vodka
Anytime, anywhere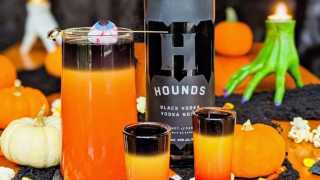 If there was ever a time to experiment with Hounds Black Vodka, October is it. Any of your favourite vodka-based cocktails will instantly get a spooky makeover with this Canadian spirit. Yes, it does actually pour black – the colour comes from fulvic minerals. Try it in a classic martini, mix it with tonic or get creative. 
The Moonlight Tower at Sky Flower
Until October 31; 292 College St.
For a limited time, rooftop patio pop-up Sky Flower will be gracing College St., just west of Spadina. And for an even more limited time, this pop-up is hosting it's own pop-up – the Moonlight Tower. The special halloween-themed experience involves spooky décor, mood lighting and a lip-smacking, Asian-inspired menu from MasterChef Canada winner Eric Chong. With heaters installed at every table and social distancing measures in effect, it looks like we don't need to cancel halloween after all. 
One of a Kind
October 22 – December 20; Online
Everyone's favourite biannual craft show has moved online amidst the pandemic. Shop through food items, housewares, clothing, jewellery and crafts from more than 700 Canadian makers – all at your own leisure, from the comfort and safety of your own home. That's one more reason to support local during these times.