PSA: Barbecue isn't only a summer thing, okay? As the temperature starts to drop, we're going to need all the comfort-food fixins and sauce-slathered ribs we can get our paws on. There's something magical that happens when meat meets fire and we've got a list of Toronto's best BBQ restaurants open for takeout and delivery that are doing it right. If you're craving slow-cooked brisket or perfectly charred chicken, look no further than these top spots.
Leave the cooking to the pitmaster pros and let one of these joints do dinner tonight. From the east end's Beach Hill Smokehouse specializing in those famous Texas dry rubs to Roncy's Barque Smokehouse that's putting southern Ontario barbecue on the map. 
Once you've had your share of juicy slow-cooked meat, save some room for a sweet treat like a peach cobbler or gooey pecan pie with our list of the best places to get pie in Toronto. Speaking of pie, we've also got a list of the city's best pizza. Supporting local businesses never tasted so good.
Toronto's top 7 BBQ joints
The Carbon Bar
99 Queen St. E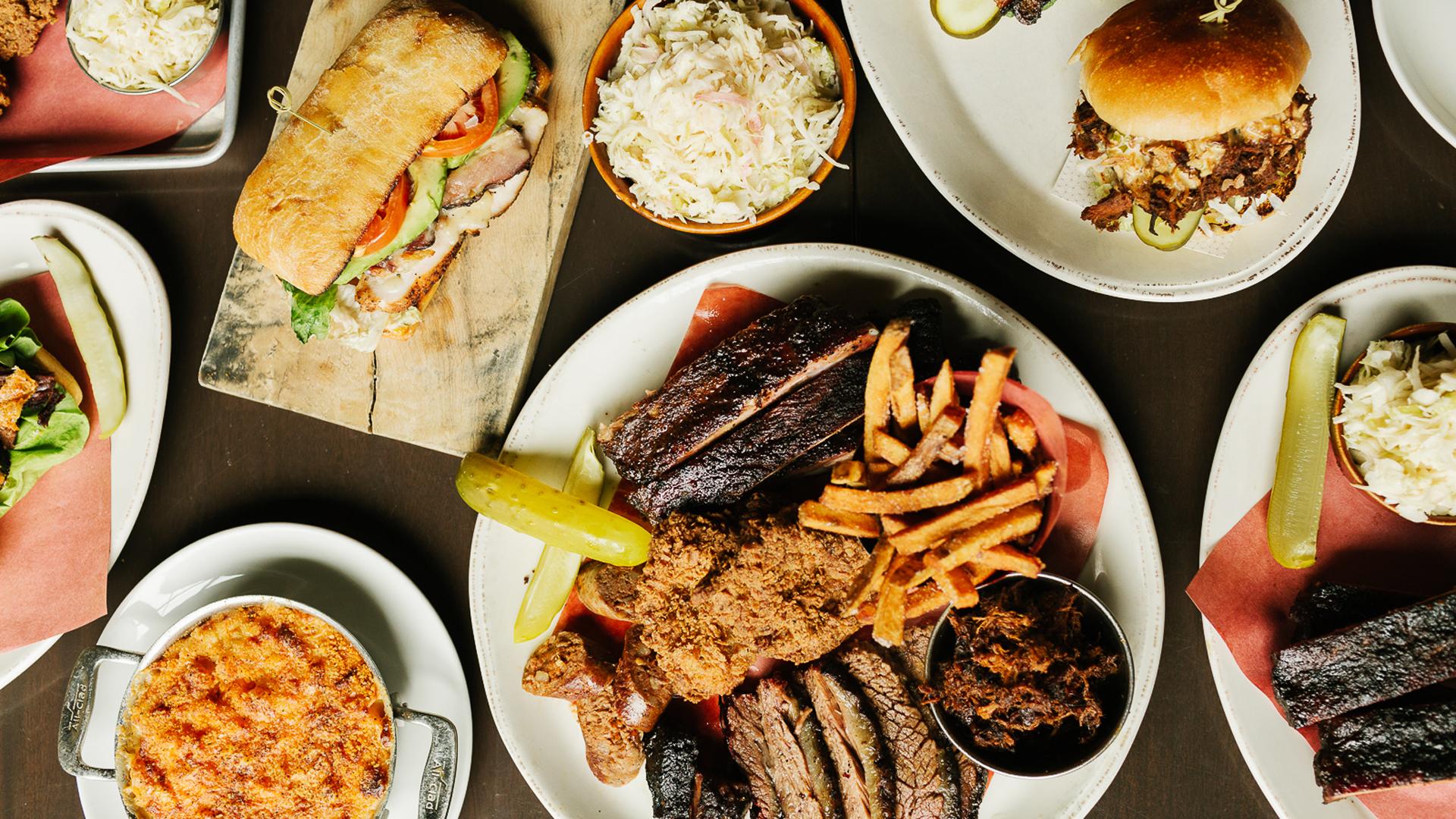 Barbecue... but make it fancy-ish. The Carbon Bar raises the rustic backyard barbecue experience while still staying close to its homestyle southern roots. The signature pitmaster platter is a meat-lover's dream with succulent pork ribs, beef brisket and buttermilk fried chicken (bib not included). Order takeout or delivery from their website, or on Ritual, Skip the Dishes and Uber Eats. 
Beach Hill Smokehouse
172 Main St.
Specializing in authentic Central Texas BBQ, this Danforth joint is a must. Meat in this style is rubbed with spices and cooked over indirect heat with pecan or oak wood resulting in the juiciest beef brisket and pork ribs. There's cookout platters for the whole team, or you can order 'the Big D' sandwich stacked with three types of meat all for yourself... You know what we'd do. And we'd save room for the Southern peach cobbler, too.
Beach Hill is open for pick-up at 172 Main Street and 429 Danforth Ave, arrive early or call ahead (416-792-8275) to secure your meal – they sell-out quick. Takeout/delivery is also available on Uber Eats or Door Dash.
Greenwood Smokehouse BBQ
673 Danforth Ave.
At this rustic east end spot, ingredients are locally sourced, meat is raised sustainably and the bourbon is strong. After getting seasoned in a signature blend of spices and rubs, the beef, pork and chicken are slow-smoked over a white oak log fire for that Southern smokehouse taste. Vegetarians are invited to the party too with dishes like their famous vegan firecracker po' boy sandwich and the Greenwood poutine with vegetarian gravy. Call for takeout (416-469-2270) or get it delivered via Uber Eats and Door Dash. 
Barque Smokehouse
299 Roncesvalles Ave.
Barque puts southern Ontario barbecue on the map by combining classic BBQ styles with locally-sourced Ontario sugar maple wood. If you want it all, the Meet Meat Platter features six of their most popular items, like BBQ chicken and smoked pulled lamb shoulder. It's for four people, but who's counting? Barque is open from Wednesday – Sunday from 12 pm to 8 pm for takeout and pre-orders on their website. 
Cherry Street Bar-B-Que
275 Cherry St.
One of Toronto's MVPs (most valued pitmasters), Cherry St.'s Lawrence La Pianta serves up classic southern-style smoked meat along with fun twists – hello, double-stacked cheesy mac (like a Big Mac but the patty is made fresh from brisket trimmings). The always-juicy meat selections steal the show, but the side of baked beans plays a crucial supporting role. The beans are smoked under the brisket where they collect the delightful drippings. Oh yeah.
For same day pickup orders, call 416-461-5111. Cherry St. is also available on Uber Eats, Door Dash and Skip the Dishes. 
Smoque n' Bones
869 Queen St. W
Located next to Trinity Bellwoods Park, Smoque N' Bones draws inspiration from four barbecue styles: Memphis, Texas, Kansas and the Carolinas. Pork ribs are served straight from the smoker with sauce and a brush for DIY rib painting, while the bar has more than 50 bourbons. Order pickup or delivery from their website, or on Uber Eats, Door Dash and Skip the Dishes. 
The Stockyards
699 St Clair Ave. W
The Stockyards has been putting out wood-smoked, labour-intensive, Southern-style barbecue since 2009, back when boiled ribs slathered with sauce was the norm in Toronto. Pitmaster Tom Davis is self-taught, but he spent around 15 years honing his technique before setting up shop on St. Clair West.
Nowadays there seems to be a Texas-style barbecue joint opening on every street corner, but the Stockyards still puts out some of the best ribs, brisket and griddle-smashed burgers in the city. The fried chicken – brined and marinated for 48 hours – is legendary. Order online from their site for pick-up or get it delivered on Uber Eats and Door Dash.