You know what they say, "the grass is always greener when there's a picnic on it" – ermm, right? Anyways, if you're looking to have the best picnic ever during the weirdest summer ever, look no further than some of our favourite Toronto restaurants doing picnics to go.
Once you've checked out some of the best patios in Toronto and filled up at Toronto's best barbecue joints, it's hard not to crave restaurant-quality meals wherever you go. Thankfully, Toronto restaurants have tailored to our foodie-needs by offering takeout and delivery and getting creative with food boxes, meal kits and personal pies (oh my!) for the ultimate picnic to go.  
Packing an entire barbecue into a bag is a logistical nightmare and soggy leftovers just aren't the same, so BYOB (bring your own basket) to the park from these Toronto restaurants doing picnics to go and be the hero we all need. 
The cherry on top? Finish your picnic to go with a scoop (or several) from the best ice cream in Toronto.  
Plan your picnic: 7 Toronto restaurants doing picnics to go
Hotmess Tex Mex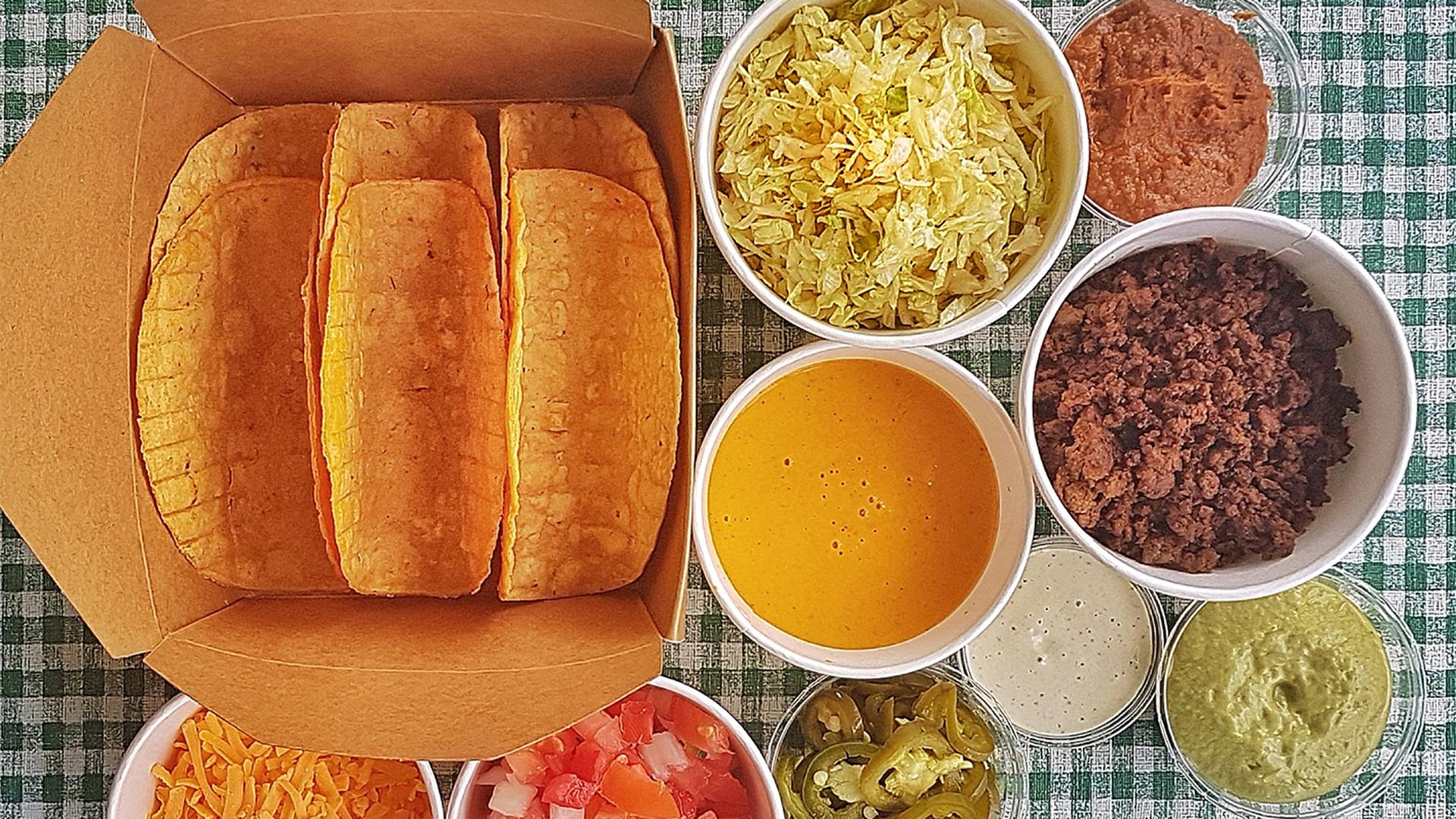 Hotmess on College Street has a selection of build-you-own taco kits that are a play on the nostalgic taco-in-a-box sets from slumber parties and Taco Tuesdays gone by, except theirs are really, really good.
Don't be fooled by these no-fuss taco kits – a lot of love and effort goes into building each one. From freshly made cheese-dusted taco shells to housemade chile con queso, this isn't your average Old El Paso box.
There are six taco shells included in the picnic taco kit along with all the fixings, like house-pickled Jalapeños, avocado crema and your choice of meat. Go beyond beef with chorizo and roasted pineapple, chicken with mango and goat cheese, or the cheeseburger taco.
For the ultimate picnic to go, pickup one of their vintage Coleman coolers complete with taco kit, snackable Jalapeño Miss Vickie's chips and lawn games. 
Taco kits are available for delivery on UberEats or pre-order and pickup at Hotmess.
Nearby parks: Trinity Bellwoods Park, Bickford Park, Christie Pitts Park 
Tala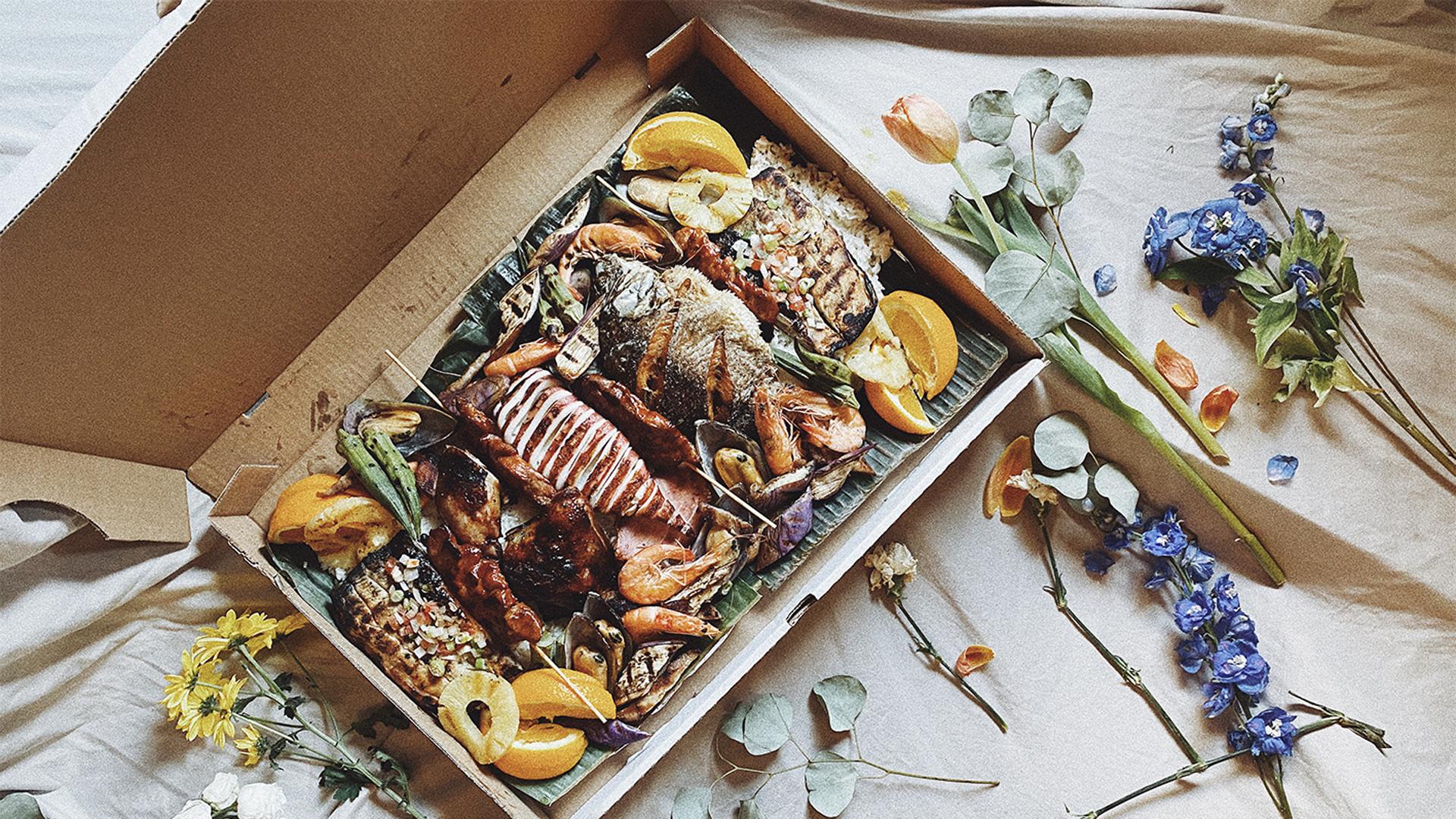 Tala's Fiesta Kamayan (meaning "with hands" – and you're going to need 'em) Kit is a deliciously smart way of bringing people together over food even when, you know, we can't really get together. This communal Filipino feast can feed four hungry people and there'd still be leftovers.
Inside the box you'll find a variety of seafood, chicken inasal, pork BBQ skewers and pork belly liempo with rice served on banana leaves. The finale: a choice of either leche flan or turon (fried banana spring roll) for dessert.
The kits sell out fast, so pre-ordering for pick-up from the restaurant is your best bet. You can also add hard-to-find Filipino treats and snacks to your order from Tala's sister store Sorry Sorry. Stretchy pants not included.
Nearby parks: Grange Park, Queen's Park
Oo-Kinza Fish House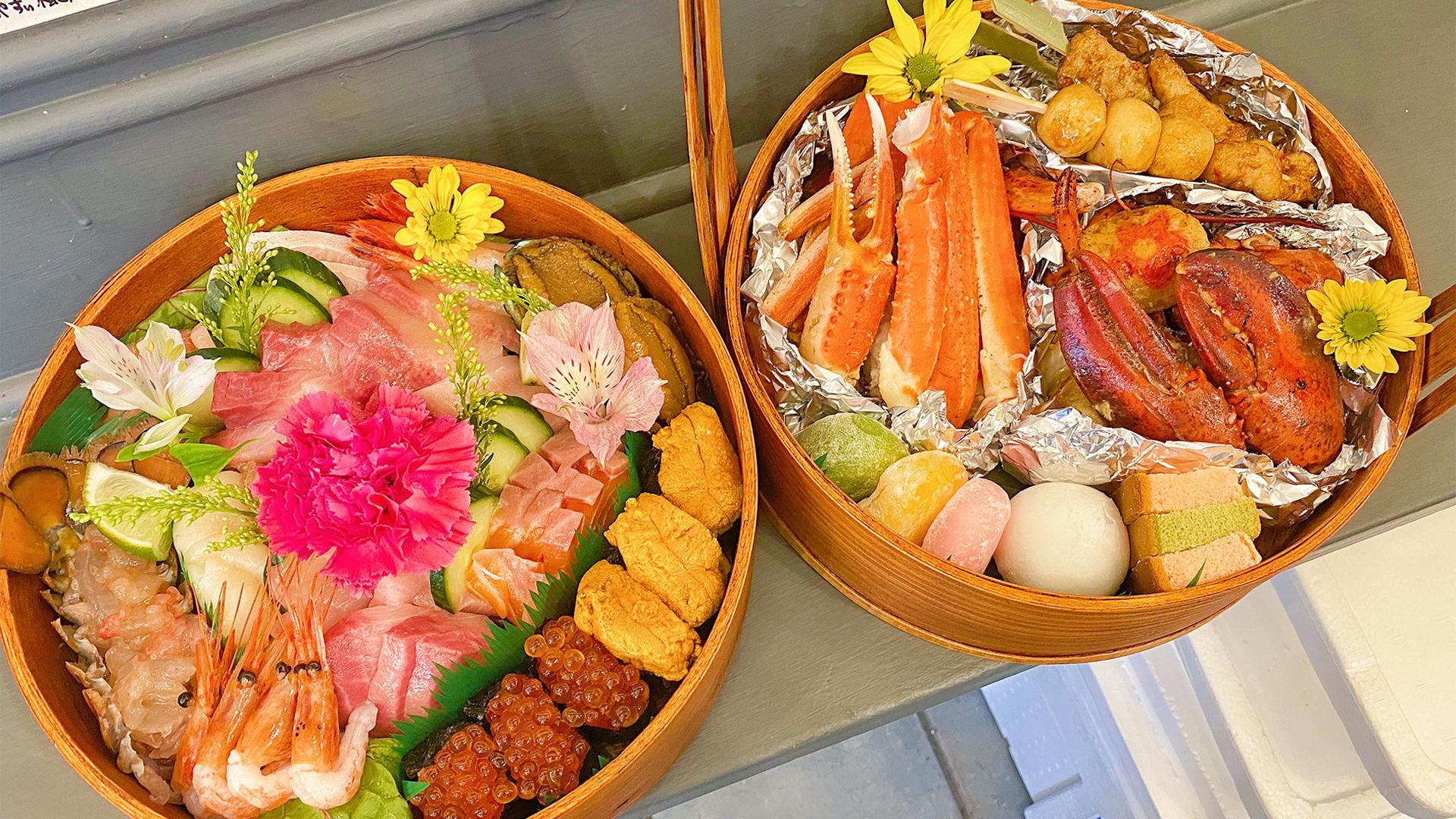 For the fancy-pants picnic to go, this under-the-radar Scarborough seafood bar has some pretty extravagant omakase (short for "omakase shimasu," a Japanese phrase meaning "I'll leave it up to you") baskets. 
The $120 omakase basket technically comes with two baskets; one raw, one cooked. The raw basket is stacked with premium sashimi, shrimp and octopus. The cooked basket has mussels and juicy teriyaki chicken on a bed of mixed greens. 
The $320 omakase basket comes with a car... kidding. This deluxe basket comes with a variety of raw seafood: uni (sea urchin), gunkan sushi, otoro sashimi, lobster sashimi and other premium grade sashimi. The cooked tray has snow crab legs, yakitori skewers, lobster claws and scallops or mussels. 
These baskets are very popular and a reservation is needed (via their Instagram or call ahead) along with a $200 cash deposit for the wooden baskets, which is refunded upon return (you can also request regular sushi trays which don't require a deposit).
Nearby parks: Terry Fox Park, L'Amoreaux North Park
XO Bisous
For a sweet picnic, this downtown Toronto pâtisserie has sandwiches and goodies to-go. It doesn't matter who you're sharing your blanket with, XO Bisous has delicious sandwiches for any dietary preference or picky picnic-eater. 
The two person picnic basket (one sandwich per person) is $35 and the four person basket is $65. Order from their website or call ahead and choose from a selection of fresh bread and make it vegetarian, vegan or pack it with shaved roast beef... choose your own adventure. 
Each sandwich comes with a harvest salad, Miss Vickie's potato chips, fruit, and iced tea. XO Bisous also has a range of tasty prepared meals, sides and freshly baked treats like cinnamon buns and custom cakes for those special occasions (or for coping with 2020). 
Nearby parks: St. James Park, Berczy Park, David Crombie Park
White Lily Diner 
If you're looking for some east end views of the city, a picnic to go from White Lily Diner in Riverside is the perfect partner to any golden hour or hot summer day. The picnic menu at White Lily is especially curated for easy, delicious on-the-go meals and evolves constantly to reflect seasonal produce.  
What you can expect are deliciously stacked sandwiches, clubs and melts that are always invited to our picnic. Bonus: All sandwiches are served with a pickle and sweet potato salad. Order online from White Lily's website and check frequently for new takeout additions. 
Nearby parks: Corktown Common, Riverdale Park East, Jimmie Simpson Park
Reyna on King
For another feast in the east, the Mediterranean-inspired picnic baskets from Reyna on King will make you feel like you're posted up next to an ocean instead of a Toronto park.
There are four summer picnic baskets ($90 each, pre-order online from their website) which include either one choice of three signature cocktails, one bottle of wine (under $30) or a 6-pack of beer. Their snack basket is ideal for summertime snacking with their artisanal cheese and charcuterie, house-made chips and dips and Mama Reyna's brownies for dessert.
The Reyna basket is a taste of the Middle East in the east end with fresh Lebanese tacos, falafel bites and lamb baklava. 
Nearby park: Corktown Common 
Meat and Pie Co. 
With pies more personal than your browsing history, Meat and Pie Co. has all your sweet and savoury cravings sorted. It's Toronto's answer to a backyard barbecue (all meat is Halal) with your Grandma's pies. The selection of BBQ platters can feed two, four and six people and are separated according to the size of your picnic (pre-order on their website for pickup). 
The Two Pax Platter ($85) is for "starters" with one pound of brisket, half smoked tandoori chicken, classic mac 'n' cheese, cornbread and one personal mango pie. Bring your appetite and your friends for the Six Pax Delux Platter with three pounds of brisket, three beef short ribs, four half smoked tandoori chickens, six mac 'n' cheese, cornbread, coleslaw and six mango pies. Did someone say all-you-can-eat picnic?
Nearby parks: Simcoe Park, David Pecaut Square