You know what they say, "the grass is always greener when there's a picnic on it" — ermm, right? Anyways, if you're looking to have the best picnic ever this summer, look no further than some of our favourite Toronto restaurants doing picnic baskets to go.
Once you've checked out some of the best patios in Toronto and filled up on all the finger-licking fried chicken sandwiches, it's hard not to crave restaurant-quality meals wherever you go. Thankfully, Toronto restaurants have answered our calls by creating ultimate picnic baskets and experiences to go.  
Packing an entire barbecue into a bag is a logistical nightmare and soggy leftovers just aren't the same, so BYOB (bring your own basket) to the park from these Toronto restaurants doing picnic baskets to go and be the hero we all need. 
The cherry on top? Finish your picnic with a scoop (or several) from the best ice cream in Toronto.  
Plan your picnic: 11 must-try picnic baskets from Toronto restaurants 
1. Tala
31 Howard St.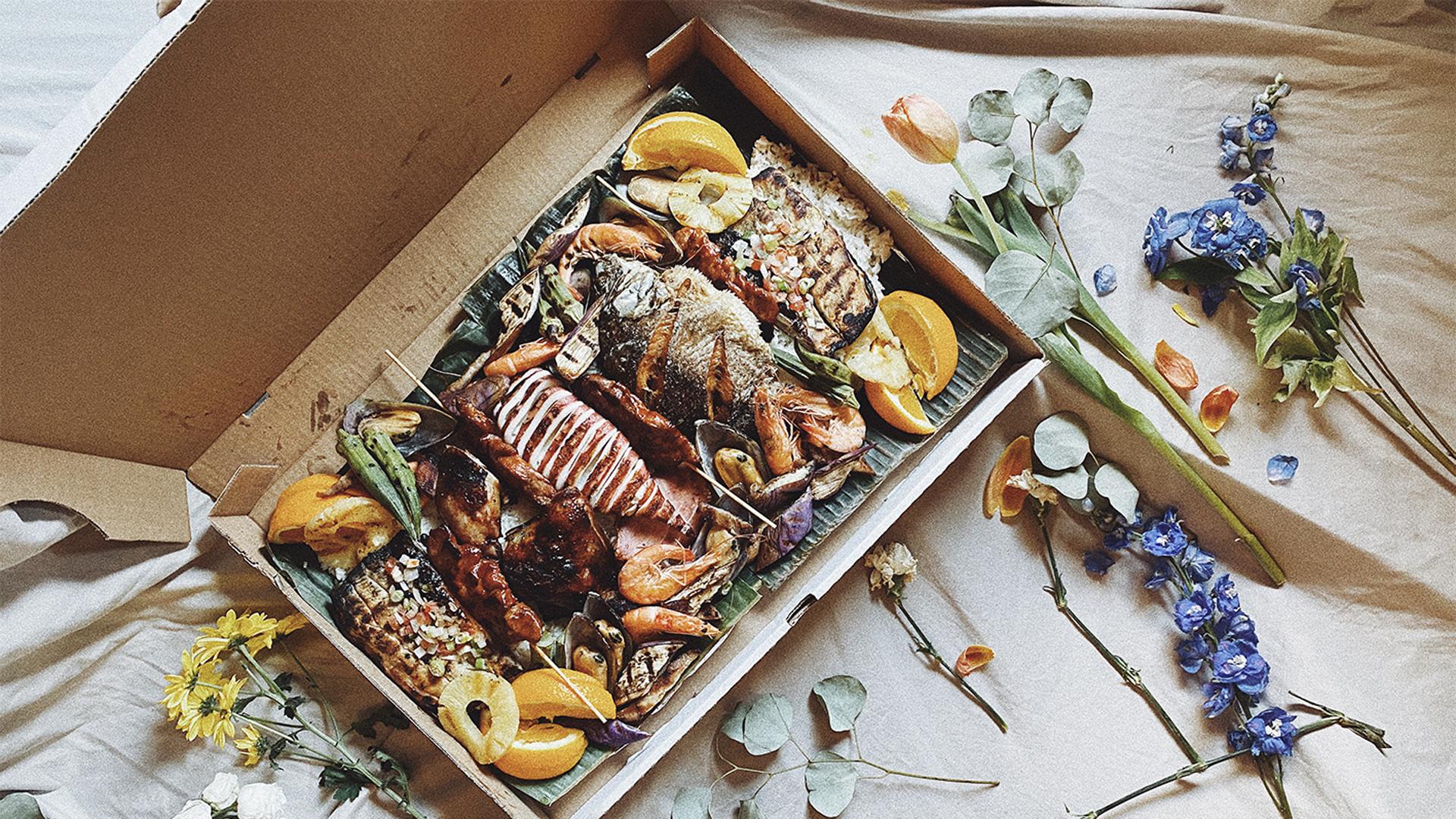 Tala's Fiesta Kamayan Kit (Kamayan means "with hands" — and you're going to need 'em) is an excellent way to bring people together even when, you know, we can't really get together. This communal Filipino feast can feed four hungry people and there'd still be leftovers.
Inside the box you'll find a variety of seafood and meat with rice served on banana leaves. The finale: a choice of either leche flan or turon (fried banana spring roll) for dessert.
The kits sell out fast, so pre-ordering for pick-up from the restaurant is your best bet. 
Nearby parks: Grange Park, Queen's Park
2. XO Bisous
60 Adelaide St. E.
For a sweet picnic, this downtown Toronto pâtisserie has sandwiches and goodies to-go. It doesn't matter who you're sharing your blanket with, XO Bisous has delicious sandwiches for any dietary preference or picky picnic-eater. 
You can order their picnic baskets (for two or four people) or the cheese and charcuterie grazing boxes from their website or call ahead, and add on some fresh-baked chocolate chip or vegan cookies for good measure.
Nearby parks: St. James Park, Berczy Park, David Crombie Park 
3. Reyna on King
354 King St. E.
For a feast in the east end, Mediterranean-inspired picnic baskets from Reyna on King will make you feel like you've posted up next to an ocean instead of dining in a Toronto park.
They're currently offering four weekend picnic baskets: The Reyna, snack, sandwich and veggie, and each comes with enough food to fill two to four people. For something a little lighter, pick up one of their weekend brunch boxes — smoked salmon and tahini eggs benny in the park, anyone?
Nearby park: Corktown Common
4. Stefano's Sandwiches 
1214 Dundas St. W.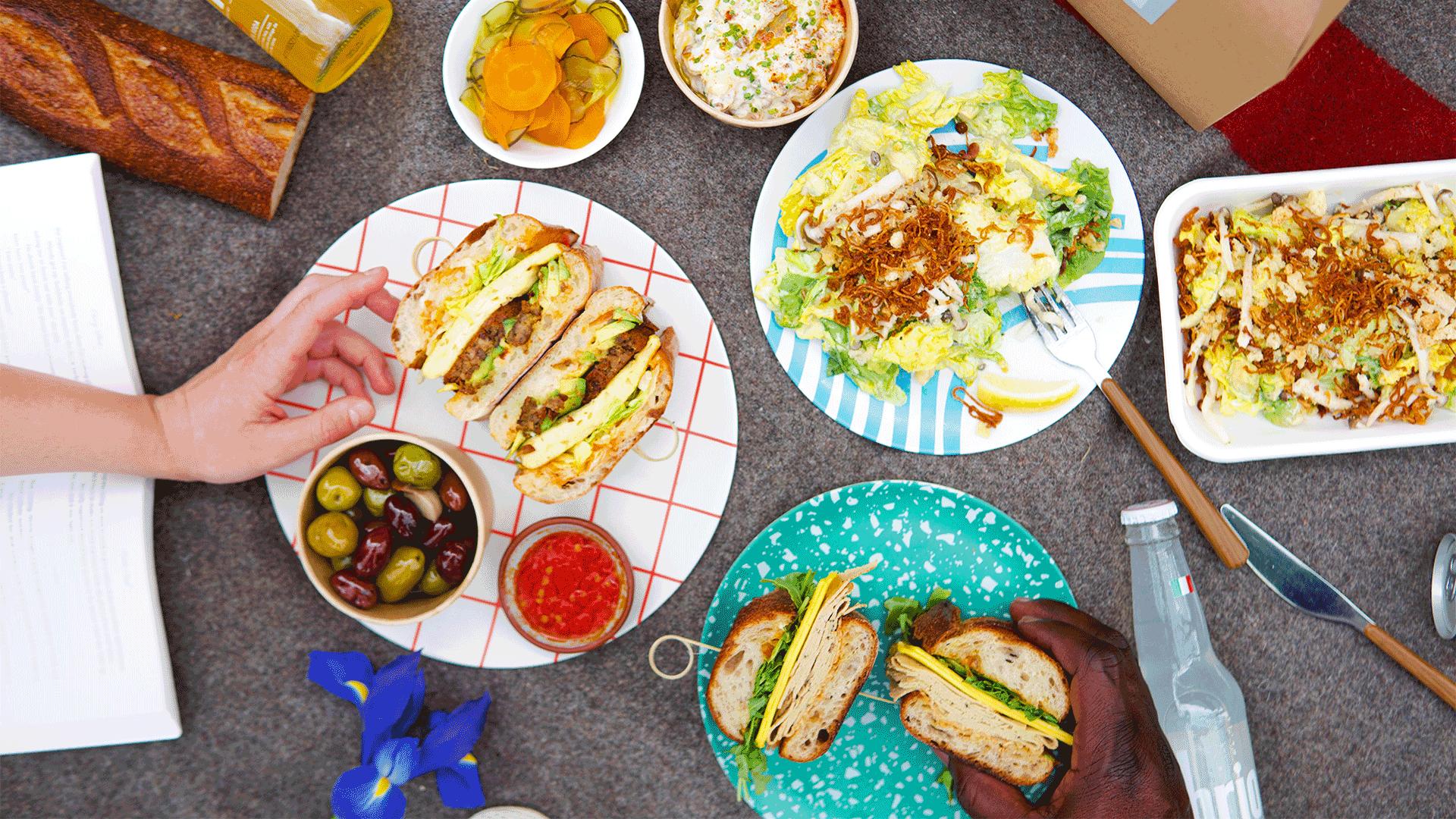 Trust us, you won't miss the meat once you take a bite of Stefano's plant-based sandwiches. Bring these tasty two-handers to the park with their picnic pack for two (available Thursday–Sunday) which includes two plant-based sandwiches of your choice.
The easy-to-transport picnic pack also comes with potato lentil salad, olives, baby gem salad and seasonal fruit. The cutlery is eco-friendly and disposable, the sandos are stacked and Bellwoods is less than a kilometre away. What more could you need?
Nearby park: Trinity Bellwoods, Fred Hamilton Playground
5. Eataly
55 Bloor St. W.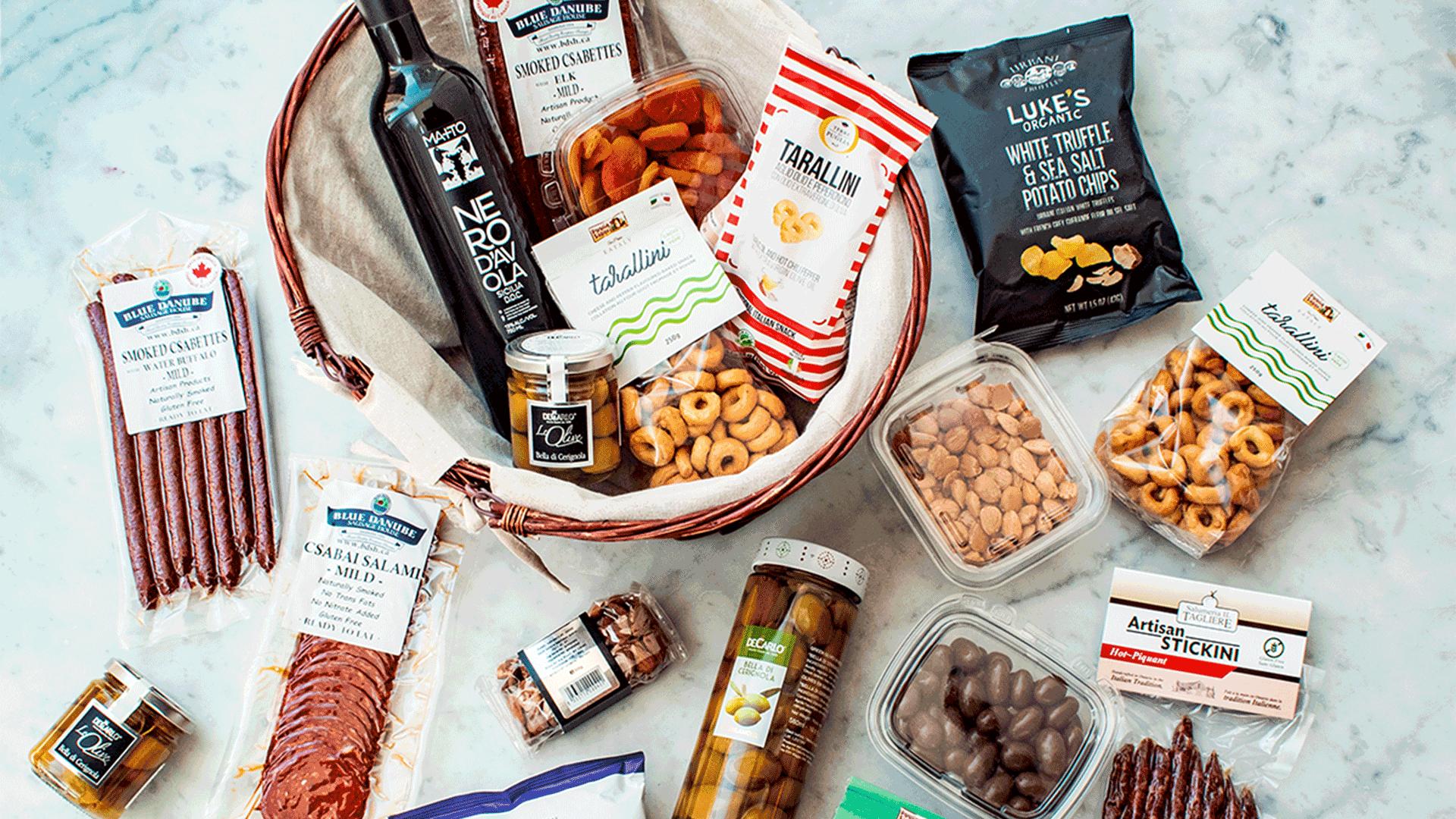 We've never loved grocery shopping more than perusing the aisles at Eataly. And now we can take a piece of Italia to the park with their curated picnic baskets. Wine from Sicilia, olives from Puglia, Smoked Csabettes from Mississauga… They're unreal, OK?

You can also build your own basket at their picnic corner beside the salumi e formaggio counter, where ingredients like Italian salumi, house-made cheese and seasonal produce are just waiting to join you in the sunshine. 
Nearby park: Queen's Park
6. La Palma
849 Dundas St. W.
Every Sunday throughout the summer, La Palma has ready-to-eat picnic kits for two, so you can al fresco away your Sunday scaries.
There's a different picnic drop each week, but expect to find chef-quality menu items like rotisserie lamb leg sliders and strawberry parfait with mascarpone cream and graham cracker crumb for dessert. Add on one litre of La Palma's bottled bourbon iced tea and that's a Sunday well spent.
Nearby park: Trinity Bellwoods 
7. Jatujak
Multiple locations
Named after the famous (and the largest) market in Bangkok, Jatujak specializes in street-style Thai food. Their Kingston Road location is minutes away from one scenic picnic at the Scarborough Bluffs.
Since no one wants to sightsee or even be around people on an empty stomach, pre-order their signature pad thai, colourful mango sticky rice and throw in some extra spring rolls before you head out on your next adventure.
Nearby park: Bluffer's Park and Beach 
8. Oyster Boy
872 Queen St. W.
Toronto's fave spot for shucked mollusks has decided to remain takeout-only for the time being. Good thing they have one of the city's biggest backyard patios: Trinity Bellwoods Park.
We can't think of a bigger power move than having two dozen sustainable, east coast oysters or a full-on lobster boil in the park. Look for daily updates, today's oysters and features on their Instagram. 
Nearby Parks: Trinity Bellwoods, Stanley Park
9. Gardel
Looking for a little Euro-Latin flare? Gardel can brighten up any day with their vibrant dishes and café full of fresh pastries. Pick up their brunch or evening kits available Sunday–Monday for preorder via their Instagram or website. The mini pastries, empanadas and chef's selection of charcuterie are ideal for summertime snacking.
Nearby park: Greenwood Park 
10. Reign 
100 Front St. W.
If you're looking for the king of picnics (ahem), Reign, the fancy-smancy eatery at the Fairmont Royal York, has Limitless Picnics to go. Executive chef, jW Foster has created two culinary themes for you to enjoy and take pictures of for the 'gram. 
The Harbour & The Island comes with a beautiful charcuterie and cheese platter, nicoise and caesar salads; the Lazy Day features chilled seafood and swoon-worthy desserts that may just make you doze off in the sunshine after you've finished licking the plate.  
Nearby park: Roadhouse Park 
11. Against the Grain 
25 Dockside Dr.
OK, OK we love parks, but the beach is pretty darn great too. Snack on Against the Grain's globally-inspired eats lakeside with their Sugar Beach Picnic Experience.
Kits come with all the fixins you'll need for outdoor dining on a hot summer day: sun-dried tortilla wraps, spiced hummus, crab and cream cheese dip and so much more. Oh, and they have beverage kits too. Beachside mimosas, summertime spritzes — sign us up already. 
Nearby beach: Sugar Beach