A whirlpool of bubbles rises as my coworker swirls a green bottle vigorously in a circular motion. She bangs the bottom against her elbow before twisting off the cap, then spreads her middle and index fingers wide apart, jabbing the neck of the bottle between them. A drop of soju splashes over the rim.
Finally, shots are poured. Cries of geonbae (literally: empty glass) are heard and a clean, neutral taste – slightly astringent yet subtly sweet – hits my tongue. "Welcome to Seoul," my boss says, pouring me a second shot.
While living in South Korea, drinking soju felt like a uniquely Korean experience: the rituals, the history, the sheer ubiquity of it. Even though Jinro Soju has dominated Drinks International's list of best-selling global spirits for years, Korea itself is responsible for the majority of those sales. Go figure – it does have one of the highest rates of alcohol consumption per capita.
In the past year, the LCBO says soju sales have increased by 34.8 per cent
I figured that when I returned to Toronto, my adventures with the distilled spirit, made from starch, would be reduced to the rare night at a norebang (Korean karaoke room) or table-top barbecue joint.
What I didn't expect was that Torontonians had caught wind of Korea's national drink. And, as time goes on, it's getting harder and harder to avoid – not that I'm complaining.
In the past year, the LCBO says soju sales have increased by 34.8 per cent. It cites "increased demand" as the reason it now carries 15 different soju products on shelves – a far cry from the days when it could only be purchased through manufacturers' representatives.
"From 2007 to now, our sales have doubled," says Steven Chang, the Canadian distributor for Jinro Soju. "If you go to Korean restaurants, the customers [are] drinking soju without Koreans."
Everyone has a theory as to why soju is gaining traction in Canada. ESL teachers, like myself, coming home and spreading the word. The rise of K-pop. The appeal of a less harsh vodka or 'baby vodka', as some Russians call it, since soju usually has an ABV around 20 per cent – closer to wine or beer than liquor – and comes in a more manageable 375ml bottle.
Or maybe it has something to do with Chang's very bold claim – the holy grail of bold claims when it comes to booze: "100 per cent with this, I never get a headache," he says, chalking it up to a seven-time bamboo filtration process.
Then there's the wave of Korean-fusion restaurants popping up in diverse corners of the city. Gone are the days of trekking to Bloor and Bathurst or Yonge and Sheppard to get your fix of Korean culture.
Second generation restaurateurs are reimagining Korean cuisine, taking it from traditional to trendy, and bringing soju along for the ride.
Both Leemo and Leeto Han's restaurants have been instrumental in this shift – Oddseoul on Ossington blends Asian fare with international influences.
At Seoul Shakers, Leemo's latest spot, they offer several flavours of soju as well as a house makgeolli, Korea's milky, off-white and lightly sparkling rice wine.
Michael Kim's vision for his snack bar Uncle Mikey's, which opened on Dundas West in 2017, was to normalize his own diet: a mix of Asian, French, American and other cuisines, topped off with a glass of organic wine. But he'll soon add soju to the menu.
"A lot of customers ask if we have it so I'm trying to please them. I think people associate soju with Korean food and they do go well together so I don't blame them," Kim says. "[Plain] soju has no taste, so it goes well with very strong flavoured foods."
As soju becomes more popular in Toronto, and memories of my time in Seoul come flooding back, I can't help but miss the aspects that haven't caught on here yet. Remember the swirling bottle?
The whirlpool ritual, meant to drive sediment to the top so impurities can be knocked out, is no longer relevant thanks to an improved filtration process – yet everyone still does it. Why? Because it's part of the experience. And it's just one of countless traditions that many Canadians are currently unfamiliar with.
"Typically when you pour the soju in the cup, you have to hold the bottle with both hands," explains my friend Suah Cho as we reminisce about our days teaching together at Avalon English. Cho lives in Seoul where she was born and raised.
"And you're not letting another person fill their shot glass themselves. But if somebody's pouring the soju in their own cup, you can just touch the cup with your one finger and it's the same as pouring their soju for them."
Other customs include: turning your head away when drinking in front of your boss, and cheers-ing with your glass higher or lower according to age. "It's showing your politeness," says Cho.
Drinking soju involves infinite drinking games
There are also infinite drinking games. The most common one involves flicking the small ring that comes loose from the cap when you open the bottle. So don't throw away the cap before you play. Yes, even at a restaurant.
"Canadian people, I think they have to get used to it," says Michelle Lee, known as Mama Lee to her customers at Kimchi Korea House near Yonge and Dundas Square. And that applies to taste as well as etiquette.
Mama Lee offers soju by the glass so patrons can try it before committing to a whole bottle. Like a wine tasting, she calls it a soju tasting.
In addition to classic soju, she carries a range of flavours including plum, grape and Yakult, a sweet probiotic yogurt drink, which she says are more popular among the younger generation, and can be easier for rookies to handle.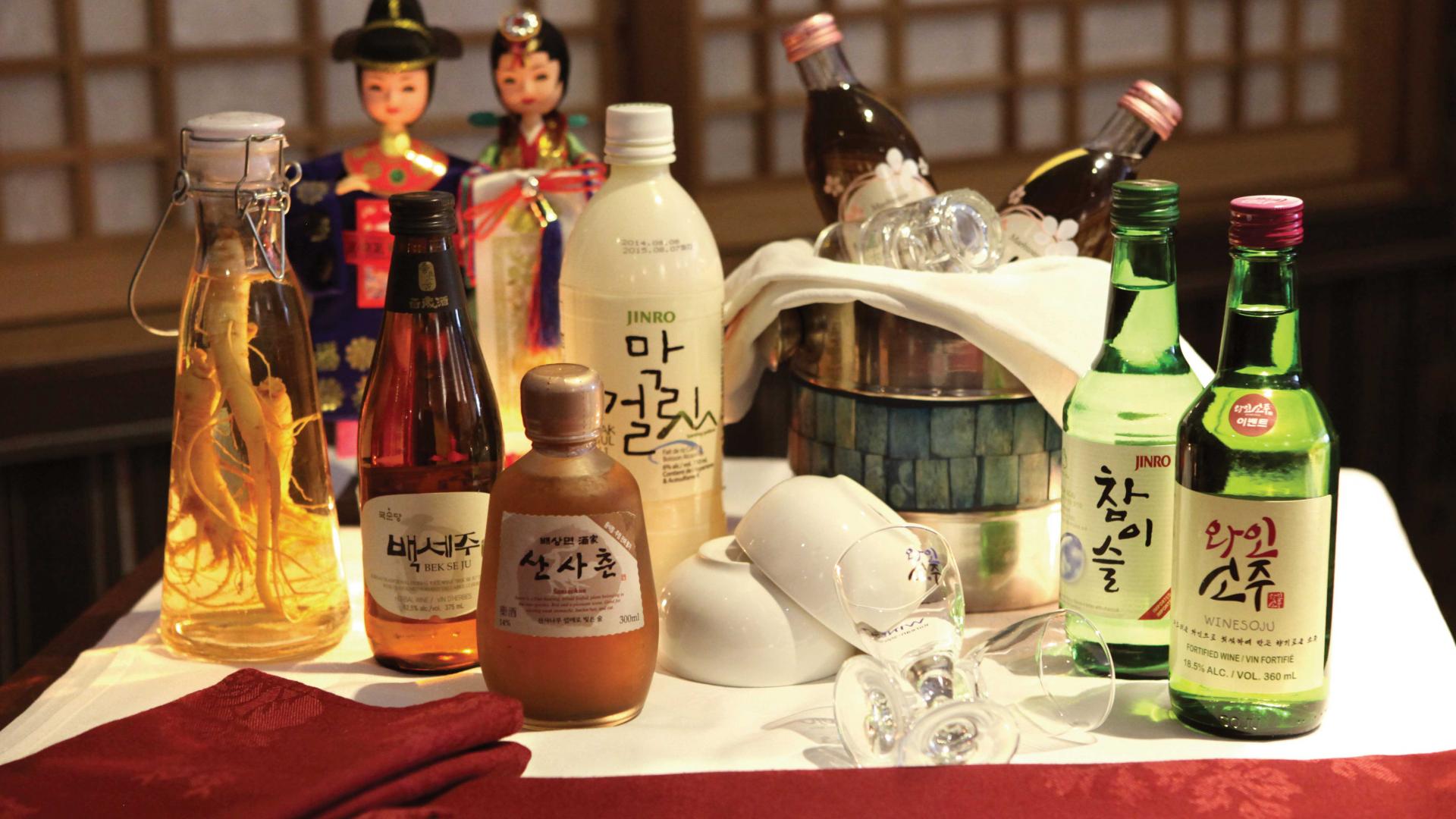 "In Korea, the universal drink of choice is soju," Mama Lee's daughter Diana chimes in.
"But in Canada you might go out with your friends and everyone wants something different like beer or wine or a cocktail or vodka soda. In Korea, everyone in the group will drink soju and you can just order bottles and bottles… It's easier to lose track of how much you're drinking because everyone's drinking the same thing."
Whether you see losing track as a pro or a con – I fall into the former camp – it speaks to an important part of Korean drinking culture: social, communal fun.
Hyunjoo Chae is trying to bring more of that energy to Han Ba Tang, her restaurant and bar in Koreatown North.
"It's a kind of culture exchange from my side," says Chae, who arrived in Canada in 2005. "I created a Korean bar and I want to create a Korean bar atmosphere too."
For example, birthdays and New Year's Eve parties at Han Ba Tang mean somaek trains. Somaek – which is big in Korea – is a combination of beer and soju – 70 per cent beer on the bottom of the glass, and 30 per cent soju on top.
It's stirred in a specific way, swiftly, so bubbles form. The "train" happens when you topple a long line of soju shots into an equally long line of beers – the sake bomb meets the domino effect.
But soju isn't just for shots or sipping. Chae has brought the cultural exchange idea to her innovative cocktail menu, which includes drinks like the Strawberry Inception (Grey Goose vodka, strawberry soju and yogurt) as well as flights of house-infused soju.
The most popular is pineapple, but she's also gotten creative with her blends. Jalapeno soju, for instance, is a key ingredient in her Caesar on Fire cocktail.
Soju is typically served chilled and neat but Koreans have been sweetening it up with infusions of cucumber, ginseng, citron and fruit for generations, although flavoured soju only came out in 2015. That said, it's highly unusual to find house-infused soju at a Toronto establishment.
"You can see the big difference in freshness and also a much stronger flavour," says Chae.
Another way Chae is bridging the gap between Korean and Canadian drinking habits is by "training" her customers, as she puts it, to eat whenever they sip.
"Koreans are mostly very heavy drinkers and they are drinking a lot of soju. When they drink, they always have it with food," she says. "My non-Korean customers, they are drinking just soju like a vodka or like a western liquor. So I recommend for them to have some food with it because it can help the customers get drunk slower and then have a better mood."
Whereas western crowds might nosh on nuts or nachos at bars and pubs, Koreans tend to go for heartier munchies, like the ones you might find at Mama Lee's restaurant: savoury pancakes, spicy chicken, deep-fried snacks, and soups or stews.
The soju you can buy at the LCBO
Chamisul Fresh
Just like the classic, but extra purified through bamboo charcoal filtering so it goes down a little smoother. $9.70
Chum Churum Peach
Peach could be the sweetest of all fruit-flavoured soju, so it'll mask the taste of the alcohol – and sometimes that's just what you need. $10.05
Jinro Ilpoom Premium Soju
For super special occasions or whenever you're feeling fancy, this is a premium soju aged in oak. $25
Han Ba Tag is all about combining the two worlds. Think: bulgogi tacos and kimchi fries.
"Chinese liquor is so strong. And Japanese sake is too expensive. But Korean soju is lower priced, easy to drink with different flavours and very good paired with Asian food," says Chae. "That's why the market is growing."
The "low price" comment kicks me ever-so faintly in the gut. I remember dashing into the convenience store, and picking up a bottle of soju for $3 USD. The same bottle goes for $10 at LCBO, and double that with restaurants'margins.
Thankfully, that could change. Home-grown products are emerging, which would cut the costs of importing as craft soju distilleries pop up around North America.
In Brooklyn, there's Tokki Soju, which calls itself "the first American handcrafted traditional rice soju." In North York, there's Kim's Winery and Distillery, which is producing soju and makgeolli as well as its own invention: WineSoju, "a unique blend of Canadian wines and a Canadian-produced version of soju," according to Facebook.
When asked about the progression toward cross-cultural food and alcohol, Uncle Mikey's chef Michael Kim tells me, "We're going to start to see more of that just because our city is so multicultural." Which means drinking soju in Toronto may never feel exactly the same as drinking it in South Korea. But for me, that's all the more reason to do both.