Summer is just around the corner. That means patio pints, backyard barbecues and more food festivals than you can count on your fingers and toes. We could literally eat our way through the entire season, but if there's one event we're saving our appetites for, it's Taste of Toronto. It happens from June 15th to 18th at Garrison Common at Fort York.
What sets this food fest apart from the rest is the sheer calibre of chefs on their roster. There are over 60 chefs and exhibitors including Mark McEwan, Grant Van Gameren, Cory Vitiello and Alexandra Feswick. The restaurants represented read like a 'Best of the City' list: Piano Piano, Cafe Boulud, Antler and Bar Buca, to name a few, all serving up sampler-sized portions of their signature dishes. It's a unique way to sample dishes from top restaurants without committing to a full meal, where you might discover a new gem or be reminded of an old favourite.
If you're inspired to recreate a bit of that gourmet magic in your own kitchen, catch a live cooking demonstration or get in on the action with a hands-on master class. There will also be intimate Q&A sessions where you can ask your favourite chef that burning question. The best part? All these sessions are free of charge. Just sign up when you arrive or head over early to snag a seat.
The Taste of Toronto chefs gathered on a sunny spring morning at Garrison Common over fresh food and fine wine to chat about this year's festival and Foodism was behind the scenes to catch all the action. We're also the first to bring you these images from the shoot, including this mantle-worthy hero shot that'll get you excited about the main event: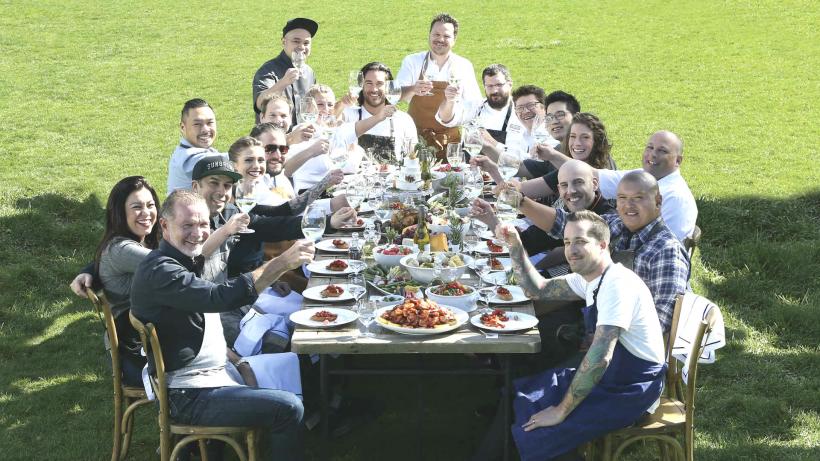 Taste of Toronto happens at Garrison Common from June 15th to 18th. Click here to buy tickets.