Make This: Le Swan's Swan 75
With an added splash of bubbly, this citrusy sipper from Le Swan is what a mimosa wants to be when it grows up.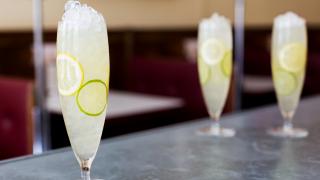 Serves 1
Preparation time 5 minutes
Ingredients
30 ml gin
20 ml five-citrus cordial
10 ml lemon juice
60 ml sparkling wine
A few drops of absinthe
Lemon and lime wheels for garnish
Method
Combine all ingredients in a flute glass.
Add ice and top with a few drops of absinthe.
Garnish with wheels of lime and lemon.