Make This: Amano Pasta's Flap Jack Stack
Skip the brunch lineups this weekend with chef Michael Angeloni's ricotta pancake recipe.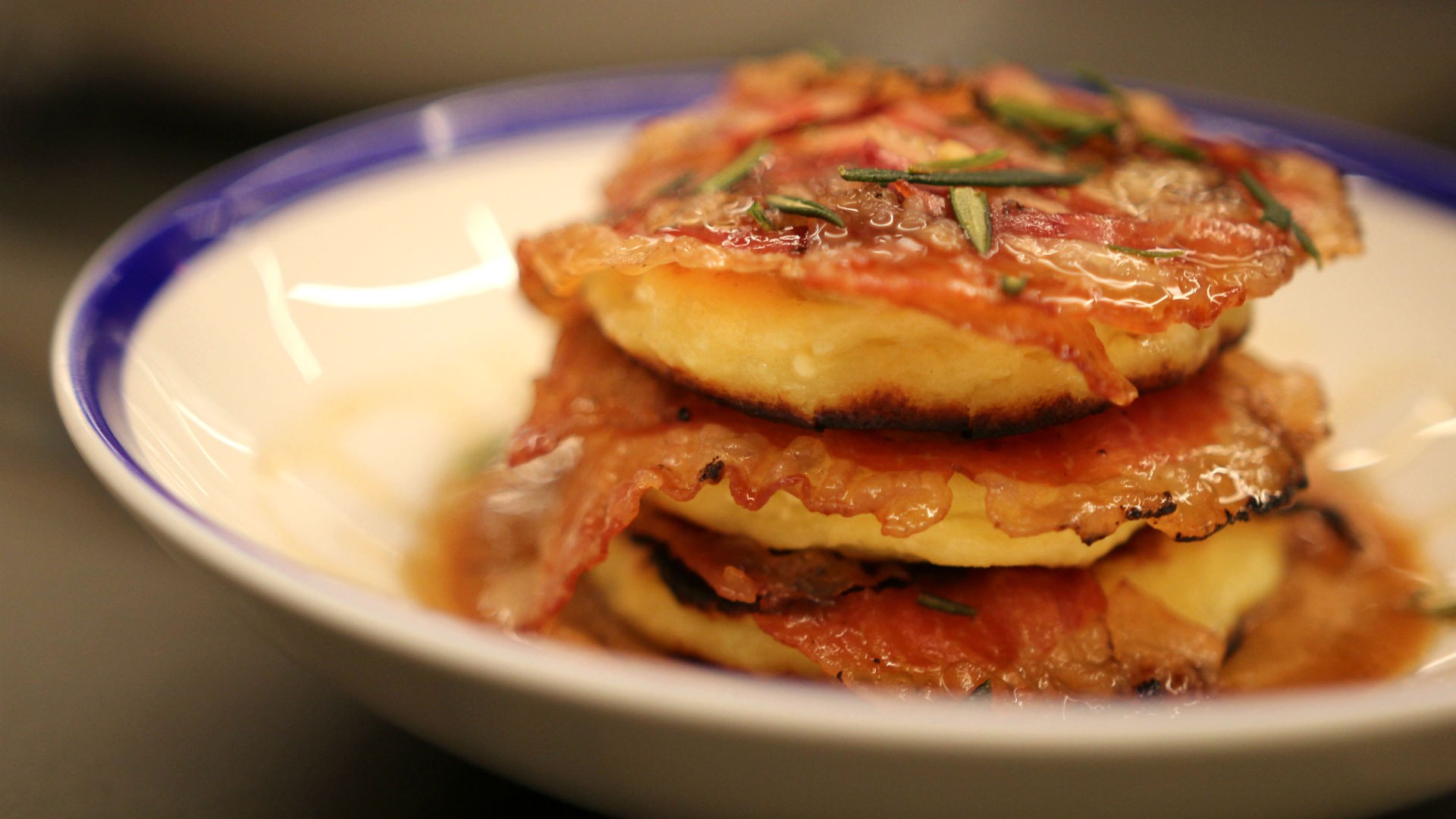 YIELD: 12-16 MEDIUM SIZED PANCAKES
Ingredients
For the pancakes:
1 cup fresh ricotta
1 cup all-purpose flour
½ tsp baking powder
1 ½ tbsp sugar
¼ tsp salt
¾ cup milk
2 eggs
½ tsp vanilla
1 lemon zest
For the garnish:
1 rutabaga (peeled and cut into small chunks)
2 shallots (sliced)
1 slice smoked bacon
2 tbsp butter
2 tbsp olive oil
½ cup 35% cream
2 sprigs fresh thyme
1 bay leaf
1 cup chicken or vegetable stock
12 slices pancetta (thinly sliced)
½ cup maple syrup for garnish
2 sprigs rosemary fried and seasoned with salt
Method
Mix all dry ingredients together in a bowl, then in a separate bowl, add all the wet ingredients and whisk well. Combine the dry into the wet and mix well (do not worry about the lumps; these are from the ricotta and will add delicious little bursts of cheese). Let the mix rest wrapped in the fridge for at least 1 hour.
For the puree, start with a large sauté pan or shallow pot and add the butter and olive oil. Over medium high heat, add in the bacon (note: this is just to flavour the puree, you will remove after), let the bacon colour a bit and then add in the rutabaga and brown slightly. Add in the shallot, thyme and bay leaf and put in a 350-degree oven for about 5 to 10 mins until the rutabaga is soft.
Place the pan back on the stove, add the stock and cook on a high heat. Reduce the liquid to ¼ of its original amount. Now add the cream and bring back to a boil. Remove the bacon, thyme, bay leaves and puree until very smooth. Place the pancetta on a sheet tray lined with parchment paper and put another paper and a tray on top (this will keep it flat). Place in a 350-degree oven for 12 minutes or until crisp and nicely coloured.
Now cook the pancakes in a non-stick pan with a little oil or butter in whatever size or shape you like for about 2-3 minutes per side. Serve stacked with pancetta in between each pancake and on the rutabaga puree. Drizzle with maple and fried rosemary to finish.