Make This: The One Eighty's Black Kale Salad with Burnt Maple Vinaigrette
This staple of The One Eighty's menu gets a big dose of tang from goat cheese and pickled grapes, which is balanced by the slightly sweet flavour of the burnt maple vinaigrette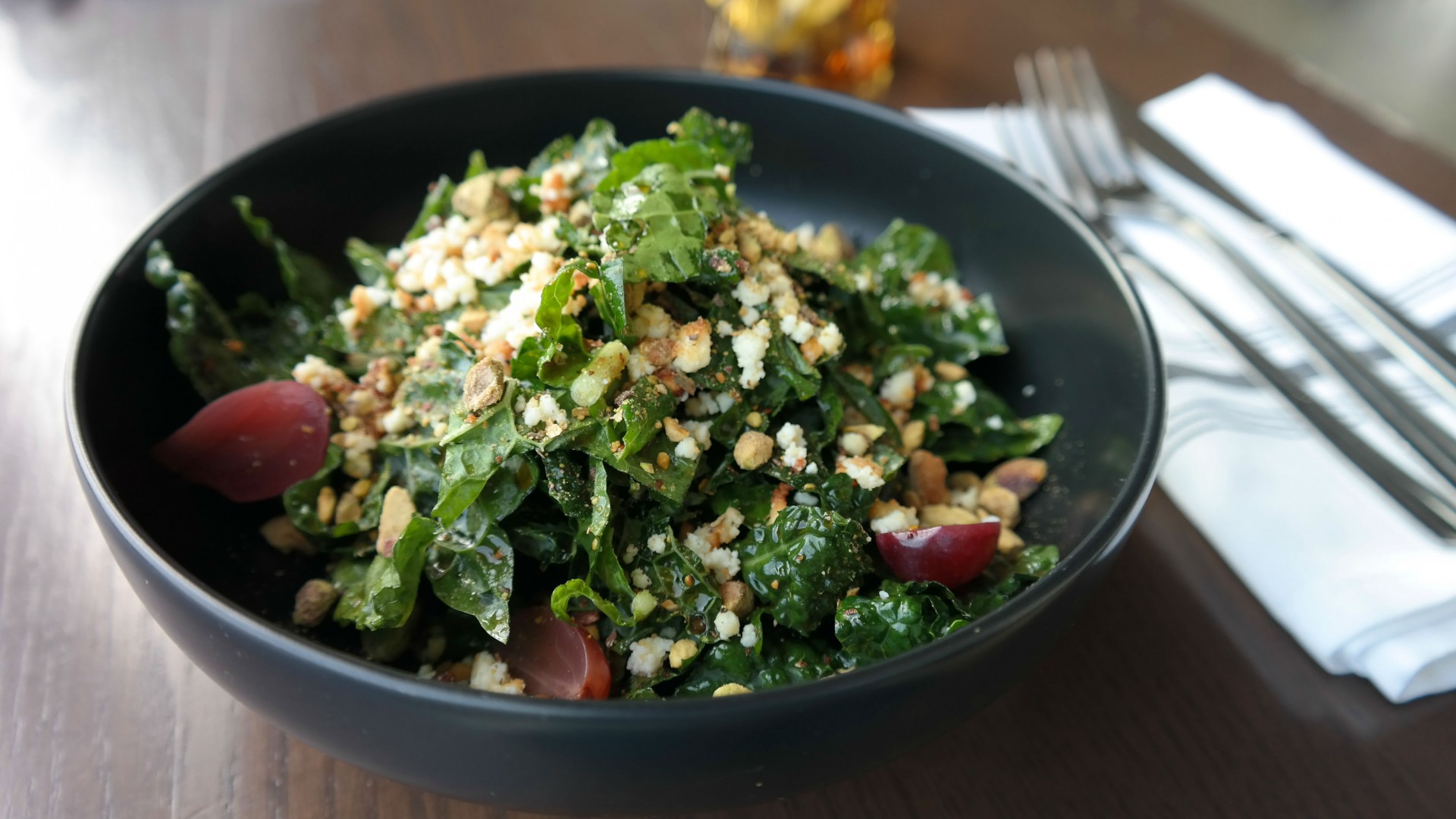 Ingredients
Salad
2 oz black kale
1 oz brûlée goat cheese
1 oz pickled grapes
0.5 oz pistachio crumble 
1 oz burnt maple vinaigrette  
Pickled Grapes
2 cups rice wine vinegar
1 tbsp fennel seed
1 tbsp coriander seed
1 tbsp black mustard seed
2 bay leaves
Pinch of white peppercorn
Salt and sugar to taste
Burnt Maple Vinaigrette
3 cups maple syrup
3/4 cup cider vinegar
3/4 cup soy sauce 
3/4 cup Kozlik's Triple Crunch Mustard
1.5 cups canola oil
Method
Remove stems from the black kale and cut into a chiffonade.
To make the brûlée goat cheese, begin by preheating the oven to 350°F. Crumble the goat cheese onto a baking tray lined with parchment paper. Bake for 10 minutes or until the cheese starts browning. Let cool and then crumble again.
To make the pickled grapes, combine the rice wine vinegar with 2 cups of water in a sauce pan. Add the fennel seed, coriander seed, black mustard seed, bay leaves, and a pinch of white peppercorn as well as salt and sugar to taste. Bring everything to a boil, remove from heat and let steep for 20 minutes. Strain the liquid and pour it over the grapes. Let cool, then refrigerate.
To make the pistachio crumble, preheat the oven to 350°F and roast the shelled pistachios for 10 minutes. Let cool, then put the pistachios into a Ziploc bag and crumble with a rolling pin. 
To make the burnt maple vinaigrette, pour the maple syrup into a deep sauce pan and warm until reduced by half. Combine all the other ingredients in a stainless steel mixing bowl. Slowly and carefully whisk the combined ingredients into the reduced maple syrup.
Assemble all the ingredients together in a large bowl and serve.