Make this: Heretic Holiday Hooch
Make spirits extra bright with this creamy and chocolatey Heretic Holiday Hooch recipe.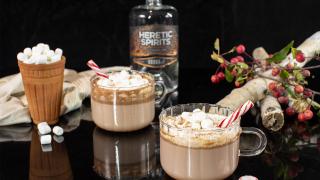 Serves 4
Preparation time 10 minutes
Ingredients
6 oz Heretic Spirits Vodka #1
1 whole Jersey Milk chocolate bar
2 Tbsp brown sugar
½ tsp vanilla extract
½ cups heavy cream
2 cups whole milk
Whipped cream
Mini marshmallows
Ground nutmeg
Peppermint candy cane
Method
1. Add chocolate, sugar, vanilla, cream and milk to a sauce pan and bring to medium heat.
2. Allow for chocolate to melt and continuously stir.
3. Let mixture reach a consistent simmer (about 6 - 7 minutes).
4. Add Heretic Spirits Vodka #1.
5. Carefully pour mixture into mugs.
6. Garnish with whipped cream, marshmallows, ground nutmeg and a peppermint candy cane.