Make This: Montecito's Seared Albacore Tuna and Mixed Grain Salad
This light, flavourful dish is part of Montecito's revamped brunch menu, but it's versatile enough that you can serve it for any other meal. It plates up elegantly, making it a great go-to when you want to add a little extra class to a brunch, lunch or dinner get-together.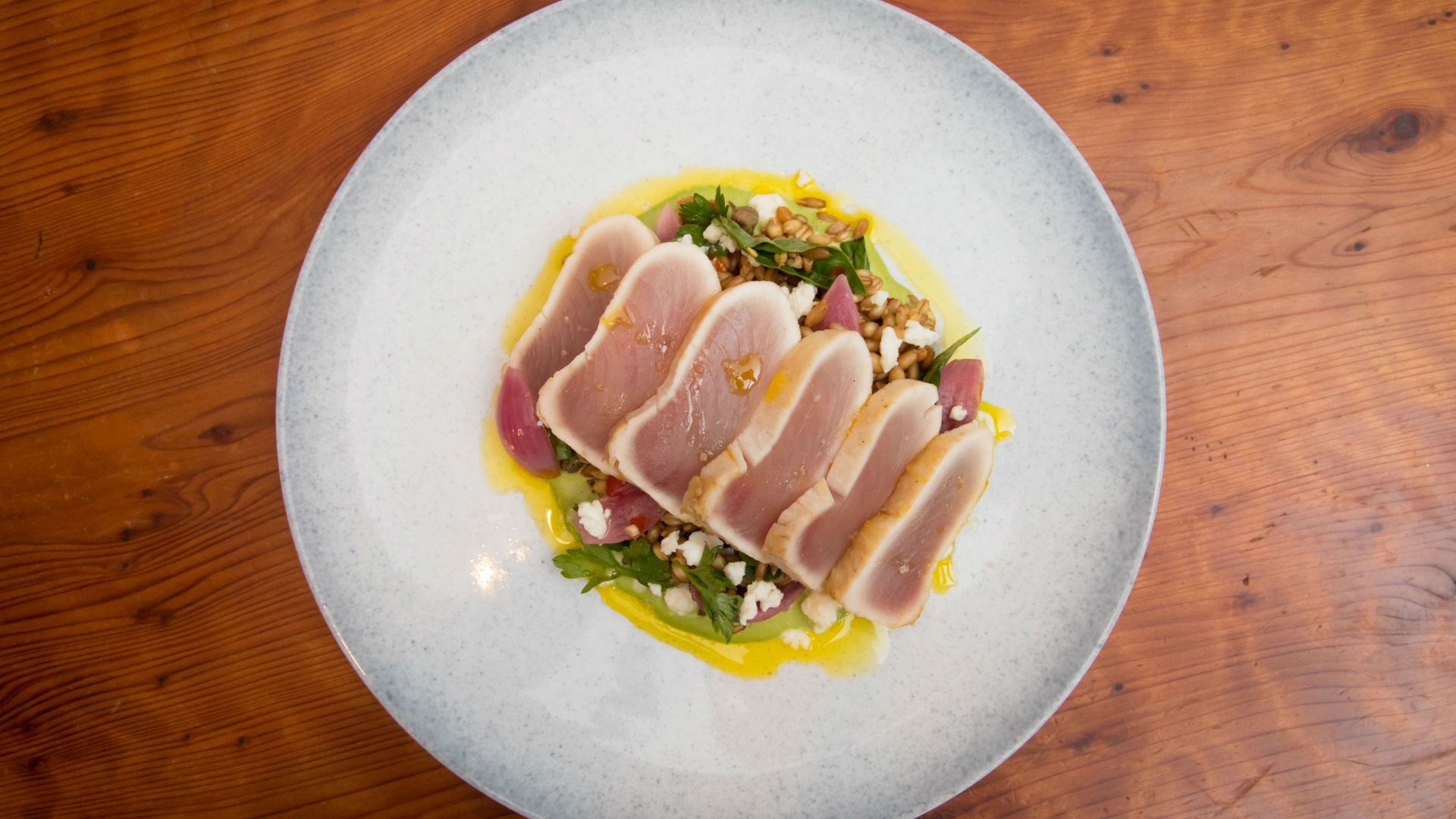 Serves 6
Ingredients
6 x 4 oz portion albacore tuna
2 tbsp feta, crumbled (preferably sheep's milk)
1 fl oz cold pressed soybean oil or olive oil
Tonnato Sauce
125 g canned or cooked albacore tuna
1 tbsp capers
1 pc anchovy, tinned
1 lemon, juiced
4 eggs, yolk
1 tbsp Dijon mustard
60 mL sherry vinegar
500 mL canola oil
250 mL fresh oregano
250 mL fresh basil
500 mL flat-leaf parsley
Grain Salad
6 cups mixed grains (wheatberries, quinoa, rye berries, farro, etc.), cooked
3 shallots, sliced
1 tbsp capers
1 red bell pepper, roasted and sliced
2 tbsp pickled red pearl onion (optional)
1/4 cup fresh oregano
1/4 cup basil, picked
1/2 cup flat-leaf parsley
sherry vinegar, lemon juice, cold pressed soybean oil or olive oil, salt and pepper, to taste
Method
Tonnato Sauce
Add the tuna, capers, anchovy and half the lemon juice to a blender and mix until combined. Remove from the blender and set aside. Add the egg yolks, Dijon and sherry vinegar to the blender and begin to blend until smooth. Slowly stream in half of the oil until it begins to emulsify. Use water if necessary to thin it out as
you go. Once half the oil is added, with the blender running, add the herbs until they are blended in and then add the tuna mixture, one spoon at a time. Lastly, stream in the remaining oil and season to taste, if necessary.
Seared Tuna
Place a medium sized thick bottom pan (preferably cast iron) on medium heat and allow it to heat up slowly to ensure the entire surface heats up evenly. Take the tuna out of the fridge while the pan heats up, so that it can be seared and left rare without being cold in the centre. Once the tuna and pan are ready, turn the pan up to medium-high.
Season the tuna with a good amount of kosher salt and fresh cracked black pepper (the pepper is optional). Add 2 tbsp of vegetable oil or canola oil to the pan and wait until it starts to smoke a bit. Gently add the tuna into the pan and cook it for approximately 30 seconds per side. Keep an eye on each side of the tuna as it's searing. You are looking for approximately 1 cm of sear on all sides. 
Once the tuna is seared, allow it to cool for 1-2 minutes and then cut it into slices.
Serve
Combine grain salad ingredients. Serve each plate with 1.5 cups of the grain salad and 1.5 fl oz of the tonnato sauce. Fan out the seared tuna slices over each salad and top with feta, soybean or olive oil and salt, to taste.