Make This: OMAW's Cucumber Salad
David Schwartz from the Food Dudes and OMAW shows us how to make this bright and refreshing summer salad from his Ossington restaurant.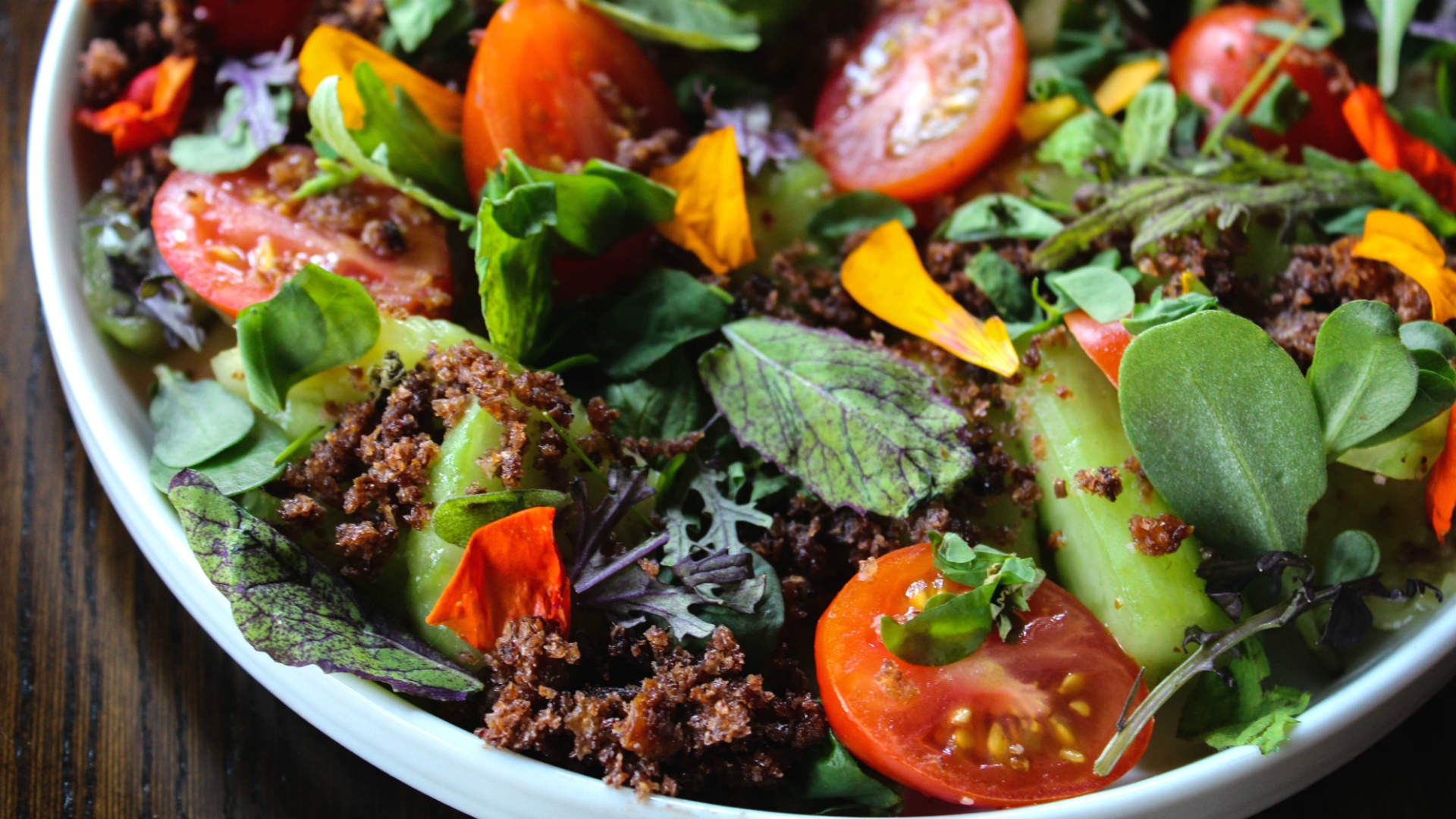 Ingredients
Salad
1 lb field cucumbers or English cucumbers
10 cherry tomatoes
Common backyard weeds like purslane, sorrel and nasturtium
Baby mustard greens 
2 fresh Anaheim chillies (de-seeded and sliced thinly)
Fish sauce dressing (recipe below)
Sourdough crumb (recipe below)
Fish Sauce Dressing
50 g pumpkin seed oil
100 g sunflower seed oil
45 g fish sauce
30 g white wine vinegar
15 g honey
Sourdough Crumb
Half a loaf of stale sourdough bread (this is Schwartz's favourite)
2 cloves of garlic
2 Tbsp olive oil
Method
Peel, quarter and slice cucumbers on a bias. Toss in 50/50 sugar and salt. Let them sit for 30 mins, rinse and dry.
Add all fish sauce ingredients and shake to combine (this will make enough dressing to keep in the fridge for a few weeks).
For the sourdough crumb, crush garlic cloves and cut them in half. Cut the sourdough into uniform pieces and toss with olive oil and crushed garlic. Place on a parchment lined baking sheet and bake at 375 degrees for around 15 minutes (or until crispy).
In a food processor, grind the breadcrumbs with the roasted garlic and salt to taste.
Plating
Toss the cucumbers and tomatoes in the fish sauce dressing with fresh chillies (salt to taste). Garnish with sourdough crumb, chopped greens and cracked pepper.
Green Garnish
Chop up equal parts sorrel/purslane/nasturtium and baby mustard greens. Sprinkle over the top and serve.