Make This: Chef Dan Geltner's Moroccan Tagine
Cook slow and serve fast with this savoury recipe from Chef Dan Geltner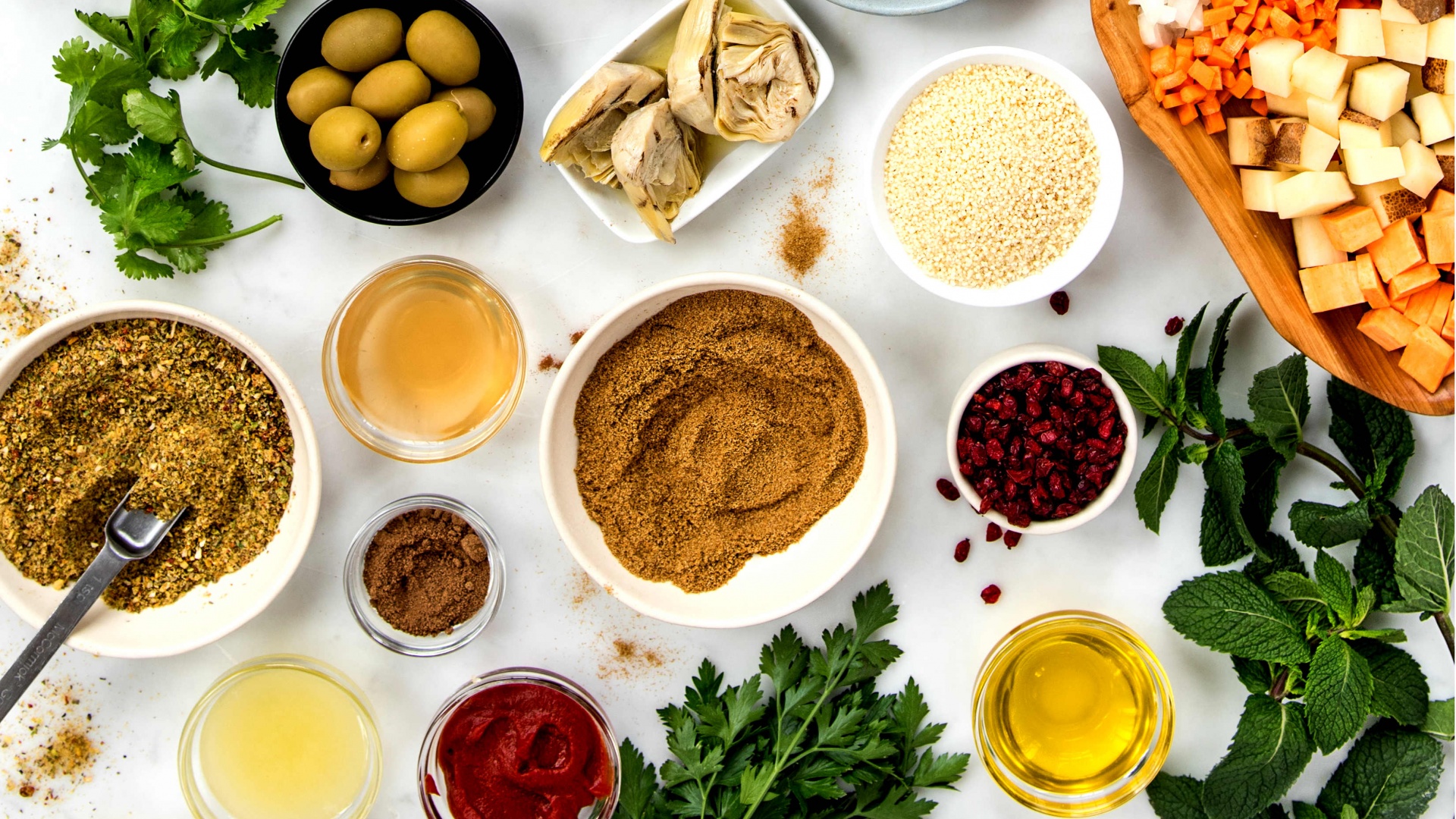 This warm tagine uses a spicy Baharat seasoning, as seen in Club House's annual Flavour Forecast. Fresh toppings of sautéed onions and garlic make this Moroccan culinary masterpiece a hearty addition to your restaurant's fall menu.
Yield: 4 Servings
Ingredients
Moroccan Tagine with Root Vegetables & Chickpeas

½ cup onion, peeled and diced
½ cup carrots, peeled and diced
2 garlic cloves, peeled and chopped or pressed
2 tbsp tomato paste
½ cup russet potato 

1 cup sweet potato

1 cup chickpeas, soaked overnight

1½ cup vegetable stock

½ cup green olives, pitted and chopped
6 oz artichokes

¼ cup dried barberries

3 tbsp parsley, chopped
3 tbsp cilantro
2 tbsp mint 

zest of one lemon
juice of one lemon
Baharat Seasoning

Couscous
3 cups vegetable stock
1½ cups couscous
1 tbsp olive oil
½ tsp lemon juice
Method
Baharat Seasoning
Mix all ingredients in small bowl.
Couscous
Mix olive oil with dry couscous. Bring stock to a boil, pour stock over couscous and stir once. Cover and steep for 5 minutes. Uncover, fluff with a fork and add La
Grille Vegetable Seasoning and lemon juice.
Moroccan Tagine with Root Vegetables and Chickpeas
Sauté onions and garlic. Add carrots, tomato paste, water and Baharat seasoning. Cook russet potato and roast sweet potato. Cook chickpeas. When all cooked, add to pot. Finish by adding olives, artichokes, barberries, herbs and lemon off-heat.
Assembly
Put 1 cup of cooked couscous at the bottom of a bowl and top with tagine. Sprinkle with fresh herbs and serve. 

For more recipe inspiration from North America's top chefs visit, www.clubhouseforchefs.ca/recipes