Scott Vivian's Biscuits and Gravy
From the kitchen of Beast Restaurant, chef and owner Scott Vivian's take on this classic southern snack is so gratifying that you'll never see biscuits and gravy the same way again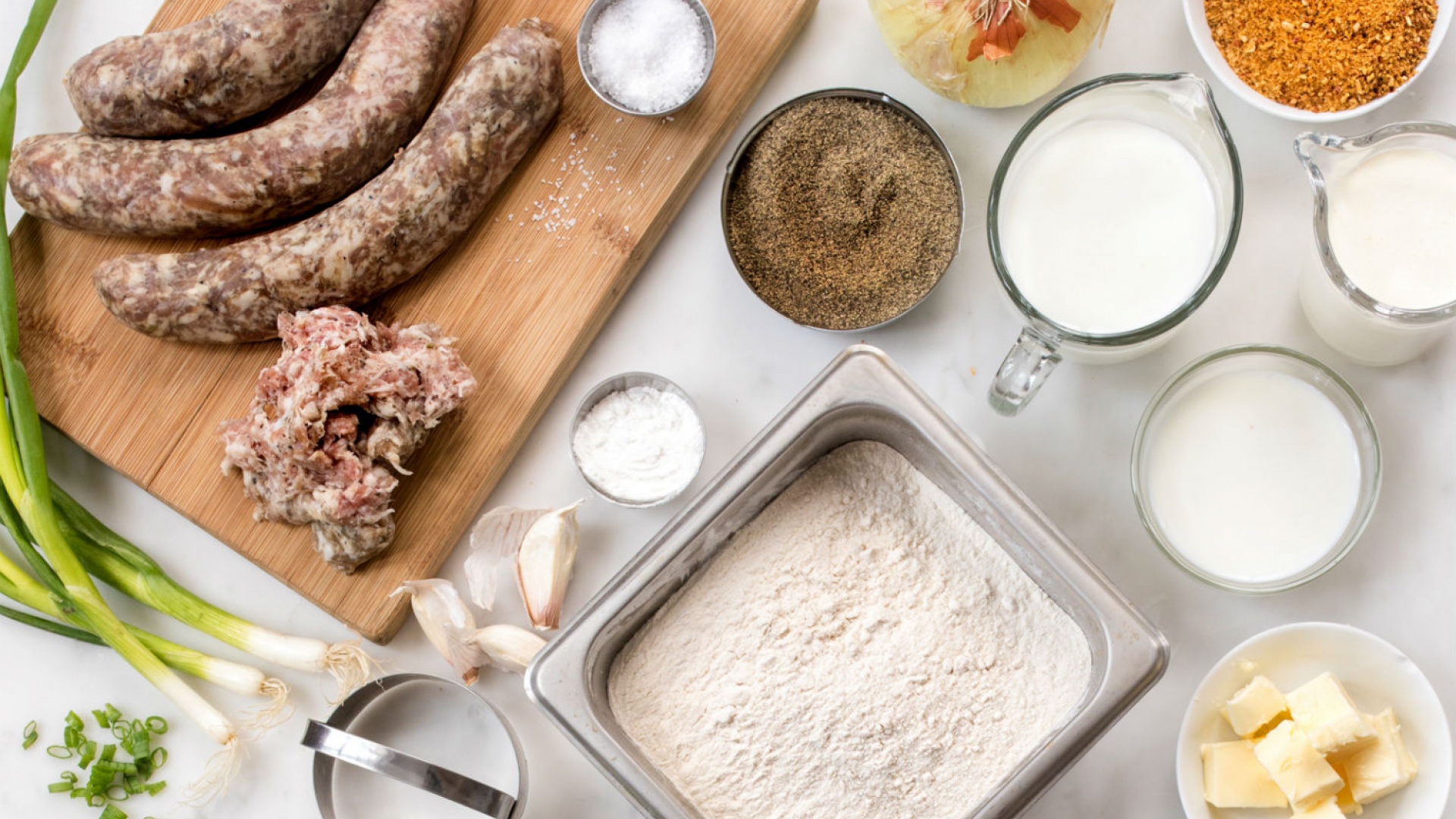 Made with medium-browned sausage, whipping cream, Club House Roasted Garlic and Peppers Seasoning and more, these gravy-filled biscuits are baked until lightly golden and garnished with fresh green onion.
Serves 4
Ingredients
Sausage Gravy
1 lb mild Italian sausage, casings removed
½ cup yellow onions, small and diced
½ cups all-purpose flour
4 cups whole milk
½ tsp salt, to taste
2 tbsp olive oil
Buttermilk Biscuits 
2 cups all-purpose flour
2 ½ tsp baking powder
1 tsp baking soda
1 ½ tsp granulated sugar
¾ tsp salt
¼ cup unsalted butter, cold
¾ cup buttermilk
¼ cup whipping cream
1 cup whipping cream for brushing
Garnish
1 cup green onion, chopped
Method
Sausage Gravy
Pour olive oil in a medium pot. On medium high heat, brown the sausage, making sure to break it up into small pieces with a wooden spoon. Add the onions, Club House Garlic Roasted Garlic and Pepper Seasoning. Cook for 2 minutes making sure the onions don't stick to the bottom. Add the flour, stir and cook for 1 minute. Add the milk, stir well and cook until the milk comes up to a light boil. Reduce the heat to medium low and cook until thickened, about 6-8 minutes. Once desired consistency is met, take off heat.
Buttermilk Biscuits
In a large bowl, sift together flour, baking powder and baking soda. Stir in sugar, salt and Club House Pepper, Black Ground. On large holes of a box grater, grate butter into dry mix. Mix with fingertips until the mixture resembles coarse meal. Gradually add buttermilk and cream, gently working mixture with hands until dough forms. Do not overwork. Turn dough onto floured surface. Sprinkle with flour. Gently roll to 3/4-inch (2-cm) thick. Using floured 2-1/2-inch (6 cm) round cookie cutter, punch out scones. Press scraps together and repeat one more time. Line baking tray with parchment paper. Place scones 1-1/2-inches (3.5 cm) apart on tray. Brush tops with cream. Bake on top shelf of preheated 400 F oven for 15 minutes or until lightly golden.
Serve
Plate gravy-filled biscuits and garnish with green onion. 
For more recipe inspiration from North America's top chefs visit, www.clubhouseforchefs.ca/recipes