Located in the heart of the Twenty Valley Niagara wine region, just a one hour drive from Toronto, sits Foreign Affair Winery — a stunning producer using Italian winemaking techniques to delicious effect. The winery neighbours other boutique Beamsville wineries as well as the charming, historic shops of Jordan Village.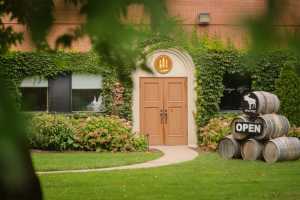 You won't find the winery in a splashy new villa at the end of a picturesque driveway lined with grapes. Foreign Affair is situated in 'Building #4,' a converted agricultural laboratory on the Vineland Research and Innovation Centre campus — a fitting tribute to a winery committed to the science and viticulture behind the glass.
Since sipping is believing, you'll want to start with one of the elevated tasting experiences, led by a local team with years of experience under their belts. Reserve a patio picnic table on the winery grounds beside the picturesque cherry blossom, or book a table in the Barrel Lounge inside the cellar, where a dedicated host will walk you through an intimate tasting and a flight of four wines of your choosing.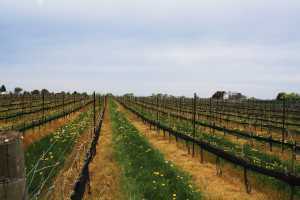 Foreign Affair Winery uses Italian winemaking techniques in a Canadian terroir to create award-winning wines. While they're known for their bold reds — which challenge perceptions of Niagara wines — the appassimento process touches everything at the winery, including their rosé, white and sparkling wines.
Foreign Affair uses Italian winemaking in a Canadian terroir
Foreign Affair's winemaker René Van Ede pays close attention to the grapes, especially during harvest, when he ensures that only the best grapes are selected for the drying process. These are hand-harvested and dried in a single layer on drying racks for up to 90 days.
"This drying process reduces the amount of wine that we make by as much as 40 per cent, but it also concentrates the flavours and sugars that have been developing over the growing season," says Van Ede. "The hours of dedicated work result in wines that are more full bodied than otherwise expected."
The winery also employs the ripasso technique: "To get the most out of this process, we insist on re-using the remains of our appassimento grapes to make ripasso style wines," says Van Ede. "This is where we age (or re-pass) conventional wines on a base of used appassimento grape skins."
Want a souvenir that lasts long after your visit? Foreign Affair's wine club is the best way to experience their small-batched selections. Every other month, members receive three bottles and have the option to select a curated selection, or simply choose their faves. Plus, this gives you access to perks like new vintages and complimentary wine tastings.
To reserve a wine tasting, head to foreignaffairwinery.com