Niagara might make you think of thundering falls and boats packed with soaked sightseers. But beyond it lies a bucolic countryside and terrain that's ripe for picking — and unpacking.
Summer sees the biggest crowds, but there's something magical about a crisp autumn day spent driving through the region, when Niagara's harvest is at its peak and its vineyards bow with the weight of sweet, juicy fruit waiting to be turned into liquid gold.
Niagara is known for its rolling vineyards, but the culinary exploits inside the wineries are just as spectacular. Knowing where to start can be a challenge, but Rosewood Estates Winery — just an hour and a half away from Toronto in Beamsville — is a good place to kick things off.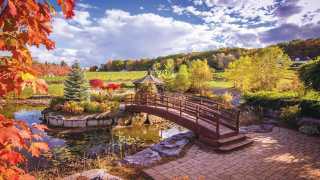 This family-run winery takes a non-intervention approach, leading to healthy soil, balanced growth and distinct yearly releases. In addition to award-winning wines and meads made from unspoiled soils, Rosewood has been beekeeping for 90 years. The Roman Family keeps hundreds of beehives across the Niagara Escarpment, which provides fresh drinking water and proximity to flora sources for a delicious, raw, golden honey with delicate wildflower notes. It gets a delightful cameo role in their posset dish, a cream-based cold dessert that also uses lavender from the estate.
Continue down the Queen Elizabeth Highway and take exit 55 to Jordan, a magical little area bordered by Twenty Mile Creek and Vineland. If you head to the village, you'll find it lined with stunning stone houses, charming antique stores and ice cream parlours, bakeries and award-winning spas — but, first, we stop by Pearl Morissette, home to one of the country's best restaurants. After closures during the pandemic, the winery's tasting room is finally back open and serving its French-style wines. Winemaker François Morissette is famously uncompromising in his quest for the perfect glass. Sip exceptional cabernet francs and rieslings alongside unfiltered rosés made with grapes from the Lincoln Shore.
On-site fine dining spot Restaurant Pearl Morissette puts city slicker notions of farm-to-table to shame. Many of the ingredients from the restaurant's blind tastings come from 100 metres away in Pearl Morissette's garden. The rest of the menu is made up of a small but mighty lineup of local purveyors with a farming ethos in line with Pearl Morissette's regenerative mindset. The food here is so seasonal, with vegetables harvested from the garden at the perfect time for maximum taste, it can be hard to predict what'll end up on your plate — which is all part of the fun.
In the fall months, it's not uncommon to see roadside fruit stands nestled among the red and yellow foliage on your scenic drive through the countryside. Pick up crisp apples, delightfully festive pumpkins and rustic autumnal pies. Or, if that's not fresh enough for you, get it directly from the source — go apple picking in one of Niagara's orchards or maple syrup tapping at a sugar shack.
We work our way down the Niagara Escarpment towards Niagara-on-the-Lake until we reach Ravine Vineyard Estate Winery in St. Davids. With vistas for days and terroir-driven wine, it's a hugely popular spot for weddings and events, but Ravine is also worth the visit for the lovingly grown bounty. A merry-go-round of homegrown ingredients from their on-site garden finds its way to the table. In addition to fruits and veggies, they also have a flock of egg-producing hens, roosters and Lenny the goat. Plus, their 40 bee hives create honey that they sell under the Lowrey Bros. label.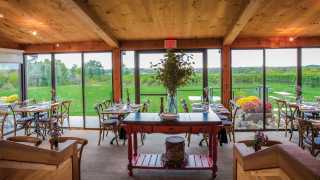 Even after so much eating and drinking, we've barely scratched the surface in Niagara. Fall foliage in technicolour, harvests ripe to burst, charming craft breweries and wine festivals await — and we haven't even got started on the calendar of autumnal events at Niagara Falls. We guess we'll just have to pay another visit.
To book your fall adventure, head to visitniagaracanada.com