Toronto's Gladstone House, the newest iteration of the famed Gladstone Hotel, is a 132-year-old institution that's come a long way from its original format. The name change is an homage to the original 'Gladstone House' engraving on the building's stone exterior, and a nod to its storied history. Walking up the front stairs and leaving behind the bustling West Queen West strip, I enter through the grand double doors of a re-imagined boutique hotel that's been a hub for creativity since 1889.
With a modern sheen designed by Elastic Interiors, the Gladstone has been transformed into a contemporary boutique hotel with an artsy aesthetic and a polychromatic colour scheme. Spotless alabaster walls are lined with mirrors reflecting the soft velvet lighting of the revamped lobby, framing guests in the scene like figures in a painting or photograph.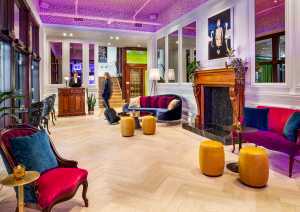 This is not without irony. At the new Gladstone House, there's a curator's attention to the artworks that adorn the walls and guest rooms, literally from floor to ceiling. One sideways glance will introduce you to Sage Szkabarnicki-Stuart's Urban Bath, a centrepiece portrait hung above a restored fireplace in the lobby. The artist, who has placed herself in the print wearing a feathered costume between two swans in a body of water, invites the viewer to contemplate our relationship to nature while preparing to rest in an urban setting. Cast your eyes skyward and you'll find Bryan Espiritu's Love & Above, a playful Keith Haring-esque form of hieroglyphics that even turns the ceiling into a conversation piece.
There's a curator's attention to the artworks that adorn the walls
"This form of my art is rooted in feel, and delivered in see," says Espiritu in an Instagram post about the piece. "Nobody knows what I write into my work, especially at a scale like this. The pattern is 99 per cent indecipherable. Its passion is literally in its progress."
The phrase perfectly describes this building with nine lives. In the late 19th century, the groundwork for Toronto's railway, and later, streetcars, made the area a desirable place to live for the era's leisure class, before it succumbed to the challenges of The Great Depression. The hotel, once a jewel in Toronto's crown, became a flophouse after the global economic crisis. After its first restoration, led by Christina Zeidler in 2005, the Gladstone Hotel was transformed into a cultural hub for the city's creatives. With a cool factor secured by art exhibitions, live music, political discussion, communal workspace and drag shows, it wasn't uncommon for local and international celebrities, thought leaders, and culture mavens to book long or short stays.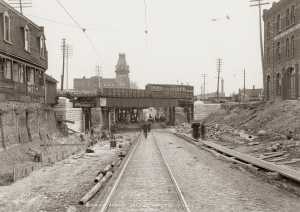 The building continues to be in a kinetic state of flux. When developers Streetcar Developments and Dream Unlimited bought the building from Zeidler, locals and patrons feared the rugged creative spirit of the hotel would be lost. The expectation was that it would become just another upscale property that priced-out neighbourhood folk — a harbinger of further gentrification and rising property values. However, after the Gladstone Hotel changed hands in March 2020 — relaunching a year-and-a-half later as Gladstone House — one thing that didn't change was the hotel's curator and arts programmer, Lee Petrie.
"I'm someone really excited about the idea of surprising people with art encounters," says Petrie, who I found installing artwork in the updated Bistro + Bar. She credits Gladstone House for providing her with an opportunity to show people how art can enrich their lives in non-traditional art settings. "Gladstone House is a small property with 55 rooms, and as much as it's a hotel, it feels almost like staying in somebody's fabulous home," Petrie adds. "The art creates a domestic environment that's welcoming, comfortable, and different from what you would see in the big chain hotels."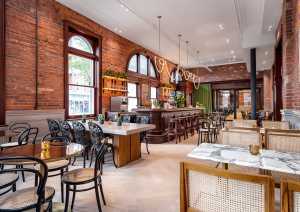 Petrie puts to rest any concerns about the hotel's new ownership by acknowledging the hotel's past. A billiards lounge displays photographs from the Gladstone's archival collection, where the original building appears in the background. In the foreground, early labourers lay down the first Queen streetcar tracks. There's also a photograph of what is now the Melody Bar in its previous life as a dining lounge furnished with fabulous monogrammed chairs. Now refinished, the chairs can be found deposited throughout the hotel. Even in the guest rooms, a nod to the building and neighbourhood history is never too far away.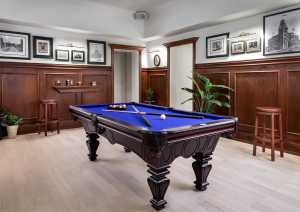 To date, there are more than 50 artists displayed at the hotel, and according to Petrie, that number will keep growing. Prior to Streetcar taking over, the Gladstone was known as an inclusive space for diverse community members. Equity and diversity continue to be a big part of the Gladstone House mandate with a third of their selected artists coming from equity-deserving groups. These artists' lived experiences represent the city and connect to the heritage of the previous building's program.
Equity and diversity continue to be a big part of the Gladstone House mandate
Cole Swanson's mural work in room 313, Terra Nimbus, employs clay and earth from areas in and around Toronto like High Park and Cheltenham Badlands, as well as bricks salvaged from the Gladstone during construction. The materials were ground into pigment to make paint for the mural, an up-cycling of the building's past to christen its future. Visual artist Lingxiang Wu took photos around the hotel and neighbourhood to create digital collages of both of those elements.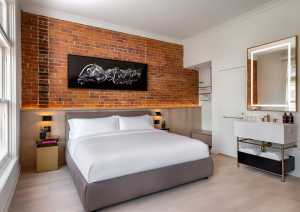 A South-Korean-influenced mural by artist June (Jieun) Kim uses Korean folklore and symbolism, in this case, Horangi the tiger, to add some inspiration to one of three basement fitness studios. Horangi symbolizes power and courage, two traits that anyone keeping up with a workout regimen needs. In room 303, you'll find Tahsine Al Hassane's acrylic-and-paper-on-wood piece directly above your bed. In it, Al Hassane explores humanity, society, culture, identity, place and our collective states of being.
Executive chef Richard Singh, whose extensive experience in hotel dining includes Shangri-La, The Broadview Hotel and now, Gladstone House, also researched the community and the hotel's history to create an interesting and approachable menu.
"The energy and the vibe of the individual hotels and the clientele coming through the hotel dictate what goes on the menu because you cook for your clientele, not for yourself," says Singh. "First and foremost, I view our main clientele as the community residents of West Queen West and Parkdale, while still keeping international travellers in mind."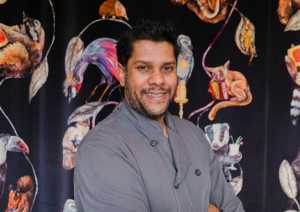 As the architect of a menu that covers breakfast, brunch and has an all-day offering, it's impossible not to notice the variety of plant-based options for vegans and vegetarians alike. Plus, most dishes can be modified by removing one ingredient to make them gluten-free, dairy-free, vegan or vegetarian. With the apparent attempt to allow for dietary diversity, you could be forgiven for thinking Singh himself has some dietary regulation inspiring his decisions. However, that isn't at all the case.
"People have moved towards healthier eating in general, so as much as I love to cook with butter and cream because of my French culinary background, not everybody wants to eat in a way that's so indulgent," Singh says. "Since I've been writing menus as a chef, my focus has been on ensuring that no matter your dietary restrictions or allergies, you'll always get the same experience. Coming up with a menu like that also makes it easier for the guests, the servers and myself." As if to make the point, when asked to consider some of the dishes he's most excited for visitors to try, he points to the beef tartare and its polar opposite, a whole roasted eggplant.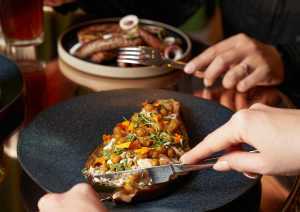 "We fold our secret burger sauce into the tartare, which mimics the texture you get from putting egg yolk on it, and the surprise is it ends up tasting like a Big Mac," says Singh, extolling the virtues of the simple dish. "We also whole-roast an eggplant over charcoal, cut it in half, chop up and season the flesh a bit, and add a tahini-garlic sauce on top, so it's like a 'build your own' baba ghanoush. We top that with freekeh, green beans, crispy chickpeas and a Baharat spice from local supplier Never Not Eating. The vegetarian dish easily becomes vegan by omitting the yogurt and is far from the typical afterthought of vegetarian pasta or salad."
As a testament to the Gladstone House's devotion to culture, Singh kept the building's creative vibe in mind when designing the new menu. "My direction included a lot of seeds, flowers and sprouts because I wanted the menu to be visually exciting and pop with vibrant colours that would match the bright interior of the restaurant," he says. "I hate the term Instagrammable, but it was important to me that the food looks and tastes as beautiful as its surroundings."
"I wanted the menu to be visually exciting and to pop with colour"
The Gladstone House has any casual imbiber of alcohol covered as far as drinks are concerned. In the spirit of artistic collaboration, they worked with local brewer Henderson Brewing on a small batch release of a Gladstone English Pale Ale served at the Melody Bar. The artwork on the can is based on the neon installation work of Kal Honey, found on the hotel's basement level.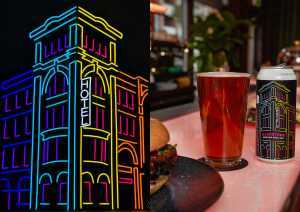 Cocktail selections with whimsical titles like The Piano Plays At Night and Art Fuel round out a fun drink menu. Even here, the hotel has taken steps to speak to its legacy. Lady of the Tower is a concoction starring Ungava Canadian gin, burnt rosemary syrup, lemon juice and green chartreuse, served with a smoking rosemary sprig. The name is a tip of the hat to beloved former owners Christina and Jane Zeidler, who designed the look of the tower suite.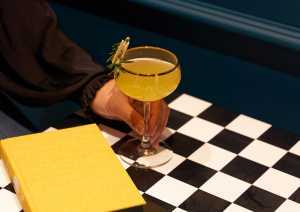 "We have a very neighbourhood kind of feeling that makes us different from hotels," says Petrie. "We have a community space where you're going to hear a local band playing, see a cabaret show put on by people who live five blocks from here, and see art by local artists." In its previous incarnation, the hotel was a recognized safe space for Toronto's LGBTQ2s+ community, offering drag brunches on weekends, art exhibits centring queer voices like That's So Gay, and regular Pride events. Gladstone House continues that tradition through its support of organizations like Sistering, an agency offering practical and emotional supports for women and trans people, and its continued support for LGBTQ2s+ artists and creatives like Miss Moco, who makes a regular appearance in the hotel's revamped Sunday Drag Brunch and on their social media.
Still a creative space with a comfortable vibe for locals, the renewed Gladstone House is also a welcoming retreat for international travellers interested in something intrinsically Toronto. With a mission statement of "Always Welcome" demonstrated in everything from the design to décor, food and drink, Gladstone House continues to successfully live up to its legacy by providing the West Queen West community with something genuinely unique.