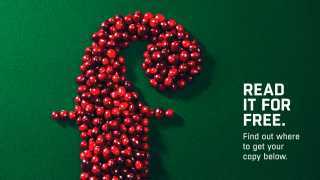 When are we out? 
The Holiday Issue is out:
November 29, 2022 – March 28, 2023
We're out every other month at the moment. 
Follow us on Instagram or sign up for the newsletter and we'll give you the heads up on the exact days.
Are we really complimentary?
You bet!
Where can you grab a copy? 
Due to COVID-19, street handouts of Foodism are on pause.
You can still get your free copy at one of our partner locations below.
George Brown College
The Chef's House
St. Lawrence Market
Pusateri's Fine Foods
1539 Avenue Road
57 Yorkville Avenue
2901 Bayview Avenue
Sherway Gardens, 25 The West Mall
The Cheese Boutique
Healthy Butcher
298 Eglinton Avenue West
565 Queen Street West
Loblaws
Maple Leaf Gardens - 60 Carlton Street
Queen and Portland - 585 Queen Street West
Queen's Quay - 10 Lower Jarvis Street
Independent City Market - 1022 King Street West
Independent City Market - 111 Peter Street
Loblaws - 396 St Clair Ave West
Loblaws - 650 Dupont Street
Loblaws - 720 Broadview Avenue
Loblaws - 2280 Dundas Street West
Loblaws - 101 Eglinton Ave East
Loblaws - 12 St Clair Ave East
Bloor Street Market - 55 Bloor St West
McEwan Fine Foods
Don Mills - 38 Karl Fraser Road, North York
Billy Bishop Airport 
Union Station York St Promenade Kiosk
Is there a digital version?
Yes! You can also read the full digital issue below.
Where can you read back issues of Foodism?
The entire archive of Foodism issues is located here.