Deep in Jamaica's Nassau Valley lies the Appleton Estate, surrounded by deeply forested hills and fed by a natural limestone spring. Here, topography and climate come together in perfect harmony to make a unique spirit. Throw in 265 years of distilling experience using 100% copper stills, and it's not surprising you've got the recipe for Canada's number one selling amber rum. But despite this rich history, Appleton Estate isn't afraid to innovate. 2020 marks a big year for the heritage brand, and we'll take you through the story of where it's been and where it's going, and give you an insight into a rum that embodies the spirit of Jamaica.
A history of the Appleton Estate
From first steps to a world-leading brand: we distill the history of this pioneering brand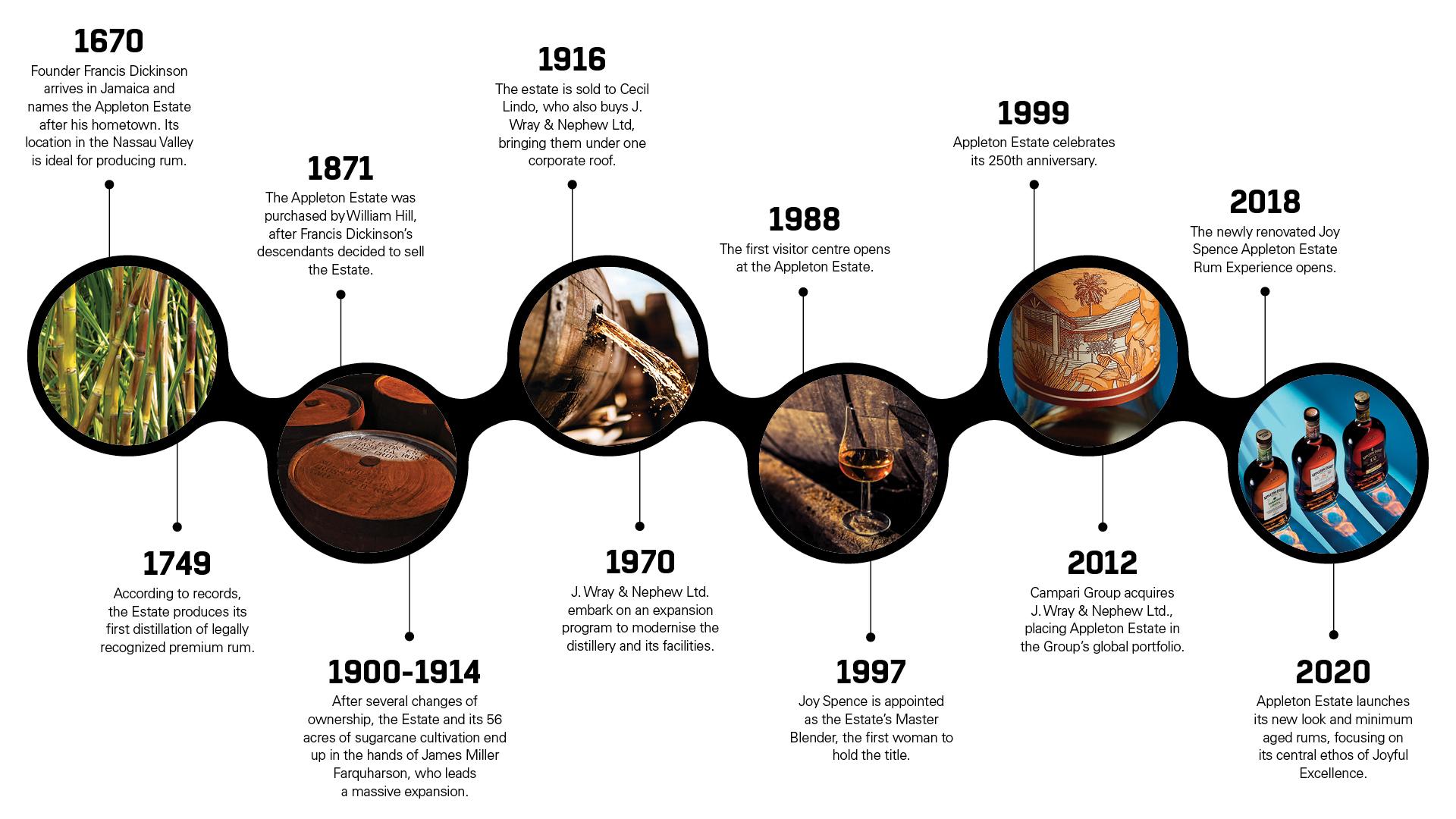 A timeline of the Jamaican spirit
Distilling Appleton Estate Rum: From cane to cocktail
Step-by-step, we follow Appleton Estate's extraordinary production process from cane to cocktail
After 265 years of making premium rum, it's safe to say Appleton Estate has the distilling process down to an art, watching over each and every step to make sure it meets their exacting standards – and it's worth it.
1. Harvesting and extraction
The process begins with the harvest. Appleton Estate cultivates more than ten varieties of sugarcane, giving the rums a distinctive, complex flavour.
2. Creating molasses
Appleton Estate dilutes its molasses with the natural limestone-filtered water from the spring on the estate. Filtering through natural limestone gives the water a sweet, soft taste.
3. Fermentation
Appleton Estate then adds its proprietary strain of cultured non-GMO yeast, handed down from generation to generation, and allows the wash (a mixture of molasses and limestone-filtered water) to ferment.
4. Distillation
The fermented molasses is distilled into raw spirit. Distillation is a true blend of art and science in which expertise and craft play as much a role as chemistry. Appleton Estate combines traditional copper pot still and modern column still distillation, and the unique shape of the copper pot stills imparts Appleton Estate's signature orange peel top note.
5. Rum marques
This term refers to the individual pot and column still rums created during the distillation process. These particular cuts are developed by, and are unique to, each rum producer, and each rum marque has its own flavour.
6. Tropical aging
The rum is aged by marque in Number One American Oak Bourbon barrels, with each marque left to mature for different amounts of time in Jamaica's tropical climate. The barrels impart a complexity and depth of flavour. You can read more about this process overleaf.
7. Blending
Appleton Estate's rums are a labour of love and a true art. Every rum is blended by experts, and every barrel is personally selected by Master Blender Joy Spence and her team.
8. Bottling
Appleton Estate filters its rums to keep them brilliant and pure for as long as they're bottled. And most importantly, it never adds any flavours.
Meet Appleton Estate's Master Blender
Joy Spence became the Estate's Master Blender in 1997, and she's taken the rum from strength to strength ever since.


Joy Spence trained as a chemist before she became the world's first female master blender when she took the reins at Appleton Estate in 1997 – so it's safe to say she knows a thing or two about seriously good rum.
Her work in the rum industry has been pioneering – Spence was instrumental in helping Jamaica gain geographical indication approval for its rum, which means that any rum claiming to be Jamaican must stick to strict production and quality standards, including a ban on the use of additives.
In 2005, Spence was awarded the Order of Distinction of in the Rank of Officer by the Jamaican government for her services to the industry. She holds Appleton Estate to the highest standards, which is reflected in the popularity of the brand's rums around the world.
It's not surprising that 2018 saw Appleton Estate named its new tour in her honour. The Joy Spence Appleton Estate Rum Experience guides visitors around the estate, teaching them about rum's complexities. Joy Spence exemplifies the essential essence of Appleton Estate: Joyful Excellence.
Appleton Estate Rum cocktails
Jamaican rum is renowned for being rich, aromatic and flavourful, which is down to strict regulations and quality control. Here's exactly what makes it so special.
Jamaica takes its rum very seriously, with strict rules about minimum aging to ensure all the rum in your bottle is at least as old as the age stated on the label – an initiative that was supported by Appleton Estate's very own master blender Joy Spence.
No additives can be added, preserving the rum's purity of taste. The result is rum that's known around the world for its flavour.
Appleton Estate – the oldest rum producer in Jamaica – takes even these regulations one step further further, distilling using pot stills and Jamaican limestone-filtered water, and fermenting using non-GMO molasses and non-GMO natural yeast. The brand is fiercely committed to tropical barrel aging, which means the rum ages three times faster than spirits aged in cooler climates, without losing any of the flavour.
What's more, this year saw Appleton Estate release its new minimum age variants. Unlike many other rum brands, if an Appleton Estate rum has an age statement on the bottle, then every drop of rum in the bottle has been aged for a minimum of the number of years indicated on the bottle.
No matter which Appleton Estate rum you're drinking, you can be sure it's been crafted with love and expertise. For tasting notes of some of Appleton's best rums and how to use them in cocktails, check out our gallery above.