We've all seen it: Rosé all day. Rosé is bae. Where there's a will, there's a rosé (OK, OK, you get it). Whether it's a cheesy pun on a t-shirt or in your glass while you luxuriate on a patio, rosé seems to be everywhere these days. Pre-COVID, there was an entire day-long event, The Rosé Picnic, dedicated to the beverage.
While we have no problem with throwing back a bottle or two on a hot summer day, our favourite pink drink has a bad rap among many — often associated with cloyingly sweet flavours and raunchy bachelorette parties. But according to Jake Skakun — wine director, manager and partner at Grey Gardens, Bar Vendetta and Le Swan — there's much more to it than that.
Why do you love rosé?
"I love it because it's a perfect summer-y, refreshing drink. There's often fresh acidity and vibrant fruit, which I think makes it a great wine to drink, whether or not you're having it with food, or if you're just drinking it on its own on the patio. It's just a good overall bottle for the table."
How is rosé made?
"It's typically wine that's made from red grapes. The grapes are crushed and pressed at the beginning. Instead of having this long maceration and fermentation (where the juice and grape skins are in contact with each other to take on that colour), they're often pressed and macerated for a short time (12 hours or less), or the juice is directly pressed off the grapes (very little skin contact). You're almost making a white wine from red grapes and just not including the skins. In some instances — most often in a new world country like Australia or the U.S. — people make rosé by just blending red and white grapes, but that's actually on the rare side."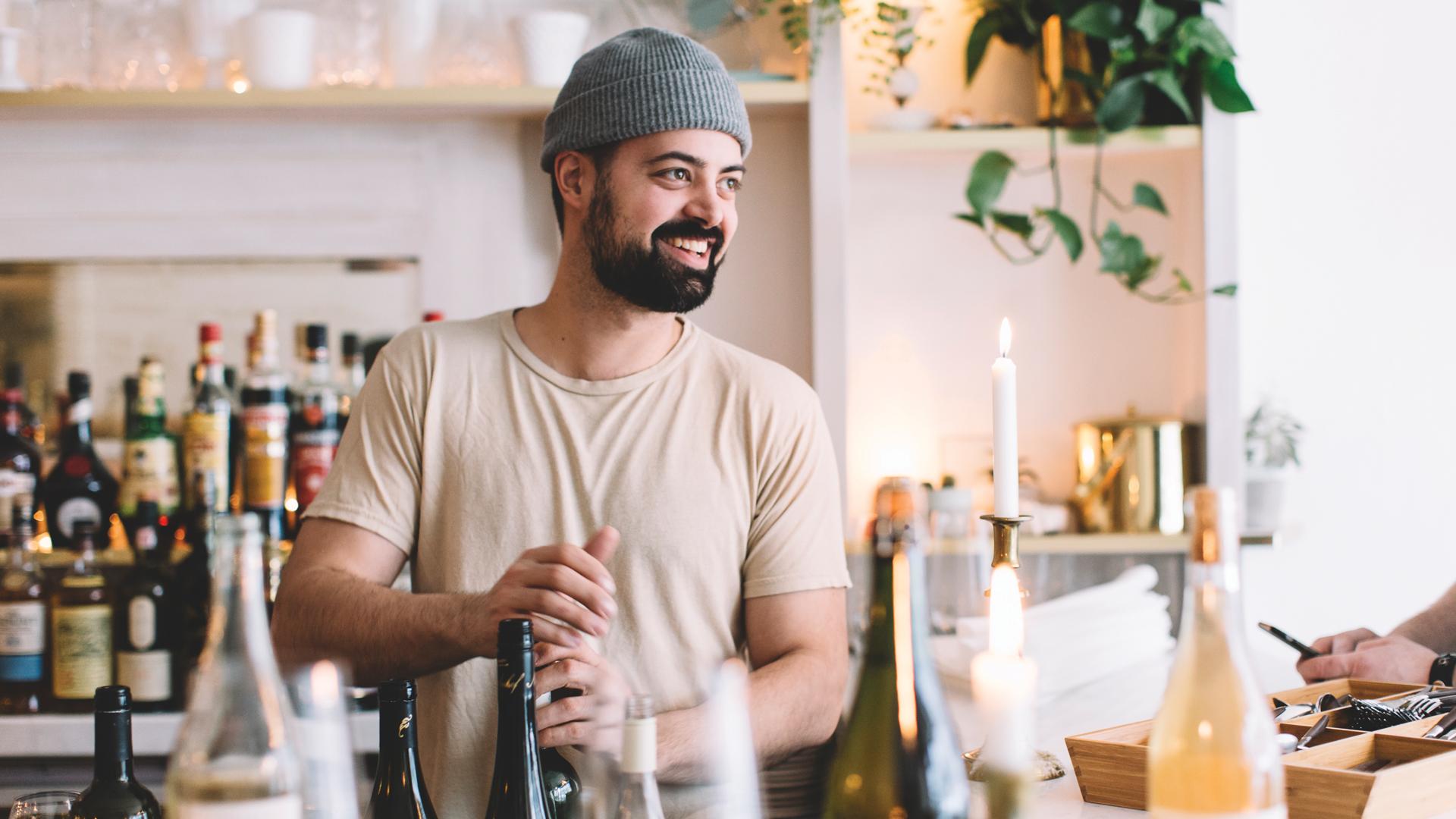 Why should someone try rosé?
"I do think that there is a mental barrier for someone looking at a glass of wine and seeing a pale pink colour, even more so if someone sees a glass that's bright pink. It's pretty hard not to associate that with something that's sweet and candied. I think there are also certain people that may gender rosé which is really disappointing. I do think it's something that everyone can obviously enjoy. And it comes in a range of styles — just because you've been jaded by something that wasn't your jam before doesn't mean that there's not something out there for you."
What are some different styles?
Dry + Refreshing
"The move in the last decade has been towards southern French [styles], which are paler pink, dry and refreshing. Non-European countries have also embraced this style. Some pale pink rosé is made out of pinot noir grapes which you find in Oregon or even Ontario. A lot of that cherry, raspberry fruit comes through like it would in a pinot noir, just a little bit lighter."
Savoury + Herbaceous
"In the case of southern France, you'll find herbal notes of sage and thyme. In Rioja, Spain, they do a lot of rosés which are also dry and refreshing, but a little more savoury than a lot of French ones."
Bold + Juicy
"The other big thing that we're seeing a lot is natural producers making rosé — juicy, textural rosé that drinks closer to a light red wine, but still dry."
Bright + Sweet
"And then we obviously see the white zins [zinfandel] of the world — sweeter styles that may have made a lot of people hesitant to drink rosé. Although, it doesn't turn everyone off. The majority of people in the world who drink rosé drink sweet or off-dry rosé."
Food pairings?
"Rosé kind of walks that line between a white and a red where you might have a little bit more body, but you're still gonna have the fresh acidity and bright fruit. I would say a lot of fresh seasonal vegetable dishes and seafood. Especially salmon or trout dishes, which really benefit from something that's fruity and soft, but also has good acidity and isn't bringing any tannins to the table.
You can also think: what are the classic dishes of places where the wines come from? In Southern France, there's a lot of seafood and dishes like salad niçoise — a great pairing. If you put 10 dishes on the table, it's not going to clash with anything."
How is rosé best served?
"I would do a classic white glass, with a narrow top so you can still get the aromatics. But I would also happily drink a lot of rosé out of a tumbler glass. I don't think glassware is really too important.
Temperature-wise, a lot of people are drinking rosé on a patio and they want something that's refreshing and easy-drinking. I do get the mentality to stick it on ice and really chill it down, but for a more expressive experience, I recommend an eight-to-10-degree range, something that's slightly warmer than pulling it straight from the fridge. There are a lot of rosés that drink closer to a light red because they're a bit darker and have a little bit more structure, for those I would say serve slightly warmer. But ultimately, temperature just comes down to personal preference."
Any other tips for beginners?
"If you're looking for something that isn't sweet, and that's what you're afraid of, sticking to the classic regions (like France or Spain) would be a good start. I don't think rosé is something that should be taken too seriously. It's something that's fun and delicious to drink. I think that should be the underpinning of how people engage with it."
Rosé: Where to drink it
Le Swan
892 Queen St. W.
This iconic French-bistro-meets-American-diner has a host of wines to enjoy with your favourite comfort food. The easy-going and knowledgeable staff are always happy to help you find your perfect glass. Be sure to try the Le Swan Rosé, made in partnership with Tawse Winery, which uses pinot noir grapes for a dry, fruity finish.
Grape glass
1247 Dundas St. W.
If you're looking to enjoy rosé au naturel (that is, made using simple or traditional methods), look no further than this dreamy natural wine bar and bottle shop. Known for their wine club subscription boxes, Grape Witches Krysta Oben and Nicole Campbell recently opened a patio perfect for summer sipping. Try funky, interesting expressions of rosé.
East End Vine
817 Gerrard St. E.
Oysters and other small plates are the perfect pairings to this east end wine bar's many rosés. This casual neighbourhood favourite is the perfect place to relax and take a sip of something new. Grab a spot on their patio and order some seafood-forward tapas with your rosé. Or, peruse their gourmet food market and take a bottle to enjoy at home.