After everything that's gone down in 2020, the last thing we want to add to our lives is another stressor. What's more, spending time with family and friends has become a precious commodity, and we want to make every moment count. So for this year's Thanksgiving dinner, we're hanging up our aprons and leaving the heavy lifting to the professionals.
Whether you're looking to cut down on your cooking time, or head to a restaurant for all the feasting without all the cleaning, these Thanksgiving dinners in Toronto are sure to hit the spot.
If you're already ordering in, why stop with the turkey? Make your Thanksgiving dinner a breeze and order in your booze too. Toronto bars and restaurants are offering all kinds of cocktail kits and alcohol delivered right to your door.
And don't forget to finish things off with a pie from one of the best pie shops in Toronto.
McEwan Catering
38 Karl Fraser Road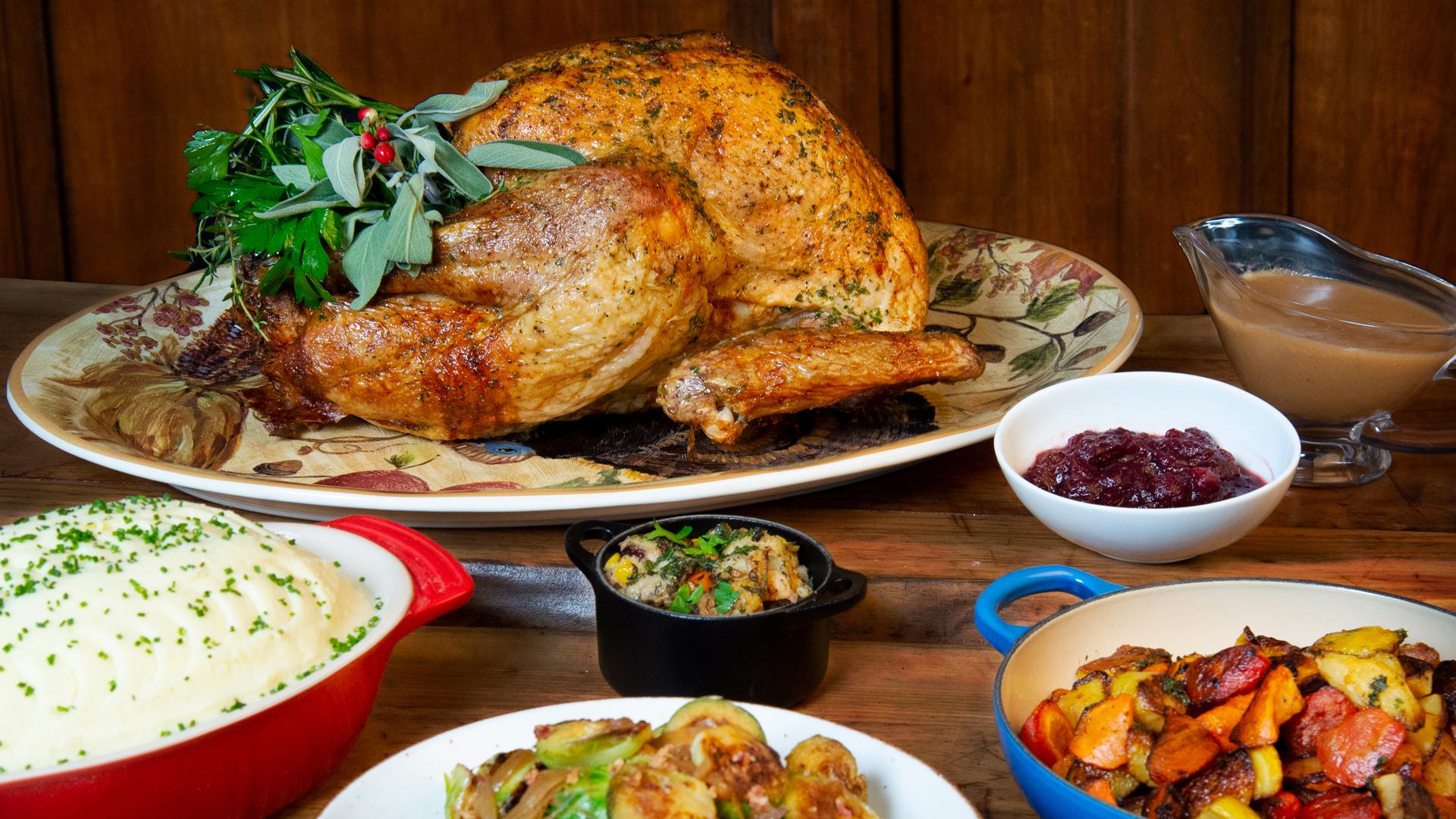 Available in small ($260), medium ($340) and large ($425) options, McEwan's Turkey Dinner can feed anywhere from eight to 20 hungry guests.
Each meal comes with McEwan's own home-made stuffing, drool-worthy gravy and sweet and tart cranberry sauce to top off the whole grain-fed roasted turkey. On the side, dig into crispy Brussels sprouts with caramelized onion and bacon, roasted root vegetables, a mixed green salad with champagne vinaigrette, spun potatoes and freshly baked bread. Stretchy pants not included.
Have your Thanksgiving feast delivered to your door or opt for pick up, then just heat and serve. Easy as pie – and you can order that too.
JOEY Restaurant
Multiple Locations
They've thought of everything at JOEY. Their Thanksgiving Dinner meal kit is a full-on feast (there's even dessert!), and at $195 for six people, it's a more wallet-friendly option. Expect an oven roasted turkey with gravy, cranberry sauce, caramelized apple and sage stuffing, garlic mashed potatoes, roasted vegetables and a fall kale salad. When you're ready to finish off the night with something sweet, dig into the fresh baked apple cranberry pie with maple ice cream, that's included in your meal kit. 
Save yourself waiting in the inevitable lineups outside LCBO, and add on a sommelier recommended wine pairing. For $98 you'll get four bottles of wine (sparkling, white, rosé and red) that pair perfectly with your Thanksgiving feast.
Pre-order to pick up your meal kit October 9 through October 12 at your closest JOEY location.
Shangri-La
188 University Ave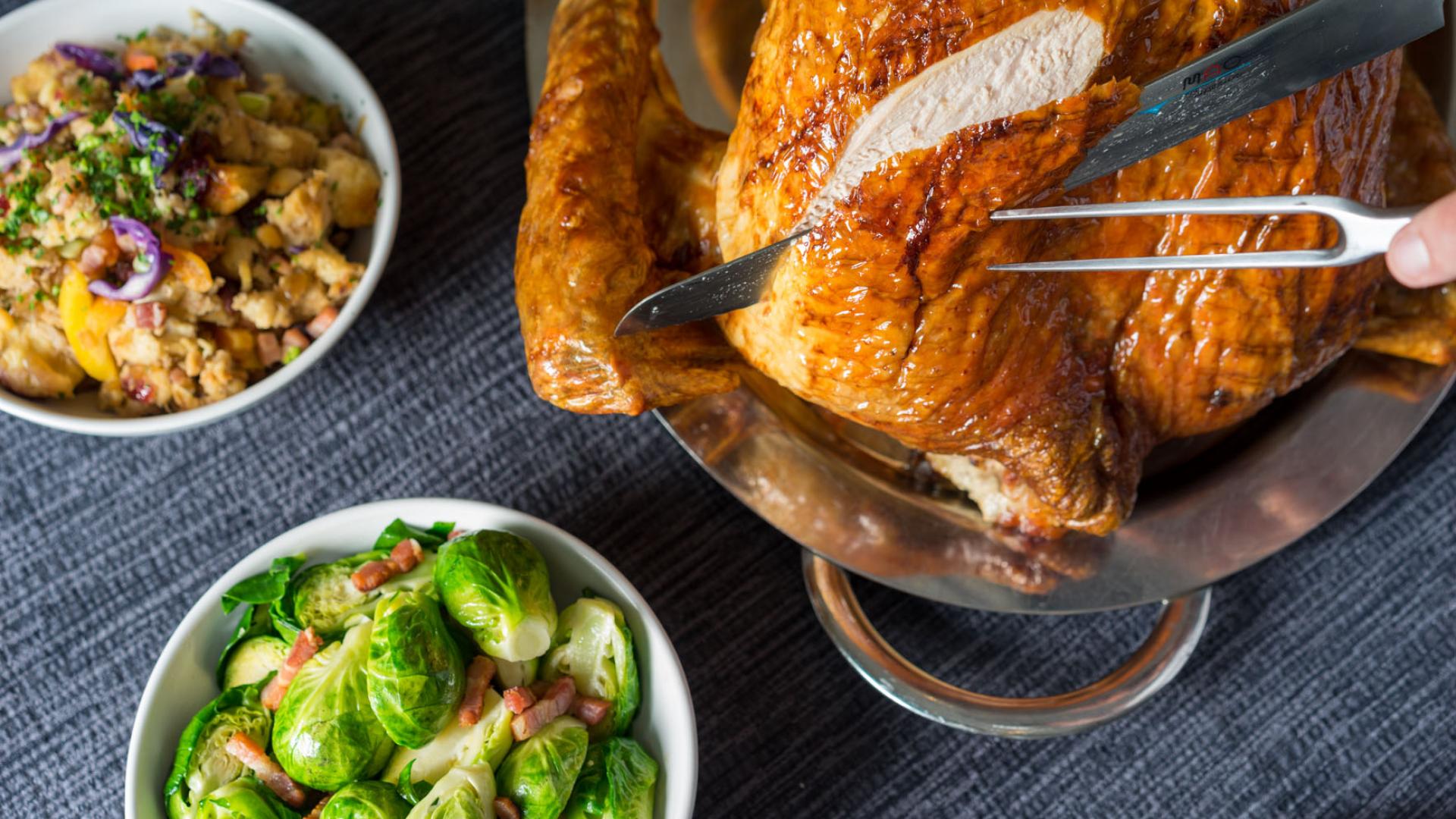 Less gobble, gobble, more gourmet – the Shangri-La Toronto offers a classier way to celebrate the festivities this October. Dine-in at the stunning Lobby Lounge and Bar on University and enjoy spiced squash soup, roasted turkey with all the trimmings and pumpkin cheesecake or apple and blackberry crumble ($55 per person). If you get the meat sweats (and consequently need to be in your sweats), there are also take out options for up to 8 people with a whole turkey and all the sides you could dream of ($400) – and maybe you don't tell Aunty and Uncle you didn't cook?
Call 647-788-8281 or email lobbylounge.reservations@shangri-la.com to make a reservation, or book your takeout order before 12 noon, October 5, 2020.
Leña
176 Yonge St.
Finding the traditional turkey a little tired? Argentinian restaurant Leña is offering their South American twist on Thanksgiving dinner. Turn up the heat with a Guajillo-Glazed Turkey with spicy pork sausage stuffing, malbec gravy and charred cranberry compote. The Argentinian Thanksgiving Feast also includes sautéed beans, artichoke and jamón gratin, buttered baby potatoes, roasted yam and onion bread fugazzeta. Priced at $180, the meal feeds four to six guests. Pre-order now for pickup on Saturday October 10.
Café Boulud
60 YORKVILLE AVE.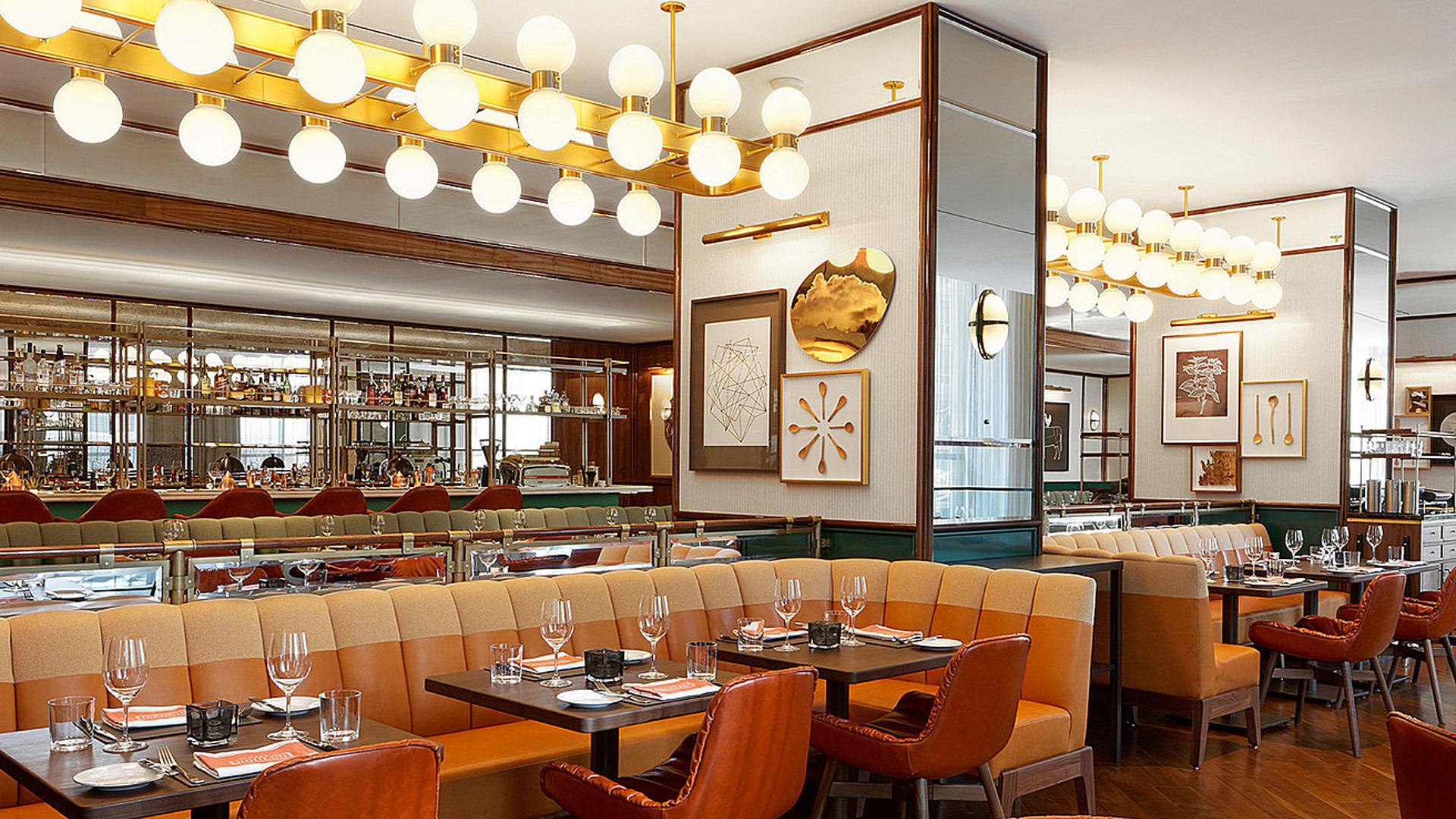 Class things up seven notches by booking your Thanksgiving brunch at Café Boulud in the Four Season Hotel. Appeasing to the picky family's palate that may not all have a taste for turkey, their menu offers a range of entrées from traditional eggs benny and steak and eggs to French toast struessel and lobster cauliflower crêpes.
The options continue with your choice of appetizer and dessert within the three-course meal, priced at $64. You can also opt for the two-course meal, priced at $57. Brunch is available Saturday October 10 through Monday October 12, from 11:30 a.m. to 3:30 p.m.
If you'd rather chow down in the comfort of your own home, Café Boulud is also offering a Festive Feast for pickup. For $225, the meal feeds up to five and includes a 15 lb slow roast turkey (available whole or pre-sliced) with saffron poached pear, sunflower and pumpkin seeds, pomegranate and chevre. On the side you'll find rosemary bourbon gravy, cranberry sauce, sage and brown butter brioche stuffing, mashed potatoes and more – plus your choice of a pecan or pumpkin pie. Now that's a feast. 
Order 48 hours in advance for pick up October 7 to October 14. Contact 416-964-0411 or email room.service.tfy.dst@fourseasons.com to place your order. 
O&B at Home
Multiple Locations
Available for delivery or curb-side pickup at Parcheggio, O&B at Home lets you scroll through dozens of dishes from Oliver & Bonacini's empire of restaurants. Banock, Biff's Bistro, Babel, Maison Selby – they're all on the menu, along with cocktail kits, pantry items and more.
Their Thanksgiving offerings are just as expansive. Just about anything you could think of is available to order à la carte, from a sous vide beef ribeye roast, to side dishes, desserts and even a set of decorative gourds.
If you're going all out this year, Canoe's Thanksgiving Feast for eight includes riesling gravy, stuffing, gouda whipped potatoes, mulled wine cranberry sauce, Brussels sprouts and roasted carrots. The maple and screech brined turkey comes trussed and ready to roast ($225), or fully cooked, sliced and re-heatable ($270).
Earl's Kitchen + Bar
Multiple locations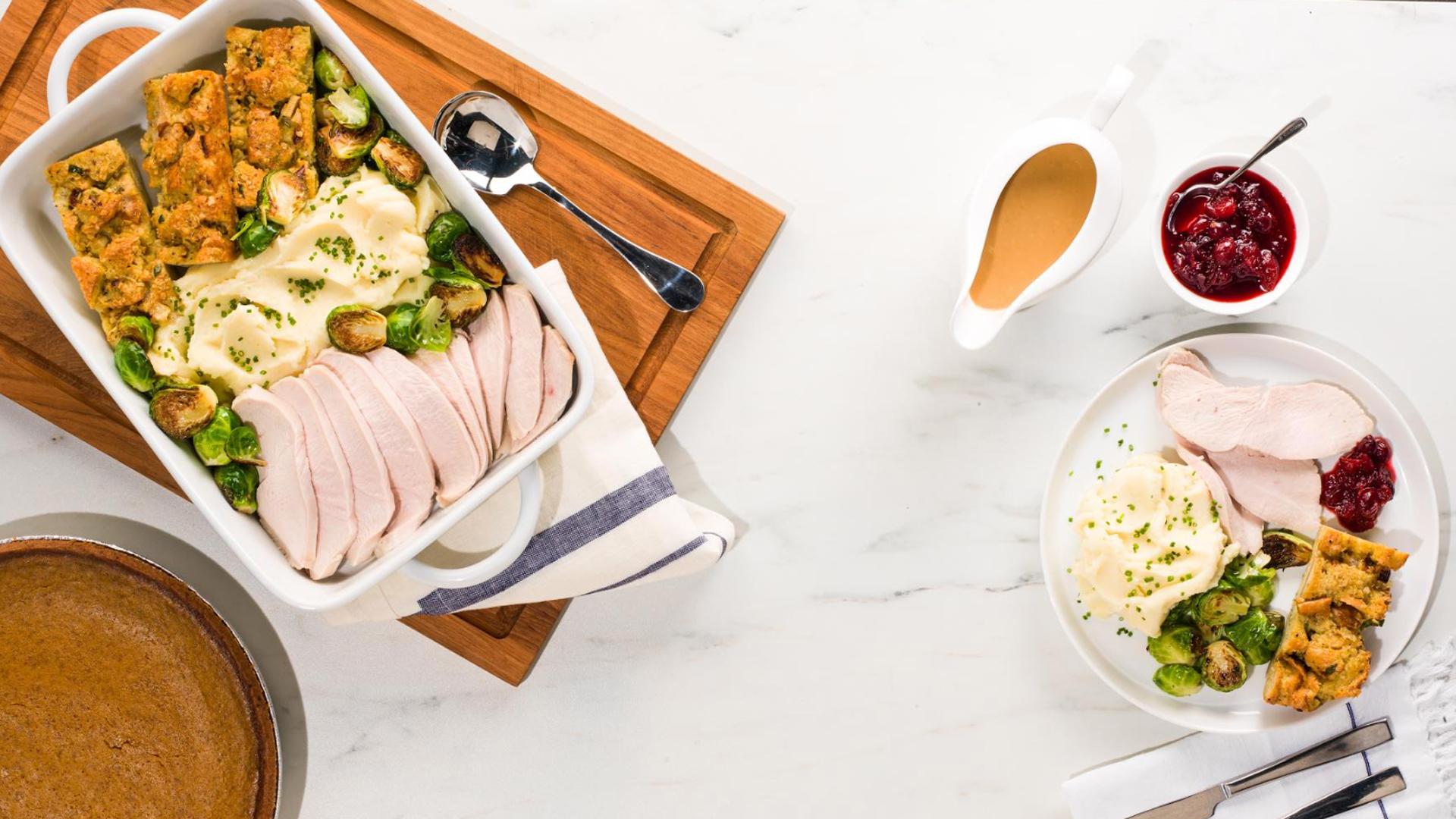 Since it's 2020 and all, you can get your turkey dinner delivered on-demand by ordering Earl's through Skip the Dishes. From October 10-12, between 4 p.m. and 10 p.m., Earl's will be serving up a $95 family style dinner for four, along with individual turkey dinners that are perfect for a physically distanced, virtual Thanksgiving.
Until October 9th, they're also offering the option to pre-order a ready-to-heat dinner, which serves up to eight people ($190). Add on a slice o' pumpkin pie or, heck, throw in the whole darn pie for $28.
If you demand more civility while giving thanks, then you do have the option of dining in at Earl's. 
Louix Louis
325 Bay St.
Ditch the cooking and the cleanup in favour of dining in at the gold and glitzy Louix Louis. On the 31st floor of the St. Regis Hotel, the restaurant and bar is offering an $85 prix fixe Thanksgiving dinner on Monday October 12.
Start off with a foie gras terrine or truffled sunchoke soup. For the main event, sink your teeth into a roasted turkey breast with a root vegetable hash, roasted Brussels sprouts and cranberry jus. Non-turkey-takers can opt for pan roasted halibut or a wild mushroom risotto. For your meal's happy ending, choose between a pumpkin fondant or chocolate banana cremeux. Book your reservation now to avoid missing out.
Inabuggy
Various locations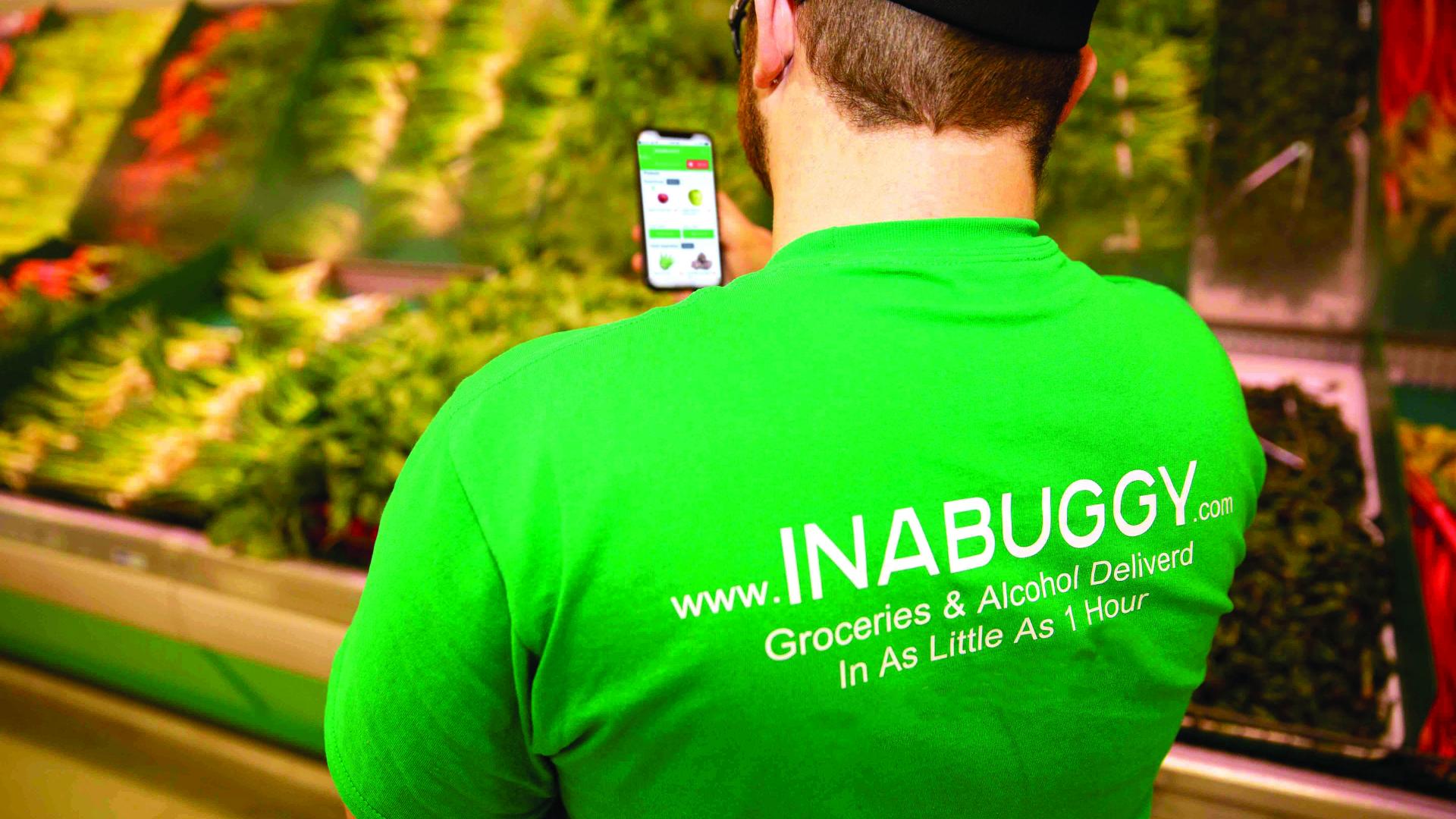 If you're planning to pull a Mrs. Doubtfire and pass off a pre-made Thanksgiving meal as your own, you'll have Inabuggy to be thankful for this year. They'll be offering delivery throughout Thanksgiving which means you can get fully-prepared meals from their grocery partners (like McEwan and Summerhill Market) right to your doorstep. If you accidentally burned the green beans, or your boozy in-laws have tapped the wine cellar dry before the first course, Inabuggy will also get a few grocery and LCBO items to you in a jiff.
Bottega by Speducci
46 Milford Avenue
From Italian restaurant and gourmet deli Speducci Mercatto comes their own grocery delivery service, Bottega by Speducci. Order premium Italian ingredients, authentic fare, alcohol and more, delivered right to your door.
For $250, their take on the traditional Thanksgiving dinner comes with an organic turkey roll, stuffing, gravy, mashed potatoes, vegetables, salad and homemade pumpkin pie. But the real treat is a bottle of Villa Santera, Primitivo Di Manduria (2018) included in the meal for four.
Or toss tradition to the wind and go for their Italian-style Thanksgiving. For the same price, it includes a salumi board, a pork roast with apple and fennel stuffing, vincotto jus, insalata Siciliana, roasted potatoes, rapini, tiramisu cups and that bottle of wine.