For us, Sundays are a day to get organized. We might not be meal plan people, exactly, but we do know that running errands and setting ourselves up for the week is an excellent way to beat the Sunday scaries.
Until now, St. Lawrence Market — Toronto's iconic landmark market with over two centuries of history — has been inaccessible to us on this day of rest. Luckily, lovers of local grocery shopping can now visit more times than ever before as the market increases its hours of operation — the market will be open until 7 p.m. from Tuesday to Friday — and opens its doors to customers on Sundays for the first time in its 219-year lifespan.
In addition to fantastic shopping and dining options, St. Lawrence Market will also be adding live experiences like cooking demonstrations, music and family activities in the evening and on Sundays.
With 120 vendors selling baked goods, dairy, fish, meat, grains and more under one roof, you're guaranteed to find a merchant or artisan that's selling what you're looking for. And, because these local makers are crafting their goods with passion, they're only too happy to answer any questions you might have.
St. Lawrence Market hours
Tuesday – Friday: 9 a.m. - 7 p.m.
Saturday: 7 a.m. - 5 p.m.
Sunday: 10 a.m. - 5 p.m.
July 31 marked the first time that St. Lawrence Market opened on a Sunday. Celebrate by doing the weekly shop, then reward yourself for kick starting your week the right way with lunch and a beverage at one of the market's fantastic local vendors. You deserve it.
For more information on new opening hours and vendors, check out stlawrencemarket.com
St. Lawrence Market Sunday Chef Series 
Sundays at St. Lawrence Market isn't just another day to shop, it's also an opportunity to learn something new. Until the end of October, every Sunday will see a new chef offering a free cooking demonstration and samples of delicious dishes made with ingredients found at St. Lawrence Market. Catch the demos from noon to 2 p.m. on Market Street until the weather gets cooler and they move inside the South Market.
August 21 – Fun Family Cooking with Lynn Crawford, chef, cookbook author, Food Network judge and television host 
August 28 – Dining Al Fresco with Claudio April, chef, television personality and MasterChef Canada judge
September 4 – Seafood Palace with Charlotte Langley, chef, Marine Stewardship Council ambassador and the co-founder and chief culinary officer at Scout Canning
September 11 – Seafood Supper with Matt Dean Pettit, chef, entrepreneur, cookbook author and radio and television personality
September 18 – Get Ready to Grill with Ted Reader, chef, cookbook author, television personality
September 25 – Asian Meets Caribbean Soul Food with Craig Wong, chef-owner of Patois and Bar Mignonette
October 2 – Get Ready for Thanksgiving with David Adjey, celebrity chef, cookbook author and owner of BOUFFE Toronto
October 16 – Couples: In the Kitchen Together with Ivana Raca, chef, gourmet caterer and Food Network personality
October 23 – Finding Home in the Kitchen with Suzanne Barr, chef, author, social advocate and TV personality
October 30 – Fall Flavours with Mary Berg, MasterChef Canada winner, cookbook author and television host (Mary Makes It Easy, Mary's Kitchen Crush)
St. Lawrence Market's landmark vendors
Alex Farm Products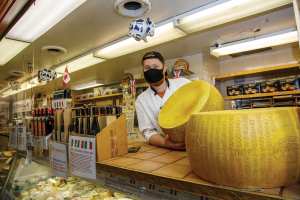 Daniel and his staff at Alex Farm Products know their cheese. They source products from all over the world and have been working in the cheese industry for over 30 years. You can usually find Socrates at the shop talking to customers and sharing his love of cheese. In addition to rare, hand-made, fresh cheese from France, Holland, Spain, U.S.A., Canada and more, you can pick up quality specialty foods like olive oil, balsamic vinegar, truffles, foie gras and pâté. Alex Farm also makes cheese platters and gift baskets for any occasion — the team will be only too happy to assist and advise. If you want to impress guests at your next dinner party, this is the place to go.
Paddington's Pump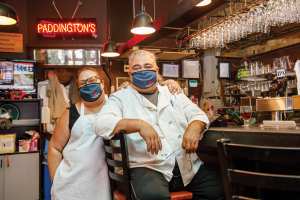 Paddington's Pump is best known as the "home of the oink" — it was the first place to serve peameal bacon sandwiches at the market. Paddington's is also the only full service restaurant and bar at St. Lawrence Market, so it's a great place to end your shopping day. It's owned by brother and sister duo Effie and Bill Tziamouranis, who took over the business from their parents. The Greek family puts their own spin on some classics including the Sloppy Bill, which adds feta cheese to classic roast beef or the homemade spanakopita made using a family recipe.
Harbourfront Organics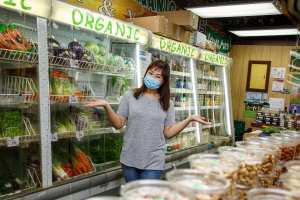 Jenny Noh and her family source amazing organic produce and specialty items at their shop on the market's lower level. Harbourfront Organics also has amazing tips on how to use their products in authentic Korean dishes. In addition to locally grown apples, berries, melons, potatoes, pumpkins and corn, they import produce like bananas, plantain, papaya, mangoes, pineapples and figs from the Caribbean. Plus, Harbourfront Organics stocks dried fruit, nuts and fruit salads.
Pasta Mia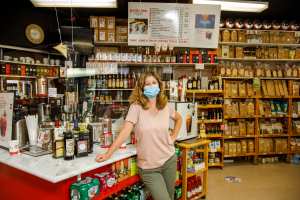 Make a beeline for Pasta Mia, which sells perhaps the two most iconic Italian food items: coffee and pasta. Husband and wife duo Klement and Anila Havaraj are passionate about great Italian products, and their shop in the lower level of the market has been a go-to spot for years. Find locals looking for casual conversation over a great cup of espresso, alongside tourists looking to go for souvenirs for the pasta lovers in their life. They have a wide selection of dried and fresh frozen pastas including unique colours and flavours.
Buster's Seacove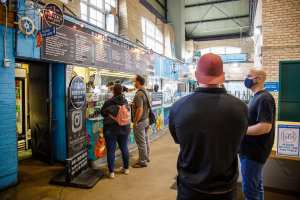 Buster's Seacove serves delicious fish sandwiches, plus grilled and fried fish classics. Customer favourites include the swordfish sandwich, lobster roll, crab cakes and fried crawfish po boy. Buster's owner Aly Somani took over the business a few years ago and is excited to introduce fresh new ideas and dinner items during the new hours of operation. The St. Lawrence Market stalwart got its name from a feline regular from years ago. The legend goes that Buster was a stray cat that the market adopted, who would hang around to feast on fresh scraps — especially the yummy seafood.