Before DaiLo, there was only Nick Liu, hustling in different kitchens and events for one-night engagements and month-long stints, and his meticulously engineered Big Mac Bao.
At the time, pop-ups were a just-emerging trend. Around Toronto, Liu had created some buzz for himself and his distinct style of Asian comfort dishes inflected with French fine dining — a genre he calls "new Asian cuisine." These flavours drew on dishes cooked by his Cantonese father and Hakka mother, by way of Calcutta and South Africa respectively, deftly prepared in a style honed through his time in some of the world's top restaurants, including the U.K.'s Michelin-starred The Fat Duck.
All the while, he had developed his entrepreneurial acumen from running the kitchen of the Niagara Street Café for four years, and his pop-ups for two, with the dream of restaurant ownership fixed in his mind.
"When I left Niagara Street Café to open DaiLo, it was a little bit of a rocky road," he says. "I did a lot of pop-ups, had a different company that had the wrong partners. And when that all fell apart, I almost fell apart."
But after meeting with co-owners Jen Grant and David Dattels, and enlisting Ian Rydberg from Solid Design, Liu was ready to start executing his vision. That turned into DaiLo ('big brother' in Cantonese), which opened in 2014, and LoPan, its upstairs cocktail bar.
"La Carnita was next door, Woodlot was on the other side and you could already see this corner starting to take shape a little bit differently than the rest of Little Italy," recalls Liu. "When we first stepped into the actual space, it was the energy that attracted us to the space. It was almost instant. The minute we walked in, it was like, 'This is it.'"
The anticipation was felt on both sides — by Liu and his team, and fans of his pop-ups hungrily watching his career from the sidelines. And DaiLo delivered. With its softly illuminated Chinese watercolour murals, deep teal banquettes and gilded-wood details reminiscent of an Old Hong Kong tearoom, it quickly captivated crowds of both fine-dining followers and west end cool kids.
Fun and whimsical but backed by solid talent, DaiLo's dishes delight new diners while satisfying returning guests with a packed menu of reliably good dishes and faithful classics available on a hush-hush basis.
Take the Big Mac Bao, which catapulted him to household name-status, but became a thorn in his restaurant's side after it opened.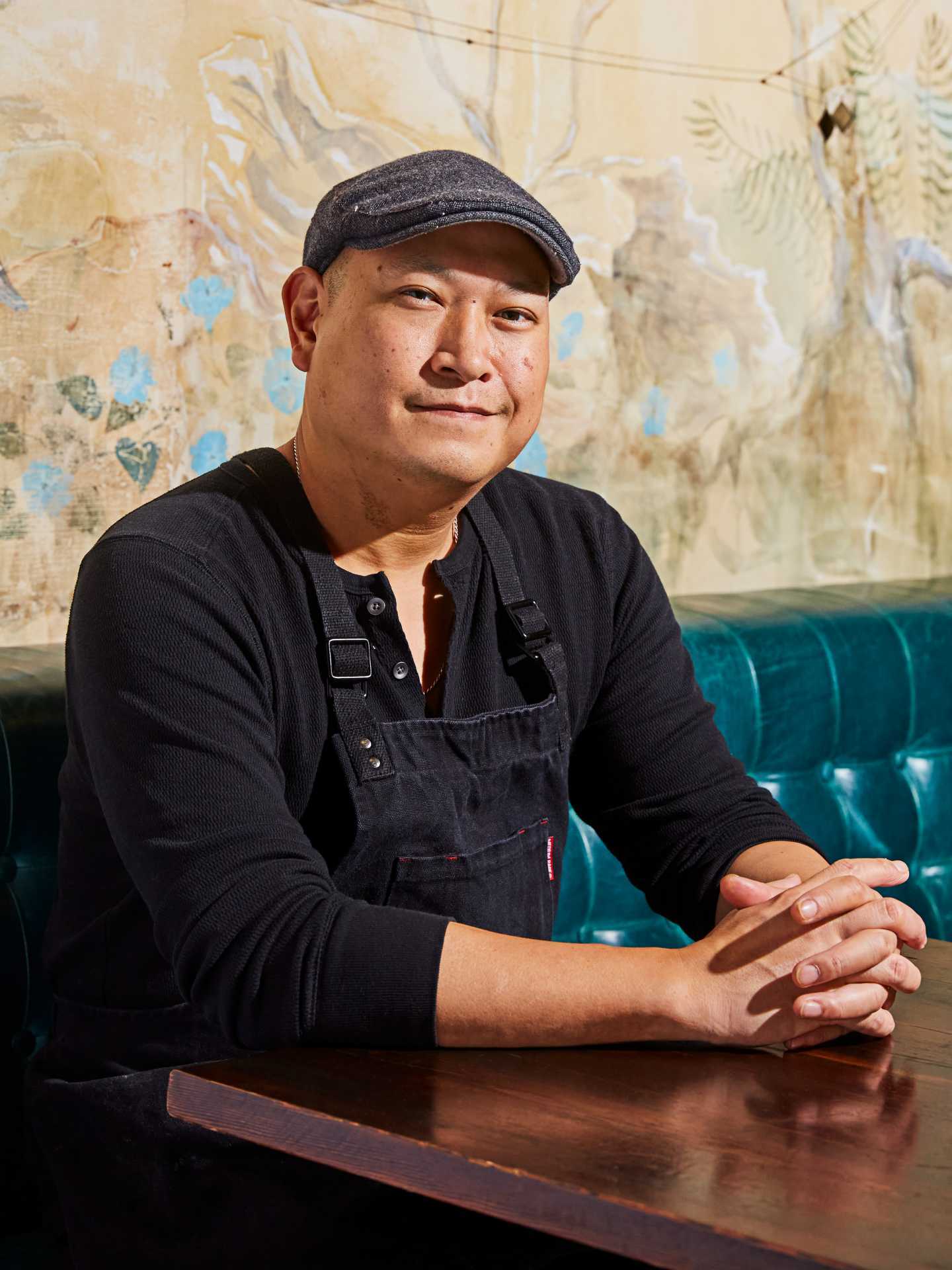 "Basically, people would come and they would have one, and then order three more and not order a main course," he said. "We couldn't keep up with these baos and our guest checks were like $30 because no one was ordering food; they were just ordering baos. So we actually took it off the menu down here and only sold it upstairs, and kept it as a secret menu item." As DaiLo's menu evolved, other dishes have taken root and secured the restaurant's position as a Toronto institution which constantly folds in more inspiration.
Rather than rushing into new projects, DaiLo's goal is all about improvement. "Instead of trying to change, we're trying to make things better: Taking care of our employees, making sure that they're getting what they need, and trying to make working at this restaurant as sustainable as possible for everyone," explains Liu.
After all, it has been eight years of running his dream restaurant. Eight years of unlocking the front door and walking through the floral-wallpapered fantasy of his dining room, past the photos of his parents in their youth, and into a kitchen where he works with those he trusts the most to help keep his vision going.
"The concept has been a constant process and a constant build throughout my whole entire life. I had this idea of what the restaurant was going to be like ever since I first started cooking," he says. "DaiLo is all the experiences of my life that are brought together into one menu, one restaurant."
DaiLo's most iconic dishes
Big Mac Bao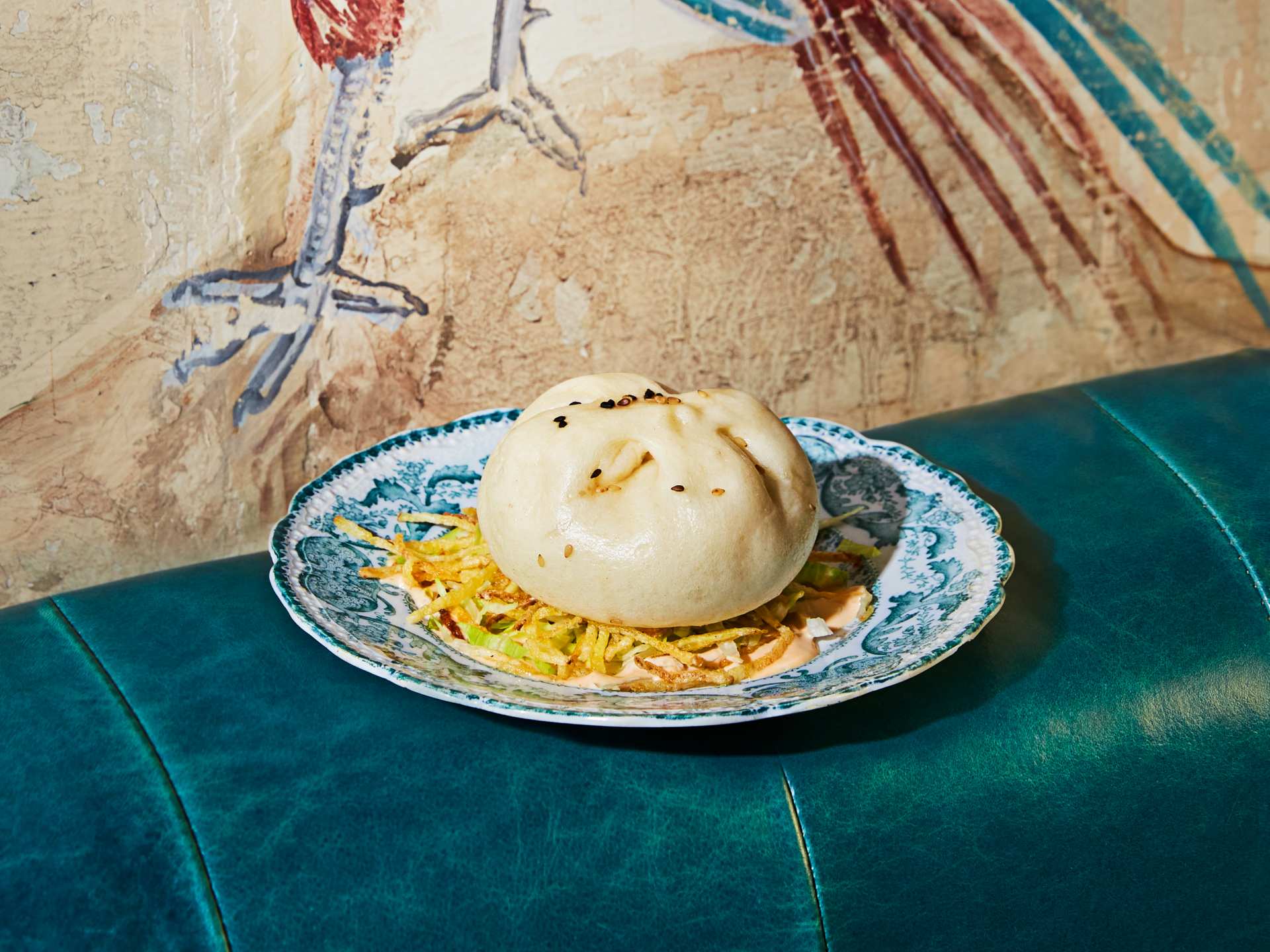 "I wanted to create something for an event. This was before DaiLo even opened, and I wanted something that would be kind of a gimmick or a hook. At this point, I didn't have a restaurant, and I was living at home. My mom was making baos and was testing out doughs, and she had a piece of dough that was in the steamer. I took one off the steamer, and just thought, 'Why does it taste so familiar? It tastes like a McDonald's bun!' So I'm looking at this piece of dough and I was like, 'I can make this taste like a Big Mac.'
I took a week and totally dissected every piece of a Big Mac. I ate about six Big Macs that week and tried to get every single flavour right. It took many, many tries to get it right. Everything in the bao tastes different when it's in the bao. I manipulated the meat so it tasted like McDonald's. And the lettuce was a very important part of the whole thing. I couldn't find a cheese or a processed cheese that tasted like McDonald's cheese. And even though a lot of the flavours taste like McDonald's, once it got steamed, everything would kind of meld together.
It took me seven different pickles to figure out what tastes most like a Big Mac pickle after it was steamed in the bun, because most pickles would disintegrate or lose their flavour or lose their integrity. So we found that the Vlasic pickle kept its integrity, kept a bit of its crunch... So now that I have this thing, I took it to the races, and I took it to the event and it made a big splash."
Deep-fried Watermelon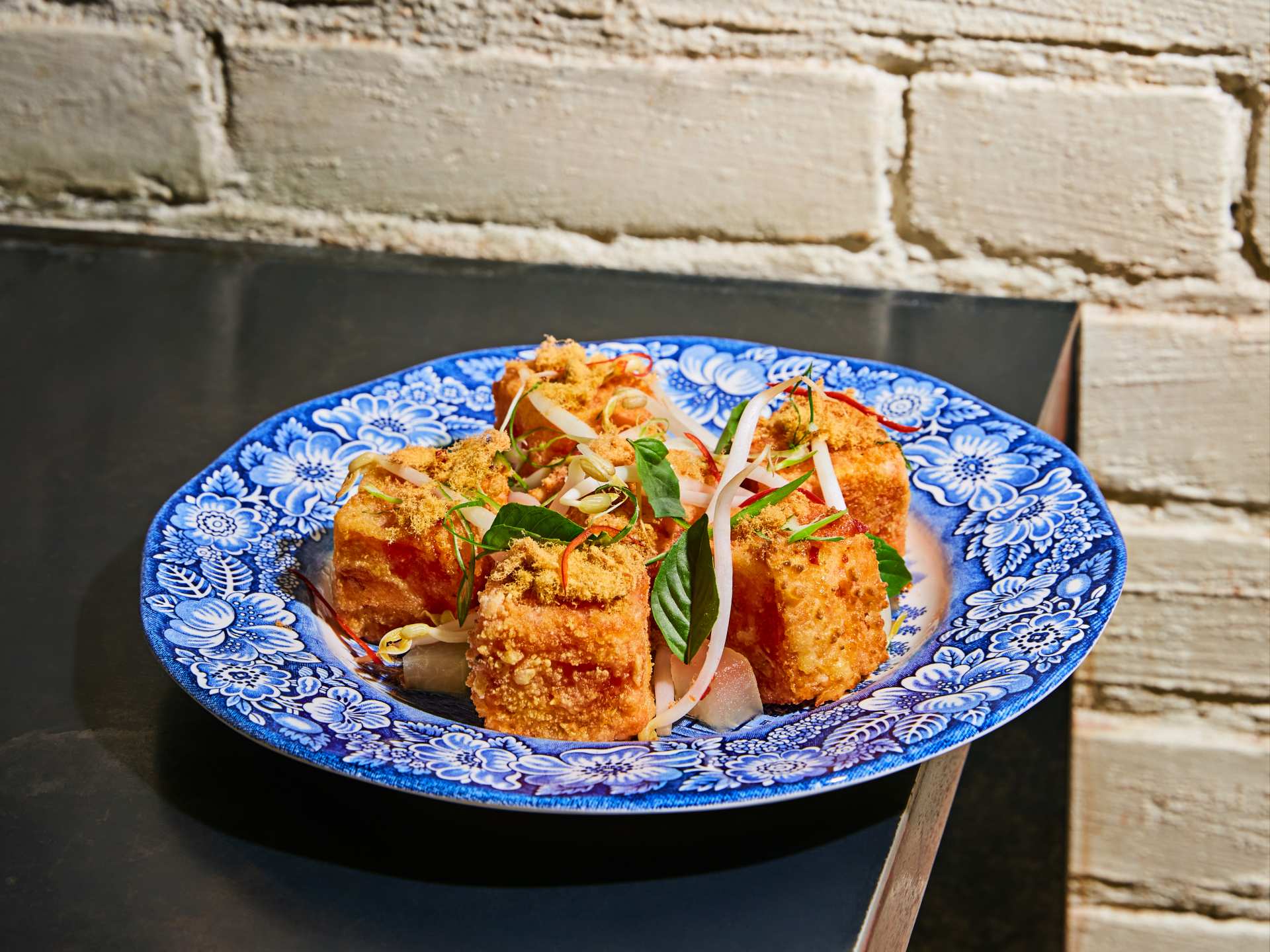 "The fried watermelon was based off of my uncle Albert's dish, which he used to bring in for Thanksgiving. He used to make pickled watermelon rinds, and then he would roll them in pork and then batter them, and then deep fry them and put a sweet chili sauce on it. So I took all of those elements and deconstructed it.
I also created this dish with opposites in mind. Conceptually, it was trying to create different textures, so soft and crispy, salty and sweet, spicy and cooling, hot and cold. One thing I learned when I was at The Fat Duck was that different temperatures can spike or change your emotional state. When you have something warm, it gives you a sense of comfort; when you have something spicy you feel energetic. So to have all these clashing, contradicting flavours, textures and temperatures all combined in one dish, in one bite, confuses the fuck out of your head and creates a sense of excitement.
Unfortunately, my uncle passed away from COVID, so he's no longer around, but the dish lives on."
Pumpkin Dumplings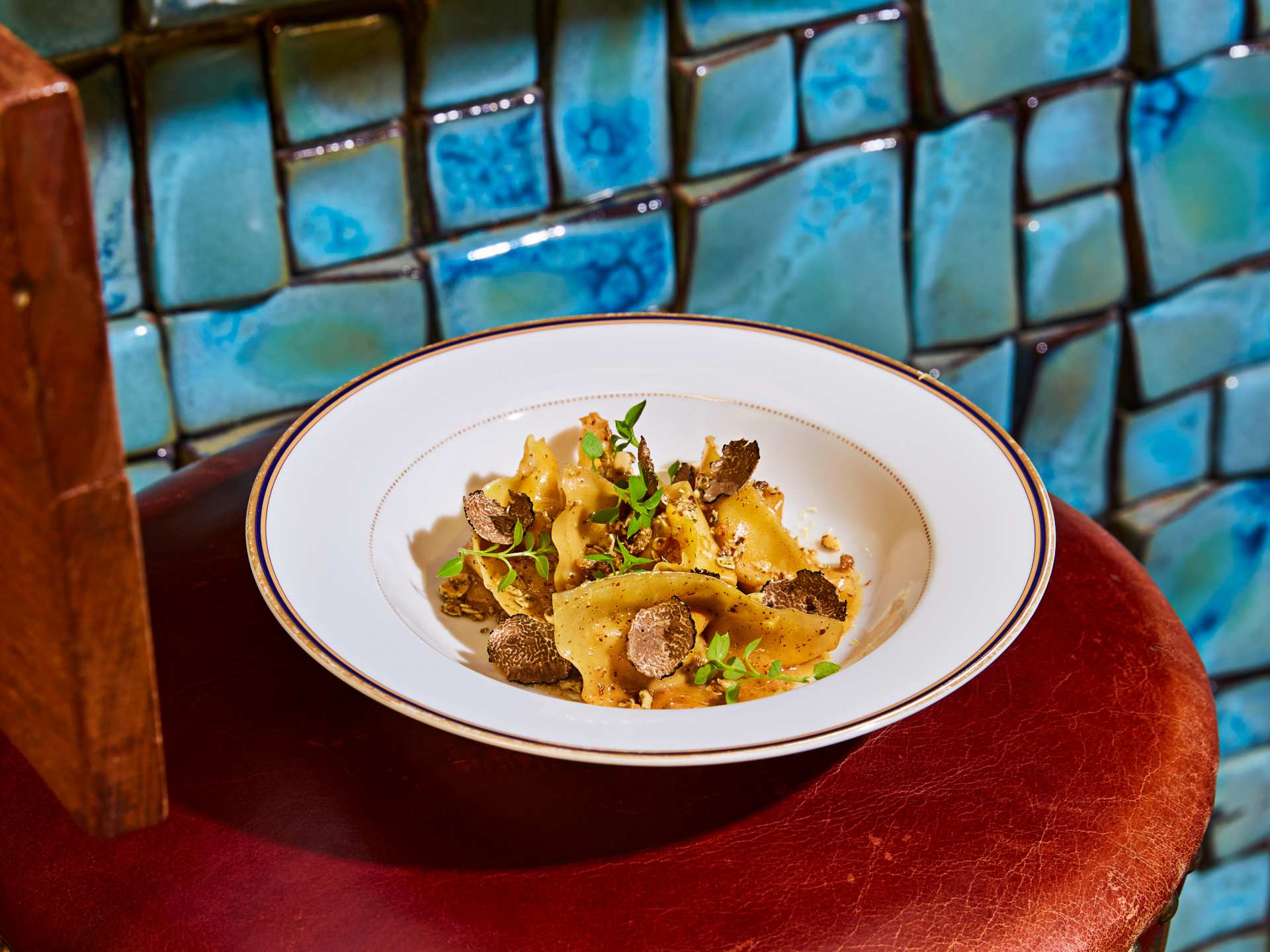 "The dumplings are based off of a very famous Italian dish, a butternut squash agnolotti with brown butter and sage. And where I worked in Italy, they would put crushed amaretti on top. So this has all of the elements: the squash, or pumpkin; the brown butter soy beurre blanc, and instead of amaretto candy we use White Rabbit Candy glaze. We finish it off with some truffles and some pumpkin-seed crumble. The White Rabbit Candy gives it this very caramel kind of flavour. The first time I put it together, conceptually, I knew it would work because it's based off of an Italian dish. I basically made the dish, put the spoon in it, put the spoon in my mouth, dropped the spoon and walked away. That was the mic drop. I was like, 'This may be the best thing I've ever prepared in my life'."
Giggi Trout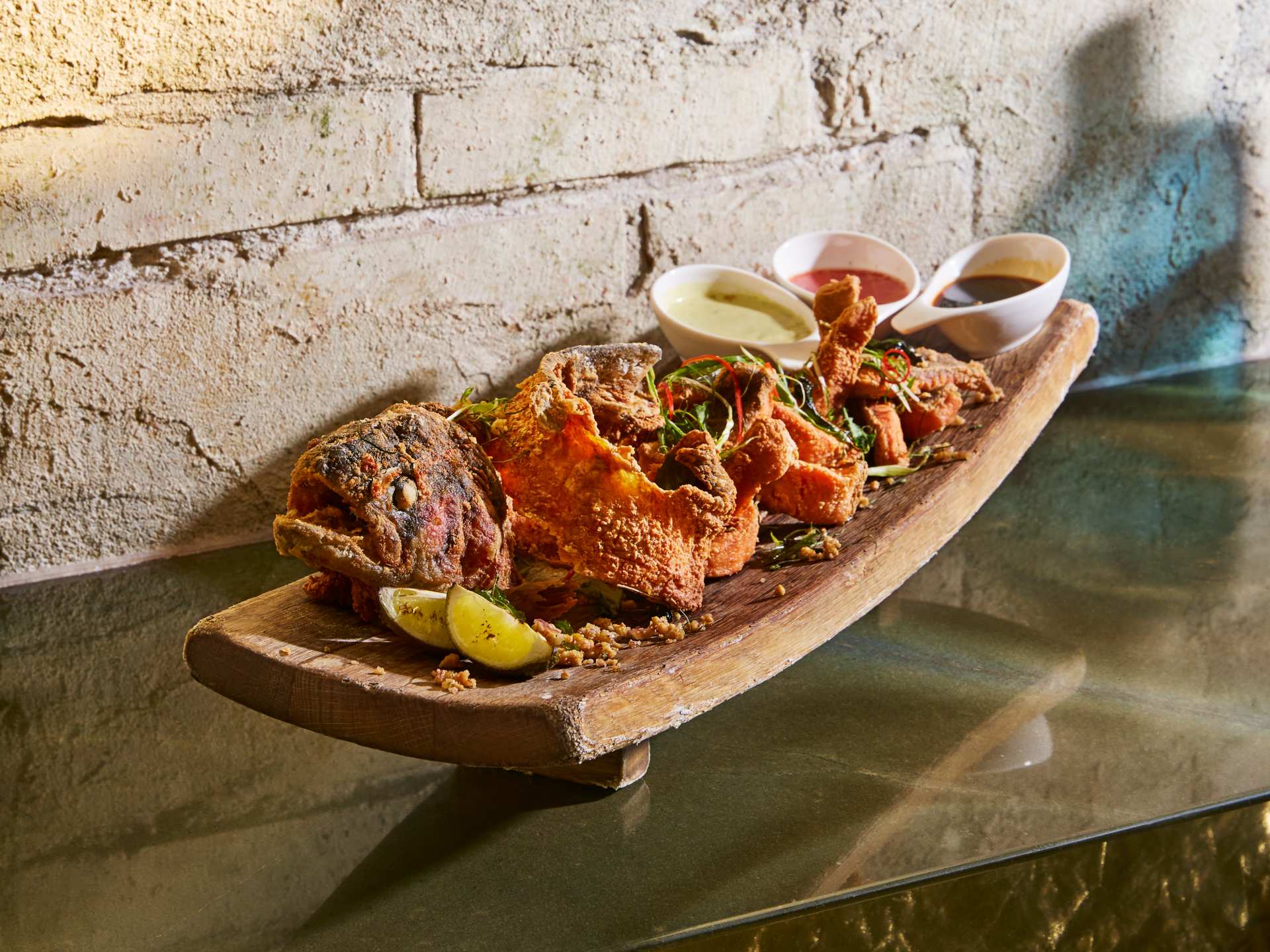 "This was one of the dishes that has been on the menu since day one. It was inspired by one of the dishes that I learned at Longrain in Australia, where they would take apart the fish and debone some of the pieces, fry the carcass, and put the whole carcass back onto the plate. With Asian cuisine, if you're going to a banquet, having the whole fish on the platter is really important. So this makes it very easy for people to eat and also satisfies the whole Asian aspect of it. It'll go out to a bunch of different tables, and you can tell who's Asian and not by what comes back (like the head!)."
Singapore Chili Crab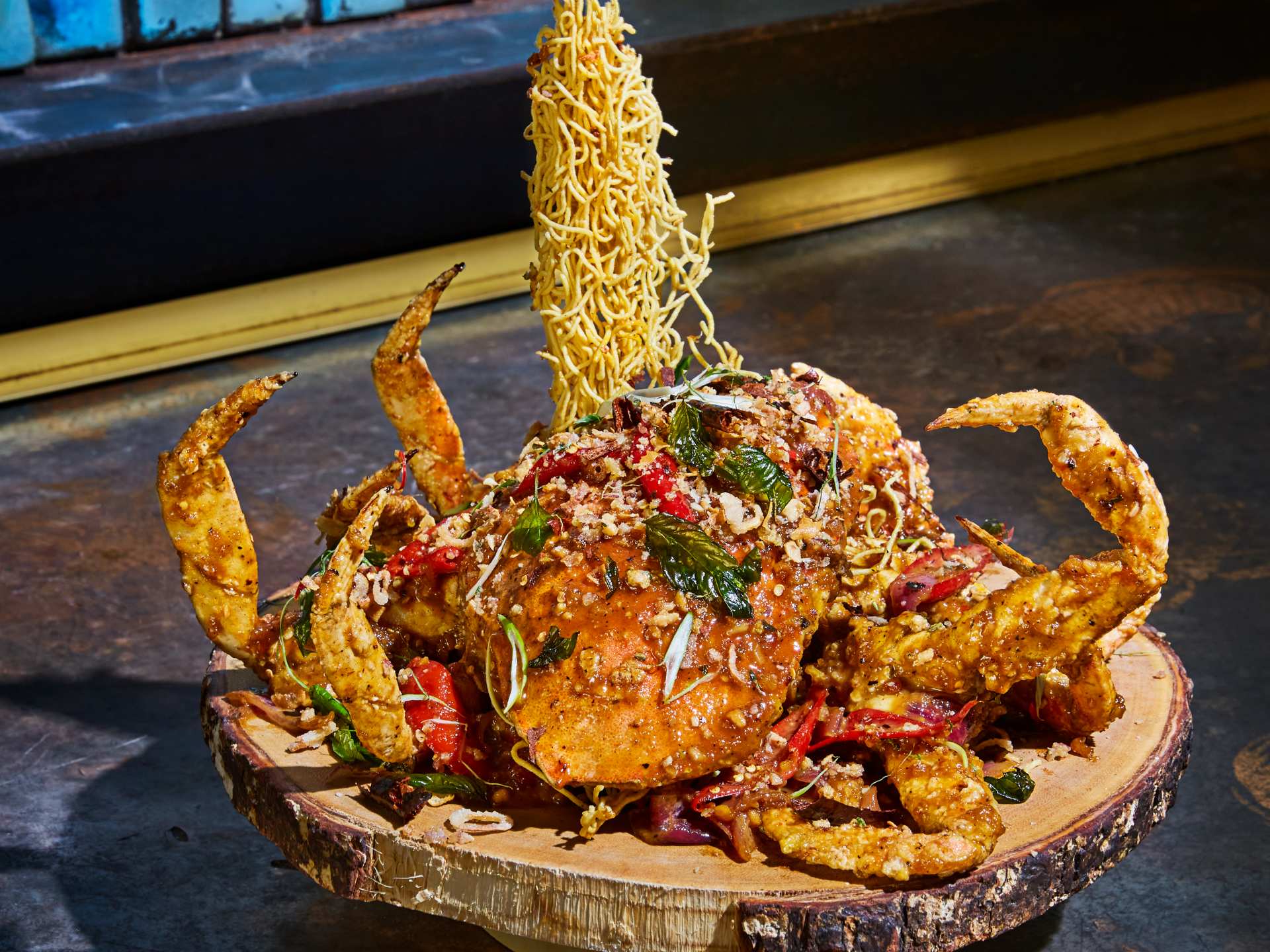 "I was in Singapore with David Lee doing an event and we were at the Ritz, and the kitchen would be taking us to all these different places. They took us to this Hakka market, and the crab was one of the most incredible dishes I had ever had. One of the guys showed me how to make the dish the original way. I changed things, and wrote my own recipe based on what we had in the kitchen here. I wouldn't say it's a true Singapore Chili Crab; it's more my version of it...
We make a glaze for our master stock and then infuse it with cinnamon and star anise and ginger-garlic chili. And that becomes the base of our sauce with some of our house-made XO sauce. So it's two sauces that are very DaiLo-centric. It's one of the dishes that gets requested the most. We do have it every once in a while as a feature, and when people have it, they're blown away by it. Crab is just one of my favourite things to eat in the world."