Aloette has an evocative allure: It exudes the ambiance of a luxury train car with an eclectic art deco sentiment and futuristic flourishes that would give Blade Runner a run for its money. Certainly, it's a compact spot (it was previously a nail salon, hence the narrow shape and big windows), but what it lacks in space, it makes up for in spades with the details. Large windows illuminate the mahogany wood panelling, mosaic tiling, brass shelving and arched ceiling. All of it rallies together to heighten and enhance the dining experience, resulting in an elevated diner dynamic.
Solomon Mason was working in the U.S. with acclaimed chefs like Grant Achatz and Thomas Keller when he felt the call of home. "I worked at Auberge du Pommier briefly and was eventually drawn to the buzz surrounding chef Patrick Kriss," he says. They quickly bonded over their aspirations, work ethic and desire for being the best. "I came with no job intentions — but when I set foot in the kitchen, it felt like home. It reminded me of the high levels of operation that Alinea [in Chicago] and Per Se [in New York] had."
A couple of years later, when COVID shuttered restaurants, and Aloette maintained its stratospheric cult-like success, it was nothing short of miraculous. Die-hard Aloette fans happily received their fave dishes in paper bags. Mason and his team were slinging 300 burgers per day during the pandemic takeout times versus the current 40 per day for dine-in.
Mason admits that Aloette's ability to survive and thrive has been thanks to the efforts of a tireless team. "When the pandemic first hit, we went from a staff of 150 to six," he adds. With a skeleton crew up against a steep learning curve, they somehow figured out all the aspects of takeout — everything from scaling up and working with takeout apps to quality control and packing orders. "It was all new to us, and we weren't sure if it was going to work," he says. Then suddenly, it hit critical mass because everyone in town discovered that Aloette was now offering takeout.
"Spiritually and emotionally, it has all been very taxing on us, but in rallying together as a restaurant family, we've been able to build on our collective strengths," he notes. With the landscape of dining and takeout dramatically changed for the foreseeable future, the Aloette team is planning to open two more takeout-style concepts akin to the one currently operating in Liberty Village.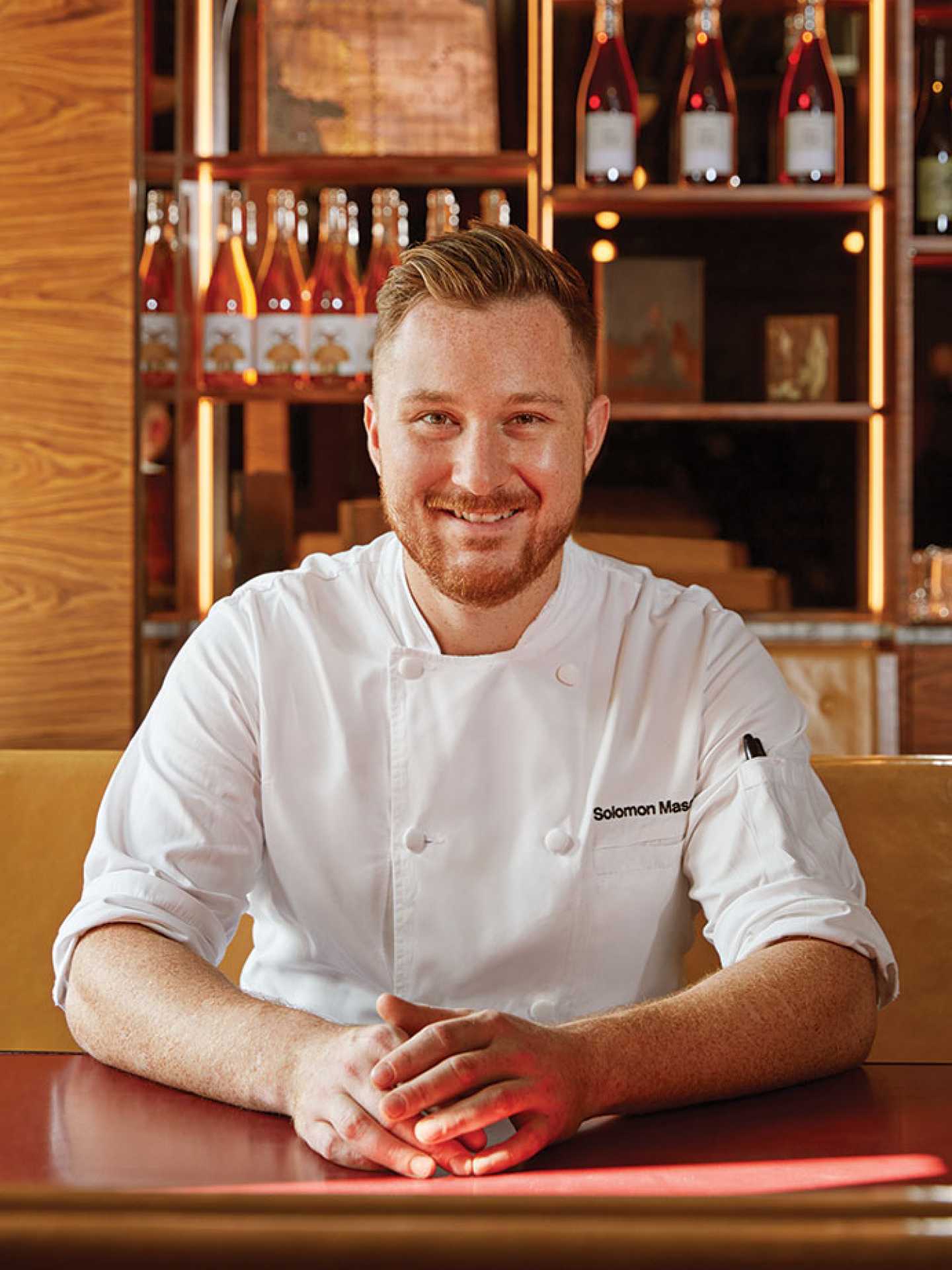 With all of life's unexpected pauses and pivots, the Alo Group has relied on moxy to guide them through the tumultuous ride. Mason attributes this to their outlook: He and chef-owner Patrick Kriss wanted to shoot for the stars when they opened this spot in 2017 on the corner of Spadina Avenue and Queen Street West. Burgers aren't the only area where their entrepreneurial spirit has flourished: "We used to pack fresh handmade cocktails along with our takeout. This was the beginning of our journey to founding our Espresso Martini Fizz cocktail brand." You can now find their cans at the LCBO.
Mason is proud of how they've adapted. "If anything, our approach was even more fine-tuned in terms of what we were putting on every plate." That meant a focus on local sourcing and relationships with Ontario farmers. Mason tells me that Tamarack Farms has already promised Aloette some heirloom seeds for next year's growing season.
Together, with their 'go for gold' mentality, Solomon and Kriss continue to shoot for the moon. But with the Michelin Guide's arrival in Toronto, and Alo and Alobar receiving a star each, I wonder if that puts pressure on Aloette. Solomon says it's not the end goal. "Michelin will put Toronto on the global stage and encourage everyone to try a little harder. I have extreme respect for this organization, but the ultimate sign of success is a full restaurant and happy diners who support us."
Aloette's most iconic dishes
Wedge Salad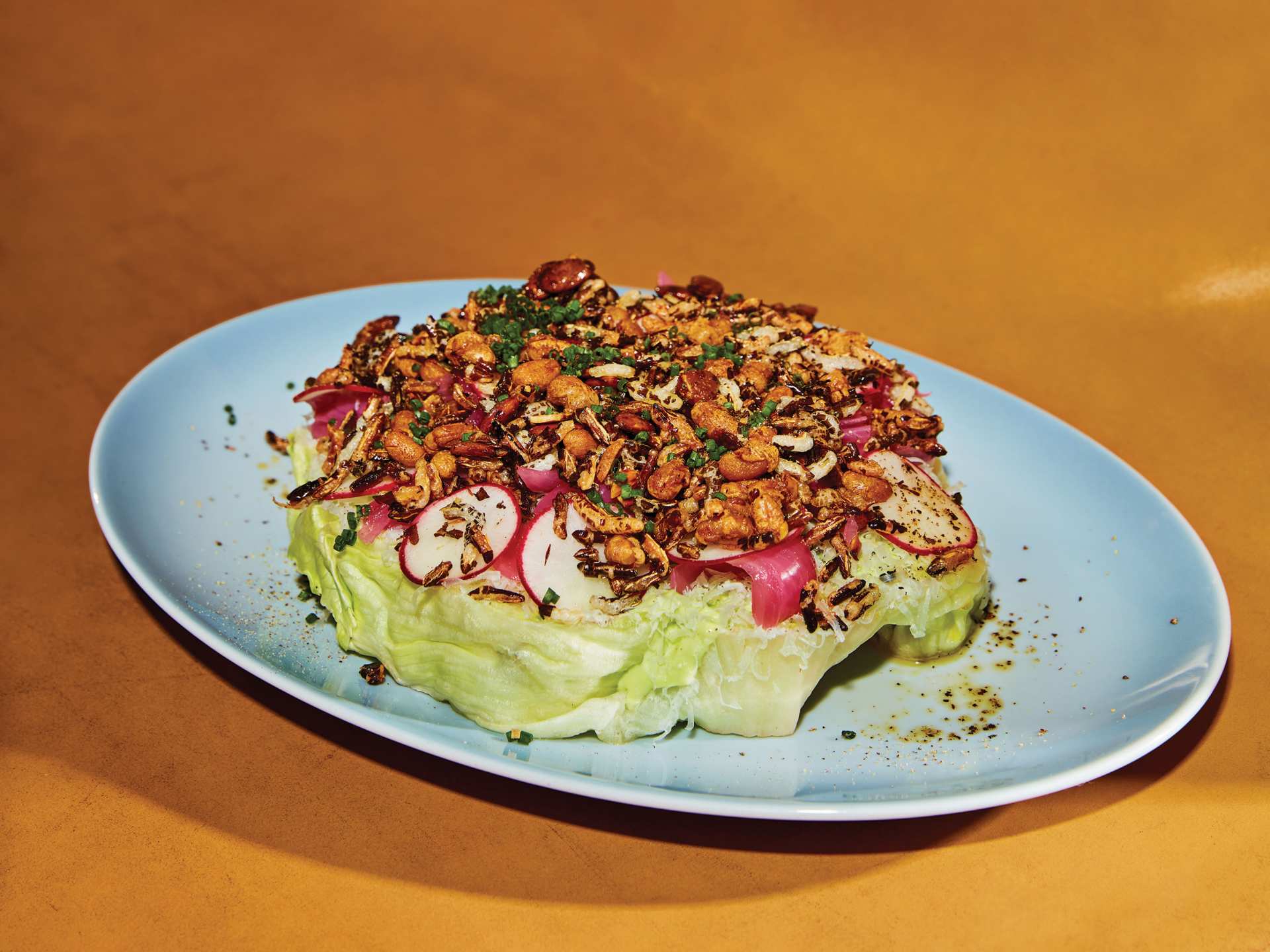 "We were inspired by that great steakhouse salad everyone loves. For us, it took several iterations before we figured out the right ratio of ingredients and how to mound it all on top of iceberg lettuce. After a few experiments, we tried cutting the lettuce into a V-shape to maximize the surface area. It was our 'eureka' moment and how we could put all of those toppings on the greens without it toppling over.
When we debuted it, we honestly didn't know how it was going to be received, but we were so happy to hear that our guests loved it — especially noting how it practically eats like a meal. With all the textures and toppings (which for me, is the best part of a wedge salad) going on, it's very satisfying and hearty."
Tuna Tartare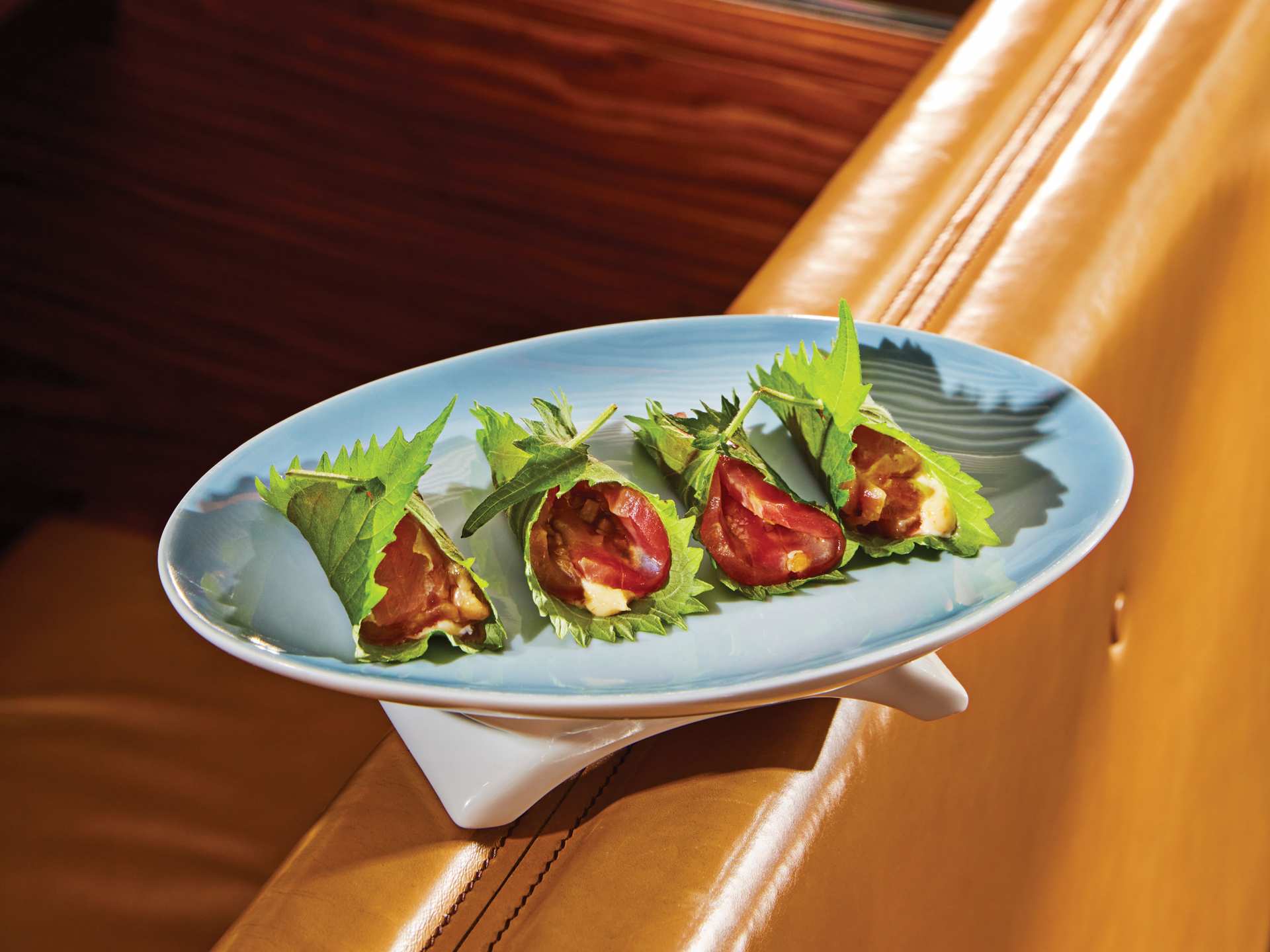 "Our menu looks very eclectic but that's kind of intentional. Compared with Alo, our fine dining sister, at Aloette, we are free to make more fun and experimental dishes. It's why you can see Spanish dishes beside this Japanese one, for instance.
The tuna tartare is one of those things that has always been on the menu because bluefin tuna is a great, versatile fish. For this dish, we season it with ginger, soy and sesame, drizzle our creamy bonito aioli on it — then wrap it in a fresh shiso leaf. Our guests love it because it is fun to eat and enjoyed like a two-bite taco."
Prawn Ceviche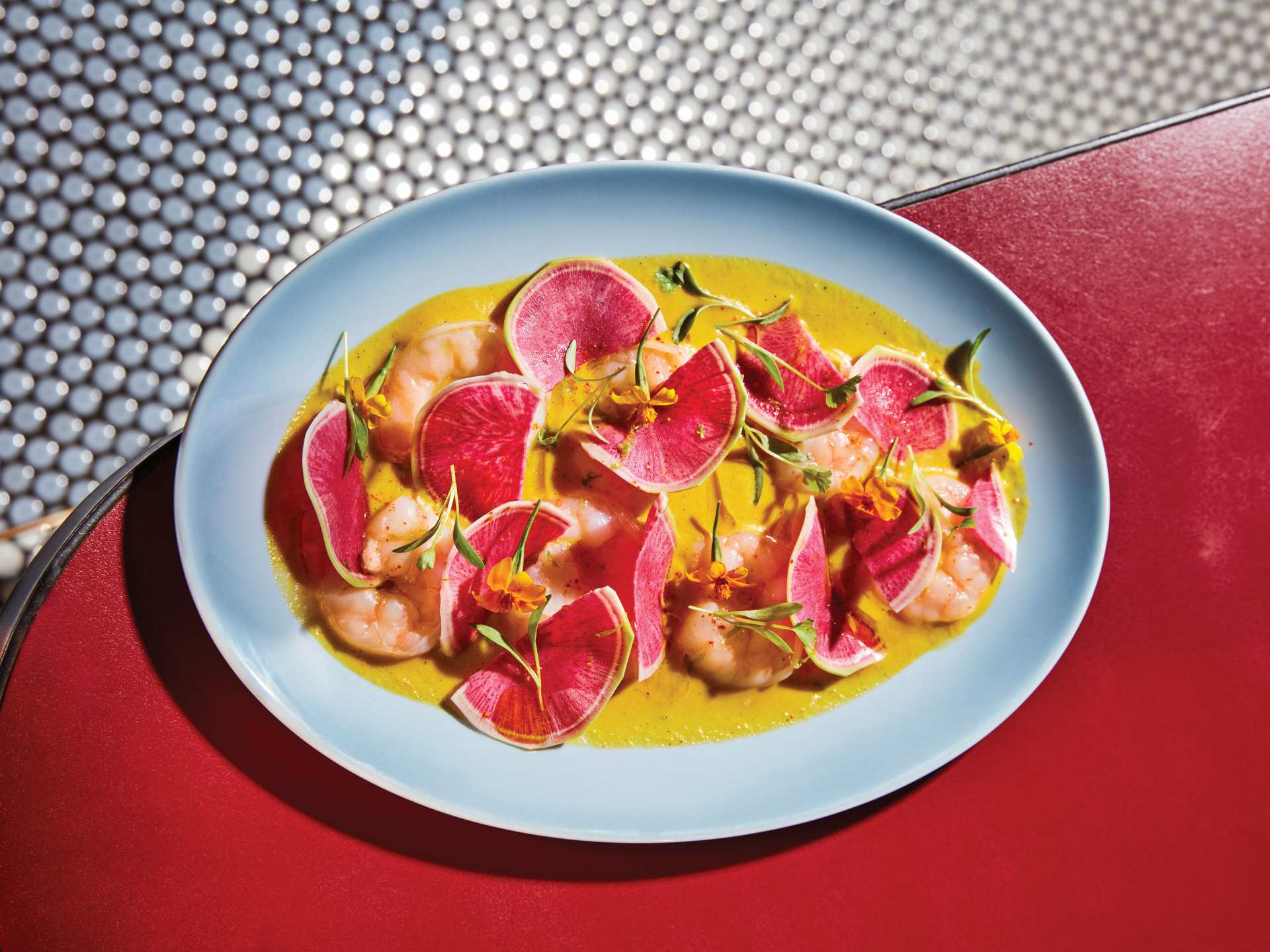 "We are very fortunate to have close proximity to Chinatown and Kensington Market, with countless spots we can explore in our downtime that offer endless ideas for our menu. It's actually how I stumbled upon aji amarillo (a pepper primarily found in Peruvian cuisine). I ventured into Perola's Supermarket and found this pepper and was immediately inspired to make a dish that honoured this ingredient.
For the prawn, we do a light cure with lime juice, salt and chili. For me, the star of the show is really the aji amarillo sauce: It is very bright with the citrus notes and earthiness coming from the charred onions we blend in. To finish, we garnish with the watermelon radish. Taste-wise, it's well-balanced with the sweet prawns playing off of the vibrant sauce."
Aloette Burger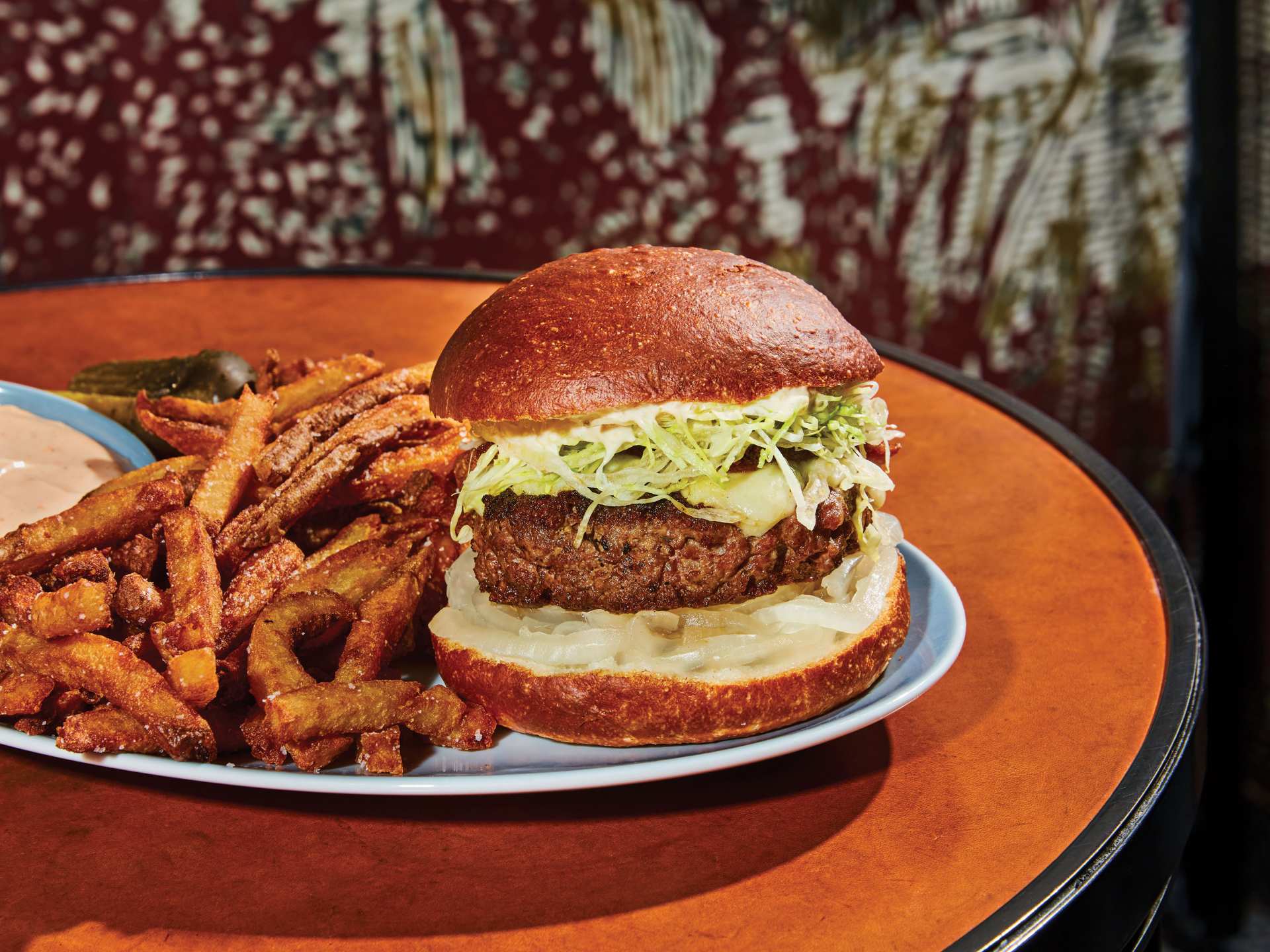 "When we set out to create a burger and elevate it, we essentially looked at it on an ingredient-by-ingredient scale. We chose vidalia [onions] because when we pickled them, we still wanted them to have a nice crunch. For the lettuce, we thought we would elevate it more by making it shredded for added texture — and because it looks more beautiful.
The Beaufort cheese (which is sourced from Afrim at the Cheese Boutique) is an Alpine cheese and incredibly luxurious — it's so high-end that it actually costs more than the burger itself. Honestly, I think that it's this cheese that ended up making our burger so famous. We griddle it for that beautiful golden colour and crust — which is a story in itself
The bun is a brioche potato hybrid that we worked on for a while. For us, we really wanted an impressive and tall burger. It can contain all of those juices from the meat since we cook the patty medium (equal parts brisket and chuck, with a 25 per cent fat content, ground in-house, and sourced from Penokean Hills). It can really hold up to all that moisture."
Lemon Meringue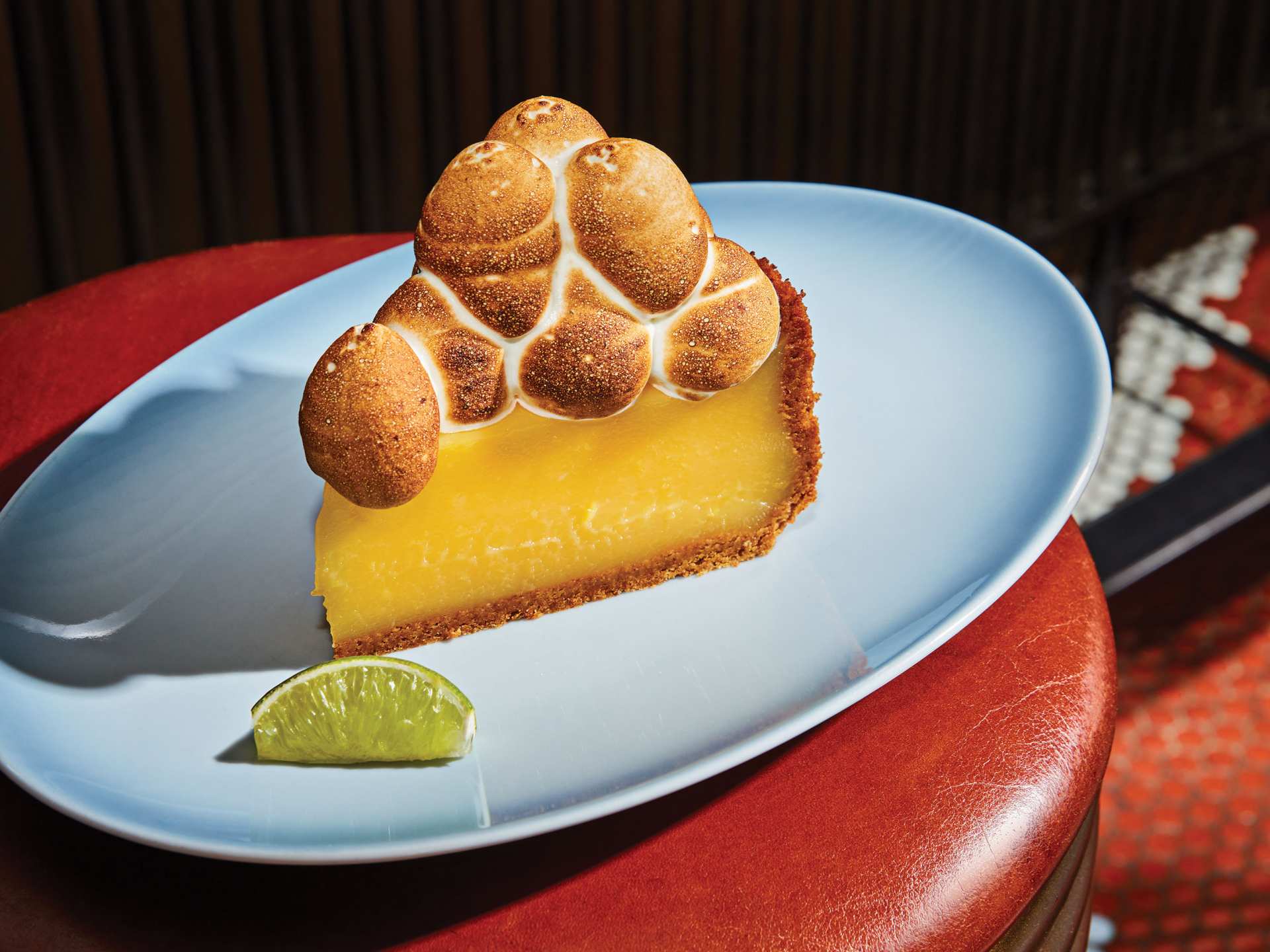 "Initially, we wanted to make a whole diner-style pie, where you'd cut it to order. But whenever we tried to slice it, it looked unappealing and messy. We decided to pipe the Italian meringue directly onto the pie, then torch it that way. It not only looked more polished, but every time someone ordered it, they would get that super fresh meringue flavour.
Also, every component — including the graham crackers for the crust — is made in-house, and it is truly a magnificent dessert. People love it because the curd filling is refreshing (the lemons are freshly pressed to extract all the key essential oils and bring out the vibrant yellow colour), and it's an elevated take on a quintessentially classic diner dessert, but done in our Aloette style."