Folly Brewpub: What's the story
Originally opened in 2015, Folly Brewpub had already changed hands before being acquired by Aidan Hospitality (Prohibition Social House, Grace O'Malley's) last year. But while it may belong to a restaurant group, Folly is anything but corporate.
Previously, Folly had a microbrew set-up, but has now been fully revamped with professional equipment, visible to guests behind a glass enclosure. With the ability to create more brews, Folly is dishing out a mix of unique sippers and crowd-pleasing hits.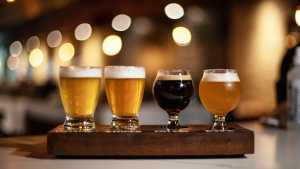 "Historically, Folly was famous for Belgian-style beers, heavy on the sours and stuff like that. We wanted to pay homage to that while still creating something that's for everyone. We find a lot of breweries in Toronto and the GTA, they're always gearing towards just the beer drinkers," says senior operations manager Afron Miftari. "What we want, is a space where we can educate our guests and have them try those types of beer, but also have something familiar for them. That's why the first beer we created was a rice lager. It's super drinkable, crushable, but it's really unique and it's something that other beer drinkers can appreciate, not just, I hesitate to say it but, the beer nerds."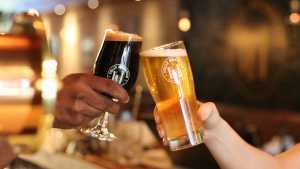 This ethos of bringing everyone in also extends to their creative process. Head brewer Jamie Morris is at the helm, but the whole team gets to weigh in.
"Every Friday, myself, the owner, the senior management team, we go in and say 'Jamie, what do you got for us today?' We have a brainstorming session, we talk about different ideas," Miftari says. "It's a cool creative process. We're not a cookie cutter, corporate place. Everyone brings their own ideas to the table, and we see what works and what doesn't. That's what it is. At the end of the day it's all about people."
Folly Brewpub: What's on the menu
While Folly is a brewery first and foremost, the drink list goes far beyond beer. "We wanted to really create something for everybody, and create a space that was like that too. That's why we brought beer cocktails, and a heavy wine program," Miftari says. Try their twist on a paper plane: the Paper Castle with bourbon, Aperol and Folly IPA.
The beer finds its way into the food program as well. "We try to pay homage to the fact that we are a brewery. All our fish-and-chips batter is done with a beer fresh daily," Miftari says. Almost everything is made from scratch in-house, right down the sauces, and the dishes pair perfectly with Folly's brews (natch).
Expect elevated pub fare like juicy mussels in a Thai curry coconut milk sauce and crispy fish tacos. On Fridays, the curry made with their IPA is a must-try. "It's to die for. It's the best curry you've ever had in your life. I love it so much. I go there every Friday for it," says Miftari.
Folly Beer: Where to find it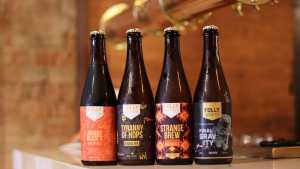 In addition to Folly's brewpub and bottle shop, you can find their beer at restaurants around the city, including Aidan Hospitality's own Prohibition Social House and Grace O'Malley's. The beer is set to hit LCBO shelves this spring.