We come to a stop at the intersection of Bloor and Yonge, shoes lightly scraping the sidewalk as we lift our gaze upwards beyond the glowing red hand to the street sign. Our eyes fixate on the sky-blue words Bloor Yorkville, a curved crown that feels like both a tip of the hat to history and a knowing wink to modern luxury.
It's the perfect representation of Yorkville, we think — once a residential hub turned 60's nightlife hotspot (see Joni Mitchell's Night in the City), now the stomping grounds of Torontonians in search of the city's most upscale shopping, boutiques and the best restaurants in Yorkville. Here, we can see that luxury is to aspire for something greater — but while we're surrounded by so much history, it's hard not to look backwards fondly, too.
Shoot, the light's changed. Time to go.
All this thinking about the charm of the past and glamour of the present has worked up quite an appetite. To satiate our hunger and quench our thirst, we're heading to the best restaurants and bars in Yorkville: a diverse range of urban eateries nestled in venues ranging from Victorian-era mansions to glitzy hotels. The best restaurants and bars in Yorkville serve up outstanding eats, tasty tipples and (at one legendary location) towering 20 ounce brews that are gateways to guffaws and good times. While we know the city has no shortage of exquisite dining at the best restaurants in Toronto and five-star drinks at the best bars in Toronto, tonight we're all about glamming it up — so we're heading out to Yorkville. 
With our complete list of the best restaurants and bars in Yorkville, you'll never have to sift through Google's search results hoping to find the spot that will satisfy your cravings. From classy cocktails at the Writers Room Bar in the Park Hyatt to incredible Indian cuisine at Adrak Yorkville, here's your go-to guide for the best places to wine and dine in Yorkville.
The best restaurants and bars in Yorkville
1. ONE Restaurant
116 Yorkville Ave.
ONE Restaurant was initially opened by chef Mark McEwan, who mentored the man now at the helm: chef Darby Piquette. Dishes that celebrate seasonal produce are on the menu, served to guests on the sun-bathed, tree-lined patio or in the dining room decorated with hairy, textured walls you'll have to resist running your fingers through.
The Korean chicken tacos are bite-sized flavour bombs, and glistening lobster pieces surfing atop spoonfuls of vermouth beurre fondue seem to be ordered by nearly every table. The showstoppers, though, are the tenderloins — the 40 oz prime tomahawk would fit right in at the city's most premium chophouses.
Red leather seats beckon for a nightcap at the bar, scored by soft dance music trickling down from the ceiling. It's more of a place to meet a friend for a drink than for a raucous time — but if you're looking for a trip to the wild side, turn your eyes to the top shelf for a $350 shot of tequila.
2. Sotto Sotto
120 Avenue Rd.
Curtains obscure who dines within Sotto Sotto's patio, a preview of the hushed privacy of its interior. It's well-known that Sotto Sotto is regularly frequented by big-name celebrities, including one particularly prominent Canadian rapper — but the Italian eatery's draw extends well beyond a glimpse of Drake in the wild.
Servers glide around the floors of a house-turned-restaurant, Sotto Sotto's new home after the devastating Christmas fire of 2014 destroyed its previous location. Devour carbonara tossed with crispy pork cheek, grilled octopus with cherry tomatoes or homemade gnocchi served in a sauce of your choosing — a meal here will have you rubbing your belly and loosening your belt on the way out.
3. Planta Yorkville
1221 Bay St.
A common misconception of vegan eating is that it means a sudden influx of processed, steeply priced plant proteins amputated of a few letters to differentiate them from their animal counterparts (chick'n, we're looking at you). Vegan eating is so much more than just meat replacement, and Planta Yorkville — a bright, airy Bay Street eatery serving internationally-inspired meals — moves beyond the artificial towards dishes that demonstrate the versatility of plant based ingredients.
Executive chef David Lee's menu features reimagined favourites inspired by cuisines ranging from Italian to Japanese. Highlights like the spicy lumaconi pasta (adorned with both cashew mozzarella and almond parmesan) and Shroomami pizza (mushroom cream, smoked tempeh and mushroom bacon) are carted out to Yorkville's trendiest, complete with the dazzling presentations.
4. The Oxley
121 Yorkville Ave.
Smack dab in the centre of Yorkville's most concentrated collection of luxury stores sits The Oxley, a British-style gastropub that ferries patrons across the pond with towering pints and classic English cooking. The building reminds us of a ruby-red TARDIS, an enormous brick teleporter that transports you to another time and space upon entry. Inside, evergreen walls give way to wallpaper illustrations of top hat-sporting gentlemen perched atop stallions, wrangling hounds for a hunt.
Golden incandescence pours out of dangling fixtures, lighting 20 oz lagers, gin-based house cocktails, premium spirits and other libations as they're carried out by servers to guests. For dinner, the maple pork belly and ceps is paired with pickles, arugula and crispy pork skin; the herb crusted rack of lamb is chums with crushed fingerling potatoes and peas on a plate; and the beef tenderloin arrives with a confit shallot glaze, hashed potatoes and spinach.
5. Café Boulud
60 Yorkville Ave.
Nothing can prepare you for the temporal shift that occurs stepping inside Café Boulud, an exquisite French restaurant tucked neatly beneath Yorkville's gleaming Four Seasons tower. Preceded by an unassuming black panelled exterior, Yorkville Avenue melts away to the warm, golden-brown culinary wonderland bursting at the seams with rich aromas birthed by plates bearing delectable meals, briskly whisked from the kitchen by waitstaff. Designed by Martin Brudnizki, Café Boulud's dining room is reminiscent of a French brasserie, completed by executive chef Daniel Boulud's exquisite menu.
With a seasonal menu deeply rooted in French tradition, bistro classics and contemporary dishes are made approachable with appetite-satisfying portions. Steak tartare, served with quail egg yolk and pickled mushroom, is a delightful appetizer, and the Alberta black garlic-crusted lamb chop is a showstopper to write home about.
6. Alobar
162 Cumberland St.
Slide down an unassuming pathway and onto a plump red couch at Alobar, the intimate Yorkville spot from Patrick Kriss — the man behind Queen and Spadina's shining star, Alo. Alobar's initial visage is one of a swanky cocktail bar, but the menu cements its status as a full-fledged restaurant that maintains the excellence of its predecessor.
Alobar's menu wants to be approachable, offering sharing plates and standouts like the confit duck pappardelle, succulent braised short rib and creamy ricotta mezzelune. Thirsty? Turn your eyes to the bar, a glowing shrine of bottles and glassware that promises sensational libations for the entirety of your stay.
7. Trattoria Nervosa
75 Yorkville Ave.
If Trattoria Nervosa's yellow building is a ray of sunshine in our day, their generous plates of pasta are a full-on hug. Mafalde — frilly pasta ribbons — are smothered in porcini, portobello and oyster mushrooms and truffle cream; rigatoni lamb ragu is showered in pecorino and lathered in tomato sauce. It's all home-cooked, Southern Italian cuisine — and it's been a neighborhood favourite since 1996.
8. Bar Reyna
158 Cumberland St.
Bar Reyna's indigo-gold entryway reminds us of a crown gently resting atop a satin pillow, patiently awaiting placement upon the head of a monarch. Contrary to our conjured images of stuffy castles and throne rooms, though, Bar Reyna's dining experience is anything but pompous.
The cocktail and snack bar has its fair share of gleaming countertops and elaborate fixtures, but the menu ditches added frills for straightforward and outstanding Mediterranean tapas. The fries menu alone is something to behold, with a selection of toppings ranging from za'atar and date ketchup to shaved manchega, chorizo and chipotle aioli. Crispy chargrilled octopus, refreshing kingfish and prawn ceviche, and souvlaki with grilled halloumi are knockouts, and the rack of lamb is an epic feast for the whole table to share.
9. Joso's Restaurant
202 Davenport Rd.
They say the colour red makes people feel energy and passion— but when we visit Joso's, a velvety Italian and seafood paradise in Yorkville packed with, erm, eclectic decor — red makes us feel hungry. Okay, maybe it's the grilled prawns exhaling steam as they float by our faces, or the table next to ours devouring a shellfish risotto — either way, we start salivating as soon as we step into the veteran restaurant that's been dishing out delectable plates since the late 60's.
10. Sassafraz
100 Cumberland St.
Shoebox Toronto apartments are, typically, not conducive to lavish dinner parties. A trip to Sassafraz will cure your square footage woes — the casual yet sophisticated eatery, set in a Victorian mansion, is set to look just like a swanky apartment in the Yorkville village. Twinkling pot lights shine down on the SoHo-inspired decor; It's a wonderful setting for brunch, dinner, private events and weddings. The food is upscale — truffle essence on your mac n' cheese, anyone? — with ingredients sourced from local farms and purveyors.
11. Kasa Moto
115 Yorkville Ave.
Kasa Moto's clean, eggshell exterior doesn't tip its hand to the sprawling, lush dining room and terrace waiting within. The two-story Japanese restaurant offers a refined seafood menu, twisting oceanic fare into lavish presentations. Don't skip the soft shell crab maki with soy glaze and wasabi aioli, or the spicy fried chicken with a sweet soy gochujang.
Nothing beats dining al fresco, and Kasa Moto's spotless rooftop patio is one of the best in the city. Heated for comfort and surrounded by lush greenery, the patio's sounds of warm conversations, light laughter and the faint clicks of chopsticks drift away into the night air.
12. Writers Room Bar
4 Avenue Rd. (17th floor of Park Hyatt)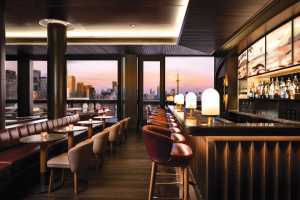 Who doesn't love drinks with a view? The Writers Room Bar, a swanky spot atop Yorkville's Park Hyatt, looks out on stunning vistas of Toronto's skyline and heritage buildings. Many of the drinks, like the Bookends (Japanese whisky, dry vermouth, amaro and orange), are booze-forward with spirits as dark as the room's stained oak walls. And, although bourbon is welcomed, it's Canadian rye whisky that's on display in cocktails like National Treasures (with sweet vermouth, banana and Islay scotch blessing).
13. Hemingway's
142 Cumberland St.
We love a bar where we can dress to the nines, but a good pub has a special place in our hearts. A renowned Toronto institution, Hemingway's has been attracting crowds for nearly 40 years and continues to bring in new regulars with upscale pub fare (the New Zealand lamb shank has us weak at the knees). They're famous for a massive rooftop patio, where sports lovers flock to catch the game's most exciting moments in between hefty sips of an ice cold beer. Heated and covered, it's a year-round destination for anyone looking for a great time in Yorkville.
14. Sofia
99 Yorkville Ave.
Much like the neighbouring Christian Louboutin store, Sofia is dressed to impress — and also in red, no less (wow, we're rhyming now). An enchanting curation of art surrounds the dining room, and regularly scheduled live jazz, funk or soul music seems to add a little zest to each bite of dinner. With an entire portion of the drink menu dedicated to martinis and an 18-page-long wine list, Sofia isn't messing around when it comes to libations, either.
15. Aburi Hana
102 Yorkville Ave. (Lower level)
Minimalism reigns supreme at Aburi Hana, a quiet, contemporary restaurant serving Kyō-Kaiseki cuisine. There isn't much flashy decor here — instead, meticulous attention to detail creates a scene of expertly manicured beauty, both on and off the plate. Striking Japanese flowers adorn every table, vibrant pops of colour in an otherwise sleek and modern atmosphere. Tasting plates, featuring local, seasonal ingredients flame-seared to smoky, umami perfection, are presented on pieces of art: handmade Aritayaki plateware. The elaborate dining experience costs $380 per guest — but it's absolutely worth every penny.
16. Joni
4 Avenue Rd.
For dinner service, Park Hyatt's Joni seems to transcend time and space, transforming from its usual gig as a luxurious hotel restaurant to a sleek, otherworldly dining hall. Hazy light shimmers down from the ceiling, illuminating zig-zagged floor tiles that remind us of a gold-plated motherboard, and glazed porcelain artwork (created by Toronto artist Nurielle Stern) contorts itself within glass cases into near-alien forms.
Chef Jonathan's progressive tasting menu brings us right back down to Earth. BBQ Ontario lamb, grilled summer squash and roasted scallops are all knockouts, but the beeswax poached lobster tail is what truly has our heart.
17. Adrak Yorkville
138 Avenue Rd.
Bursting at the seams with drool-inducing aromas hazily drifting out of the kitchen, a meal at Adrak Yorkville will open your eyes to the wonders of contemporary Indian cuisine set in a plush atmosphere. The new Avenue Road spot is striking: Dine under hatched arches, enveloped by golden-brown lighting and ornate wallpaper. From chefs that were trained under Michelin-starred chef Vineet Bhatia, Adrak Yorkville's menu elegantly balances familiar favourites like tandoori and biryani with knock-out dishes like the shelled, whole bhatti lobster. Make sure to try the drool-worthy Thecha Paneer Tikka — and don't leave without ordering one of the cocktails, each based on a different region of India.