Across Scandinavia, at this very moment (probably), there are tables upon tables of bargoers, shouting "skol" and knocking back shots of aquavit. Yet the enchanting spirit is still so unknown to the average North American that it's more likely to be confused with Awkwafina (the actress/rapper) than recognized as a botanical alcoholic beverage.
Aquavit, or akvavit, as it's spelled in Scandinavia where the drink is principally produced, should by rights be way bigger than it is. The neutral spirit is created in a very similar way to the ever-trendy gin: by distilling grain or potatoes before flavouring the distillate with caraway and dill, instead of juniper. But for some reason the national spirit of Scandinavia hasn't made it to our shores and our hearts in the same way that herbaceous beverages like Amaro, Alpen and Jägermeister have.
Despite being shrouded in mystery, the Nordic spirit has been popping up on cocktail menus across Toronto as of late, thanks to a handful of local bartenders who are keen to intrigue cocktail enthusiasts with its unusual flavour profile. I had my first sip of aquavit at Clockwork (inside the Fairmont Royal York), in one of their mind-blowing cocktails more than a year ago. The Eastern Promise — a savoury sipper mixed with beet-infused vodka, some citrus and spice, then garnished with a bay leaf and fennel pollen — still inhabits my thoughts when I chat with the drink's creator.
"I think a lot of people compare aquavit to gin," says Rus Yessenov, the director of beverage at the Fairmont Royal York and the author of my own aquavit awakening. "I tend to compare it closer to tequila or cachaça. It's got that vegetation to it. Gin generally has that bright citrus note. For the most part, aquavit doesn't have that, but it does have the same kind of earthiness as tequila or cachaça."
As such, aquavit — which literally translates to "water of life" — is a great companion to classic Nordic fare. Though Torontonians may find it at one of the city's many great cocktail dens, it's more typical to be enjoyed neat, in between bites of pickled vegetables, salted meat or smoked fish.
"It's very popular there because it's so ingrained in the drinking culture of Scandinavian countries like Denmark, Sweden, Iceland and Germany to some extent. It's their spirit of choice back from the end of the 15th century and 16th century."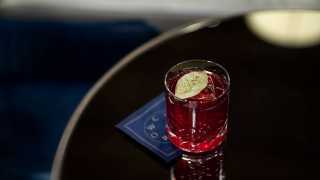 The oldest aquavit brand in the world, Yessenov tells me, is Linie: a spirit with an utterly unique backstory. Back in 1805, a ship full of potato aquavit sailed to the East Indies, only to discover that nobody wanted to drink it. When it arrived back in Norway two years later, it was found to be infinitely more delicious. To this day, every drop of Linie is sent to mature at sea, crossing the equator twice. Sadly, Linie is not available in Canada, but its rich history certainly explains the dedication and commitment behind this established Scandinavian spirit.
"They put it in sherry casks and ship it...To get the climate and the humidity, as well as the movement of the waves, that rocking in the barrel. I don't know if that's the world's most expensive aging process, but it sure sounds like it," laughs Yessenov.
Though most of the world's aquavit comes from Denmark, Sweden and Norway, many bars in Toronto get their aquavit from a local producer. Over in the Distillery District, Spirit of York has been making the Scandi spirit almost since the very beginning when they opened their distillery and tasting room in 2017.
"It's actually kind of a fun story," says Matt Driscoll, the master distiller who has been with the company since day one. "We had these really nice tasting flights and they had three holes in them — the idea was that we would have gin, whisky and vodka. But our whisky was obviously not finished yet [because it's aged for three years], so we had this blank hole that was kind of embarrassing. Simon — the front of house manager and a long time bartender in the city — told his friends and asked fellow bartenders, and they were all talking about aquavit. So we looked it up, thought it was really neat and made it on our very first trial. It kind of took our breath away."
They weren't the only ones to be bowled over. During a visit to Toronto, the Swedish Chamber of Commerce went by to try Spirit of York's aquavit, and let's just say they were enamoured. "They liked it so much, they invited us to events where they had it at every table. There were songs and even cheers based around it!"
While the spirit might just be a normal part of life in Scandinavia, the taste is so unusual to North American palates (Driscoll compares it to pumpernickel bread) that its success has taken the distillery by surprise. Spirit of York's spicy, earthy, bright (it uses fresh grapefruit) and vibrant aquavit was never intended to be anything other than a placeholder, but the public appetite demanded a more permanent fixture.
"People kept asking for it," says Driscoll. "They kept asking so much that we started making it. It was very much a happy accident. We wanted to be the brand that bartenders wanted to use."
And use it they do. Over at the newly unveiled EPOCH Bar & Kitchen Terrace inside the Ritz-Carlton, aquavit cocktails are being incorporated into their lineup.
"I guess people are more experimental and explorative right now with their cocktails," says bar manager Jason Griffin. "That's really great for me and my profession. We get to have fun with all these obscure spirits and they're not going to collect dust on the back bar anymore."
Unlike Yessenov, Griffin has found that since opening in the summer, EPOCH's most popular drink is an aquavit cocktail: the Lychee Queen, which in addition features lychee-infused fino sherry, plus strawberry water and prosecco. It also comes served with some tableside lychee "caviar" which you can pop as you sip, for even more of a flavour explosion.
"I don't know if it's a combination of the fact that some people who are ordering it know what [aquavit] is, and some people don't, but they just see lychee and they're automatically drawn to that."
The serve, like much of EPOCH's drink menu, reimagines and plays with retro cocktails. The Lychee Queen is "definitely not your lychee martini from the 2000s," while the Mermaid Lagoon uses lacto-fermentation (the use of lactic acid bacteria to pickle and preserve) to update the garish curaçao-filled, 80s-inspired Blue Lagoon. As Toronto's cocktail drinkers continue to evolve and develop more sophisticated palates, does blowing customers' socks off just become part of a bartender's job description?
"Certainly, more than five or 10 years ago," says Griffin. "A lot of people are still afraid of these unknown spirits. They probably had a bad experience with some weird liquor. When people don't know what it is, there is that kind of fear. But once you explain that aquavit is very similar to the process of making gin or vodka, just from a different country. It's quite versatile, as is barrel aging. I'm a big fan of O.P. Anderson, which can't be found here. That's an aged aquavit from Sweden, so it has a little bit more richness and an oaky note to it. It's really beautiful."
Right now, the only non-local option available (at the LCBO) to the aquavit curious is Denmark's Aalborg Taffel Akvavit. The crystal-clear spirit, flavoured with caraway seeds, is made in a distillery that was established in 1846, and is widely recognized as one of the most classic iterations of aquavit.
So if bartenders are so gung ho, why aren't more people drinking aquavit cocktails? Yessenov thinks that we just have to be patient.
"I think we're gonna see it more and more... It's having a little bit of a moment in the States right now, but it's definitely taking more time to get here, part of which is to do with branding. Denmark's Taffel Akvavit was purchased by Pernod Ricard [a global beverage producer], so I think eventually we're going to see a push for it."
While we wait for it to become a major spirits category, Torontonians can seek out exciting inventions at EPOCH and Clockwork, along with Bar Raval. Their Say Less aquavit cocktail mixed the Scandi spirit with vodka, apple, celery, lime and a pinch of salt for a refreshing tipple. Or grab a bottle and get creative at home.
"On a deeper level, you're kind of embarking on a part of somebody else's drinking culture," says Yessenov. "I find that the coolest part: that it's such a popular thing in Scandinavian countries and now we're borrowing a little bit from them and creating a new thing here."